Indoor plants are an excellent way to infuse uniqueness to your home interior only if there are no tiny white worms in the soil. You must care for these plants properly to make them appear their best.
Pest control is a crucial part of indoor plant care. Thus, you must know how to get rid of tiny white worms in pots and prohibit them from returning.
Well, you might notice tiny white worms in the soil of your plant if you've just altered the potting mix or when exposed to heavy watering. These little white worms are thread-like, small creatures wiggling through heaps of the soil.
These tiny white worms are either larvae of fungus gnats or pot worms. They damage plant roots and weaken soil organic materials. Thus, it is imperative to get rid of these nasty creatures for the well-being of your plant.
So, in this article, I will discuss the different types of tiny worms seen in houseplant pots, why they turn up, and how they can be exterminated. Here is everything you need to know about tiny white worms in the soil.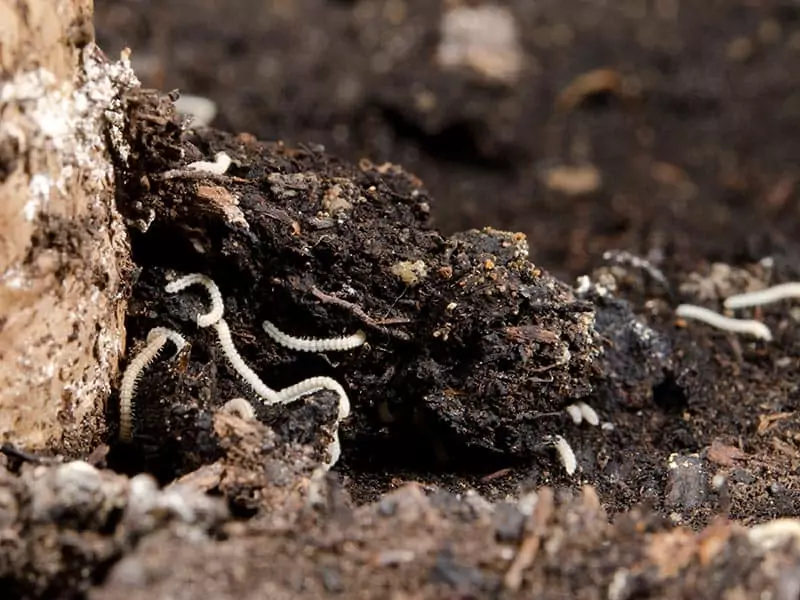 What Are Tiny White Worms In Soils?
Did you just come across some tiny white worms in the soil of your indoor plant? Don't panic! You need to identify the pests and opt for an effective exterminating procedure.
So, here, I have enlisted the commonly found white worms in the soil. Have a look and see if any of these are there in your houseplant pot.
Grub Worms
Grub worms refer to the white eggs of different kinds of beetles. As the larvae of almost all beetles look similar, they are commonly called grubs. These tiny white worms in the soil come with a white-colored, stout appearance in C-shape. They have 6 legs and soft skin.(1)
You should eliminate these from your houseplant pot as they can cause massive damage to the roots of your indoor plant. These extremely harmful turf worms eat the plant's roots just below the earth's surface, breaking the roots, leading to the unfortunate death of the plant.
The harms caused to your plant by grub worms are noticed in spring and fall. Your potted indoor plants turn brownish or yellowish. Healthy pots can withstand a few grubs, but many cause severe grub issues.
Pot Worms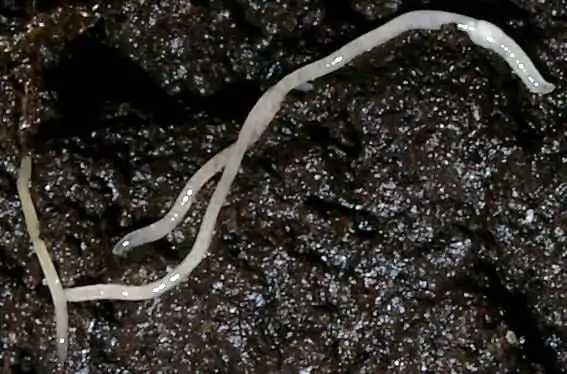 Also known as white baby earthworms, pot worms are among the most widely found tiny white worms in the soil. They possess a small, whitish, thread-like body and occur in a vast population. For example, in 1 sq. ft. of earth, more than 2500 pot worms exist.
Their excessive population can pose a dire condition for gardeners, as they can cause immense root damage to indoor plants. So, it is essential to remove these creepy-looking creatures from your household plants for their well-being.
Here's how pot worms look wriggling in soil
Plant-Parasitic Nematodes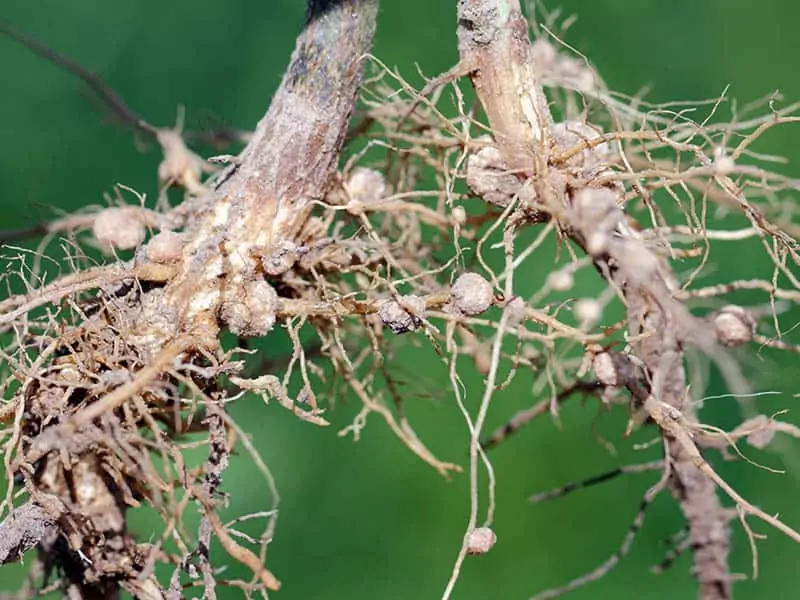 Unlike the bacterial and fungal nematodes, plant-parasitic nematodes are pretty detrimental to your plant's health. They tend to thrive in the roots and quickly eat through them to damage the entire root system of plants, leading to their death.
Though they're tiny enough to kill a whole plant, they will destroy specific areas of plants and leave brownish decaying patches behind. It may also cause stunted growth of your indoor plants. So, to get rid of these tiny white worms, substitute your pot soil mix every fall, spring, and winter.
Plant-parasitic nematode infestation in garden plants
What Makes These White Little Worms Appear In Your Houseplant Pots?
Well, a long list of causes leads to the expansion and growth of tiny white worm colonies in the soil. They can damage the best plant and quickly dissipate to others, amplifying your concerns.
So, here are some major factors that are highly responsible for these nasty creatures to seek a home in your houseplant pot.
Excessive Watering
While a moderate amount of watering is adequate for plants' growth, heavy showers can weaken the soil's nutrients and foster the development of a slew of malicious soil bugs and pests.
Many creatures can grow in wet soils. While some manufacture crucial micronutrients for your plant, most of these animals feed on them, adversely affecting your plant's development and growth.
Tiny white worms are pests that grow in damp soils and reproduce rapidly, making it hard for you to prevent and control their spread.
High Humidity
Most houseplant owners are aware of the fact that a majority of indoor plants need a moist setting rather than a dry one. Under increased humidity, they grow well and generate fresh and healthy leaves and flowers.
Unfortunately, problems develop when your plant is frequently exposed to high humidity levels. In such a case, excessive moisture is soaked by the plant, either from the soil or air, increasing the risk of worm infestation and making the plant more susceptible to diseases.
Too humid conditions can lead to the proliferation of tiny white worms in the soil, as they now lay more eggs per day.
Changed pH
Maintaining a perfect soil pH is as important as facilitating a constant nutrient reserve to the plant. Conversely, an inappropriate pH can result in substantial damage.
It can restrict the development of newer plant parts, destroy the existing blooms and leaves, and lead to tiny white worms and other harmful insects.
An acidic to neutral pH (5 to 8) minimizes the growth and spread of these white worms, enabling the plant to flourish and develop well.
Nonetheless, if you incorporate substances such as hardwood ashes, ground clamshell, or bone meal into the pots of your indoor plant, the pH becomes extra alkaline. And this increased pH facilitates countless worms to breed and damage your plant.
Accumulated Decaying Organic Matter
It is well-known that decaying organic matter is the favorite food for many bugs and pests. They relish feeding on decomposed old fruits or dying leaves.
So, if the decomposing organic matter is not eliminated from your indoor plant's surroundings, there is an increased likelihood that its soil will develop small white worms.
The decaying, rotten organic substance serves to be a perfect breeding condition for the larvae of these white worms. They multiply within days and can be noticed wobbling over the soil.
Quick Spreading Of Pests Or Diseases
When plants grow nearby or remain crowded in a space, all plant diseases and pests, including tiny white worms, spread quickly from one plant to another.
So, in this way, a non-infectious, healthy plant, which looked flawlessly natural one day, can possess several brown patches the next day, and tiny white worms can be seen moving through its soil.
Thus, if no measures are taken right away, tiny white worms can result in a full-house infestation.
4 Best Ways To Remove White Worms In Soil
Owing to the whitish color of tiny white worms in the soil, you can easily spot them and remove them before they do substantial harm to your plants. Now, there are various methods to eradicate these tiny white worms.
However, be careful not to disturb or kill the beneficial pests in soil, such as earthworms or fungal and bacterial nematodes. So, here are some effective ways to get rid of white worms from the soil of your indoor plants.
Remove Decaying Matter
As tiny little worms grow well on decaying matter, the simplest way to remove them is to extract their feeding source.
Maintaining your plant pot free and clean from decomposed organic matter such as compost, twigs, or fallen leaves enables you to keep the worms away. Remove every debris from the entire surroundings of your plants and keep the place clean.
If you're creating compost, you can cover the pot to prevent these worms from getting out and dispersing all over the place.
Re-Pot Your Plants In A Healthy Soil Mix
If your houseplant pot is heavily infested with tiny white bug larvae, to exterminate them completely, you need to remove all the soil in your planter and replace it with fresh, nourishing soil mix. It is a simple yet effective way to remove pests but a little complicated.
You need to keep your indoor plants and their roots intact and be more cautious when replacing the soil. Nevertheless, this method is the best option when you cannot control rapid worm infestation. Also, this process facilitates enhanced growth of your houseplant.
Learn how to re-pot your household plants
However, if your pot has a moderate infestation of white worms, instead of removing or replacing the entire soil, you can extract the upper layers and put it in a plastic bag to throw it away.
Make And Use Homemade Natural Pesticides
To get rid of white worms from the soil, you can prepare homemade natural pesticides. It is not only eco-friendly but also an affordable option to exterminate the proliferating worm population in your potted plant.
There are various recipes for preparing homemade pesticides utilizing cinnamon, garlic, vinegar, or dish soap. However, you may need to repeat the procedure many times till you remove these tiny worms entirely from the soil.
Spray A Chemical Insecticide
The most effective method to deal with small white worms in the soil is to sprinkle insecticides all over the affected place. Insecticides are not costly, but price rates vary depending on the brand.
There are also disparities when it comes to the components of the insecticides. You may select a prominent chemically formulated brand or opt for something eco-friendlier and more organic. But whichever insecticide you choose, it will undoubtedly exterminate all tiny white worms from the soil.
Kill tiny white worms in soil using chemical insecticides
How Should You Treat Plants Infested By White Worms?
Now that you already know how to remove these tiny white worms from the soil, it is essential to learn how to care for your worm-infested indoor plants. So, follow these easy maintenance tips to protect your plants from spiteful white worms and keep them healthy.
Maintain Good Hygiene
One of the best solutions to having healthy indoor plants is retaining good hygiene and sanitation.
Dust and mist your plants at least once in 7 days and inspect their leaves, bottom or lower sides, and soil frequently for any worms or pests. Also, if any plant dies, eliminate it right away from the other healthy ones.
Also, it is suggested not to place two plants in a single pot. And even if you do, place them at a suitable distance to avoid the quick spreading of pests or diseases.
Maintain your household plants by misting them
Wash It Out
Do you think you've overwatered your potted plant? Well, if its soil is wholly moistened with water, either wash it out to eliminate accumulated minerals or substitute the current soil with a fresh soil mix.
If you prefer to wash out excess moisture from the soil to retain ideal humidity while preventing small white worm infestation, put your potted plant in filtered sunlight to vaporize the extra water.
Maintain Optimum pH Levels
The right pH is one of the primary aspects that either break or make things for a plant. So, learn the optimum pH for your plant either from a local plant store, professional gardener, or any other reliable plant source.
It is suggested to create and maintain the proper pH level in the soil so that your dear plants can develop into vibrant and healthy ones. To assess the correct pH level, you can utilize a digital pH meter.
Check the soil pH regularly to make your indoor plants thrive better
How Can You Prevent White Worms From Returning To The Soil?
So, by following the methods mentioned above, you might have already removed the tiny white worms from your indoor plants and their soil. But would you let them return to the soil? Definitely, not!
Thus, below are some ways to prevent tiny white worms from returning to houseplant pots.
Avoid Overwatering Your Plant
Plants indeed require water for their survival. But overwatering makes the situation profitable to pests and insects.
Often overwatering results in root rot or develops fungus that invites white pot worms, causing plant decay. So, you must follow the correct watering schedule for your indoor plant. Facilitating a dry top coating on the soil prevents root rot and allows optimum aeration.
Maintain Your Pot
Once you get rid of the tiny white worms, it is crucial to maintain your potted plants to prevent the worms from returning. Eliminate every fallen leaf from your pot to prevent them from rotting on the ground, as white worms like leaf litter.
If you own a compost tumbler or pile, ensure it is kept much away from your plant. And, before you re-pot your plants, always sprinkle soil. It can prevent those pesky white worms from returning to the soil.
FAQs
By now you must have got a clear understanding of how to remove tiny white worms in soil. However, for your convenience, here I've put forward a few commonly asked questions, along with their apt answers.
Exterminate Pesky White Worms in the Soil of Your Potted Plants Today!
Though tiny white worms in soil are considered annoying garden pests, they also help nourish the soil and maintain an ecological balance. So, if they're not vexing you much, you need not be much harsh with them. As soon as they run out of food, they'll move on to another home.
However, if your houseplant pot is highly infested with tiny white worms, removing them and preventing their recurrence is crucial. And for doing so, you can opt for the tips mentioned above. So, if you found this article insightful, share it with your friends or family members and help them do away with the same issue.