Delicious tomatillos are the special ingredient in sauces and chutneys, and you can have them in your garden. Let's see how to grow and care for tomatillos in the garden!
Tomatillos' origin is Central America, so plenty of authentic recipes coming from here include this plant. They are relatives to the famous tomato, but except for the name and some growing conditions, tomatoes and tomatillos aren't that close.
When I first started growing tomatillos in my garden, I had to pass the learning curve. Therefore, today I am covering everything from my experience, science, and other tips for growing the best tomatillos!
What Are Tomatillos?
Tomatillos are vegetables from the nightshade family, with the botanical name Solanaceae. Physalis is their genus name, but most people call them simply tomatillo or husk tomato.
The plant gives juicy fruits but compared to tomatoes, the tomatillos have the vibrant tartness that red relatives lack.
Furthermore, people usually eat tomatillos cooked, and they have a fresh, almost citrusy flavor. The best way to keep the tart flavor is to boil tomatillos and add them to salsa. But, if you roast them, they tend to get a bit sweater.
The most common recipes that include tomatillos as main ingredients are Salsa verde, Tomatillos Guacamole salsa, and Pork Chile Verde.
The Look
The fruits are green, smaller than tomatoes, with a dry, papery-like husk on the outside. The fruit in the husk is bright green, and the color slowly fades as you cook it.
The ripe fruit gets a beautiful yellow color or apple-green, and the husk slowly falls away. Although, some species are purple, similar to eggplant.
Tomatillos Varieties
Tomatillos are classified by the color of their fruits. There are many varieties on the market, and all are similar to grow. Here is a short guide on the most common tomatillos varieties, their fruits, and other characteristics.
Image: The harvesting season for green tomatillos is from mid-summer to fall.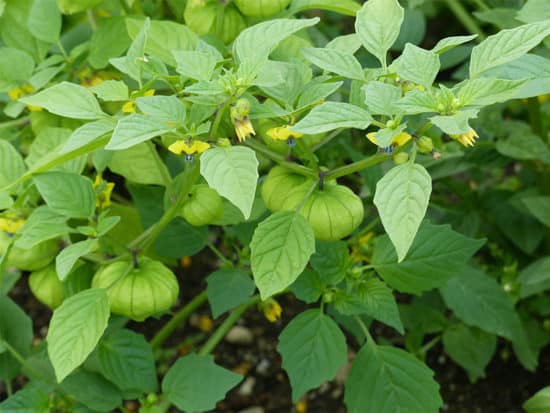 Green Tomatillos
When peeled, green tomatillos have a bright electric green color. The inner part of the fruit is light green, almost white, and soft. They have a bit of sour taste, but they lose it cooking.
Here is the table, including the most common cultivars or green tomatillos.
| | |
| --- | --- |
| Cultivar | Description |
| Green Organic | Easy to grow and care for, round fruits with a yellowish-green color |
| Toma Verde | Large fruits, shortest growing time |
| Rio Grande Verde | Moderately large fruits with high yields |
| Miltomate | Small fruits, best used in salsas |
Yellow Tomatillos
Yellow tomatillos are small and hardy fruits. These are a bit sweeter than the green ones, with a subtle, almost fruity note. Yellow tomatillos aren't the best choice for cooking, but raw tomatillos are delicious.
| | |
| --- | --- |
| Cultivar | Description |
| Mexican Strain | Savory flavor, 2-inch large fruit |
| Pineapple | Small fruits, used fresh or cooked, pineapple taste |
| Amarylla | Sweet, grow well in colder summers |
Purple Tomatillos
Purple varieties are rare but wonderful. The fruits are small and have a papery husk that shifts from green to brown when the fruit is ripe. They are best eaten raw for their sweet taste.
| | |
| --- | --- |
| Cultivar | Description |
| De Milpa | Small and medium-sized fruits, purple-yellow fruit |
| Organic purple | The most common, dark purple, delicious |
| Purple Coban | 1-inch small fruits, commonly used in Guatemalan kitchen |
| Tiny from Coban | The smallest fruits, dime-sized |
Image: You can cook purple tomatillos in different ways – stew, roast, grill, broil, make a puree or eat fresh or add to hot or cold dishes.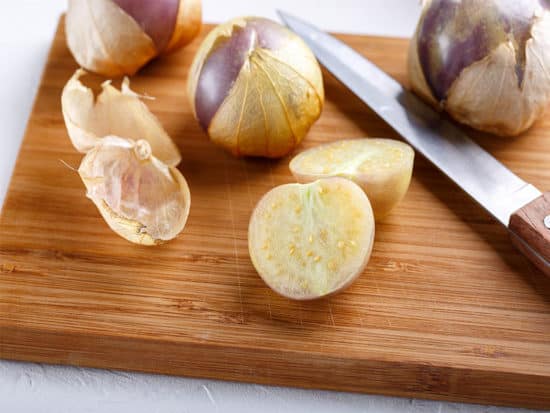 Choosing the Best Location for Tomatillos
The ideal location for tomatillos is the full sun place. If you opt for green varieties, remember they need a bit more root space.
In general, tomatillos love well-draining soil and won't grow well in muddy soil. You can amend the soil with compost to improve its properties.
Tomatillos enjoy slightly acidic soil but grow excellent in soil with neutral pH.
Additionally, prepare a stake or tomato cage to support the plant. The tomatillos vine out but are significantly lighter than tomatoes.
How to Grow Tomatillos from Seeds?
Tomatillos are easy to grow either from seeds or by transplanting.
When the weather gets a bit warmer and around a month after the frost passes, you can plant tomatillo seeds. But, if you live in a warmer climate, you can plant the seeds sooner.
However, the seeds will germinate when the soil temperature reaches 70 degrees Fahrenheit.
You can boost the growth by amending the soil with aged compost or other organic matter.
How to Plant Tomatillos?
Tomatillos are self-sterile plants. It means that the plants cannot self-pollinate, and you need a minimum of two plants to ensure fruits.
You can sow seeds in pots or directly in the soil.
Methods are similar and place the seeds at a one-foot distance. If you have a larger garden, you can place the seeds at a larger distance, to simplify harvesting. Cover the seeds lightly with soil, and the plants will grow after they have sprouted.
When sowing in the pot, place the seeds at 1/4 inch depth and only use a couple of seeds per hole.
How to Transplant Tomatillos?
Transplanting tomatillos is an easier method, but sometimes the plants are difficult to find in nurseries. When the plant reaches 4 or 6 inches in height, it is ready for transplantation.
You can prepare the soil in advance with compost, as you do when growing tomatillos from seeds.
Because tomatillos sprout roots, you can transplant the plants deeper into the soil, as you would do with tomatoes.
Transplant at least two plants around 25 inches apart gently, and water at the base.
How to Care for Tomatillos?
Good news – tomatillos are easy to care for and almost grow by themselves! But, here is a simple guide on how to help your tomatillos grow better.
How much Sun Tomatillos Need?
Tomatillos enjoy the sun and have an excellent heat tolerance. They can grow in partial shade, but the plant will grow slower, and fruits will be smaller. Still, the flavor wouldn't change.
The ideal temperature for tomatillos is from 70 to 90 degrees Fahrenheit. But, they tolerate warmth to some point and don't enjoy cold weather.
However, if you live in a hot climate where the average summer temperatures are over 100 degrees, your tomatillos will grow better in partial shade.
Once your plants are established you can expect continuous fruit production until the frost.
How much Water Tomatillos Need?
The perfect amount of water for tomatillos is around one inch or an inch and a half per week. Tomatillos will suffer in soggy soil, so draining is as important as regular watering. However, let the soil dries before you apply water, to prevent diseases and enhance the fruits ripening.
Water your plants once a week. But if the weather is hot, you can water the plants more often.
However, if you stick to your watering schedule from seeding or transplanting, the plants will be able to tolerate drought in further seasons.
Do Tomatillos Need Mulching of Fertilizing?
Tomatillos grow in all soil types but enjoy nutrient-rich soil. To start on the right track with your juicy tomatillos, I recommend amending the soil with compost before planting, especially if the soil in your garden is sandy. Compost will improve the nutrient properties in the sandy soil, and ensure moisture retention.
When planted in nutrient-rich soil, the tomatillos can grow up to four feet in height and three feet in width.
I recommend using three inches of mulch around the tomatillo plants, especially in the summer. It can prevent the soil under the mulch layer from drying completely and keep your tomatillos fresh.
If the soil is rich when you first plant your tomatillos, the fertilizer might not be necessary.
However, you can help your plants by applying all-purpose balanced fertilizer in the growing season.
Besides, if you want your plants to produce as many fruits as possible, you can apply a water-down balanced fertilizer once a month.
Finally, I apply compost tea to my tomatillos occasionally. That way, I add beneficial microbes to the soil to keep my tomatillos pest-resistant.
Even though the tomatillos are healthy plants, in my experience, compost tea won't hurt but, it might help.
How to Prune Tomatillos?
Air circulation is essential for tomatillos to remain healthy. So, light pruning can be beneficial for them. Pruning tomatillos comes down to removing the sucker shoots.
If you are a beginner in gardening, let's try to explain what a sucker shoot is. The main stem and one of the branches create a V-shaped construction called sucker shoot. These aren't hard to eliminate, but wait until the new shoot grows to 2-inch in length. You can pinch them by hand, trim them with a sharp knife or use simple pruning shears.
However, never remove all sucker shoots at once, as they are important for harvesting. Just remove the sucker shoots that block air circulation.
In my experience, the plants with two stems joined to give more fruits, but the fruits on a single stem ripen faster.
Therefore, prune your tomatillos to your preferences and prune them to maintain your desired look.
How to Propagate Tomatillos?
You can grow tomatillos from seed or cutting. Cuttings develop roots easily, and I notice that many of the branches that touch the soil often develop their roots.
So, to do cuttings, you will have to use a long branch. I recommend using a branch with a minimum length of 6 inches. Next, remove the branch along the stem, and remove some of the leaves, but not all of them. Next, trim the branch to around 6 inches in height.
Some gardeners like to dip the branch in rooting hormone, but I found it unnecessary for tomatillos.
The last step is to plant the cutting in the pot with moist soil and leave to form the roots in several weeks.
Keep the soil in the pot damp in the first weeks until the roots are formed and able to absorb nutrients.
How to Save Tomatillo Seeds?
When saving seeds from plants, you should know that seeds can hold fungi and viruses. It makes the new plant more prone to diseases.
Also, because tomatillos are cross-pollinated with other varieties, the new plants aren't always breed-true. But, if you grow only one type of tomatillos in your garden, you won't have these problems.
Saving tomatillo seeds is simple. All you have to do is cut your fruits and scoop the seed into the bowl. You can use the rest of the fruit for cooking or eat the fruit raw.
Next, rinse the seeds from the pulp and remove the gunk with your finger. Put the seeds on wax paper or parchment to dry them.
My method of saving the seeds includes fermentation because it helps to remove the goo. I store the seeds in a small container with a lid. Put enough water for seeds to float and seal the lid. On average, the fermentation process takes three days, and you help it by sloshing the seeds in the container every day.
Fermented goo is simpler to remove from the seeds, and once you do it, rinse the seeds again and dry them.
Image: There is nothing better than home-made Mexican sauce from home-grown ingredients!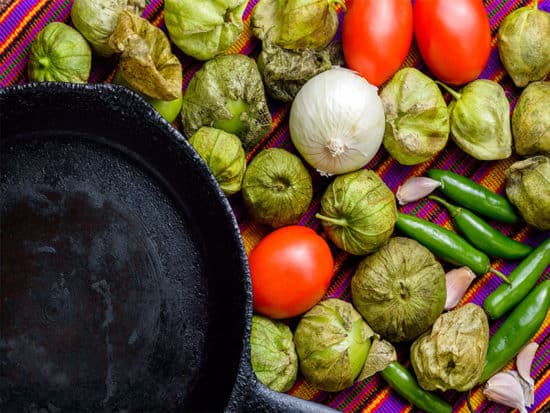 Common Pests and Diseases
Tomatillos are resilient plants, and you shouldn't expect too many problems with pests and diseases. However, there are a few problems you need to keep an eye on to help your tomatillos remain healthy.
Let's go briefly through the most common problems you can have when growing tomatillos.
Fruit Producing Issues
Many people complain about their tomatillos having beautiful flowers but not having fruits. The reason behind it is simple. The tomatillos don't self-pollinate, so you need to plant at least one more plant to ensure pollination.
You can also help your plants in pollination. Use a narrow brush to gently roll the content from inside the flower on your hand, and do the same at other plants. Sprinkle the content to other plants and vice versa until you pollinate all flowers.
Hand-pollination isn't necessary, but it will improve fruit production.
Caterpillar Pests
Tomatillo plants don't get attacked by many pests. However, several pests like to feed on the tomatillos, leaving your fruits damaged.
Tomato fruitworm causes the worst damage to your tomatillos.
Armyworms are more common in the South, and they can also cause significant damage. Still, it is relatively easy to deal with them.
Wipe them out with bacillus thuringiensis – BT. The alternative is spinosad, and you can apply it every five days before the harvesting or a day before harvesting if you have severe problems. Moreover, focus more on higher fruits as these are more exposed to the pests.
Below-Ground Pests
Root-knot nematodes are a common below-ground pest that attacks tomatillo root. They can damage the root severely, and the plant can't absorb the soil nutrients.
Using beneficial nematodes on the soil will keep the roots healthy and free of different pupal pests and pest nematodes.
Beetles and Bugs
The flea beetle is the most common insect that feeds on tomatillo fruits and other plants. Potato bugs and banded cucumber beetles also can cause damage to tomatillo fruits.
To keep the potato bug, you can use BT, but azadirachtin or pyrethrin spray will help with beetles.
Other Pests
Other pests that attach tomatillo are sucking insects, especially potato aphid.
But, whiteflies, broad mites, and sometimes thrips can cause damage to the leaves and stems.
You can solve the problem with neem oil. It will make the tomatillos parts smoother and less prone to pest eggs.
Insecticidal soaps are also effective against these insects.
Tomatillo Diseases
Tomatillos are relatively healthy plants. But, the plants are prone to fungal and virus diseases, but less than their tomato relatives.
If you notice black spots on the leaves, it is most likely the fungal disease Septoria leaf spot. To deal with it, you can use any copper-based fungicide. But, keep in mind that these fungicides are usually effective in the early stages of diseases.
Another fungal disease is fusarium wilt, and you can prevent it by maintaining the healthy microbes in the soil. If your plant gets infected with these diseases, you will have to destroy the infected plants.
But, aphids and sucking pests spread the most dangerous diseases for tomatillos. It is a physalis mosaic virus. The symptoms of infection are curling and white and yellow spotted leaves, bumpy fruits, and poor growth.
Unfortunately, there isn't a known solution for this disease, but you can prevent it by maintaining your tomatillos free of pests.
Image: Tomatillos are ready for harvest when the husk opens!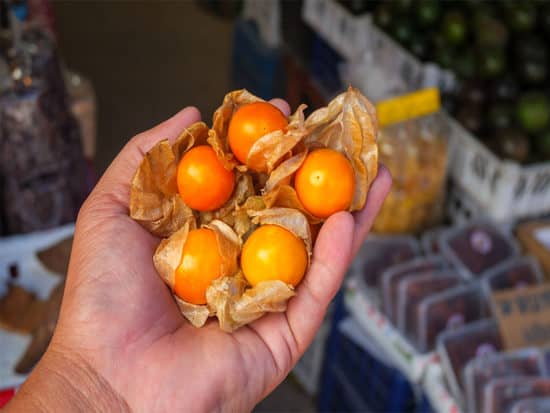 Harvesting Tomatillos
Let's complete the education about tomatillos by giving out a simple harvesting guide. If you are growing tomatillos for the first time, you might be confused when the fruits are ready.
You can harvest the fruits when the husk is firm. But when the husk splits, you should harvest the fruit immediately. You can check if the fruits are ready for harvest by gently shaking the fruit. If the fruit falls off on its own, it is ready!
I found that leaving husks on tomatillos keeps them fresh for longer. For a final harvest before the winter, I recommend uprooting the plant and hanging it in the garage. Keep the plant upside down and ensure a temperature above 50 degrees. If you don't have humidity issues in the garage, you can store tomatillos this way for several months.
When the air is overly moist, like in basements, the fruits can rot.
Storing Tomatillos
You can store tomatillos on the kitchen counter with or without the husk. But, make sure to wash them thoroughly before use because they produce a natural pesticide, so they are sticky and prone to dust.
If you put them in a refrigerator with husks and a piece of paper, they can stay fresh for two weeks. The paper will absorb the excess moisture and prevent rotting.
Finally, you can freeze them without their husks or dehydrate them.
Final Thoughts
Tomatillos are easy to grow and require simple maintenance. They are an excellent choice for people who enjoy Mexican cuisine and love fresh, tarty flavors.
Whichever variety you choose, there are ways to include them in your nutrition, either by cooking them or eating raw.
And bonus, tomatillos are actually healthy, as they are rich in antioxidants and have vitamin C and K.
How do you prefer tomatillos, fresh or cooked?