Do you like trailing succulents? If you answered yes, here is the article you need! Trailing succulents need well-draining soil and simple maintenance. Once your plants are established, the plant care becomes even simpler.
If you place them in hanging baskets, you can arrange a beautiful succulent display. Moreover, trailing succulents also look attractive in all sorts of pots and containers.
Some of the succulents from my list look out-of-this-world with the unique foliage and weird flowers! Get ready for the complete guide on the most beautiful trailing succulents!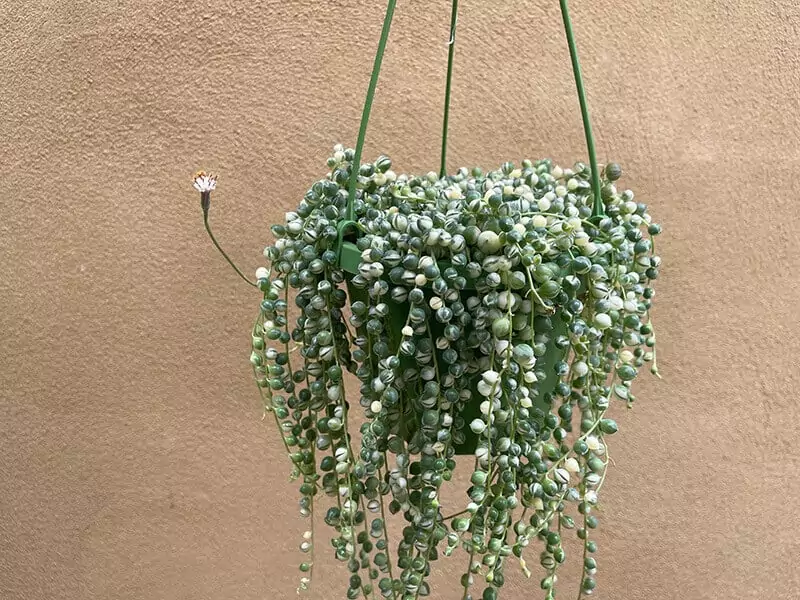 #1 Burro's Tail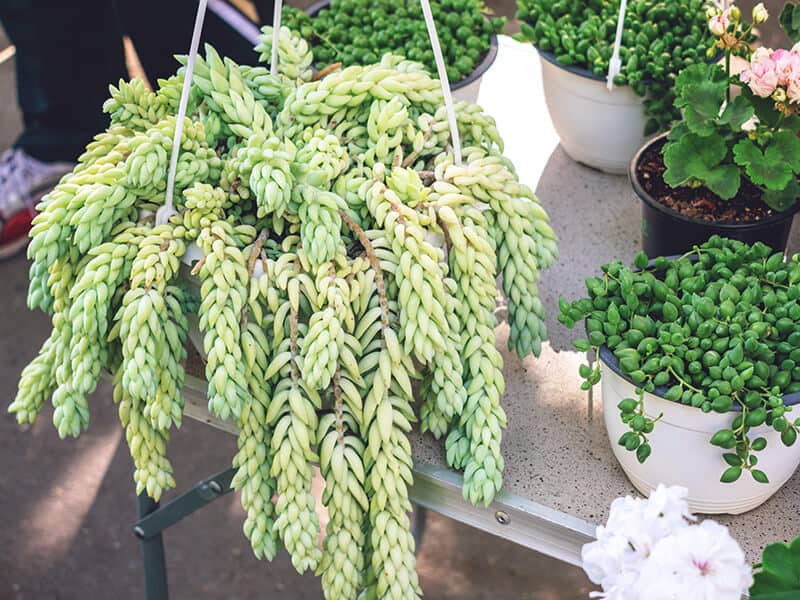 Sedum Morganianum has several common names – Burro's Tail, Donkey's Tail, Horse tail, etc. The plant features grey leaves on the long, trailing stems. Burro's Tail has fleshy, but delicate leaves, so the plant needs protection.
Therefore, it is safest in the hanging basket, high above children and pets' reach!
It is a low-maintenance indoor plant that needs a lot of water and regular watering during summer and spring.
Here are essential facts about Burro's Tail!
#2 String Of Pearls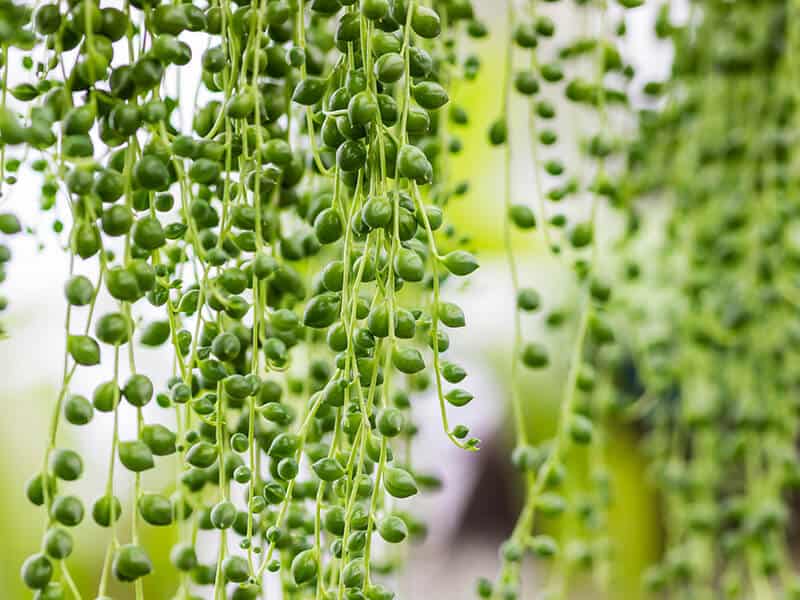 Senecio Rowleyanus or String of Pearls is a charming succulent. It develops lovely yellow and orange daisy-like flowers.
But the plant is most recognizable by its trailing foliage, with round, pearl-like leaves on hanging stems. Similar to the previous plant, String of Pearl is also a perfect plant to grow in a hanging basket!
Get the full plant care guide on String of Pearls.
#3 Calico Kitten Crassula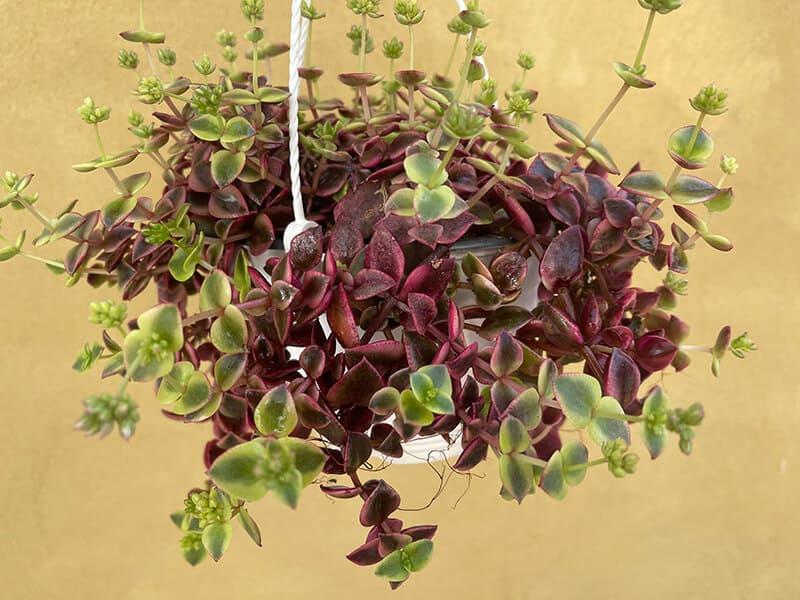 Crassula pellucida Variegata or Calico Kitten Crassula is a beautiful rosy pink succulent. It develops heart-shaped foliage variegated with pink, green and white. The plant blooms in the spring and develops stunning little flowers in creamy white.
Overall, Calico Kitten is one of the easiest succulents to grow and the most beautiful ones!
Read more growing tips for growing Calico Kitten indoors.
#4 Trailing Jade
Kleinia petraea was formerly classified as Senecio jacobsenii. You probably know the plant by its common name – Trailing Jade. The plant features thick and fleshy leaves for storing water.
The plant is drought-tolerant, and the wet soil may kill it. Therefore, ensure the well-draining potting mix when you grow it in containers!
Is direct or indirect sun better for Trailing Jade? Click here to find out!
#5 Kenya Hyacinth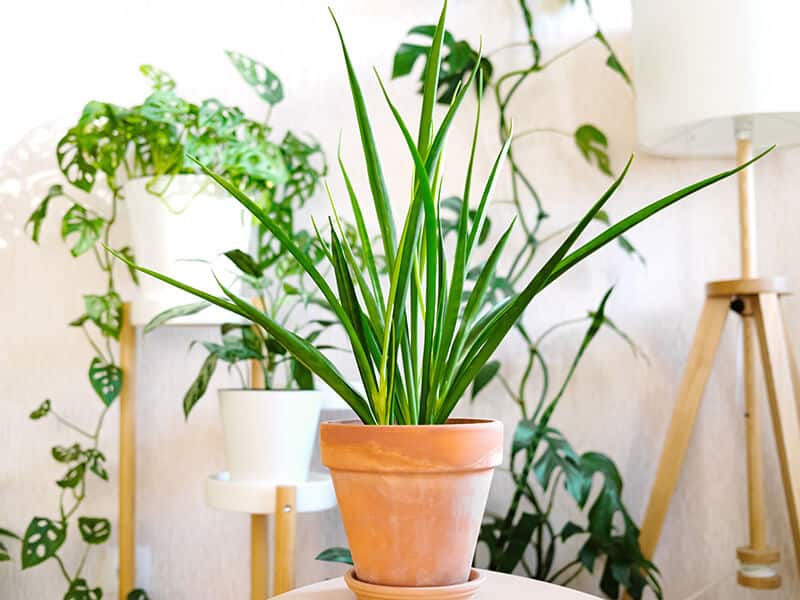 Sansevieria Parva or Kenya Hyacinth is a type of snake plant. Even though it isn't a trailing succulent at the first glimpse, it is one of the best plants to grow near them.
Kenya Hyacinth develops flowers, which is pretty rare for the Snake plants. The plant is famous for its distinct scent of hyacinth!
Read more about this intriguing succulent!
#6 Crassula Baby Necklace
Crassula marnieriana is a botanical name of the Crassula Baby Necklace plant. The plant has a striking appearance and needs only simple care to thrive.
The most important thing you need to provide for the Baby Necklace is the porous soil and excellent drainage. The plant enjoys bright, indirect light and infrequent watering.
Baby Necklace is a frost-sensitive plant, so you need to protect the roots in the winter.
Learn how to care for the Crassula Baby Necklace plant!
#7 Variegated Trailing Jade
If you loved Trailing Jade, you'll adore the Crassula Sarmentosa Comet or simply the variegated variant of Trailing Jade. The plant features a unique combination of yellow and green. The plant gets around 1 foot tall when mature.
Read more about this attractive succulent!
#8 Ruby Necklace
Othonna Capensis or simply Ruby Necklace belongs to the daisy family. You can grow this lovely succulent in a hanging basket or standard pots. The plant is resilient to most problems and may adapt to various conditions.
However, Ruby Necklace needs more water than similar plants. Start with watering the plant weekly. Add sand to the potting mix to ensure the plant stays healthy!
Read more growing tips for Ruby Necklace!
Discover the safe way to repot the Ruby Necklace plant:
#9 Mezoo Trailing Red
Dorotheanthus bellidiformis or Mezoo Trailing Red is best known for its bright-colored red flowers with numerous tiny petals. The flowers stay open even in low-light conditions.
The plant is grown as an annual plant and enjoys warm temperatures. In some warm USDA hardiness zones, the plant may be grown as perennial.
Find out more about this rare succulent!
#10 String Of Hearts
Ceropegia Woodii is a botanical name of the beautiful trailing succulent known by the name String of Hearts. The plant develops lovely heart-shaped fleshy foliage that hangs from the pot, hence the name. The plant needs a lot of light, but ensure it is indirect. Too much bright light may burn the leaves.
Therefore, pick a place in your home near a sunny window, and turn the pot occasionally to ensure even sun exposure.
Does String of Hearts have some special meaning? Click here to discover!
Find out the easy way to propagate String of Hearts. Watch this video:
#11 October Daphne
Sedum sieboldii has several common names: October Daphne, October Stonecrop, Siebold's Stonecrop, etc. The plant is native to Japan and is best known for its purplish flowers.
The plant needs full sun exposure but may tolerate shade. Surprisingly, it is a frost-hardy plant that blooms in the fall!
When grown in ideal conditions, the plant may reach ten inches.
Learn more about the October Daphne plant!
#12 String Of Nickels
A String of Nickels is a succulent that develops round and flat leaves. The leaves hang from the basket like a string of coins, hence the name.
The botanical name of the plant is Dischidia Nummularia. The plant is native to tropical areas of India, Asia, and Australia.
It is also one of the best trailing succulents for low light. Surprisingly, the String of Nickels plant thrives in the shade!
The ideal way to water the plant is misting, so the leaves absorb most of the water. You can also submerge the plant in the water for several minutes once a week.
Here is more information about String of Nickels.
#13 Little Missy
Sedum Little Missy forms mats and develops cute rosettes of round leaves. The foliage is broad, almost oval, and comes in the greyish shade. Little Missy is an evergreen perennial, which develops stunning pink flowers in the summer.
When exposed to sunlight, Little Missy leaves turn pinkish, which gives them additional ornamental value.
Here is the basic information on Little Missy succulent.
#14 String Of Tears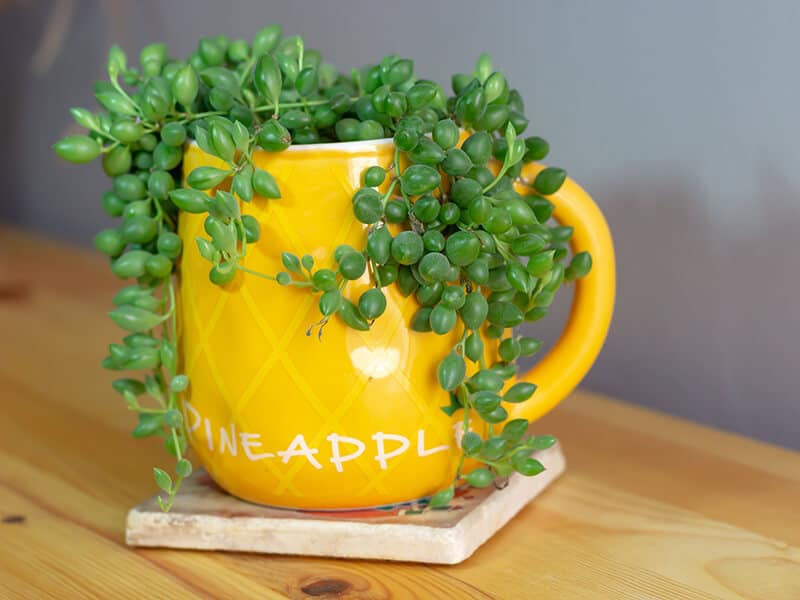 Senecio Herreianus or String of Tears is a low-growing plant, a close relative to the String of Pearls plant. The plant develops tear-shaped fleshy foliage with purple edges.
The trumpet-shaped flowers that appear in the spring and summer are heavily fragranced with the sweet aroma of cinnamon.
When choosing the location for String of Tears, keep the plant away from direct sunlight. Instead, choose a partial shade.
Discover more growing tips for the String of Tears plant.
#15 Monkey's Tail
Hildewintera Colademononis or Monkey's Tail is a statement plant in every plant collection. The plant develops long, hairy spines and bright red flowers!
The spines are green, but the bushy hair is white which makes the stem appear white as well! The contrast between bright blooms and hairy stems makes the plant stand out.
Discover the origin of this unique plant!
#16 String Of Bananas
Senecio Radicans or String of Bananas is as you probably anticipate relative to the plants String of Pearls and String of Tears.
The plant is very popular because of its banana-shaped leaves. Even though it is a trailing succulent, people rarely grow it in a hanging basket. It looks prettier when grown in a standard container.
Like its relatives, the String of Bananas plant is easy to grow.
Read more about String of Bananas!
#17 Rat Tail Cactus
Aporocactus Flagelliformis or Rat Tail Cactus is best known for its thick and long trailing stems. When you provide the ideal growing conditions, the stems may grow up to one foot per year! Rat Tail Cactus is easy to propagate. You can propagate it by cuttings easily, because of the fast-growing habit.
Keep in mind that those stems grow sharp spines that can puncture the skin!
Rat tail cactus develops lovely flowers in spring and summer. Each flower only lasts for several days!
Here is the complete guide on Rat Tail Cactus plant care!
#18 Hindu Rope
Hoya Carnosa Compacta is known by its common name Hindu Rope. The plant grows slowly and develops lush deep green foliage.
The leaves are glossy and have a waxy texture. Interestingly, leaves are also twisted and curled, and resemble the structure of the rope. It is a versatile succulent that only needs minimal attention.
Moreover, the Hindu Rope vine is recognizable by its large pink clusters of flowers. Hindu Rope looks the best when grown in a hanging basket on balconies or patio.
Find out more tips on how to grow the Hindu Rope plant!
#19 Peanut Cactus
Echinopsis Chamaecereus is native to Argentina. In the USA, people know it as Peanut Cactus. You can grow it outdoors in hot and dry locations. But, in Arizona, Peanut Cactus needs a bit of shade to survive the hot weather.
If you live anywhere outside these areas, provide your cactus with full sun. The same applies to growing Peanut Cactus indoors.
The stems of the plant are green and finger-sized. As the plant matures, the spines become woody.
The Peanut Cactus is also known for its large and lush flowers that look almost like Gerbera Daisy!
Find out how to make your Peanut Cactus bloom indoors!
#20 Lantern Flower
Ceropegia Haygarthii or Lantern Flower features tiny, egg-shaped leaves. It is a vigorous climber, known for its unique and attractive blooms. The flowers are tube-shaped with purple speckles, wide at the base and narrow at the end.
This succulent needs frequent fertilization during summer and a well-draining potting mix. You can add compost to improve the quality of the soil and help the young plant establish faster.
Unlike other succulents, the Lantern Flower plant isn't very drought-tolerant.
Read more plant care tips for Lantern Flower!
#21 Fishbone Cactus
Fishbone Cactus requires only minimal care, which makes it the perfect plant for beginners. The botanical name of the plant is Selenicereus anthonyanus. The plant is sometimes called the Zig-Zag cactus because of the zig-zag pattern on the foliage.
Because of its strange look, the Zig-Zag cactus is very popular among plant collectors.
The cactus rarely blooms indoors, but when it does it develop beautiful showy flowers!
Here is more information on sunlight and water needs for the Fishbone cactus.
#22 Elephant Bush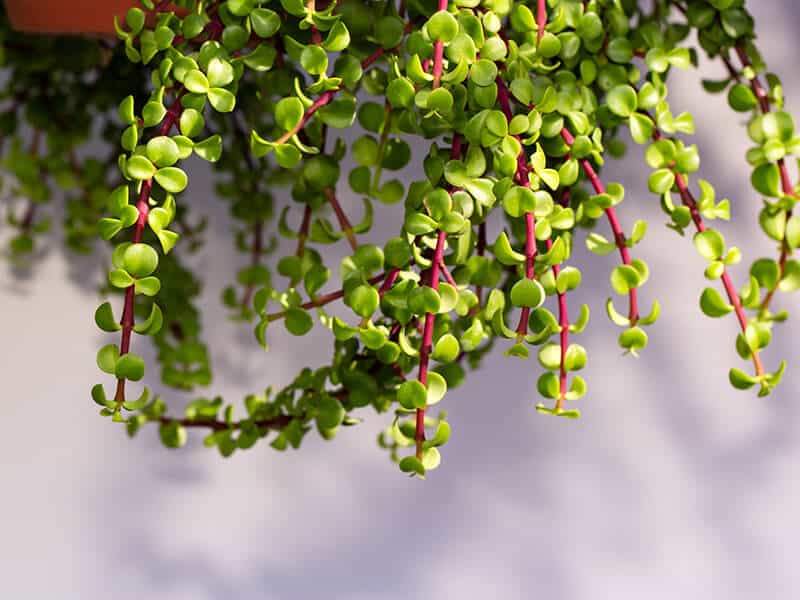 Portulacaria Afra or Elephant Bush succulent loves warm temperatures and bright light. The plant can get from six to 20 feet long tall in its native area.
But, indoors, the plant doesn't get taller than three feet.
It is best recognizable by its brown stems, with small, green leaves. The leaves are shaped like the foliage on the Trailing Jade plant, but they are much smaller.
Here is what you need to know when growing Elephant bush as a houseplant.
Learn how to identify the most common problems with the Elephant bush plants:
#23 Christmas Cactus
Schlumbergera Bridgesii or Christmas Cactus is one of the most popular trailing houseplants. The plant blooms in the late fall or early winter. The flowers are spectacular – large and tubular in the bright shades of lilac and purple.
Christmas Cactus enjoy an indirect light and moderate watering schedule.
Find out how to keep your Christmas Cactus alive!
#24 Dancing Bones
Hatiora Salicornioides is an ornamental houseplant, native to South America. The plant has several common names – Dancing Bones, Bottle or Spice Cactus, etc.
The plant prefers the soil with optimal drainage and temperatures above and around 72 degrees Fahrenheit.
Dancing Bones plant spreads fast, but you can easily cut the plant back to maintain the desired shape.
Check out the best tips for growing Dancing Bones!
#25 String Of Buttons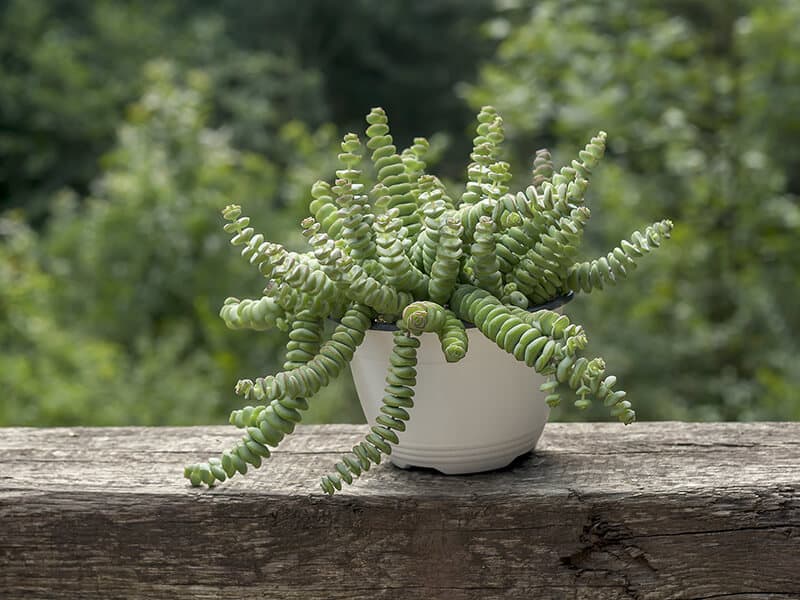 Crassula Perforata or String of Buttons comes from South Africa and has a unique growing habit. The plant stems grow on each other. It develops small leaves that appear spirally around the stems.
Next, Crassula Perforata foliage is pale green with pink borders. If you want the colorful borders to stand out, ensure that your plant gets enough sunlight!
Overall, String of Buttons is a great plant to grow. It is easier to grow outdoors in warmer climates. But with smart hacks, your plant can survive indoors.
Learn how to take the best care of String of Buttons!
Trailing Succulents – The Best Decoration You Can Have
Sometimes, succulents don't look like plants. Instead, some of them look like real pieces of art! It is the same with trailing succulents.
Wherever you decide to grow them – in hanging baskets or containers, these hanging plants will become a focal point and conversation starter in every room.
Most of the trailing succulents are low-maintenance, and rewarding plants, grown specifically for their foliage. However, there are several varieties with striking flowers!
My top picks are Ruby Necklace and Hindu Rope. What are your top picks?
If you enjoyed the article, hit the like button!