Are you looking for tree stump ideas to grace your garden and give a stump a new life? Here is the inspiration you needed. There is so much you can do with an old tree stump. Instead of leaving it to stand alone, why not make a home out of it? You can use it as a planter, for a fountain, or several other decoration ideas!
Here is what you can try if you have an old tree stump in your backyard! All ideas are customizable and can be used as inspiration!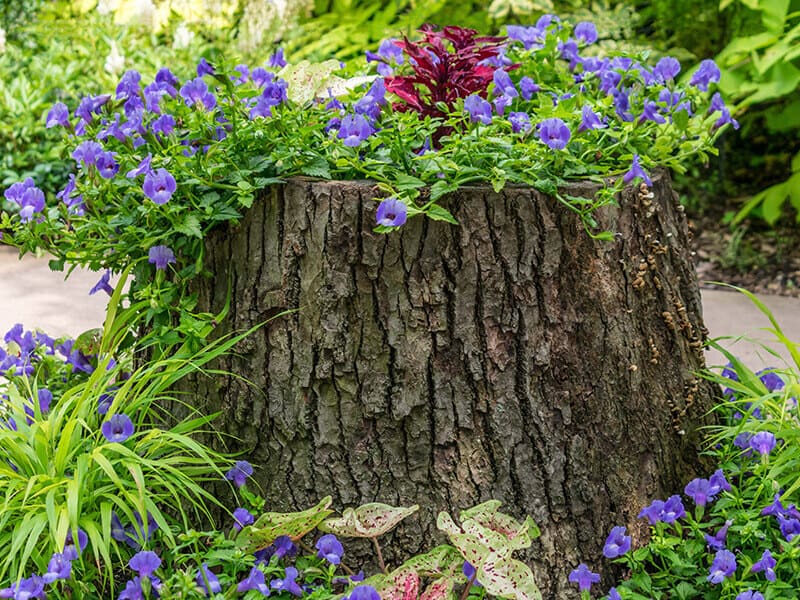 #1 A Flower Bed
If you are looking for an easy way to decorate your garden, why not use an old tree stump as a flower bed? You'll also get more space for flowering beds. You can carve the stump out and make a hollow. Put the pot in the hollow and fill it with soil and plant your flowers. Or, you can fill the stump with soil, but do make a few holes in the stump to ensure good drainage.
If a tree stump is large and spacious, you can make several flower beds to create a mix of flowers that will be eye-catching during all seasons.
Find out the easiest way to make a flower bed out of a tree stump.
The best way to build a flower planter out of a tree stump. Watch the video to know:
#2 Make a Small Flowering Tree
If the stump is taller than five feet, and there is still part of the trunk left in good condition, you can use it to make an ornamental tree. How? Well, the method is the same as in idea number 1. Clean the stump and make a hollow in it. Cover every inch of the available space with the pots and flowering plants.
To expand an available space, I recommend placing a board larger than the stump diameter. You can secure the board and put the pots with vines on top. It will create a stunning, cascading effect on your small ornamental tree!
Can you grow ivy or vine in your tree stump? Click here to find out!
#3 Make a Fountain
Making a fountain out of your tree stump is a great way to make an old tree stump a focal point in your garden. However, the first step is to seal the wood. It will make it waterproof and ensure a long lifespan for your fountain.
Sand the inner parts of the stump to create an even surface and drill a hole you use for a fountain pipe. I recommend using a waterproof sealant which is designed to be used on logs and trunks for best effects.
You'll have to dig a hole big enough to hold a fountain container with a pump. The container needs to be aligned with the surrounding surface.
Next, all that is left is to protect the pump cord and connect a ball valve with a pump. Lastly, you'll have to treat the waterproof area around the pump and use a silicone sealant around the pipe.
Once you plug in the pump you'll enjoy your new fountain setting in the garden!
You can also plant flowers that enjoy high humidity around the pump to make the pump even more charming!
Learn how simple making a fountain of a tree stump is!
#4 Build a Chair or Throne
Are you a fan of the Game of Thrones tv show? If you answered positively, make your own throne in the backyard! However, instead of an iron throne, you'll have a stunning wood throne made from an old tree stump!
This idea is suitable for large tree stumps with big diameters and is a perfect DIY project for a sunny weekend.
The first thing you'll have to do is to carve the stump to create a sitting part. Leave the edges intact so you can use them to make a throne.
Then, don't forget to sand the stump to create an even surface and prevent scratches! You can decorate the throne as you want or add some pillows to make it more comfortable!
Discover how to transform an old tree stump into a majestic throne!
#5 Create a Garden Table
Removing an old tree stump is expensive. You'll probably have to call professionals with heavy equipment powerful enough to remove it from the soil. But, if you make a table out of it, you'll save money on removal and garden furniture!
You'll need a large tree stump so it can hold a large board that will serve as a table. Secure the board on the stump and sand the edges. You can paint the table and add chairs and benches to create a lovely outside dining setting.
If a dining table is too large for your garden, find out how to make a side table from a tree stump.
This is how to create a flat surface on the tree stump. Let's watch the video:
#6 Bird Castle is Practical and Pretty
If the plants in your garden attract birds, bees, and butterflies, you can make a lovely birdhouse out of an old tree stump. Birdhouses provide a safe place for birds to nest and stay warm during the winter months. They also keep the birds safe from predators!
There is an additional benefit for your garden you'll experience if you build a birdhouse! The birds can actually help control most of the pests that attack your beloved plant!
You'll have to carve the trunk and make windows and doors. Cover the hollow with a rooftop and decorate it according to your preferences!
Find out how to make bluebird houses from tree stumps!
#7 A Pot Holder Saves Space
If you don't know what to do with an old tree stump, you can make a shelf for the pots out of it. It is especially useful if the tree stump is in a sunny location, so you ensure all your potted plants receive enough sunlight.
There aren't limitations in how to make your shelf. You can use a chainsaw to carve the trunk, create cascading shelves or attach hanging baskets on the side of the stump.
If the tree stump is too old or on the shade location, find out how to remove it labor-free!
#8 A Slide Holder for Kids
You can use your tree stump to create something fun for the kids, too! If the stump is high, attach a slide to it, add sideboards for safety and gather your kids to enjoy the ride on the slide!
Next time you feel like participating in the DIY project, you can make a swing or wooden seesaw.
Check out what else you can make for your kids from tree stumps!
#9 A Bench for Relaxation
Some people like to spend time in their garden hanging out with their friends, reading a book, meditating, and being in touch with nature! If you have a huge tree stump you don't know what to do with, you can make a bench! Hollow out the stump to create a bench and add fluffy pillows to make your space more comfortable.
Is it challenging to make a bench out of a tree stump? Click here to find out!
Learn how to work with wood – logs and stumps with this video:
#10 A Game Board
An old tree stump can work as a game board stand. Even better, you can use it to create a personalized Tic-tac-toe game! Draw a three-by-three grid game pattern on the board and attach it to the tree stump.
Then, collect several stones and decorate them to make your Xs and Os! Enjoy a fun garden competition!
Check out how you can decorate the rocks to serve for an outdoor Tic-Tac-Toe game.
#11 Funny Sculpture
You can always give a face to your tree stump. Use an old bicycle tire for glasses and a pot with a wide diameter as a hat! You can give a name to your garden sculpture and make it funnier for the kids. If you put vining and climbing plants in the hat, your sculpture will look more charming.
If you don't feel very creative, you can pop a large lid on top of the stump, paint it and make a giant mushroom! Add a few smaller DIY mushrooms for the garden and have a colorful area, even after the blooming season!
Here is how to make a mushroom garden decoration with pots and spray paint!
#12 Tree House
If you have a strong and healthy tree stump in your backyard, you can use it as a supporting structure for the treehouse. Paint the roof and put the pots with flowering plants on the window. Add a few plankings on the trunk to mimic the stairs.
If you are building a smaller treehouse, you can build it and anchor it to the stump. For larger structures, I recommend building a house on the stump, so you'll have better insight into the balance and potential drawbacks.
However, do an extensive safety check before you officially announce your treehouse open!
Discover more information on the treehouses.
#13 Hobbit Home
Are you a fan of J. R. R. Tolkien's books and movies? If you answered yes, you can make a little hobbit's home in your backyard for Frodo and the gang!
Plant a few climbing plants around to make the structure even prettier! don't forget to add the little doors and windows for the hobbits.
Read more about the tools you'll need to make a hobbit or fairy home out of a tree stump.
#14 A Piece of Art
If you have a wood carving skill, a lot of patience but lack inspiration, you can carve the unique-looking figure out of the tree stump in your yard.
But, for this project, you'll need sharp tools, sandpaper, wood colors, etc. A beautiful deer head with antlers will make a focal point in every garden. If you paint it white, the sculpture will look more sophisticated.
Discover what kind of trees make ideal tree stumps for arts!
#15 Fairy Playground
Building a magical playground in your garden is a great way to engage your children in creative outdoor activities. You can have them collect cute stones and rocks, paint the fairy homes, etc.
Some people like to leave the tree stump intact, while others prefer sanding it and decorating it with planks and boards. Don't forget to carve a hole in the stump to make a lovely fairy lake!
Here is the inspiration you needed to transform the old tree stump into a fairy garden!
A New Life For the Old Stump
Have you got the inspiration you needed? You can always customize the ideas I recommended and create your own tree stump decoration. The stunning planters and fairy homes, birdhouses, fountains, tables, and chairs are just a few ways to give an old tree stump a new life!
Which idea will you try? And which one doesn't seem like it is worth the effort? Please share your thoughts in the comments below!
Stay tuned and come back for more gardening tips and inspiration!