Are you interested in learning more about different types of cut flowers? If you answered yes, this article is for you!
Green flowers are not as popular as purple, pink, and red flowers. But, green flowers are charming, and have a natural vibe to them, which gives them a unique beauty.
Also, green flowers pair well with all other flowers in gardens, pots, and bouquets. Some of the beautiful green flowers are fragrant with special aromas.
The reason to start growing green flowers is the meaning. Green flowers symbolize rejuvenation, new life, hope, and cheerfulness!
Here is the list you need to decide which green flowers to pick!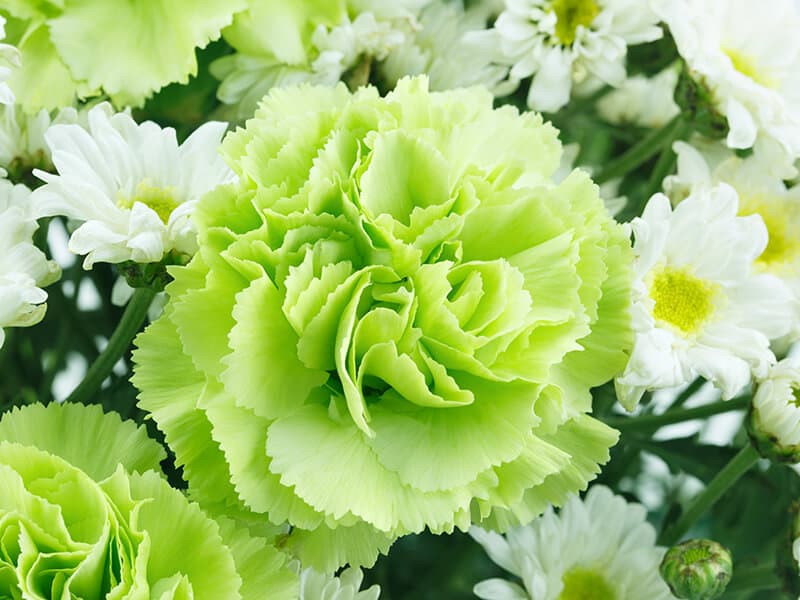 #1 Green Hellebores
If you are looking for beautiful perennial green flowers for your garden, you can consider Green Hellebores. The blooming time is from early spring to early summer. The plant is also beautiful because of its lush and leathery foliage dispersed around petals for protection.
Green Hellebores thrive in full sun locations. They can tolerate different quality soil, as long as the soil is well-drained, and you don't plant the Hellebore too deep in the ground.
The ideal zones for growing Green Hellebores are USDA zones 4-8.
Find out the best way to sow Green Hellebores seeds!
#2 Green Scabiosa
Green Scabiosa is also known as a pincushion flower because of its unique appearance. The petals are dense and remind people of the pincushions. Generally, you can find Scabiosas in different colors, both annual and perennial varieties.
In zones 3-7, green Scabiosa thrives in full-sun exposure and well-draining soil.
You can expect the attractive green flowers to appear in the summer. Even though Scabiosa won't become a focal point in your garden, it will blend beautifully in any scenery.
#3 Green Star Gladiolus
Green Star Gladiolus is a rewarding flower. It doesn't need complex care, and it features multiple flowers on the long stems. The petals are ruffled which gives the flower a richer and fuller appearance. Because of its unique shape and lush vibe, Green Star Gladiolus is a florist's favorite cut flower.
It is a perennial plant, and you can grow it outside in zones 6-10. Choose a full sun location and well-draining site.
How to plant Green Star bulbs? Find out here!
#4 Cymbidium Orchids
Exotic Cymbidium Orchids are long-lasting, attractive flowers. The light green flowers feature red centers, which just improve the beauty. These green Orchids have winter-blooming time. They grow best in USDA zones 5-10,
The only tip that you have to remember when growing Cymbidium Orchid is balance. These flowers don't enjoy too much sun, too much water, and freezing temperatures!
Cymbidium Orchids are sometimes called Boat Orchids. Find out how to take care of these plants!
Find out how to use green flowers to create stunning bouquets. Watch this video below:
#5 Green Chrysanthemums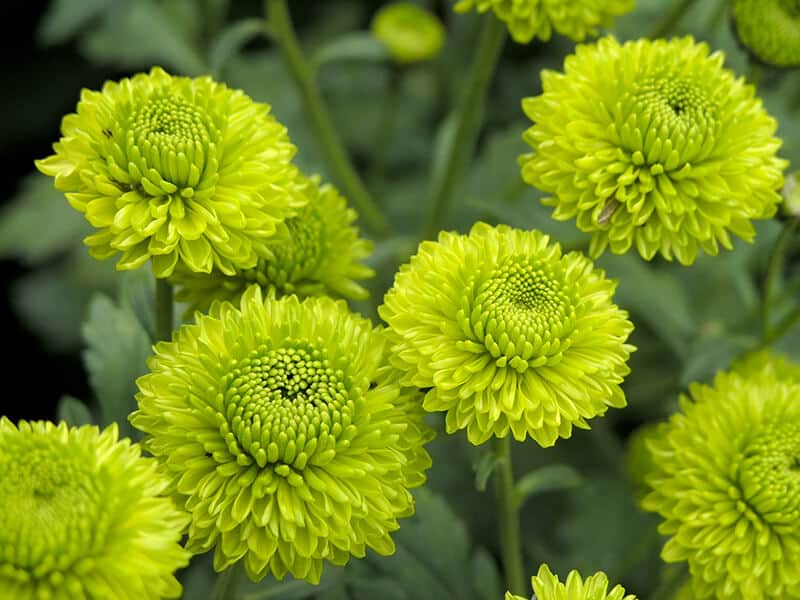 Chrysanthemums are lovely flowers available in different colors. Red and yellow Chrysanthemums are very common, and not as delightful as the green varieties. You can find them in true green shades, light green, and lime green shades.
They are beautiful and instantly improve the look of every garden and bouquet!
Common Chrysanthemums and rare varieties are easy to grow. They thrive in zone 3-9 and require a lot of suns.
Here is how and when to propagate Chrysanthemums!
#6 Green Roses
You won't see green roses so often. They are beautiful, unique and heavily fragrant. If you like green roses, look for varieties of Greensleeves roses, Green Ice, and Mint Julep roses.
These flowers are perfect for cut flowers because the varieties come in different shades of green with a pinkish and pale yellow tint. You can also grow them in your backyard if you live in 3-11 USDA zones. They require full sun exposure and moist, well-draining soil.
Have you ever grown roses? Check out the beginners' guide for growing roses!
Learn how to grow roses from cuttings. Watch the video:
#7 Green Spider Mums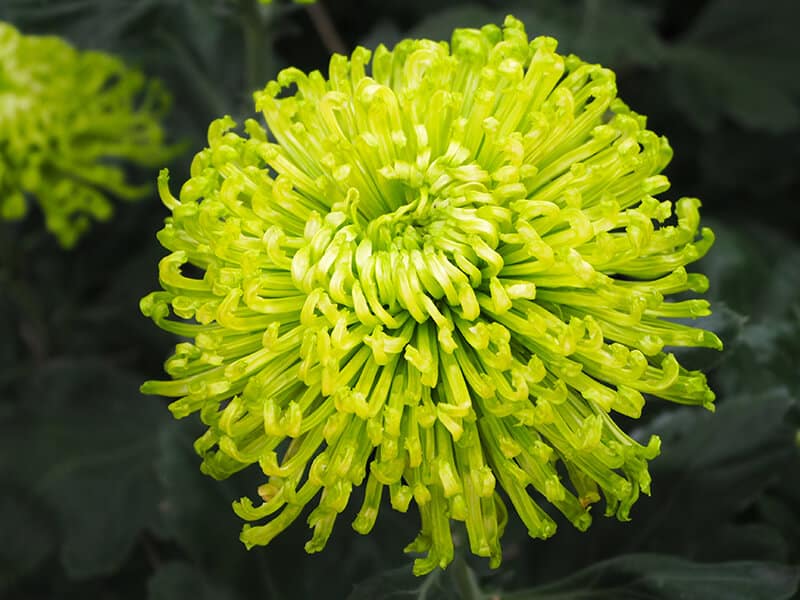 The attractive variety of Mums that come in light green shade and have long and thin petals are called Spider Mums. The petals droop from the flower and resemble the look of the spider legs.
Spider Mums are very attractive and a great addition to every bouquet. They are not difficult to grow at all.
They grow best in USDA zones 3-9, in partial shade and acidic soil. Moreover, the soil needs to be well-draining to prevent root issues.
Find out how to take care of Spider Mums.
#8 Green Goddess Calla Lily
When it comes to the Green Goddess variety of Calla Lily, most people cannot decide whether the fragrance or the appearance is more beautiful. The delightful aroma of the Green Goddess spreads from the bell-shaped, unique-looking blooms.
Calla Lilies, including the green variety, are perfect cut flowers. You can use them for bridal bouquets and decorations for events.
Green Calla Lily grows in full sun locations, but don't mind partial shade as well. It is suitable for growing in the garden and outdoors as well.
Choose a sunny spot and ensure that the plant gets enough moisture. The ideal growing zones for Green Calla Lily are 8-10.
Read more interesting facts about Green Calla Lily.
#9 Green Ball Flowers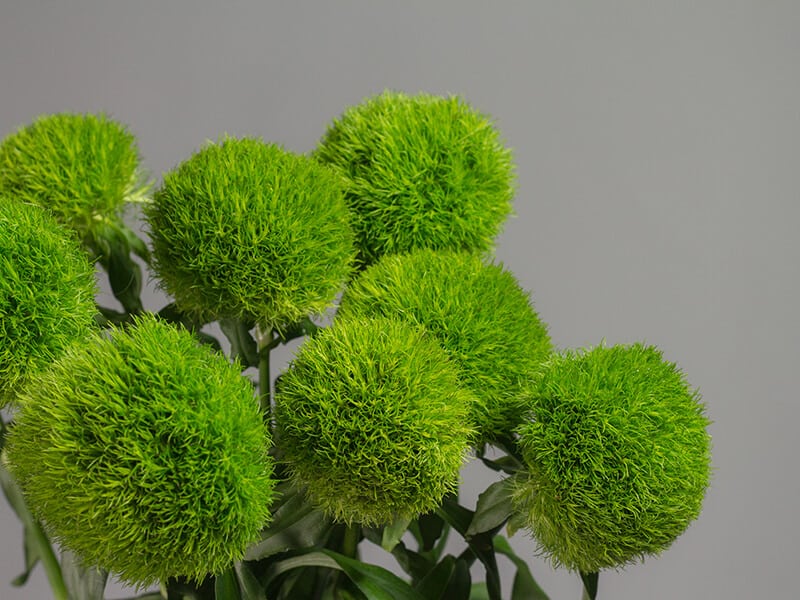 The Green Ball flower is actually Dianthus barbatus. It doesn't look like a typical flower. Instead, it has green, fuzzy and spheric blooms. The plant is grown as an annual plant and is well-known for its harsh and spicy scent.
Green Ball flower is suitable for zones 3-9. It is slightly complex to care for because it needs frequent fertilization and at least six hours of sun every day.
Read more surprising facts about the Green Ball flower!
#10 Green Daylily
Green Daylily is a beautiful flower, but unfortunately, it only lasts for one day. But, with a few tips, you can have your Green Daylily last slightly longer.
Once the blooms wilt, remove them immediately.
Delicate Daylily flowers are shaped like trumpets and come in pale green color. Generally, Daylily is an easy-care flower that grows in various conditions. The best are the ones in zones 3-10.
If you want something more stunning, read more about dual-colored green Daylily flower!
#11 Carnation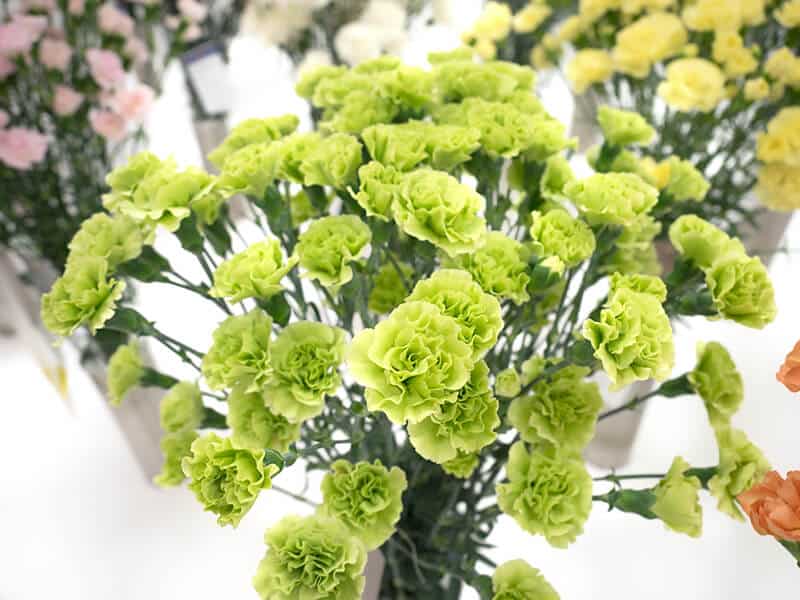 Carnation is an all-time favorite timeless flower, available in different colors. The green ones are not as popular as the red and pink varieties, but they are just as beautiful. Carnations are some of the most popular cut flowers ever. They are inexpensive but beautiful and easy to mix with other flowers.
You can find annual, biennial, and perennial varieties of carnation. The right choice depends on your hardiness zone and conditions.
Find out how to take care of Carnations!
#12 Dahlia
Dahlia is a tender perennial plant and is also available in various colors. Most people love Dahlias in their gardens and usually mix several varieties to add structure and dimensions.
Varieties are available in different bloom sizes and the blooming season starts in the summer and lasts until the end of the fall.
Dahlias need moist and rich soil. The ideal spot is sunny but sheltered!
Discover how to take proper care of your Dahlias!
#13 Gerbera Daisy
Gerbera Daisy has cheerful flowers in hot colors. They appear on long stems and make the most beautiful bouquets and decorations ever! Gerbera Daisy flowers are perfect cut flowers because they last for days!
The green varieties are beautiful and bright, ideal for a spring wedding! If you prefer bright and hot green flowers, you won't find more stunning ones than Gerbera Daisies.
Find out if Gerbera Daisies are annuals or perennials.
Learn more about other varieties of Gerbera Daisy with this video:
#14 Hydrangea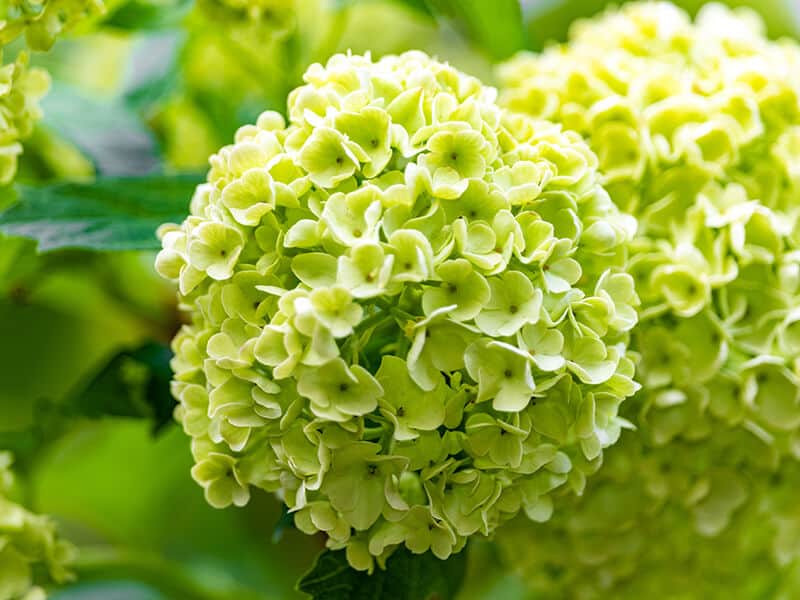 Hydrangea is a perennial shrub, a classic garden border plant with large flowers. It is used for landscaping, but also bouquets.
The Hydrangea flower is in the shape of a pom-pom. You can mix the green Hydrangea flower with white, and lilac varieties to add color and texture to a bouquet.
Hydrangeas aren't difficult to care for if you choose the location well. The plant doesn't like too much or too little sun, so a shady location with morning sun exposure might be ideal. Find out more tips for growing Hydrangeas in your garden!
#15 Ranunculus
Ranunculus looks like a rose but has a slightly different construction. It is one of the most popular cut flowers. If you need a natural, organic, and spring-related decoration, Ranunculus might be your perfect choice.
You can grow Ranunculus in your garden. It will need around three months to develop its amazing flowers!
Ranunculus is a perennial plant, but in most areas, it cannot survive cold temperatures.
Find out how to grow Ranunculus from corms!
#16 Bells of Ireland
Bells of Ireland is an annual plant with a very distinct appearance. It features long and thin stems. On the top part of each of them, the small, cup-shaped flowers appear. Florists use Bells of Ireland to improve the height of the bouquets and arrangements.
Also, if you are into dried flowers as a long-lasting decoration, Bells of Ireland are suitable and look great.
The meaning of the Bells of Ireland is good luck! Therefore, many brides prefer to have at least one stem in their wedding bouquets!
Learn more information on Bells of Ireland!
#17 Flowering Tobacco
Flowering Tobacco has ornamental value because of the green foliage and small flowers. The stalks are filled with leaves and look like a base for flowers. Flowering Tobacco is an interesting plant, but the flowers are toxic.
It is a tender perennial plant. But in most zones, people grow it as an annual flower.,
The sweet-fragrant flowers appear in the late summer. There are multiple cultivars with flowers in different colors, and my favorites are white and light green flowers.
Discover more about the origin and care of Flowering Tobacco.
#18 Cockscomb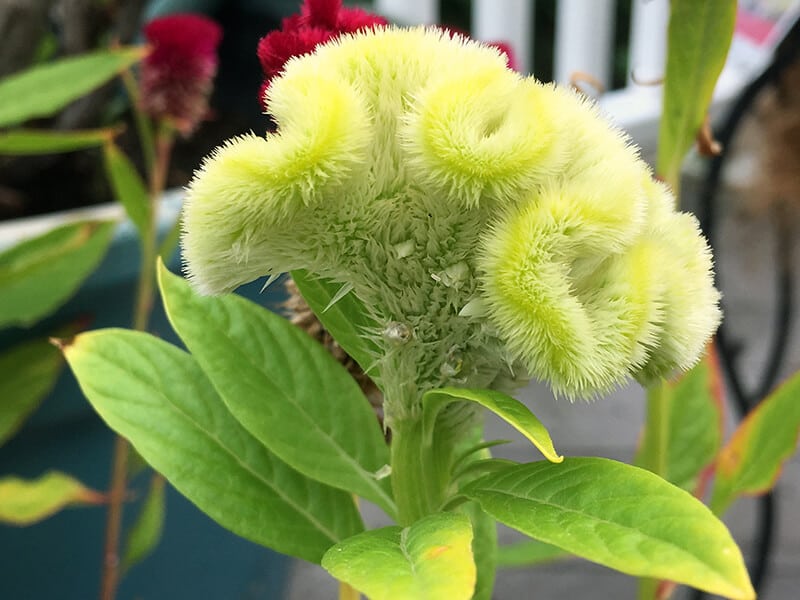 Cockscomb looks like it belongs in the ocean and not in your garden! The almost neon green color is a statement in every garden and floral arrangement. The flowers are densely packed and weirdly shaped, which all contribute to the popularity of the plant.
The purple variety is more popular, but the lime green is better suited for creative bouquets!
Read more information on Cockscomb.
#19 Lady's Mantle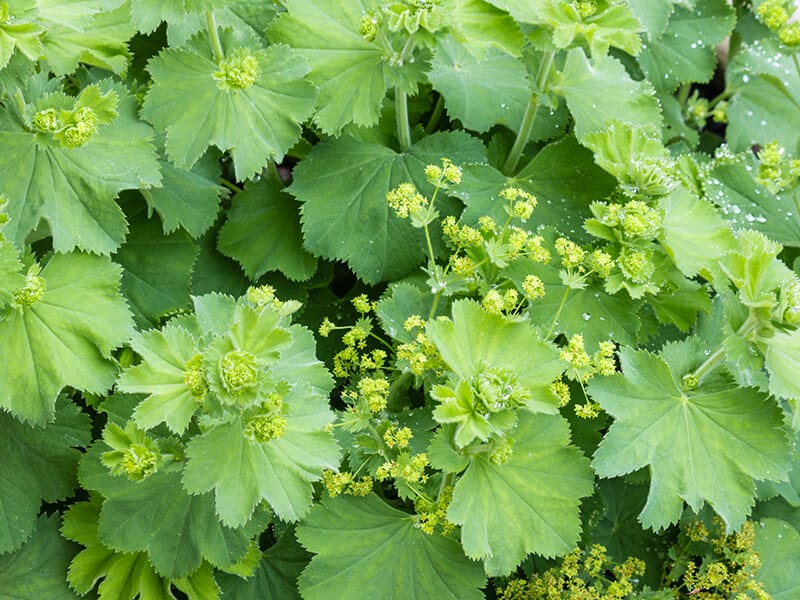 Lady's Mantle is a great garden plant. It is a low-grower and perfect for the borders of the garden. A great thing about Lady's Mantle is that it can be easily mixed with other plants in the flowering beds, for a customized and unique appearance.
You can also grow it in the pots and expect your plants to reach an average height of 30 inches. Lady's Mantle features green flowers with yellowish centers!
Find out how to grow Lady's Mantle in containers!
#20 Mediterranean Spurge
Mediterranean Spurge is a low-maintenance shrub. It is very drought-tolerant and evergreen in warm climates. The plant grows best in zones 6-9 but may need frost protection in zone 6.
The plant has dark green leaves on the bottom of the stem. The foliage on the top of the color is bright green, almost neon.
The flowers are also green with a yellow glaze. They are unique because they don't have petals.
Read important information on Mediterranean Spurge.
#21 Lady's Slipper Orchid
Lady's Slipper Orchid is a beautiful variety of Orchids, easily recognizable by pouch-like blooms. The best thing about this exotic flower, other than appearance, is the simple care. In fact, Lady's Slipper Orchid is one of the easiest Orchids to grow.
Most of the varieties have large blooms that are widely used as cut flowers. They stay fresh and beautiful for days. The green variety is lovely and perfect for spring decoration!
Find out how to grow Lady's Slipper Orchid indoors!
#22 Clematis Florida Alba Plena
Clematis Florida Alba Plena is famous for its long blooming period and large flowers! It is an adored garden flower, less popular in arrangements.
The Alba Plena variety features flowers with green centers, and the green slowly fades towards outer petals. The plant grows best in sunny, but sheltered areas and doesn't need much water or fertilizer.
Discover more growing tips from experienced nurseries!
#23 Zinnia
Zinnia is well known for the vividly colored flowers, and the lime-green variety isn't an exception. The plant is perfect for beginners in gardening, as it doesn't need a lot of maintenance. Also, Zinnia is drought-tolerant.
You can plant several brightly colored varieties of Zinnia in flower beds to create a unique flower setting at the end of the summer. Zinnia is an annual plant, so you'll have to sow the seeds every year.
Should you sow Zinnia seeds indoors? Click here to find out!
Take a closer look at green Zinnia and decide if it is good for your space. Watch this video:
#24 Jack In The Pulpit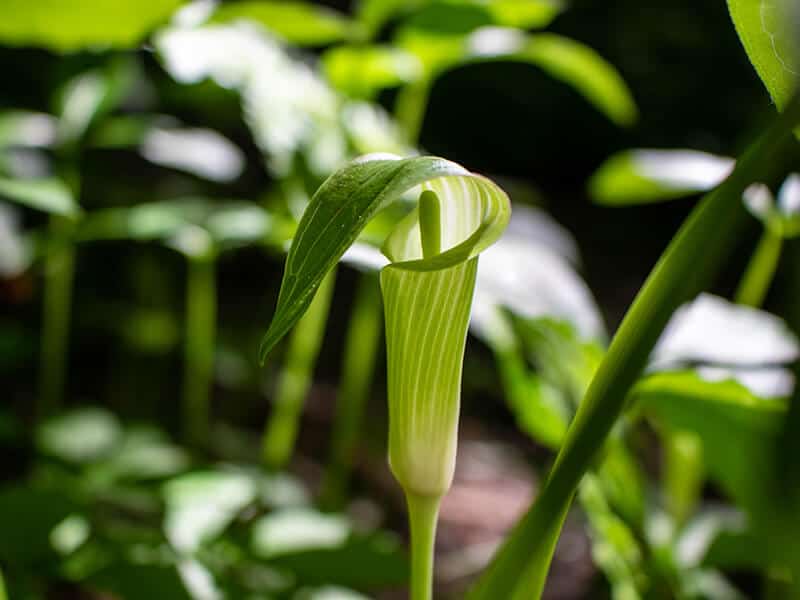 Jack in the Pulpit is easy to grow in moist soil. The plant does well in the shade, so it may be perfect for filling in the blank shady areas in your garden. The plant is a vigorous grower and will spread fast.
Most people use Jack in the Pulpit as a charming ground cover.
You can find varieties with brown, purple and green blooms. The blooming season starts in early spring and lasts until summer.
Here is a quick overview of the information on the Jack in the Pulpit plant.
#25 Tulip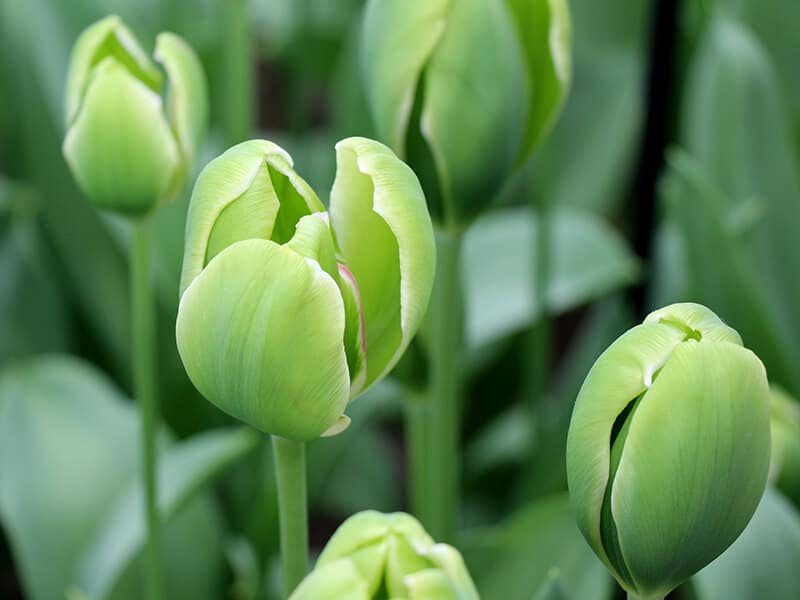 Tulips come in different colors, and the variety Formosa has yellow petals with lime green shades. Tulips, in general, make excellent cut flowers because of their look and the prolonged freshness.
There are countless cultivars of Tulips, and they differ in flower color and bloom time. Pick the variety that suits your preferences! For example, I prefer autumn-blooming tulips!
Here is how to grow Tulips in your garden!
Find out which tulips are the best. Watch this video below:
Choose Green Flowers For New Beginnings
Have you found your favorite green flowers yet? I like green Gerbera Daisy and Green Ball Flowers.
Whichever flower you choose to put in your bouquet or better, grow in your garden, keep in mind the meaning. Knowing that your plants symbolize new beginnings and rejuvenation might help you motivate yourself to change the things in your life you aren't satisfied with!
Even if they don't motivate you, your garden still looks beautiful with green flowers!
Have you ever grown any of the plants from my list? Please share your experience!