Most types of Jade plants are low-maintenance and suitable for beginners. Jade varieties come from South Africa and are often a symbol of luck, abundance, and prosperity. Therefore, all Jade plants are great as houseplants and a phenomenal idea for a housewarming gift!
The essential care for Jade plants includes optimal watering, pruning when needed, and moderate sunlight.
Most Jade plants are beneficial for indoor space. They improve indoor air quality, absorb CO2 at night, may increase humidity, and add a touch of beauty and elegance in every space!
I will walk you through the most beautiful types of Jade succulents. Get ready, you have a difficult choice to make because they are all beautiful!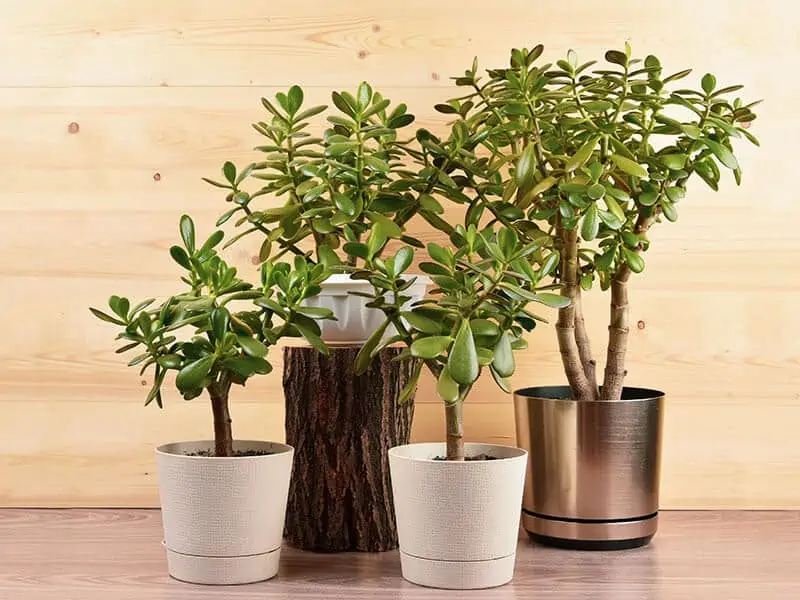 1. Crassula Ovata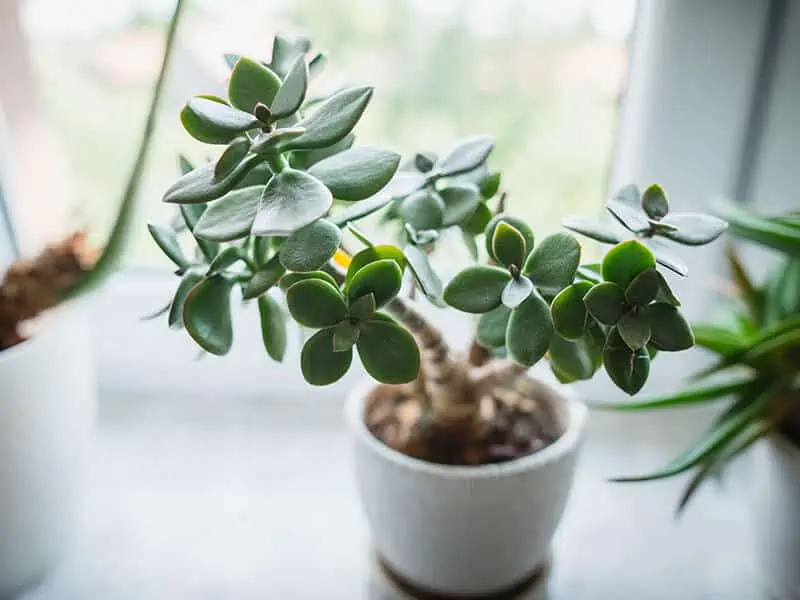 The Money Plant, scientifically known as Crassula Ovata, is the most popular Jade plant. It is a beautiful evergreen succulent with round leaves, which requires minimal care. If the plant is exposed to too much sunlight, the leaves may get tinged with a red hue.
Money plant's blooming season is summer. However, indoor Crassula Ovata rarely blooms, but most people grow it because of the beautiful foliage. Crassula Ovata isn't picky about lighting. The plant will grow in darker conditions, but it prefers a bright location. A south-facing window will be perfect!
2. Crassula Jade Tower
When you take good care of Crassula Jade Tower, the succulent can soon become the most beautiful one in your collection! The essential care isn't different from most other succulents. The Crassula Jade Tower should never sit in water and you should be careful not to overwater it.
The easy way to ensure Crassula Jade Tower gets enough water is to soak it for a short time and then dry it.
Jade Tower needs a lot of sunlight to thrive.
3. Crassula Arborescens Undulatifolia
Ripple Jade aka Crassula Arborescens Undulatifolia is a lovely succulent that prefers bright conditions and moderate watering. On average, Ripple Jade can grow 4 feet tall. Like most other Jade varieties, Ripple Jade rarely blooms as a houseplant.
It needs excellent soil drainage and cacti soil mix to grow. Starting Ripple Jade is easy from stem cuttings. The trick to try is to allow the stem cuttings at least 24 hours to dry before planting.
4. Crassula Capitella Campfire
Crassula Capitella Campfire can be used as ground cover in warmer climates or you can grow it in containers. People pick Crassula Capitella Campfire because of its interesting foliage during winter when a red hue sticks out the foliage.
The succulent is low-maintenance, prefers the soak and dry watering method and bright sunlight. I also recommend allowing the soil to dry between watering.
5. Crassula Coccinea
Red Jade Plant or Crassula Coccinea is a striking succulent featuring bright and thick foliage. It is most beautiful when you grow it in the outdoor garden where you can enjoy the outstanding summer blooms. Still, Crassula Coccinea is also attractive as a houseplant.
During spring and summer, Crassula Coccinea needs regular watering and feeding. When the temperatures drop, the succulent doesn't need feeding. You should prune it, and water sparsely when the soil gets completely dry.
6. Crassula Arborescens
Silver Jade plant aka Crassula Arborescens is an elegant and exotic plant. It has round and thick foliage in a unique shade of silverish green.
Silver Jade blooms are available in several colors, from pink shades to bright white.
You can grow the Silver Jade plant indoors or outdoors, but the plant needs frost protection in colder zones. Interestingly, indoor Silver Jade succulents are taller than outdoors and can reach four feet.
Let's see this video:
7. Crassula Ovata Botany Bay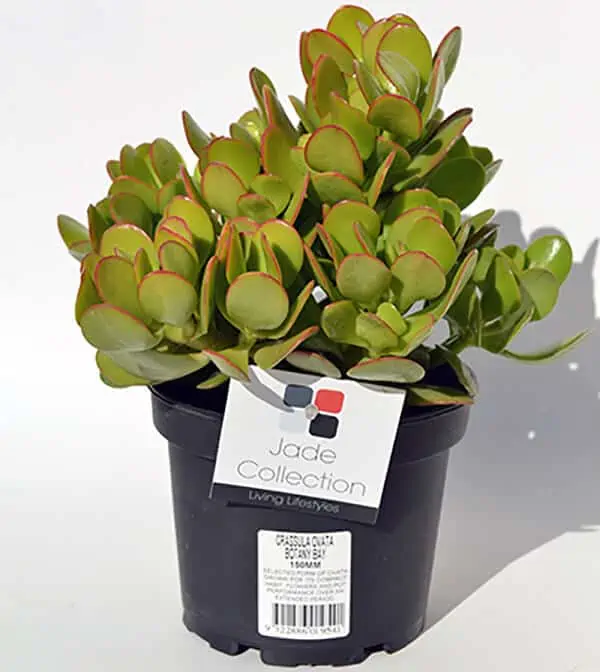 Botany Bay Crassula Ovata is very similar to the original Crassula Ovata. It features a slightly more compact form and bushier growing habit. Botany Bay Jade plant blooms with tiny whitish flowers and is very easy to grow, indoors and outdoors.
Crassula Ovata Botany Bay rarely suffers from problems. Exposing the succulent too much to bright sunlight will result in scorch leaves. Over-watering can cause rotting, and that is pretty much all!
8. Crassula Ovata Gollum Variegata
Variegated Gollum Jade is an easy plant to grow in a pot. You can keep the pot in full sun, the Crassula Ovata Gollum Variegata will also tolerate partial shade.
Plant it in the soil with a neutral pH value. Well-draining is a must, and Variegated Gollum Jade needs more water during active growth. You can also use the soak and dry method for Variegated Gollum.
9. Crassula Marnieriana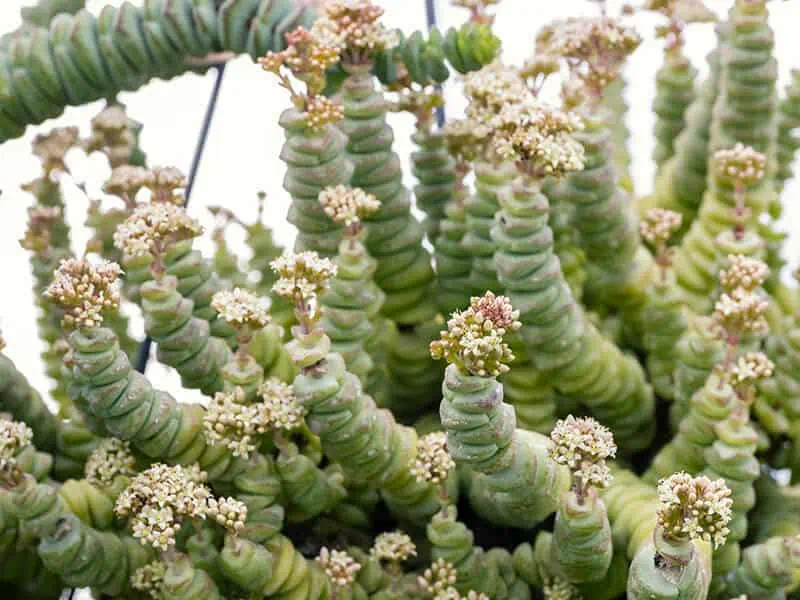 If you have one Crassula Marnieriana, you can easily get several mini Crassulas from it. Take one cutting from an adult plant and let it dry in a dark place for three days. It is a trick you can use to prevent Crassula Marnieriana from rotting in the pot.
People also call it Jade Necklace or Chinese Pagoda.
If you keep Crassula Marnieriana inside, ensure the succulent gets adequate bright, filtered light. The dry atmosphere is good for Crassula Marnieriana!
10. Crassula Arborescens Blue Bird Variegata
Blue Bird Variegata is a slow-growing hybrid of the common Crassula Arborescens plant. It is a unique Jade plant because it produces flowers in spring!
Caring for Crassula Arborescens Blue Bird Variegata isn't different from caring for other Jade plants. Bright, filtered light, moderate water, and well-draining soil are typical growing requirements.
11. Crassula Falcata
Crassula Falcata is also called a Propeller plant because of the uniquely distributed leaves. Ideal sunlight requirements for Crassula Falcata are four to six hours of sunlight per day. Water the soil when the top layer gets dry to touch and fertilize the plant in late spring and summer.
You can dilute all-purpose fertilizer or use cacti fertilizer to feed the plant with the required nutrients.
12. Crassula Ovata Gollum
I already mentioned the variegated version of Gollum Jade, but the original one is still my favorite. Crassula Ovata Gollum develops red tips and a light green color when you expose it to bright sunlight. In darker conditions, your Gollum Jade becomes dark green.
You can grow Gollum Jade in the standard succulent mix and well-draining soil. It won't need complex care, only occasional watering, and diluted fertilizer in spring and summer.
13. Crassula Exilis Subspecie Picturata
Tiger Jade or Crassula exilis ssp. picturata is a unique type of Jade plant. It has colorful foliage with distinctive patterns, hence the Tiger name. Also, each leaf develops thin teeth as the plant matures.
During the blooming season, Tiger Jade looks magnificent. It develops bright red flowers which stand out against patterned leaves. You can grow it indoors and outdoors, but the Tiger Jade needs protection against cold and frost.
You can see this video to know more:
14. Crassula Ovata Crosby Compact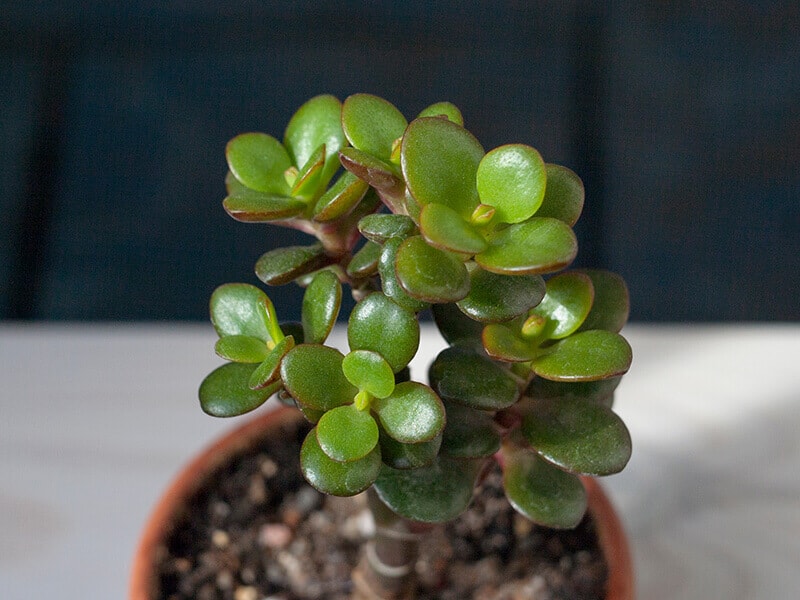 Crassula Ovata Crosby Compact is an excellent choice if you prefer your plants to remain small. Dwarf Jade plant needs full sun to thrive but can adapt to partial sunlight conditions.
During spring, summer and early autumn, water Crosby Compact Jade regularly. During winter, water minimally to prevent the foliage from shriveling.
This dwarf cultivar requires slightly warmer temperatures than standard Crassula Ovata, especially if you keep the plant in partial shade.
15. Crassula Cultrata
Like most other Jades, Crassula Cultrata can be propagated through a single leaf. The plant is known as Blush Plakkie and develops yellowish flowers in summer.
It is easy to grow in well-draining, neutral soil. Blush Plakkie may need repotting, but do it in the warm season to prevent the plant from stressing too much.
16. Portulacaria Afra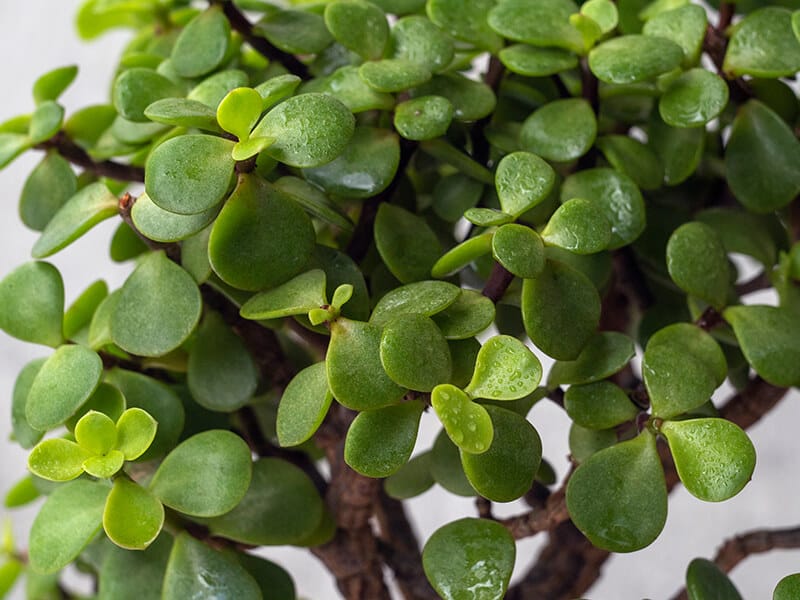 Portulacaria Afra is also called Elephant Bush because it is common elephant food. This succulent plant develops beautiful glossy leaves and is only hardy in warm USDA zones ten and 11.
Everywhere else, people grow it as a houseplant. Portulacaria Afra needs draft protection and bright light. It can get quite tall, up to 20 feet. Even though Elephant Bush is drought-tolerant, the plant needs consistent watering from April to October.
17. Portulacaria Afra Variegata
If Portulacaria Afra seemed too plain for you, pick a variegated version. It is easy to recognize by color changes on the leaf edges and charming pinkish blooms.
Portulacaria Afra Variegata needs the same care as the standard cultivar without variegation. It includes optimal watering and monthly use of fertilization in the active growing season.
18. Crassula Silver Springtime
Crassula Silver Springtime will add a dose of elegance to your plant display with remarkable chubby leaves. The foliage features silverish glare and the blooms are usually white and pink. They appear in clusters in summer!
Overall, Crassula Silver Springtime is easy to grow. But, you need to keep an eye on the plant for fungal diseases and root rotting. Warmth and optimal watering help prevent these issues.
19. Crassula Tomentosa
Wooly Crassula or Crassula Tomentosa grows best in a shallow pot and well-draining mineral soil. That way, the fibrous roots have space to develop in an adequate environment. Crassula Tomentosa grows in South Africa and develops beautiful solitary rosettes.
It can be tricky to grow. Still, when the conditions are right, Wooly Crassula grows fast. The keyword for growing it is moderate – moderate watering, moderate sunlight, and fertilizer.
20. Crassula Perforata
String of Buttons or Crassula Perforata is a popular trailing succulent. It looks great in hanging pots or containers. Crassula Perforata has typical watering requirements for succulents. The rule is to water the plant when the soil is dry.
Position the pot where your String of Buttons will receive plenty of bright, but filtered sunlight. You can grow it indoors or outdoors. But, bring the plant in when the weather gets colder.
21. Senecio Jacobsenii
Weeping Jade, scientifically Senecio jacobsenii, loves sun, but prefers partial shade, especially during hot summer days. It is an unreliable flowering plant because it won't flower every season and there could be nothing you can do.
But, when it blooms, Weeping Jade flowers develop a rich and cheesy aroma. The flowers are pretty, unlike the aroma. They appear in fall and bright orange flowers stand out against dark foliage.
22. Portulacaria Afra Cascade
Portulacaria Afra Cascade has several common names. You may know it as Low or Trailing Elephant bush or Postrata.
The plant features round leaves and rarely gets over three feet tall. Low Elephant bush has the same growing requirements as regular Elephant bush plants.
Portulacaria Afra Cascade doesn't bloom, but people grow it for its beautiful foliage and lovely bushy growth.
23. Crassula Ovata Undulata
Crassula Ovata Undulata or Curly Jade grows well in the average household conditions. Therefore, average humidity and temperature ranges between 60 and 80 degrees Fahrenheit will be great for this succulent.
Crassula Ovata Undulata will benefit from a monthly dose of weak liquid fertilizer in the growing season. It is a slow-growing succulent, but with a charming appearance.
24. Portulacaria Afra Aurea
Portulacaria Afra Aurea aka Yellow Rainbow Bush is an attractive succulent with reddish stems and typical round Jade foliage. You can pick full sun or light shade location and soil with pH between 5.0 and 8.0.
Yellow Rainbow Bush isn't frost hardy, and the best time to plant it is March. Established Yellow Rainbow Bushes are low-maintenance.
25. Crassula Sericea Hottentotta
Crassula Sericea Hottentotta is picky about lighting conditions. This little succulent needs strong light to grow and develop to its full potential. It remains compact and looks beautiful in ornamental pots. But, you can also grow it outdoors if you live in a warmer climate.
Crassula Sericea Hottentotta leaves have a silky texture.
This succulent is sensitive to overwatering. Therefore, try the soak and dry method when the soil feels dry to touch.
26. Portulacaria Afra Porkbush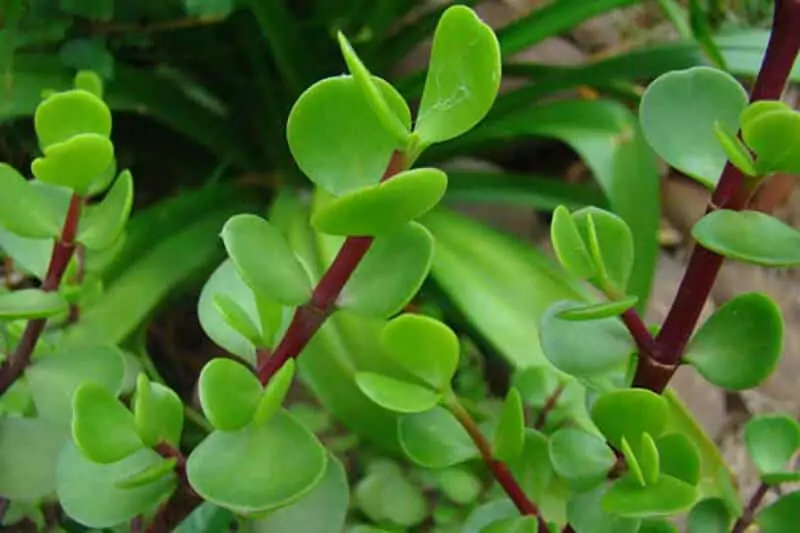 Portulacaria Afra Porkbush is another cultivar that people call Elephant bush. But, this one is much smaller than the regular one.
Once the plant reaches maximum height, it develops in width. If you want to keep it under control, you have to prune the Porkbush Portulacaria Afra regularly.
Porkbush Portulacaria Afra features red stems and green, round and glossy foliage.
27. Crassula Sarmentosa Comet
Crassula Sarmentosa Comet or Variegated Trailing Jade is a beautiful succulent, native to South Africa. The average height of the plant is between one and two feet, and Crassula Sarmentosa Comet spreads between three and five feet.
The Variegated Trailing Jade isn't picky about sunlight exposure. It can tolerate partial shade and bright sunlight. The watering requirements are moderate and the plant is easy to grow.
28. Portulacaria Afra Forma Macrophylla
Large Leaf Elephant Food aka Portulacaria Afra Large Leaf can grow between eight and 12 feet tall. It blooms only in dry conditions, but it remains a beautiful plant to grow in your garden or home with its round and large leaves.
In its native habitat, South Africa, Portulacaria Afra Large Leaf grows on dry rocky slopes. The plant can only grow in the USA outside if the temperatures don't drop below 75 degrees Fahrenheit.
29. Crassula Crassula Pubescens Subsp. Rattrayi
Crassula pubescens subsp. rattrayi or Bear Paw Jade produces beautiful orange or white blooms in spring. The leaves have a slightly velvety texture and are susceptible to fungal diseases.
Therefore, when you water Crassula Pubescens Bear Paw only water at the base, so the foliage remains dry. Also, keep the plant in a warm room, in partial shade, and well-draining soil.
30. Crassula Ovata Harbour Lights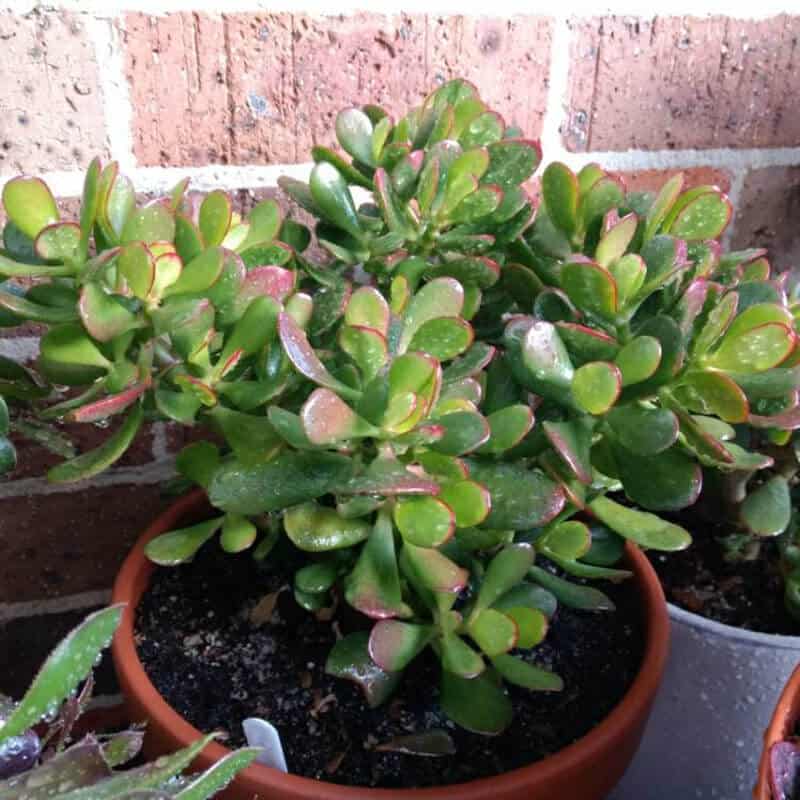 Harbour Lights Jade, scientifically Crassula Ovata Harbour Lights is a newer cultivar of the Jade plant. It blooms in the fall and develops lovely pinkish flowers. Harbour Lights Jade is also beautiful in the winter months.
The foliage turns red when the temperatures get colder, and you reduce the watering frequency.
31. Crassula Ogre Ears
Pixie Jade is an excellent indoor plant. It needs moderate sunlight and can tolerate bright plants. During the growing season, water Crassula Ogre Ears evenly when the soil is dry.
The succulent develops pink and white flowers.
32. Crassula Ovata Skinny Fingers
Skinny Fingers is a popular Crassula Ovata cultivar. The succulents develop thick and short stems with red tips. Crassula Ovata Skinny Fingers usually grows up to three feet in height and spreads two feet.
It is easy to care for and doesn't like too much water or too much sunlight.
Steps to take when taking Jade plant outdoors in the summer
33. Crassula Ovata Pink Beauty
Crassula Ovata Pink Beauty or Pink Jade is one of the most wonderful types of Jade plant. It features multiple-branching growth forms and blooms later than most Jade plants. The blooming season starts in the fall, and the Pink Jade produces lovely star-like flowers in the pastel pink shade.
The average Pink Jade is four feet tall and five feet wide. It grows well in full sun or partial shade and well-draining soil.
34. Crassula Ovata Minima
Crassula Ovata Minima or Miniature Jade plant is perfect for container growing. But, if you live in a warm and dry climate, you can grow Miniature Jade plants in the garden. It is hardy in USDA zones 10a to 11b.
Minima Crassula Ovata grows below 2.5 feet and stays 20 inches wide. It is also a great choice for an apartment, because of its easy-going nature, compact size, and attractive appearance.
35. Crassula Ovata Lemon & Lime
Variegated Jade or Crassula Ovata Lemon & Lime grows better in outdoor soil than in containers. The succulent needs several hours of sunlight per day to develop the magnificent variegation on the foliage.
Other than that, Crassula Ovata Lemon & Lime needs well-draining soil, consistent irrigation, and fertilization during spring and summer.
You can grow it from leaf or stem cuttings, seeds, or via offsets. It is one of the rare types of Jade plants, which may be difficult to find in local nurseries.
36. Crassula Ovata Red Coral
Red Coral Jade features stunning bright white flowers. It is one of the compact Jade types and typically grows around 36 inches tall. Crassula Ovata Red Coral spreads around 24 inches.
The foliage is bright green and fleshy and uniquely shaped. The basic care isn't typical for all Jade plants.
37. Crassula Ovata Ruby
Ruby is another cute Jade plant that features bright green foliage with a red hue. Crassula Ovata Ruby remains under one foot tall. When you grow it in a container, it is easier to maintain the size and shape of Ruby Jade.
The plant grows excellently in containers and seaside gardens. It cannot survive cold temperatures.
38. Little Jade Tree
The Little Jade Tree has been available in rare nurseries in the last several years. It is one of the smallest Jade plants ever. People often buy Little Jade Tree as a souvenir or use it in small dish gardens.
The Little Jade Tree variety is low-maintenance and grows in moderate lighting conditions. It is almost always grown in indoor conditions.
39. Crassula Ovata Sienna
Sienna features thick branching and bushier growing form than most other Crassula Ovata cultivars. It is very similar to Jade Ruby, but it has dense foliage.
Crassula Ovata Sienna blooms in autumn and winter. The small white flowers appear just above the foliage and last for a long time. Because of its compact form, Sienna is often called the Baby Jade plant.
40. Crassula Ovata Hummel's Sunset
Golden Jade Tree or Crassula Ovata Hummel's Sunset is a wonderful addition to every home or office space. Hummel's Sunset Jade is excellent for pots and needs bright sunlight.
Golden Jade Tree has been on the market for a while. Since then, the plant has gained popularity because of the bright yellow foliage and simple care. There are also some variegated versions available in some nurseries.
41. Crassula Ovata Hobbit
Lastly, let's take a look at Crassula Ovata Hobbit. The succulent is between two and three feet tall in the mature age, with curled leaves with red margins. The ideal temperature range for the Crassula Ovata Hobbit is from 68 to 77 degrees Fahrenheit. In colder regions, Hobbit needs winter protection.
Like many other Jade plants, Hobbit develops pinkish, star-shaped blossoms in summer. With Gollum Jade, Hobbit forms an attractive Jade group called the Tolkien group. The group is attractive for plant collectors.
Tips to make your Jade plant bright red.
Jade Plants Are Beautiful And Have Even Prettier Symbolism
Friendship, Money, and Lucky plant are the nicknames for different types of Jade plants. People love Jade succulents because they look stunning during and outside the blooming season.
Which Jade is your favorite? I cannot make up my mind between Gollum and Hobbit! You guessed I am a true Tolkien fan!
If you know of additional Jade types that aren't on my list, feel free to add the cultivars in the comments! I hope the article was useful to you!