Did you know there are more than 20 types of lemons? You probably know about the most common ones, such as lemon Meyer you can find in every supermarket. But, there are plenty of interesting lemon varieties as far as the taste, and plant appearance go.
Let me walk you through all lemon varieties with their known facts! The fruits have different flavors, some are sweeter and more fragrant than the others, and you can also find lemons with colorful inside.
Hopefully, the next list will help you pick the lemon tree for yourself or just upgrade your knowledge about these citrus plants!
#1 Dwarf Lisbon Lemon
Dwarf Lisbon Lemon, or botanically Citrus x Limon is an excellent lemon type for small gardens. You can also grow it in large containers.
The Lisbon variety is a vigorous grower and adored for its tasty fruits. Lisbon lemons have thin skin and true lemon flavors with a distinct lemon fragrance. Nowadays, you can find commercial varieties. These are more tolerant to drought, heat, and cold than the varieties available in the past. Also, in the right conditions, your Lisbon Lemon provides fruits year-round!
The ideal conditions are warm weather, full sun exposure, and regular weekly watering. During an extensive heat period, you may water the plant more often.
Find out the proper care for dwarf lemon varieties and the best growing tips!
#2 Buddha's Hand Lemon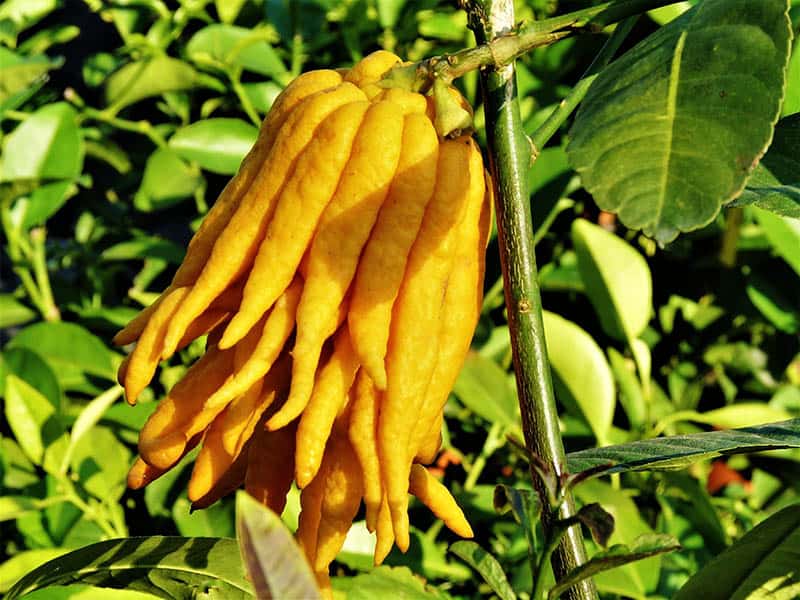 If you are looking for a unique lemon variety for the taste and fruit appearance, try Buddha's Hand! This ancient plant is native to Asia, and its scientific name is Citrus medica var. sarcodactylis.
Other than its unique appearance, Buddha's Hand has a distinct sweet fragrance. The plant is somewhat difficult to grow.
If you live in California, you can consider this sweet fruit. Also, keep in mind that Buddha's Hand isn't eaten like fresh fruit. Moreover, it is a special ingredient in many culinary specialties and drinks.
Discover more fascinating facts about Buddha's Hand Lemon, including ways you can use it in the kitchen!
Discover what you can do with Budda's Hand lemon.
#3 Eureka Lemon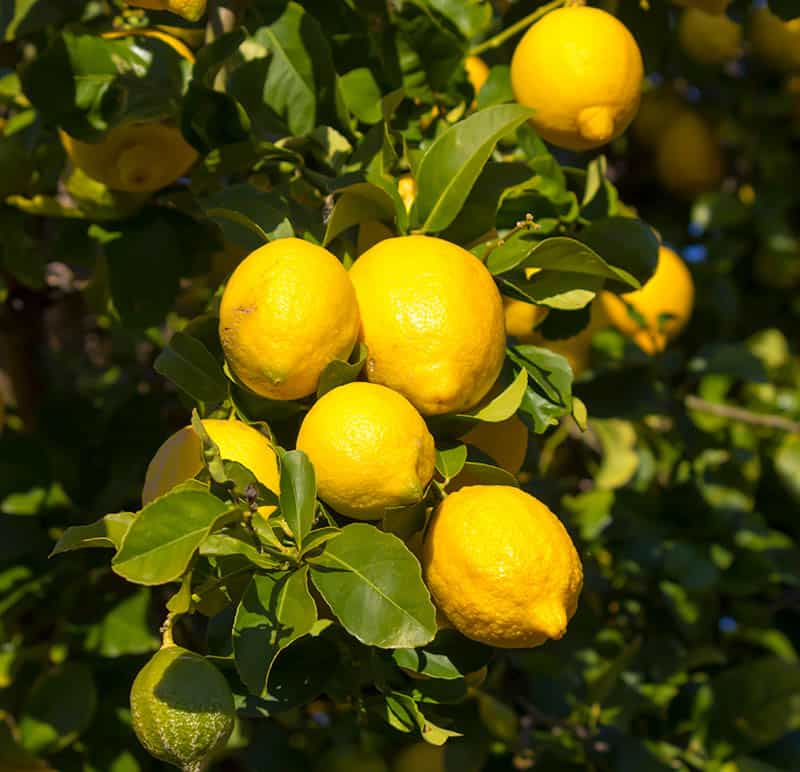 Eureka lemon tree is best-known because of the abundance of crops the tree provides in different conditions. The fruits have a common citrus taste, without harsh fragrance. On the other hand, the blooms are fragrant, and the foliage is beautiful and turns from bronze to green.
Eureka tree is cold-sensitive. Therefore, pick a sheltered location, warm and cozy for your lemon tree to thrive. The plant needs plenty of sunlight, and well-draining, sandy, or loamy soil.
Find out will the Eureka lemon tree survive in the acidic soil!
Check out who wins the taste test: Lisbon, Meyer or Eureka lemon.
#4 Baboon Lemon
Baboon lemon is native to Brazil and tastes different from other lemon varieties. You may expect citrus, sour taste, but Baboon Lemon has a floral taste, with a hint of lime. The tree is a fast-grower and develops large, lush deep green foliage.
Other than fruits, people grow Baboon lemon for ornamental value. The fruits are intense yellow, which stands out on the showy foliage!
Discover if you can successfully grow a lemon tree from seeds or you need an established plant!
#5 Bush Lemon
Bush lemon is a shrub, occasionally pruned to a small tree appearance. The shrub develops unusual lemon fruits. It is an evergreen plant with dense and rich foliage.
The plant produces beautiful white flowers with enjoyable fragrance and glossy, true green foliage.
The fruits are elongated with bumps all over the fruit. But they taste heavenly!
You can use them in cooking and for drinks!
Discover what are the ideal growing conditions for Bush lemon!
Find out how to prune the lemon tree for the best look.
#6 Bearss Lemon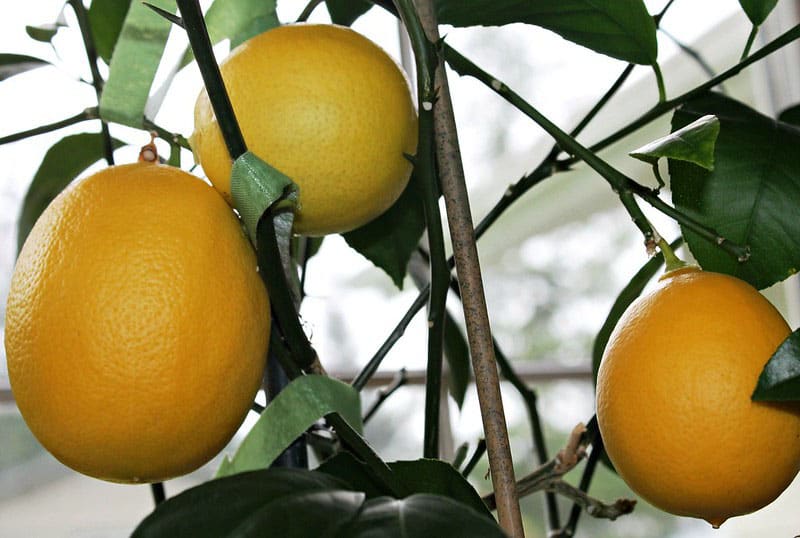 Bearss lemon is sometimes called Persian lime. It has a tarter taste than most other lemon varieties. The tree develops large, white, heavily fragrant flowers in spring but needs a tropical climate to bear fruits.
These lemons are perfect for juicing because they don't have as many seeds as other types. However, Bearss lemon can be difficult to grow. The plant cannot survive temperatures lower than 55 degrees Fahrenheit. It also needs excellent drainage in the soil, a lot of water and a lot of sunlight!
Therefore, as soon as the night temperatures drop, bring the plant indoors. Ideally, place it near the sunny window.
Find out if Bearss lemon tree needs pruning!
#7 Pink Variegated Lemon
If you are looking for an unusual gem for your garden, please consider the Pink lemon tree! You will find it under the botanical name Citrus limon Variegated pink. The plant has been grown for its ornamental foliage and lovely fruits!
Each pink lemon has pink flesh inside, similar to the one you'll see in pink grapefruit. But, the juice isn't pink! The juice is more on the clear side and has only a pink sheen to it. Moreover, the fruits have two-colored variegated skin and a mild lemon flavor!
The pink lemon tree is one of the easiest varieties of lemon to grow. But, there are still several things to know about proper pink lemon tree care. Find out how to take proper care of the Pink lemon tree and keep it healthy year-round!
#8 Dorshapo Lemon
People who prefer the sweet over-acidic taste may enjoy Dorshapo lemon more than any other variety. The fruit tastes sweet with just a hint of acidic. The plant is native to Brazil. Because it looks like other lemon fruits, Dorshapo lemon may be difficult to identify if you don't taste it!
Doshapo lemon tree needs standard growing conditions, like most other lemon varieties. Those include a lot of sunlight and protection against cold weather!
Find out how to take care of the most common seven problems you can expect with your lemon tree.
#9 Meyer Lemon
If you decide to grow Meyer lemon in containers or in your garden, it is the decision you'll never regret. Meyer lemon is one of the most common varieties, and also the one that doesn't need complex care.
Six hours of sunlight will be enough for your Meyer tree to thrive. But, if you live in a very hot climate, the morning sun is better than the afternoon, because it may burn the foliage and fruits.
The Meyer lemon tree is also perfect for pots you can place on the balcony. You can also use the skin of lemon Meyer to add a distinct aroma to your dishes.
The fruit has a delicious balance between sweet and acidic taste. Meyer lemons are commonly used fresh, in recipes, for sweets, drinks, and marmalade. It is because Meyer lemon is actually a hybrid variant, a cross between a lemon and sweet mandarin.
Learn how much water lemon Meyer needs to remain healthy!
Learn how to grow Meyer lemon from cuttings.
#10 Femminello Lemon
Femminello Lemon is the popular favorite lemon type in Italy! The fruits are medium size and have oblong shapes.
The fruit neck can be slightly elongated with a short nipple. Once you cut them, Femminello lemons are pale yellow, with a green sheen, even if they are fully ripe. The fruits don't have a lot of seeds. They are juicy, delicious, and more acidic than other variants.
Femminello lemon tree is a vigorous grower that develops thorns and flowers. In the right conditions, the tree will bear fruits year-round.
Did you know that Femminello lemons have different names for spring and autumn crops?
#11 Ponderosa Lemon
Ponderosa Lemon is a slow grower which can reach between 12 and 24 feet when mature. The plant produces long, and glossy leaves, similarly shaped like other lemon trees.
Interestingly, the plant develops young purplish growth and purple flowers, unlike white flowers seen on many other lemon types. It may develop fruit year-round! The fruit is almost the size of a Melon, with a true melon taste.
Check out the most important facts for the Ponderosa lemon.
#12 Primofiori Lemon
Primofiori lemon is native to Spain. It features pale yellow fruits with a small nipple, thin skin and a moderate amount of seeds. The fruits are more acidic and develop in winter.
Primofiori lemon tree is bigger than most other lemon varieties. It develops thorns and bears a lot of fruits on dense foliage.
Primofiori is also an often used variety in Italy.
Discover additional names for the Primofiori lemon!
#13 Genoa Lemon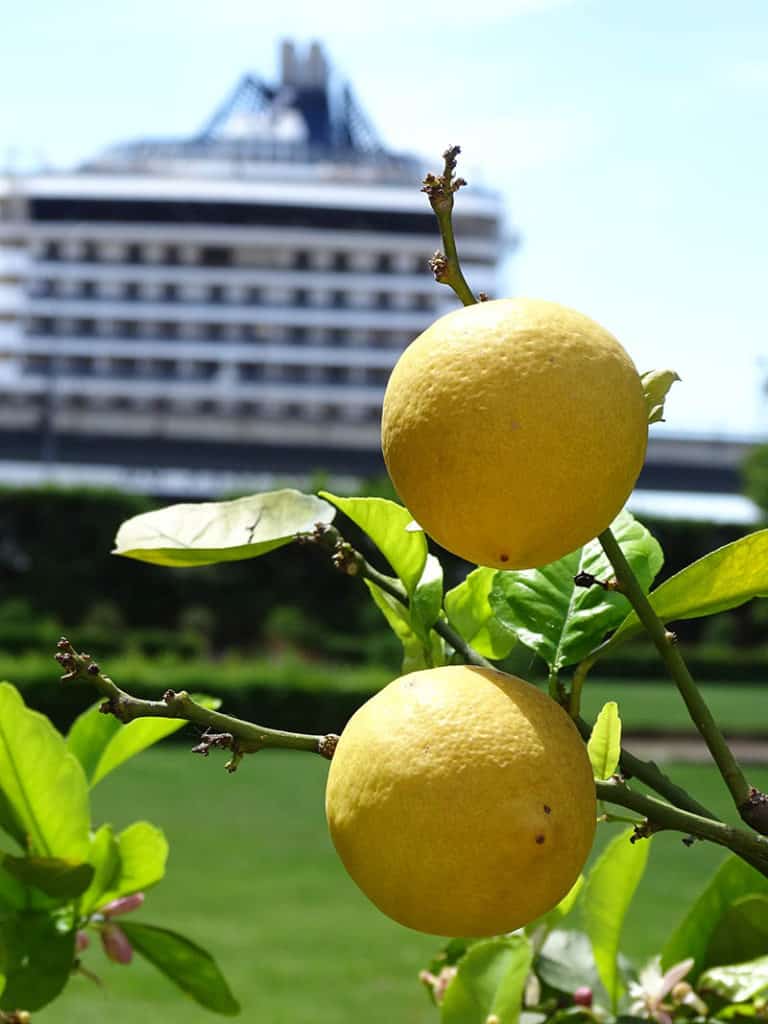 Genoa is native to Italy and very similar to Eureka lemon. Surprisingly, Genoa is more cold-hardy than any other lemon type. It is why the variety is popular in colder climates.
Genoa lemon grows in a shrub-like appearance and often is much wider than taller. Therefore, harvesting ripened fruits is very easy!
The fruits are delicious and used fresh and in the recipes!
Find out if Genoa lemon is available in California!
#14 Verna Lemon
The Verna lemon tree produces elongated fruits filled with juice. It is therefore often used for juicing because it has a mild taste without the harsh acidic note. Verna lemons are intensely yellow and look a lot like Meyer and Eureka varieties.
The plant requires pruning, and standard maintenance, which is best to complete in spring.
The ideal time to plant Verna lemon in pots is in winter. Normally, you can propagate it by seeds, but some people manage to propagate it using grafts.
#15 Lumia Lemon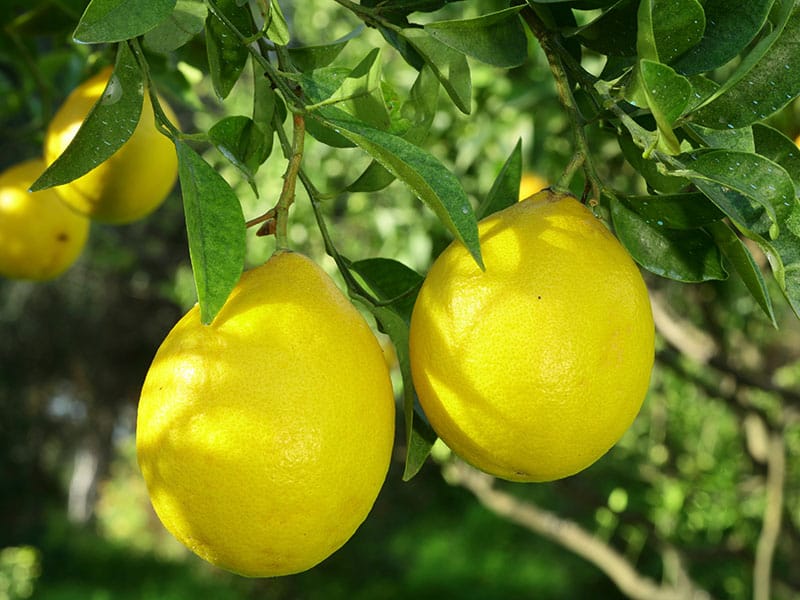 Lumia lemons have thick skin and dry pulp, which makes them inappropriate for juicing. The fruit has a pear shape, which is the reason Lumia lemons are often referred to as pear lemons.
Lumia lemons are native to the Mediterranean coast.
Find out how the Lumia lemon tastes!
#16 Yen Ben Lemon
Yen Ben or True lemon variety is paler than Meyer lemon but has a more distinct flavor. It is a cultivar of Lisbon lemon and has a tart flavor. The fruits feature smooth and thin skin with juicy flesh.
The abundance of crops appears in the early winter and early spring!
Discover why using lemons daily is great for your health!
#17 Volkamer Lemon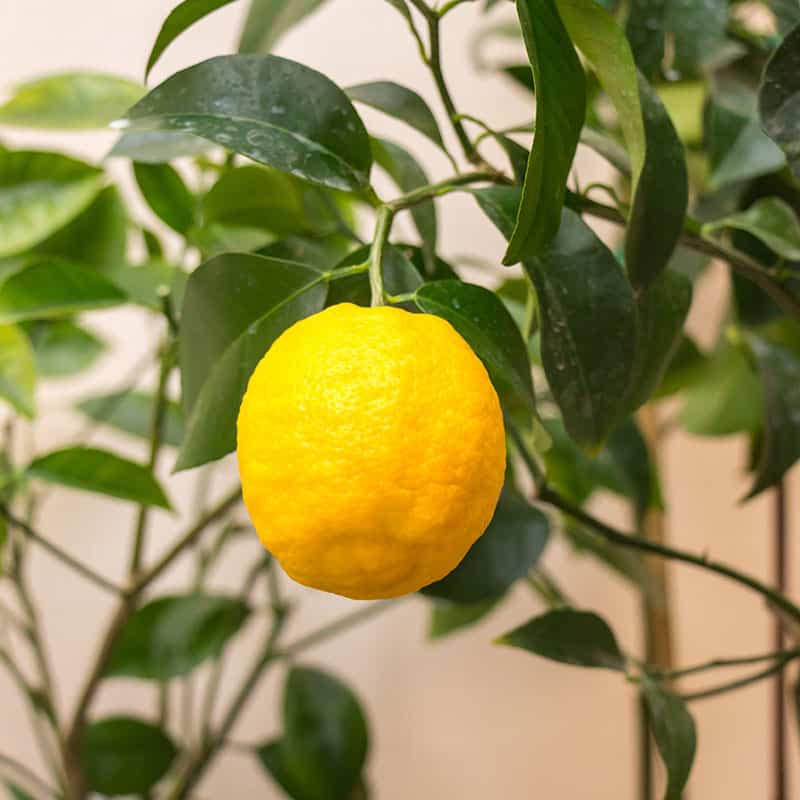 Volkamer lemon comes from Italy, but it is commonly grown in the USA, the rest of Europe, and Asia. Volkamer lemon is a hybrid between citron and mandarin. It produces relatively large and elongated fruits, which are about the size of a ripe orange.
The color is more orangey-yellow than bright yellow, and the flesh is seedy. You may expect the Volkamer lemon to ripen in the early spring or late winter.
Because of the dense branching, and fast-growing habit, Volkamer lemon is also grown for its ornamental value, rather than fruits. Volkamer lemons don't have a pleasant taste like other lemon types.
Discover the botanical classification of Volkamer lemon!
#18 Limetta Citrus
Limetta citrus or Sweet lemon looks like standard lime – it is small and round and produces low acid pulp. It is a hybrid variety, which may be troublesome to identify. But, you may recognize them by the round shape and intense yellow color!
Learn where to keep your Sweet lemon year-round!
#19 Jhambiri Lemon
Jhambiri lemon is often called Rough lemon because of the rough texture of the fruit. Because the fruit is 90% rind, it is practically inedible. Instead, people use Jhambiri lemon as citrus rootstock.
There are several known cultivars of Jhambiri lemons, such as Schaub, Vangassay and Florida.
Check out how important are citrus rootstocks.
#20 Assam Lemon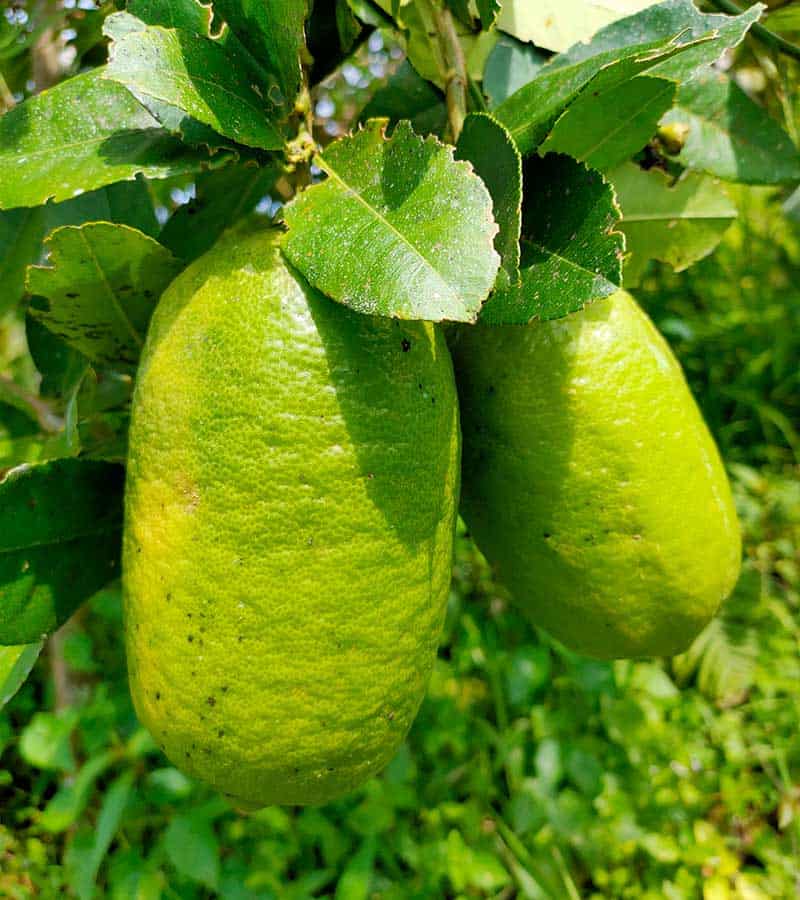 Assam lemons are used in Assamese cuisine. They are elongated and green, often used for pickling, carry and refreshing drinks. These lemons may be difficult to find in supermarkets or nurseries, but you have luck with specialized stores.
The two most popular cultivars of Assam lemons are Kaji Nemu and Gol Nemu.
Discover the fascinating fruit and vegetables of Assamese cuisine!
#21 Key Lime
Key Lime is a tropical hybrid that has been developed in South Asia. The plant develops round fruit, which is usually harvested when it is green. Then, the fruit slowly turns yellow as it ripens.
The tree may grow up to 16 feet and develop a lot of thorns.
Find out more exciting facts from the Key Lime history!
#22 Villafranca Lemon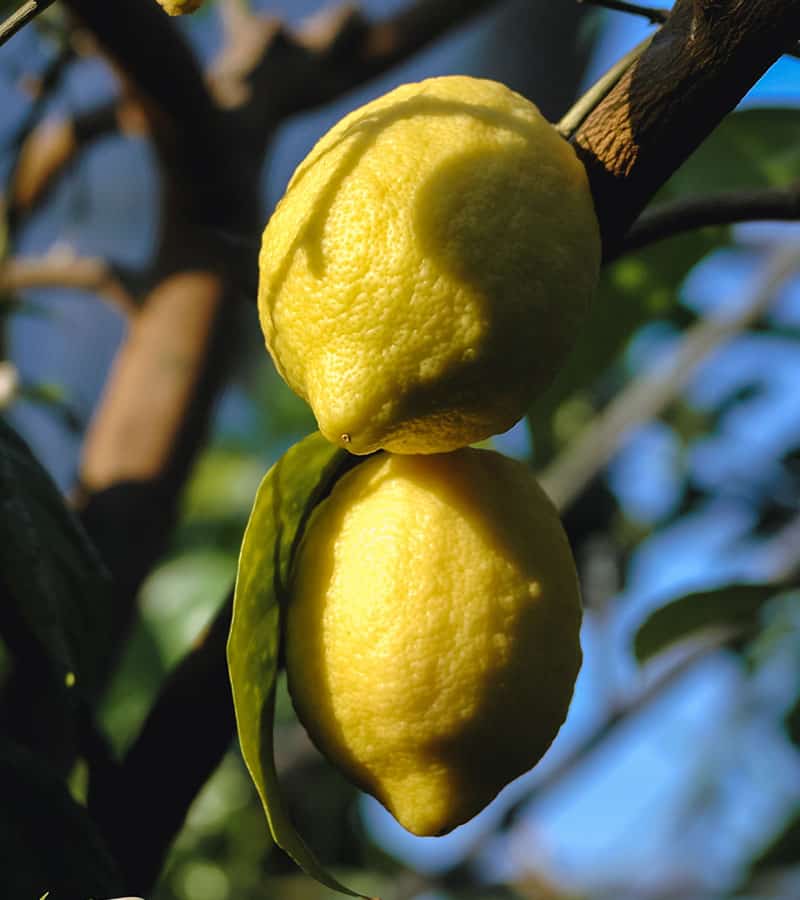 Villafranca Lemon is a type of lemon, very similar to the Lisbon variety. But, it spreads in width more than Lisbon and doesn't have as dense foliage as Lisbon. Scientists believe that Villafranca lemon is native to Sicily.
Find out the best tips for growing lemons if you are a beginner!
#23 Interdonato Lemon
Interdonato Lemon is another hybrid variety. The fruits are large and spherical, with sharp nipples and fewer seeds. The plant doesn't produce too many fruits, which mostly appear in the late fall.
Find out the number one reason for growing an Interdonato lemon tree.
#24 Santa Teresa Lemons
Santa Teresa lemon is a hybrid of the Femminello variety. It is more pests and disease resistant than the original type.
The fruit has a standard lemons taste and bright yellow color. Like Femminello, Santa Teresa lemons are common in Italy.
Find out if there are Santa Teresa Lemons in California!
#25 Avalon Lemons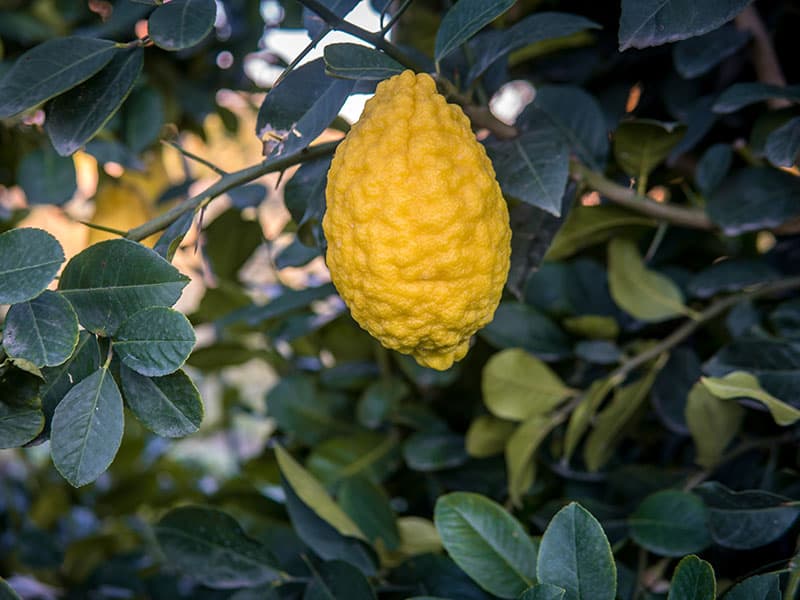 Don't mix Avalon lemon trees with the Avalon organic cosmetic products! The Avalon lemon tree is native to Florida and has the botanical name of Avon.
These lemons are very similar to the Lisbon variety, and you can find them in nearly every store. They are predominately used for juicing!
Discover if you can have too much lemon juice and what can happen!
#26 Citron Lemons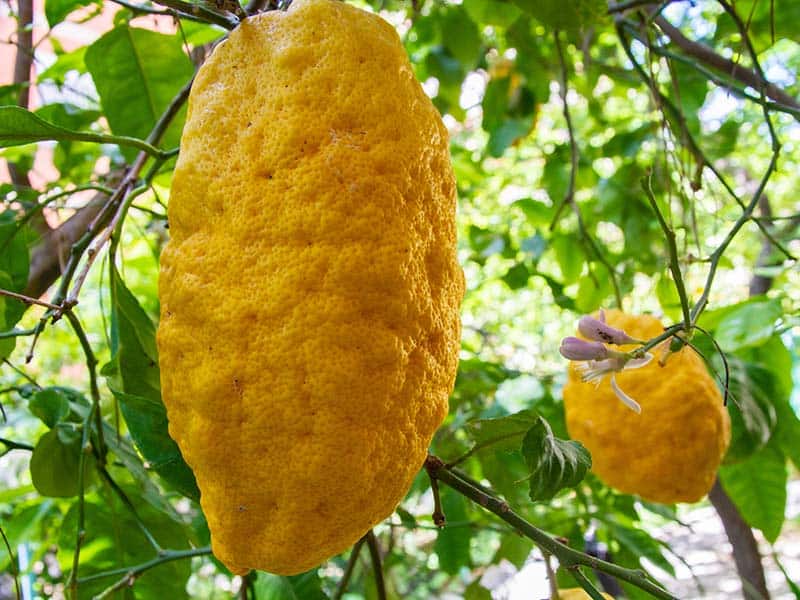 Citron lemon is an evergreen, flowering tree grown for fruits and for landscaping. Citron and common lemon varieties, such as Lisbon and Eureka look similar from the outside. But, when you cut open Citron lemon, you see the ring of dry pulp and a small amount of flesh.
Read more features that help you differentiate Citron lemon from the standard lemon!
#27 Palestinian Sweet Lime
Palestinian Sweet Lime is a popular cultivar, often called Indian lime. The tree develops medium-size, low-acid fruits, sometimes used for juicing and in recipes.
Despite its name, the fruit tastes bitterish and not like other lemon varieties. It is also used as a medicine in some cultures, such as India, and Latin America. There, people use it to prevent fever and treat liver conditions.
#28 Tangelo
Tangelo is actually a hybrid form, and I included it on the list because many people mix it with standard lemons! It is relatively simple to grow tangelo. You'll have to water it continually and frequently during drought periods in the summer.
Mulching will be beneficial, as well as pulling the weeds out regularly to keep the tree tidy.
Find more tips for growing Tangelo trees, especially during the winter!
#29 Sfusato Amalfitano
Have you ever drank the traditional Italian drink Limoncello? If you have, the chances are that you've tasted the famous Amalfi lemons or Sfusato Amalfitano lemons.
These lemons smell beautiful, almost like a lemon-scented perfume! More than 25% of Amalfi lemon is pure juice, which makes them perfect for the production of lemonade and lemon liqueurs!
Discover more unique varieties of Amalfi lemons!
#30 Otaheite Lemons
Otaheite lemon tree is suitable for indoor use and is beautiful as a decorative plant. Unfortunately, the Otaheite lemon tree develops tiny fruits, which are almost inedible.
But, the fruits have a lovely scent and orange-yellow color, contrasting on lush green foliage. The Otaheite lemon tree also produces flowers in the late spring!
You have to prune the tree to keep it the size appropriate for your room. Overall, the Otaheite lemon tree is low-maintenance.
Discover more about the origin of the Otaheite lemon tree!
#31 Sorrento Lemon
Compared to other lemon fruits, Sorrento lemons are significantly larger. They feature an oval shape and thick, pale yellow skin. Sorrento lemons are easily recognizable by their lumpy skin.
Also, the skin is rich in oil and very fragrant.
They got the name by their geographical origin – Sorrento Peninsula! These lemons are known for their high content of fiber!
Read more benefits of Sorrento lemons!
When Life Gives You Lemons, Identify The Variety First
As you can see, there are some great lemon types, much more interesting than standard lemons. Knowing more about lemon varieties allows you to use them better in recipes and juices. Also, you can decide easier which plant is for you.
My favorite is the Budda's Hand, but unfortunately, the plant is too challenging to grow in my climate. What about you? Which variety is your top pick and why?
Please consider sharing the article with your friends if you enjoyed it!