Red plants are the perfect indoor decoration as they attract our attention very quickly due to their sharp color. For those who love red plants, placing at least one of them will make your home a unique and cozy place.
In this article, you'll be able to learn all 21 names of red indoor plants and their main characteristics to consider.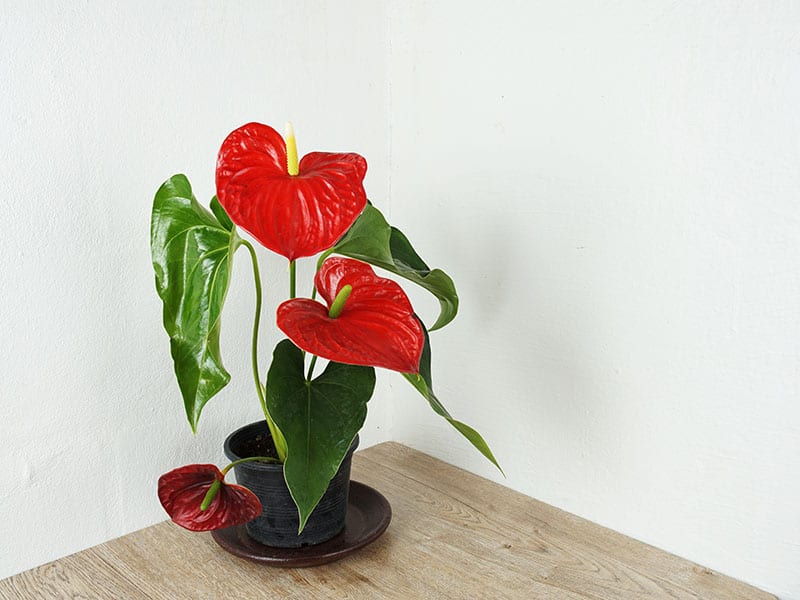 All Types of Red Indoor Plants You Should Know Before You Make Your Decision
Honestly, I can say that it's a pretty tough decision when it comes to indoor plants with red flowers, as each species is specific in its own way. I hope this guide will facilitate your choice!
1 Red Spider Lily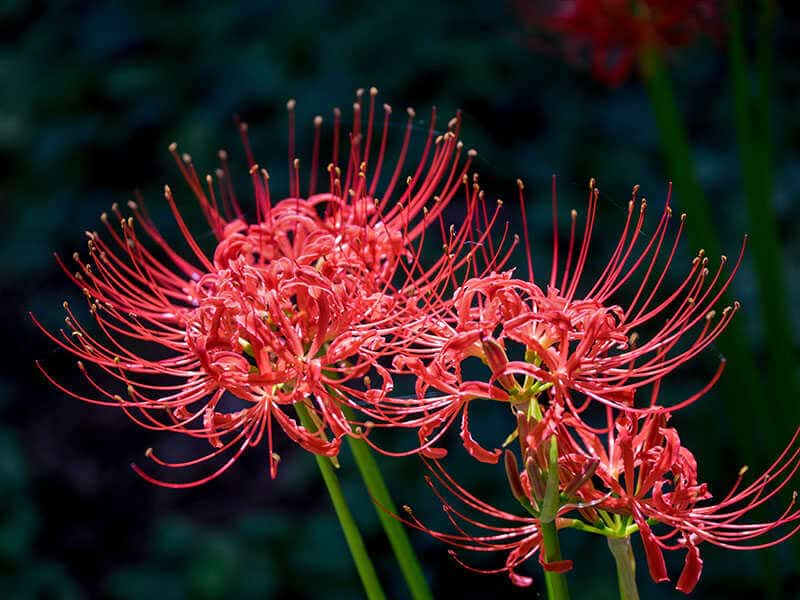 Red Spider Lily or Lycoris Radiata is a plant native to Asia. You can find it specifically in China, Korea, Nepal, and Japan. Yet, they are also available to grow in other parts of the world. It is a plant with incredible graphics and an elegant color that will light every corner of your home.
Lily is quite an easy plant to grow and care for, although there are some tips that you should consider before you decide to grow one! Check all the best tips to grow a healthy Red Spider Lily!
2 Tufted Airplant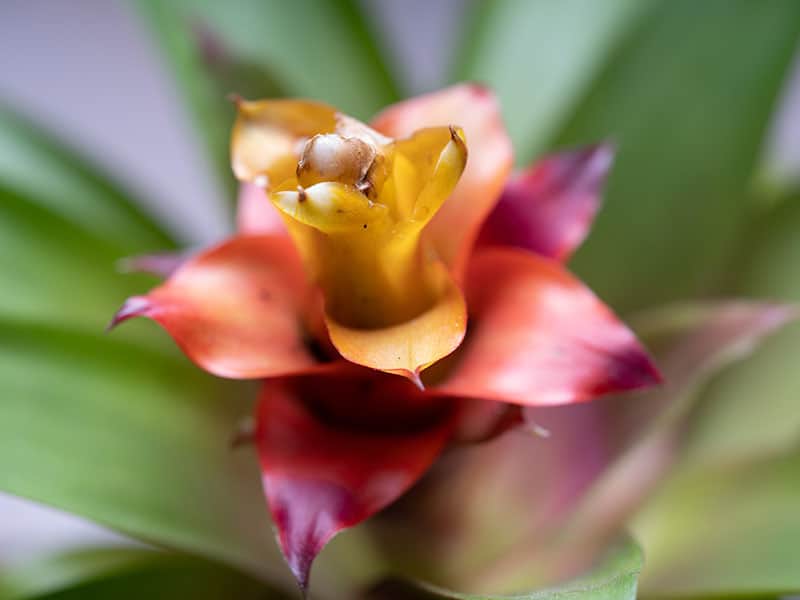 This plant grows in wonderful plants with flowers that are striking as well as very decorative. Tufted Airplant can be in red, orange, and yellow color. The red species is the most attractive one. Although they bloom only once in a lifetime, when they do, their flowers last between three and six months.
When the plant dies, it leaves many shoots in its base so you can again enjoy its beauty and color. Make sure you spray the plant with warm water weekly. Check all the watering tips to grow a healthy Tufted Airplant!
Experts explain how to grow air plants without soil!
3 Begonia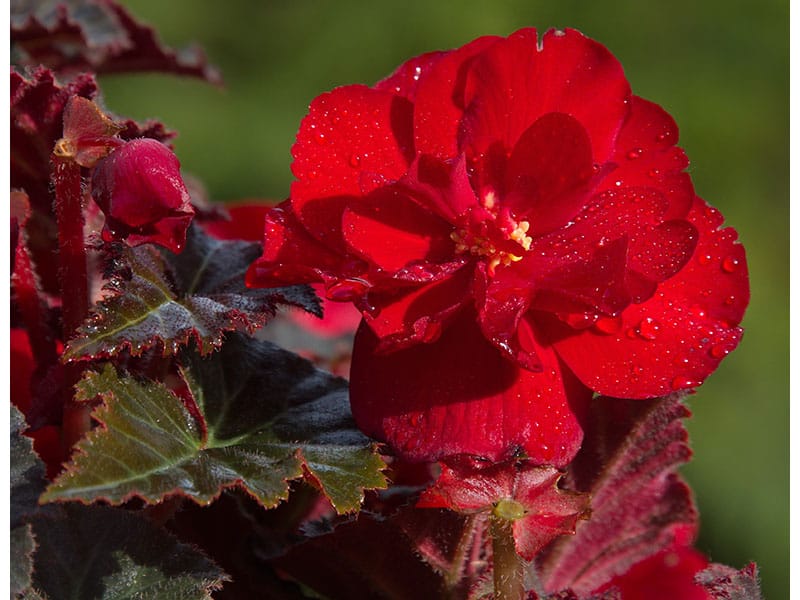 Begonia can be red, white, or pink. Its Latin name is Begonia Semperflorens with the significance – "always with flowers". Its main flowering occurs throughout the year in spring and summer.
Other species of Begonia will offer other colors, such as yellow or orange, although its flowering is more seasonal. If you want to learn how to take care of your Begonia, discover the best tips to succeed.
4 Poinsettia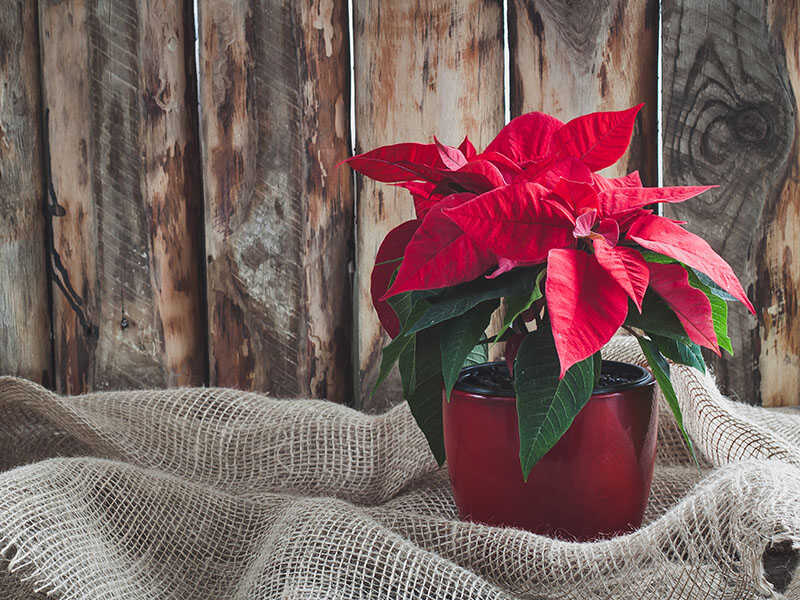 This type of red indoor plant is one of the best for symbolizing Christmas. They are characterized by their sharp, bright green leaves and red, pink, or white bracts surrounding the flowers.
In fact, the beauty of this type of plant is in its leaves because they are colorful and vivid. Its flowering occurs at the end of the year, but if you want it to bloom before, place it in a shady and cool area. Offering little light to this indoor plant will definitely allow it to bloom earlier. Discover all the rules to grow a healthy Poinsettia!
5 Flamingo Flower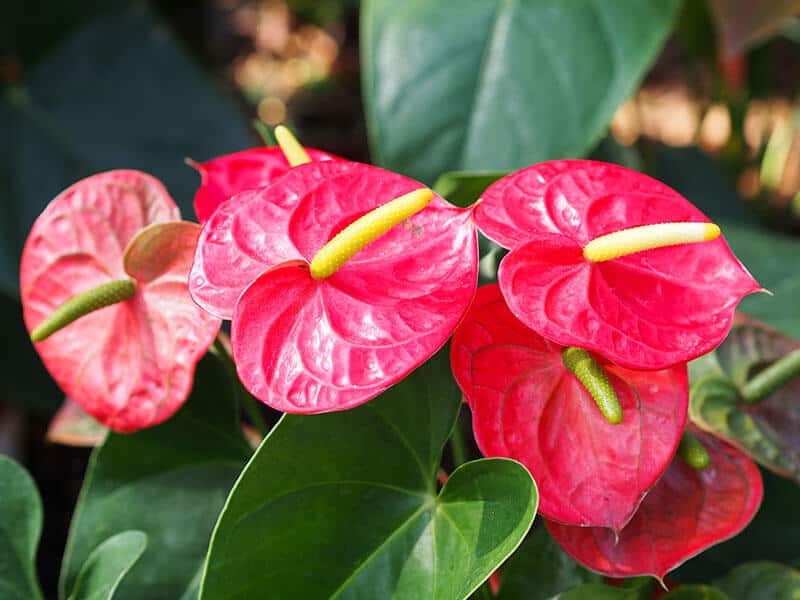 Flamingo flowers have very peculiar flowers. Usually, they are red, but there are also purple, black, white, and orange species due to their mutations. Although they require more specialized care in order to grow healthy, you will get continuous flowering if you provide them with proper conditions.
Without being a professional, you can enjoy watching your Flamingo Flower grow in a marvelous plant. Learn all the tips to grow your Flamingo Flower!
6 Amaryllis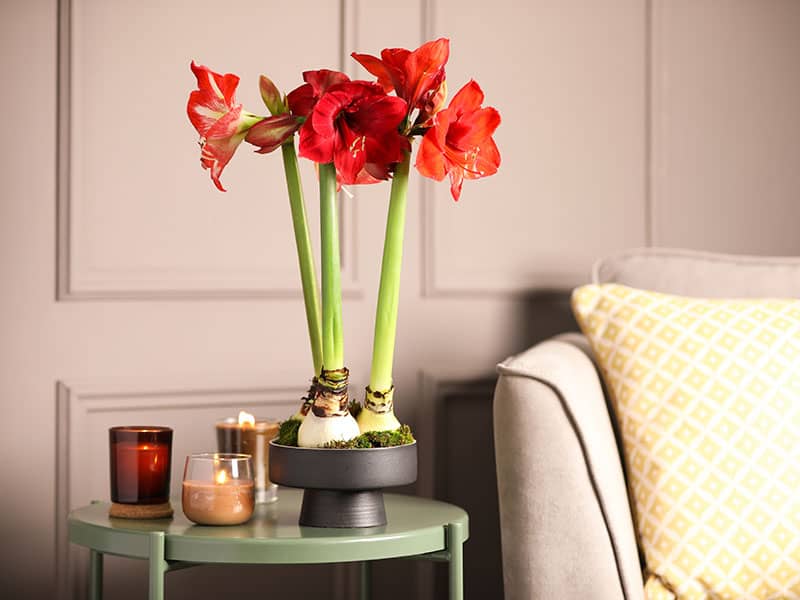 Amaryllis plant is also known as Hippeastrum. It originates from Mexico, but I assure you that you can find it around the globe. It comes in more than 70 varieties, but this one is the most popular type of red indoor plants.
When the season comes, this excellent plant sprouts in an explosion of color, giving velvety flowers. Check what Amaryllis needs in order to bloom perfectly!
7 Dahlia Coccinea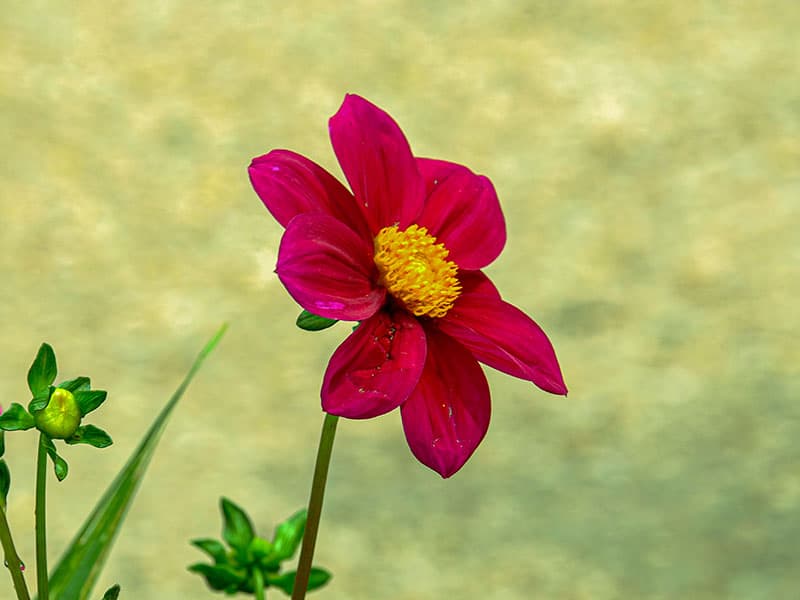 Extravagant, glamorous, and attractive dahlias are the true divas of horticulture. They bloom from the beginning of summer until almost the end of autumn when the temperature is mild.
It belongs to the plant genus of the Asteraceae family and is native to Mexico. Its striking flowers emerge from its decorative foliage held by thin stems from midsummer until the first autumn frosts. Learn how to grow your Dahlia plant!
8 Elephant Ear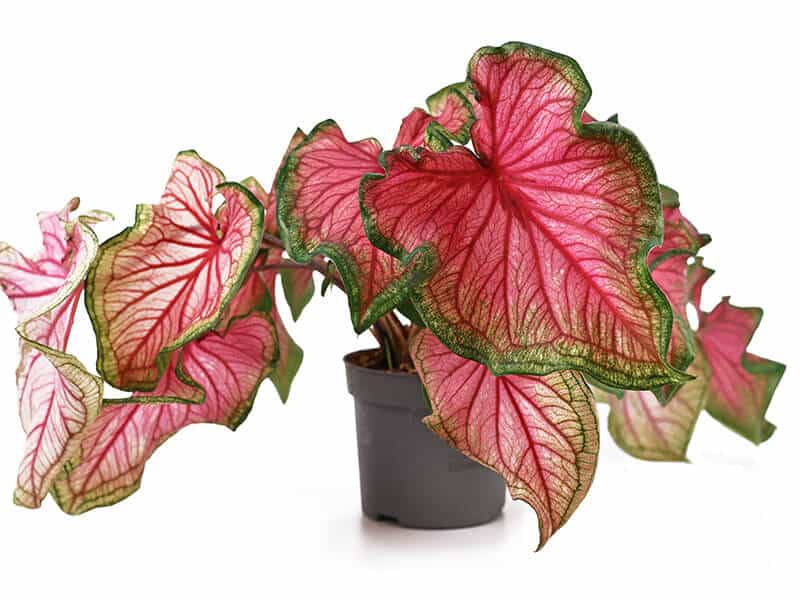 It's one of those plants that easily captivate you just by looking at them. And there's a reason why they attract our attention: they are beautiful, striking, and highly exotic. However, let us not be carried away by its spectacularity.
One should know that caring for the Elephant Ears can be pretty demanding and requires much attention due to its origin – the Brazilian rainforests. Discover why the Elephant Ear is hard to care for!
9 Vriesea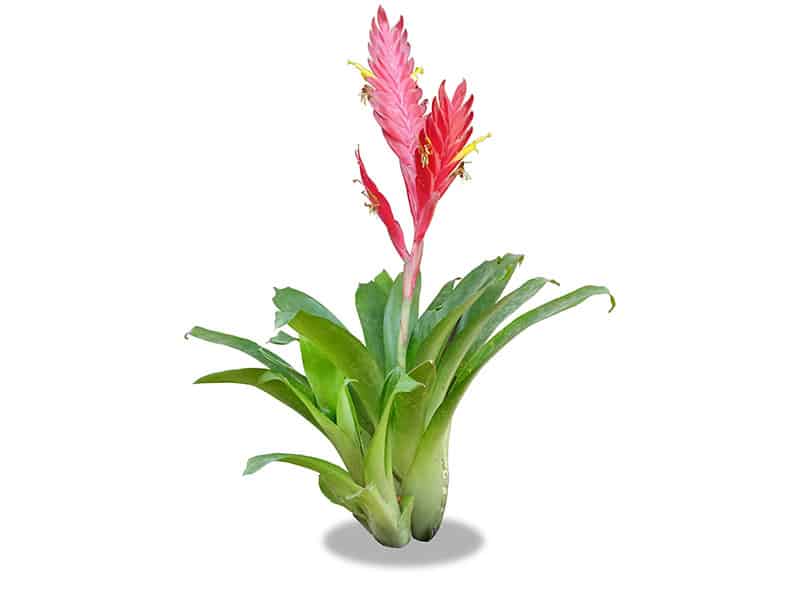 This fabulous plant stands out from the crowd mainly because of its mesmerizing beauty, especially because its leaves leave each person curious. Also, the flowering is worth enjoying while having your favorite cup of tea.
Vriesea requires a temperature around 20ºC in order to feel comfortable and grow properly. Learn more about growing and caring for Vriesea plants!
10 Japanese Quince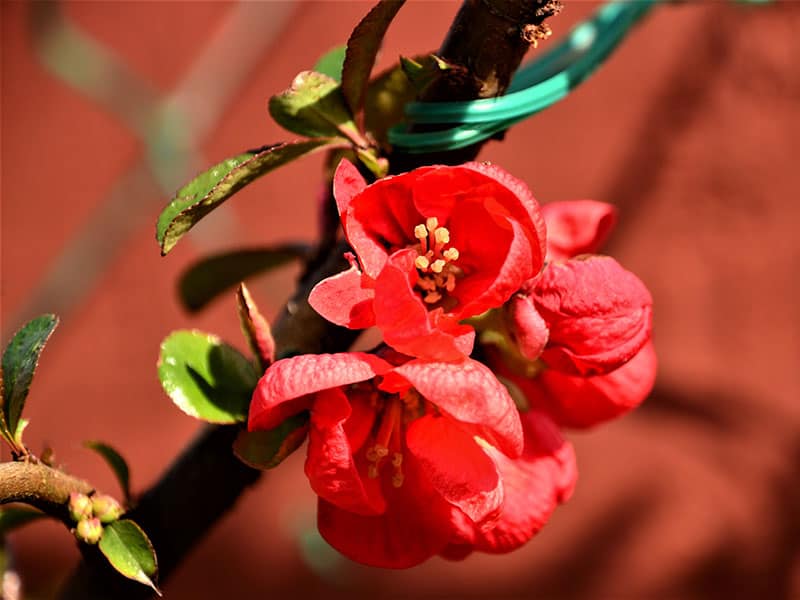 The Japanese quince originates mainly from China and Japan. It has leaves that are pretty simple and are between three to eight cm long. Its flowers are red, although there are varieties with pink and whitish flowers.
It is a plant that can reach two meters in height and quickly adapt to northern Europe's climate. Learn how to take care of your Japanese Quince!
11 Verbena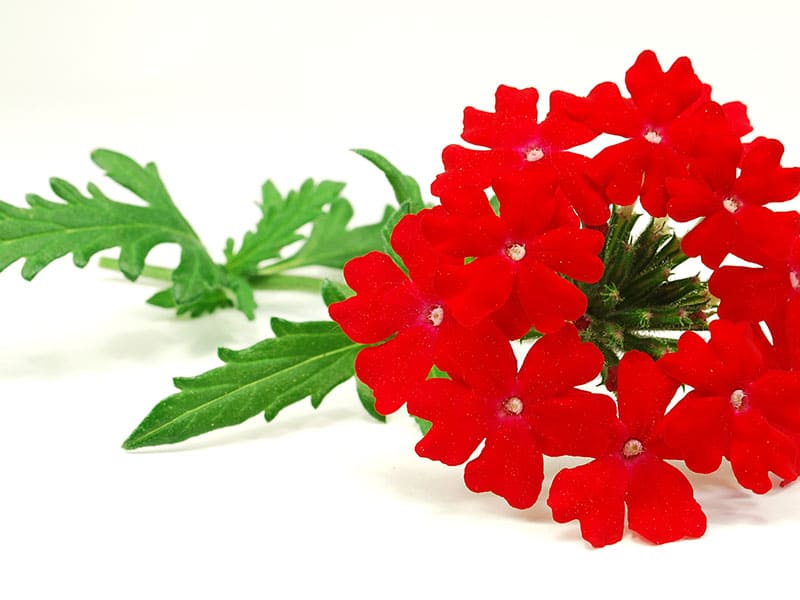 Verbena plants have a fairly long duration and fortunately they are spread around the world. Although this plant is adaptable and resistant to any condition, it is better to provide it with optimal conditions to grow and look better.
Regarding red species of Verbena, I can truly say that they are perfect for both indoor and outdoor areas, especially in tropical climates. Check the best tips on growing a healthy Verbena plant!
12 Camellia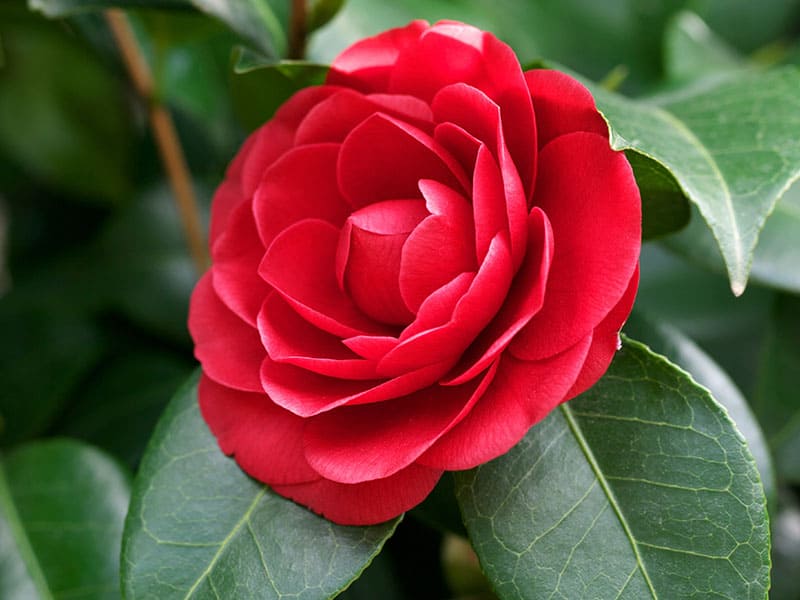 Camellia is another beautiful type of red indoor plant with delicate large flowers. The shape of this plant's flower varies depending on the variety of Camellia plants. The colors of these flowers are also variable and can be red, pink, yellow, purple, etc.
As for its care, it should be located in semi-shade, will not tolerate direct sun, but if the cold is intense. It is not convenient to change location to your Camellia, since it suffers enough with the variations (temperature, irrigation, etc.). The plant likes light but not direct sun. Learn all the tips of planting a Camellia successfully!
13 False Hibiscus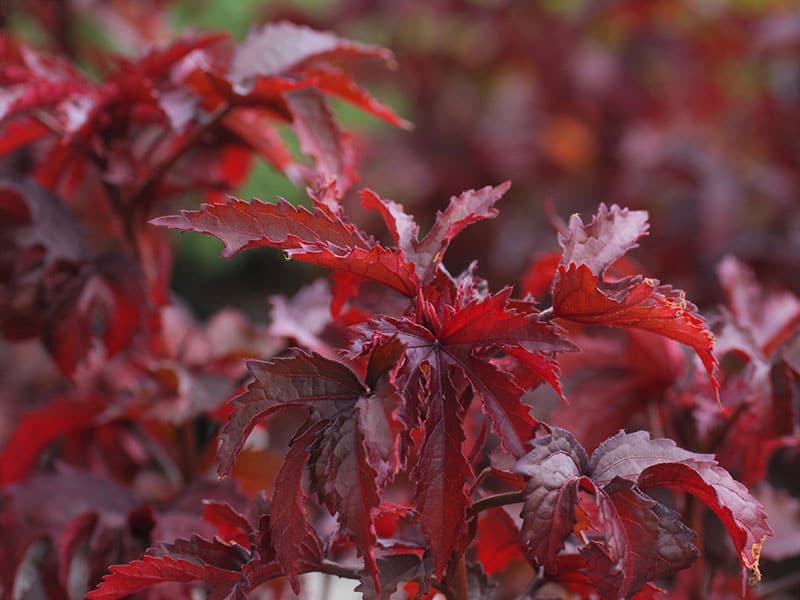 False Hibiscus is widely used in gardening to form fences and separations outdoors. It originates from South America and can easily reach a height up to 3 meters. Its flowers can be white and red. The flowers have petals that don't open, and this is why many call this plant the "sleeping hibiscus".
It blooms throughout the whole year. It has great resistance to low temperatures, withstanding frost up to -10ºC. Explore why False Hibiscus is easy to grow!
14 Royal Poinciana
The Royal Poinciana, also known as the Flame Tree, is one of the most popular tropical trees worldwide. It has very striking red and large flowers. There are also varieties of Royal Poinciana in yellow and orange color.
It blooms in spring and is very easy to care for and grow. It is pretty often used as indoor decoration, but when cultivated outside, it can reach a height up to seven meters. Learn how to grow Royal Poinciana indoors!
15 Red Carnations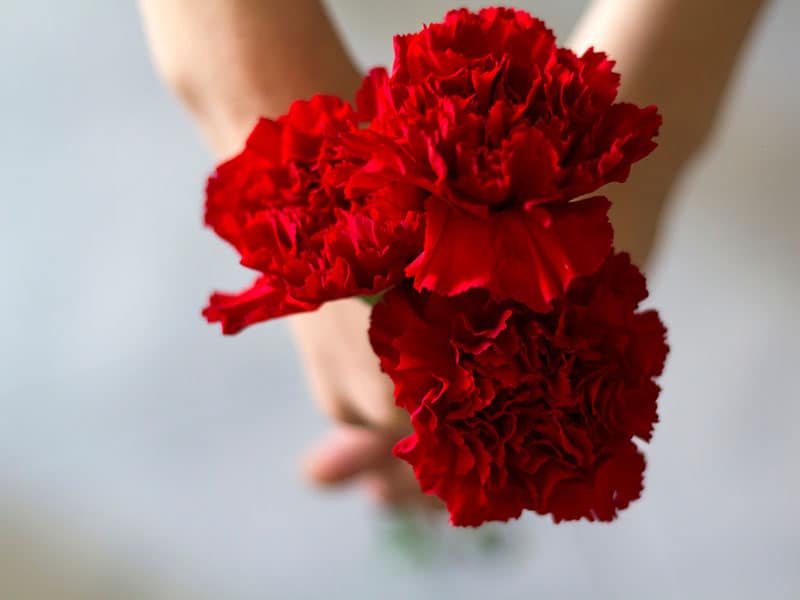 Red Carnations come in white, pink, yellow, and more other bright colors.
Carnations are very easy to care for, although they do not withstand temperatures below 0ºC. The optimum temperature for these plants should always be between the maximum 24ºC and the minimum 10ºC. Learn how to grow a Carnation plant!
Growing a Red Carnation plant from seeds is the easiest thing ever
16 Poppy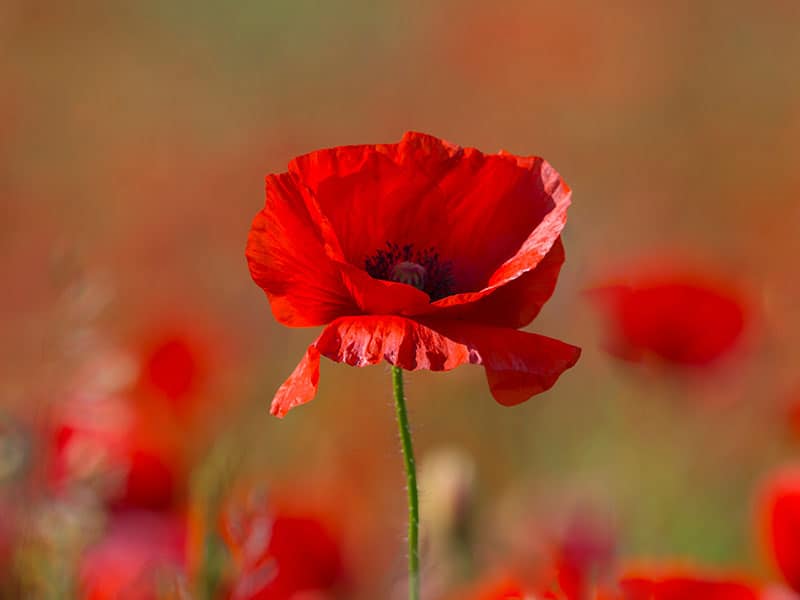 Red poppies are another type of red indoor plant that has become the world's best-known red plant in the last few years. They are also known because of their ability to serve the medicine as a pretty helpful plant.
Usually, the most common poppies are red, but pink, orange, yellow, white, and many other colors. Check the best tips for caring and growing your Poppy indoors!
17 Chinese Rose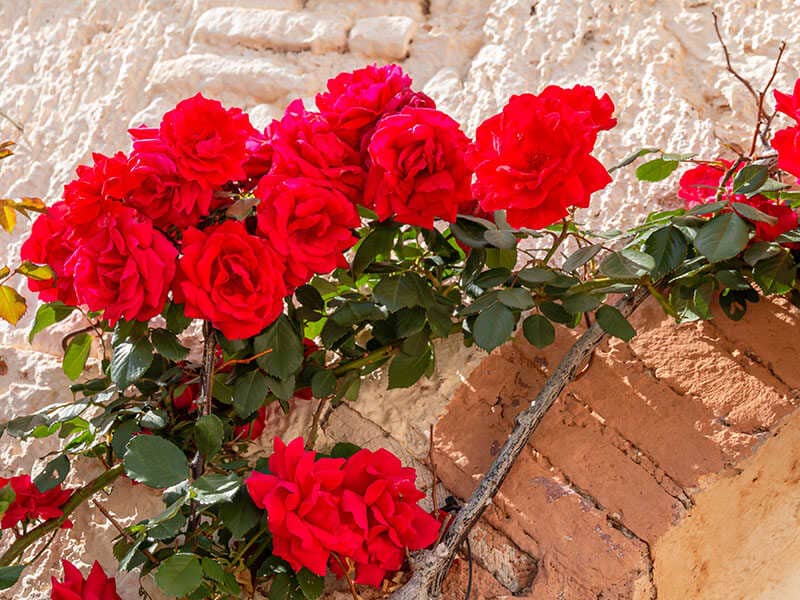 As a plant native to the tropics, the Chinese Rose grows properly in warmer areas like Spain. Although they reach a pretty good height by growing, they can grow well with proper caring in a smaller size ideal for terraces or interiors.
Its beautiful flowers and the dimensions they reach in certain varieties make the Chinese rose a perfect plant to grow alone in the corner of your garden or home along with your other plants. Discover why Chinese Rose is one of a kind!
18 Red Tulips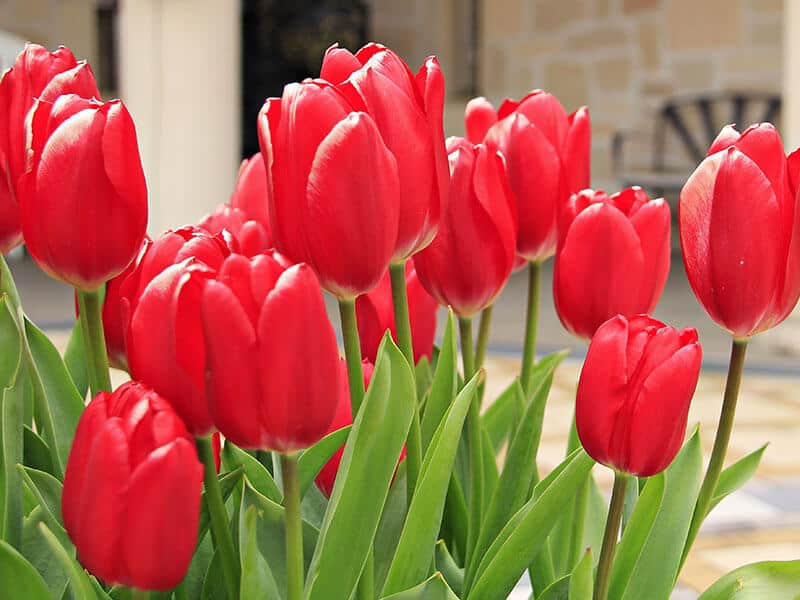 Red Tulips are one of the most popular red plants due to their beautiful flowers. Yet, you should know that its care is particular to keep when it comes to the best possible conditions for growing.
They are one of the purest red flowers that you can find in nature. It is true that they are very delicate and that they can last in a bouquet only a few days, but if the plants in your garden you will see how they are born one after the other creating a small field of tulips that will bring a very wild and natural air to the stay.
Check why Red Tulips are perfect for indoor decoration!
19 Cypress Vine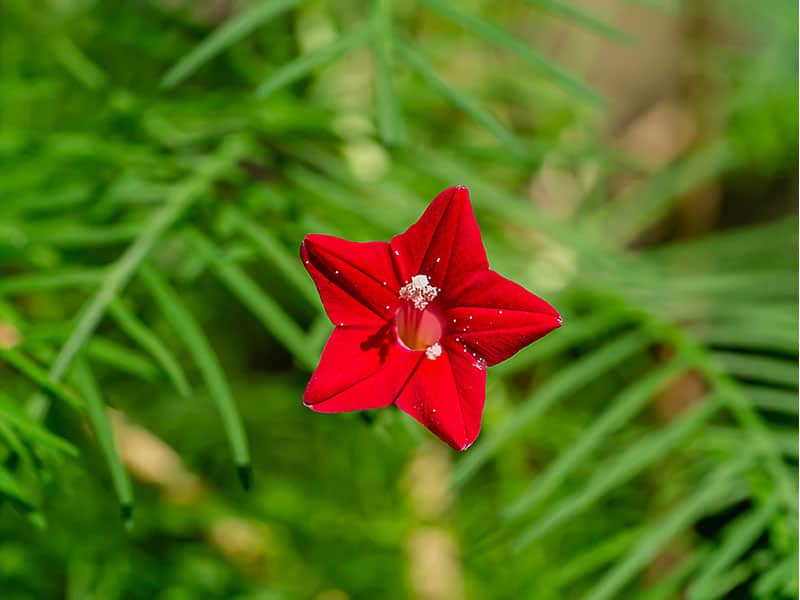 It is a perennial plant that lasts at least six to eight months depending on where it is; if it is very sunny, the cycle is faster, but its flowering is more intense. It is a perfect match for your indoor decorating.
Cypress Vine can survive well with little water but not prolonged droughts. When each flower dies, it leaves in its place a packet of four/five seeds that open or explode when overheating is present. Learn how to take care of your Cypress Vine indoors!
20 Red Rose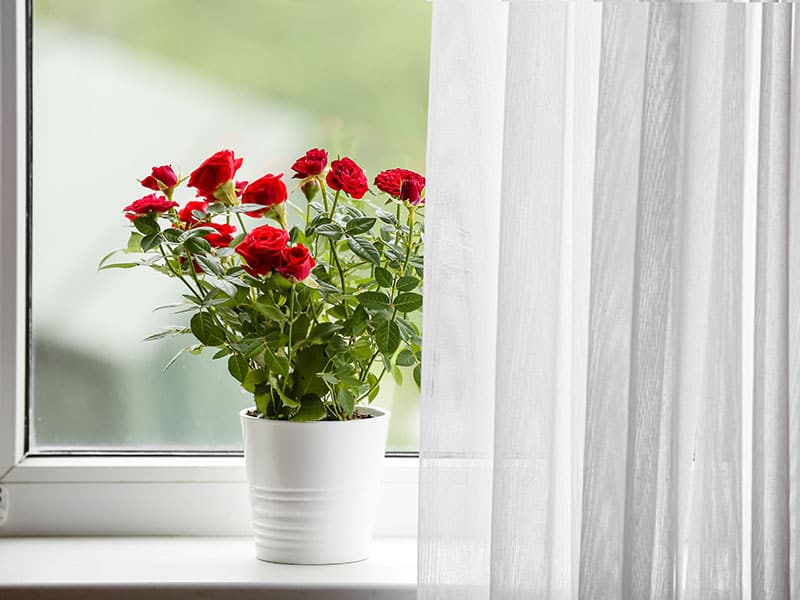 Roses are one of the most popular types of indoor plants in all countries. They vary from red, pink, white, yellow, and even orange, blue, and green. Their round and large shape make these flowers unique and their bright variety of colors and characteristic aroma.
Red roses are the ones that symbolize love and passion, so they are perfect for giving away on an anniversary or a first date. Discover why the Red Rose is the perfect decoration for your living room!
21 Polka Dot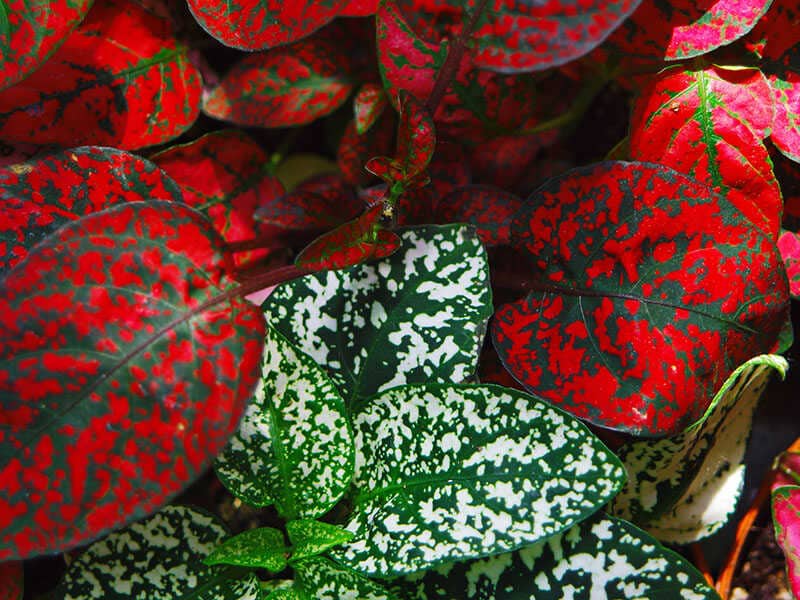 Polka Dot or the Blood Leaf needs a well-lit exposure but without direct sun. If there is not enough light, it will lose coloration. It does not resist the cold, and the temperature should not be less than ten ºC.
I advise you to transplant Polka Dot every year in spring, especially if the pot is small. Check the best tips to grow your Polka Dot inside!
Experts explain growing and caring tips for healthy Polka Dot plant
22 Radiator Plant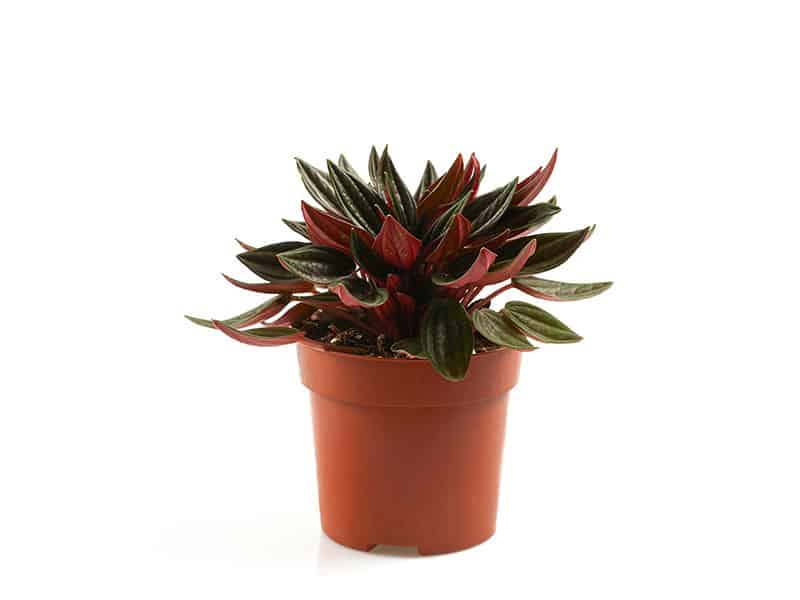 The color of Radiator's leaves varies from one species to another. These plants are known due to their extraordinary appearance. The flowers are lovely, but the leaves are the main reason plant lovers want Radiator plants to serve as indoor decoration.
Thanks to all these species, you can find many types of Radiator plants perfect for your interior. They are plants that have leaves that can become pretty big within time. Learn more about Radiator plants!
A Friendly Advice
No matter what type of red indoor plant you choose for your indoor decoration, trust me, you won't make a mistake! They are all unique in many ways. Each type of red indoor plant has its own growing and caring pros and cons.
So, once you learn their needs, you'll become an expert in growing a healthy plant. If you like this article, make sure to like and share it with your friends!