You may not recognize all the types of spider plants, but I'm sure you must have seen them once or twice. Do you know why these spider plants are so well-liked? That's because spider plants can act as a plant humidifier to purify the air and increase moisture.
I see some of you want to go and grab some spider plants right away. But wait for a bit! You can't just pick some random spider plant varieties. This article has included every spider plant you can find on the market, no matter how rare it is.
With this list and the information on each type, you will absolutely choose one that suits you and your home environment the best.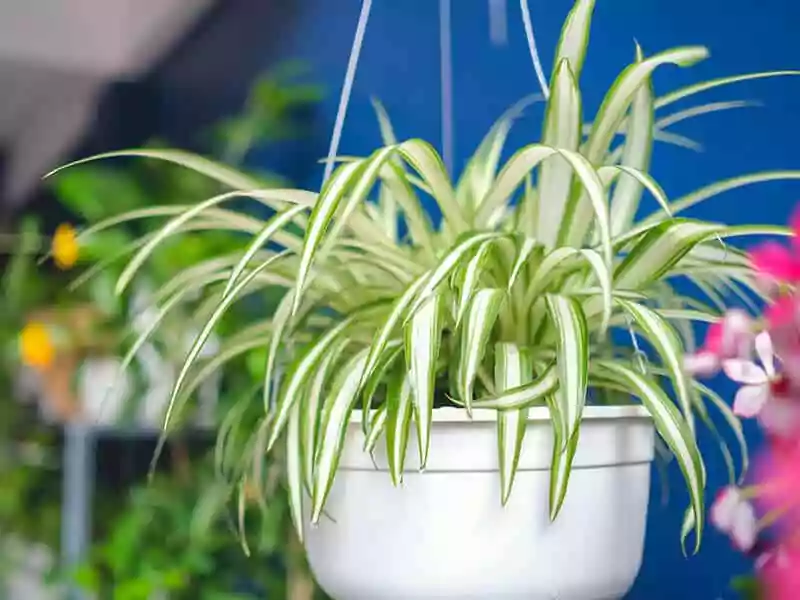 It's Time For These 13 Types Of Spider Plants To Shine!
I won't keep you hanging for long. Here are 13 different varieties of spider plants. And I assure you, each one of them is beautiful on its own!
Variegated Spider Plant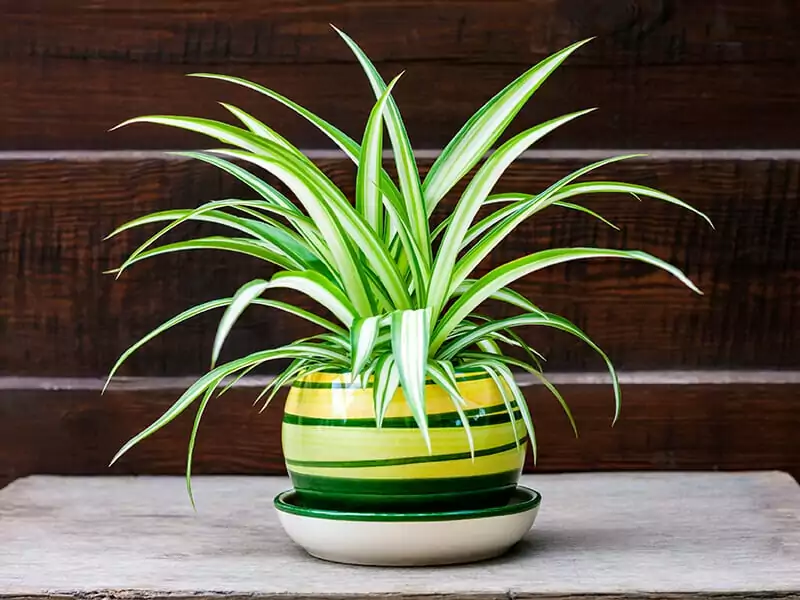 Other Names: Chlorophytum Comosum 'Vittatum'
You can see Vittatum almost anywhere, even people with no love of gardening may have one pot of this plant in their living room. This spider plant's well-known for its white stripes in the center of its leaves.
Vittatum is ideal for those who are busy since it can tolerate drought quite well. In fact, if you overwater it, the leaves will turn yellow and wither.
If you are still curious about this variegated spider plant, here is some more information for you.
Reverse Variegated Spider Plant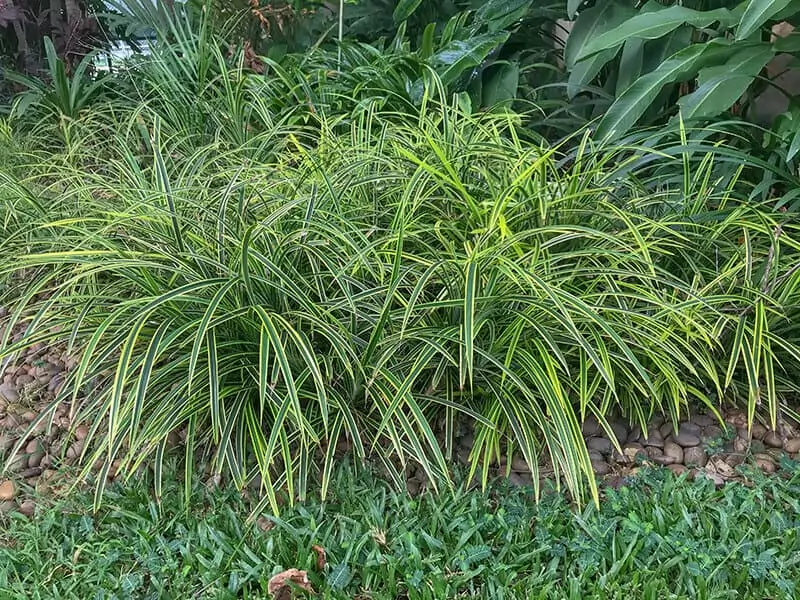 Other Names: Chlorophytum Comosum' Reverse Variegatum', Reverse Spider Plant
This reverse variety is the second most famous spider plant, only after the Vittatum above. And true to its name, the streaks on Reverse's leaves are entirely opposite: green in the center with white edges.
You can plant it indoors like the other brother. But with its tendency to grow massive, I suggest a spot in your garden.
Caring for this Reverse Variegatum will be super easy with this instruction.
Bonnie Spider Plant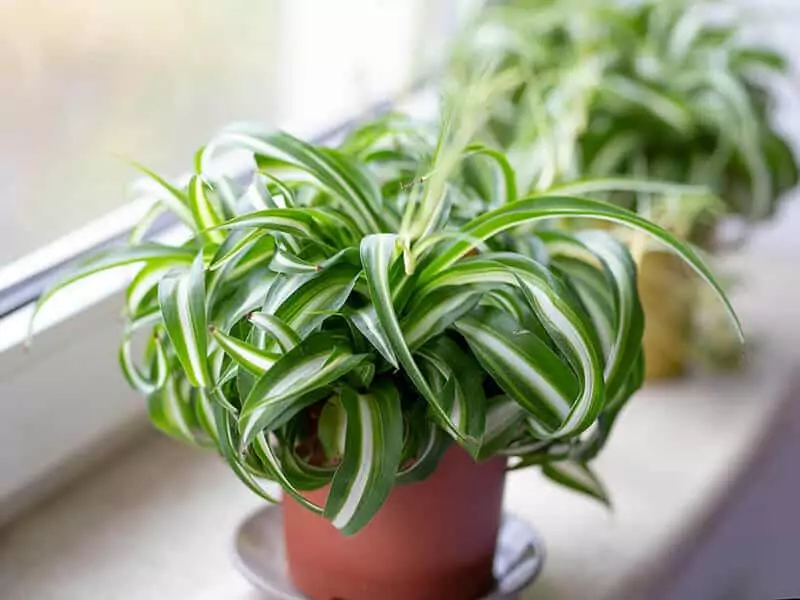 Other Names: Chlorophytum Comosum 'Bonnie'
At first glance, you may mistake this Bonnie with the familiar Variegated. However, look a little closer, and you'll realize this type is much curlier.
Also, since this spider plant can purify the air, many people prefer placing it in their toilets or bathrooms. But it's still a lovely decoration for your balcony, windowsill, or table, especially when Bonnie yellow flowers appear.
With these five expert tips, your Bonnie spider plant will become more beautiful than ever.
Variegated Bonnie Spider Plant
Other Names: Chlorophytum Comosum' Bonnie Variegated'
Searching for a hanging basket plant to decorate your living room? Well, look no further than this Bonnie Variegated! As its curly leaves grow, anyone walking in your house will be overwhelmed by its beauty.
And don't worry if you just start gardening! This one is indeed beginner-friendly as it doesn't require much.
Discover more about this Bonnie Variegated snake plant!
Ocean Spider Plant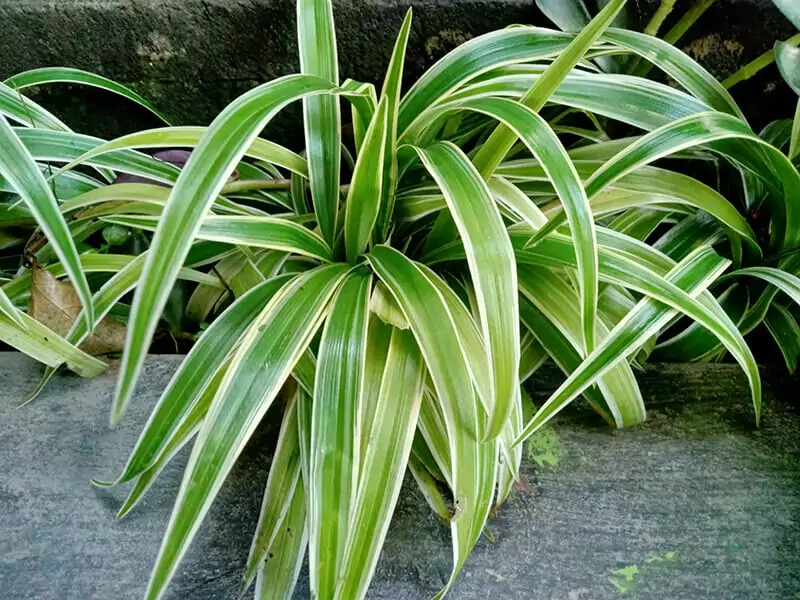 Other Names: Chlorophytum Comosum 'Ocean', Chlorophytum Comosum 'Shamrock'
Compared to other traditional spider plants, Ocean is much shorter as it only grows up to 18 inches. To compensate for that, this tree earns broader leaves, maximum of 12 inches in width.
If you follow modern style, some hanging baskets of this Ocean spider plant are a must-have in your house. And don't get cold feet if you are too busy. This one prefers soil that's a bit too dry.
As for the light, temperature, and other elements, let's look at this guidance!
Atlantic Spider Plant
Other Names: Chlorophytum Comosum' Atlantic'
Though its name is "Atlantic", this spider plant actually comes from South Africa and Asia. Besides decoration, you can use it as an air purifier in your house, especially if you are a smoker.
While it brings you so many benefits, this plant doesn't demand much. With just some indirect light and moist soil, this Atlantic will easily thrive.
Here are some details about the Atlantic spider plant's pluses and how to plant them.
Orange Spider Plant
Other Names: Chlorophytum Orchidastrum, Fire Flash
Feel so bored with all the similar green spider plants? Then, I bring some change for you with this Orange Spider Plant. But calm down, as this tree isn't orange all the way. In fact, only its petioles are orange, while the leaves still have a bright green color.
Another difference from other familiar spider plants is that Fire Flash has quite broad leaves. This foliage is proven to be toxic for pets, so consider carefully before picking it for your house.
A complete guide for Orange Spider Plant is waiting for you now.
Mandarin Orange Spider Plant
Other Names: Chlorophytum Amaniense' Fire Flash'
This Mandarin Orange is pretty identical to the previous choice. However, this spider plant is more preferred among people following the old-fashioned style. With its eye-catching orange leaf stems, it's understandable why many choose to plant this Fire Flash indoors.
Also, you should keep this Fire Flash under your roof because it can't handle direct sunlight. Indirect or artificial ones will produce a much better result.
This caring instruction will ensure your Mandarin Orange spider plant is healthy. Watch this video:
Hawaiian Spider Plant
Other Names: Chlorophytum Viridescens' Hawaiian', Golden Glow
This Hawaiian will never cease to surprise you! If you own one with young leaves, they are all in pastel colors like white, cream, light green, etc. As time passes, the foliage ages and changes its shade into dark green.
And the plant will keep producing baby leaves. These leaves will also change tone through time, thus making this Golden Glow a fun sight to watch.
Keep your Hawaii spider plant charming with this instruction!
Zebra Spider Plant
Other Names: Chlorophytum Laxum' Zebra'
You may confuse Zebra with the Reverse spider plant. However, the Reverse's edges are pure white, whereas the edges in Zebra lean more on the yellow side.
Zebra is one of the shortest spider plants, but it's wider than the majority of varieties. To achieve its biggest side, you'd better grow it somewhere with partial shade. You can make it into one of your hanging plants or plant it in some containers.
Do you know some of the Zebra spider plant's benefits acknowledged by NASA study?
Chlorophytum Bichetii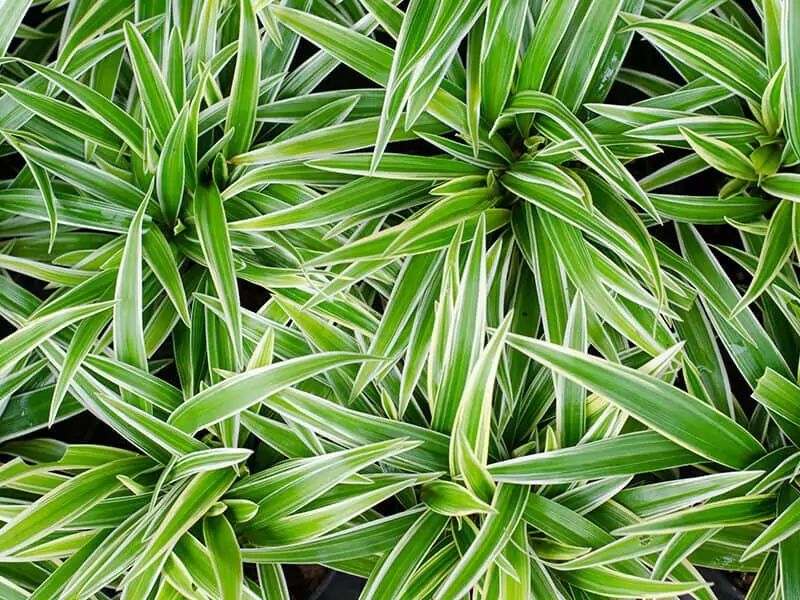 You may buy this spider plant and wonder why it doesn't produce offspring, no matter how much you water it. Well, Bichetii doesn't bloom.
But it makes a perfect ground covering plant for your garden. As for the caring, you can follow the same guidelines as with the Chlorophytum Comosum.
With this detailed information, you'll become an expert about Chlorophytum Bichetii.
Chlorophytum Spider Plant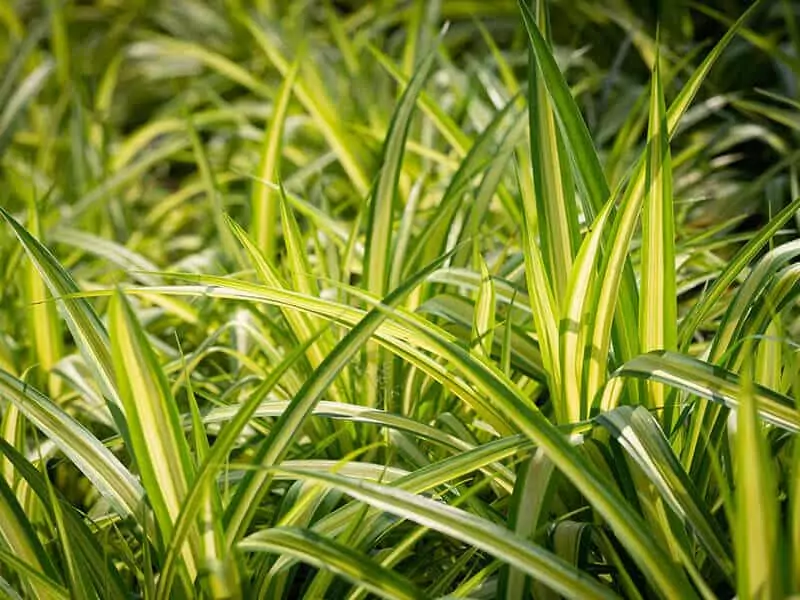 Other Names: Chlorophytum Capense, Bracket Plant
Just like Bitchetii, this Capense isn't suitable as a hanging plant at all. Though this spider plant does blossom, these star-shaped flowers grow straight up instead of hanging down.
As for the foliage, Bracket Plant's leaves are solid green with white edges. They are pretty sharp and narrow compared to other spider plants.
If you want to grow some Capense in your yard, you should take note of this knowledge.
Purple Spider Plant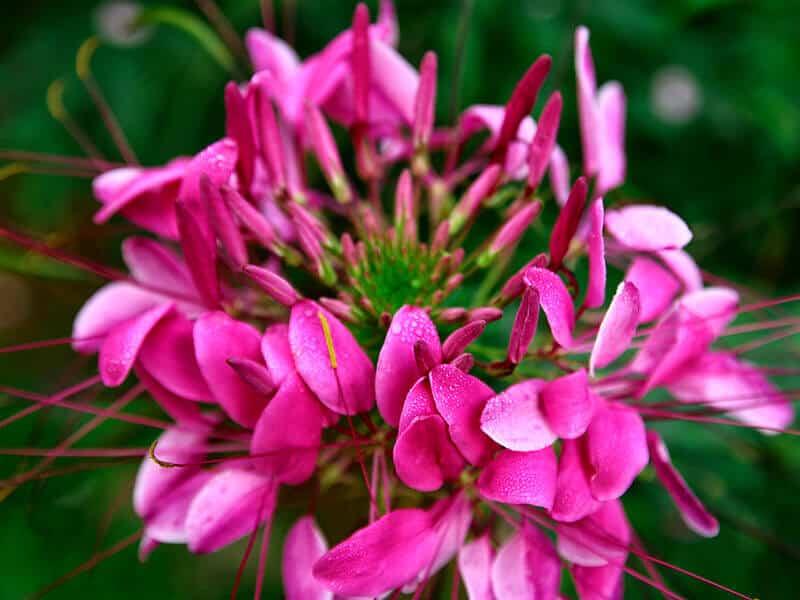 Other Names: Cleome Hassleriana, Spider Plant 'Violet Queen'
One look at this spider plant, and you'll understand why it got the nickname "Violet Queen". With its gorgeous purple, nearly pink flowers, no one can take their eyes off this plant.
And its beauty won't lose to the cold winter. As the temperature drops, those blooms will dry up but remain on the branches, presenting as food for various birds.
Your curiosity about this Purple spider plant hasn't been satisfied yet? Well, there you have this!
Are You Satisfied With These Spider Plants?
I bet you are. Just kidding! But honestly, these 13 varieties are more than enough to capture all gardeners' hearts. And since spider plants are pretty forgiving, you can easily take care of them even when busy.
So, which one is your favorite? Have you grown any spider plants yourself? If yes, please share your experiences with other gardening fellows here. And don't forget to show this list to your relatives who want some spider plants in their house.