Are you interested in learning more about different types of wandering Jew plants? I gathered up all the information about these beautiful vining plants!
Wandering Jew refers to the large number of species that are classified under the botanical name Tradescantia. People also call it by different names, such as inch plant, Spider Wort, Purple Queen, etc.
The plant can be invasive when you grow it outdoors. But, wandering Jew plants are also great houseplants.
These don't require complex care and are generally easy to keep alive. Most of the plants are native to Mexico and grow for their lovely ornamental foliage and delicate flowers.
Some species feature striped leaves, and others are purple!
Here is everything you need to know about different types of wandering Jew plants!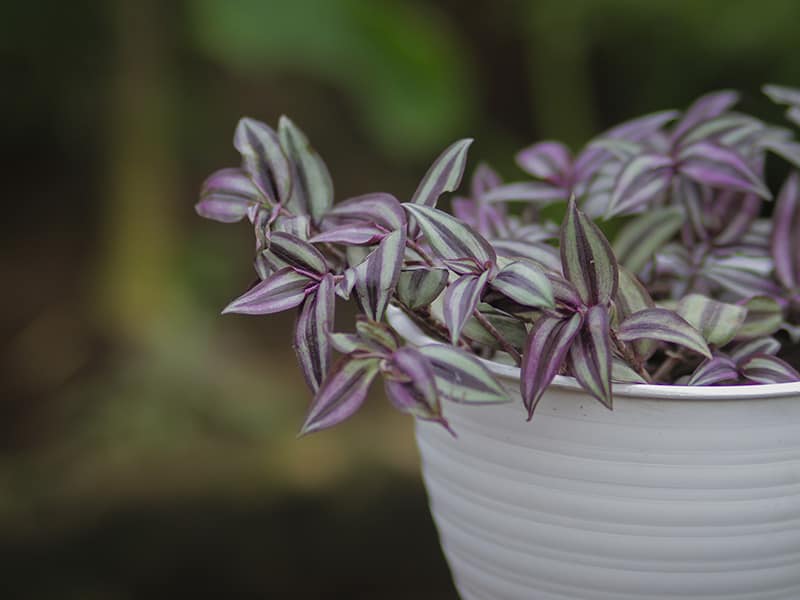 #1 Wandering Jew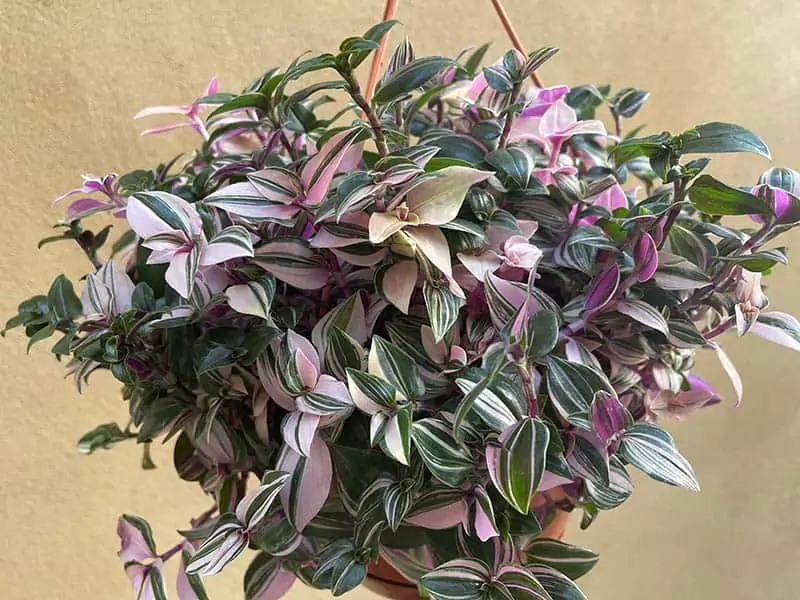 Tradescantia fluminensis, common Wandering Jew plant or Giant White inch plant is probably the most common type of Tradescantia. It is also called the Flowering inch plant because of the interesting blooms.
But, they only develop when you grow the plant outdoors. Interestingly, the star-shaped blooms have three petals each and only last for 24 hours!
Tradescantia fluminensis originates from South America, where it is mostly grown as an outdoor groundcover. Indoors, it also grows well and looks spectacular in hanging pots.
The plant requires moist, well-draining soil. Because of the fleshy, hairless stems and beautiful, evergreen foliage the plant looks beautiful year-round. Indoors, The plant becomes invasive and needs close monitoring.
You can grow it outdoors in USDA hardiness zones from 9b to 12a. But, you can grow it indoors basically everywhere!
The plant will need repotting after a while. You can pick a two-inch larger pot and repot the plant to ensure it has enough space to develop. Add fresh soil to boost the growth and minimize the shock from repotting.
When the plant gets leggy, you'll have to prune it to keep your Wandering Jew attractive. Pruning is simple, pinch off the stem tips to keep the plant beautiful and induce a bushier appearance. You can propagate the plant by stem cuttings!
You can also find some variegated varieties which have even more distinctive appearances. For example, Lilac Tradescantia fluminensis has purplish leaves and is available in some nurseries.
#2 White Velvet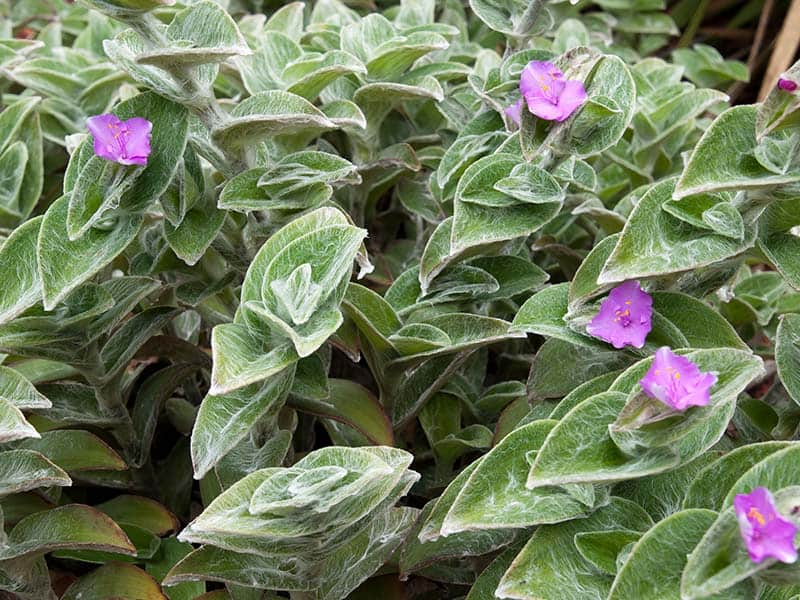 Tradescantia sillamontana is a botanical name of the plant often referred to as White Velvet. It has distinctive foliage with an almost velvety texture. Some people also call this plant Cobweb Spiderwort.
White velvet is a tropical plant, which can be grown indoors in almost all colder hardiness zones.
The plant remains short and comes from dry lands in Mexico. Overall, White Velvet is a simple plant to grow. It prefers light shade, but you can also grow it in full sun spots with moist, well-draining soil.
If the foliage becomes dry and yellow, it is a sign of burs, so you should move the plant to the shadier area.
Ideally, the soil should be acidic and loamy. However, the White velvet plant is tolerable of various soils with different pH values.
Like the previous variety, the White velvet plant can also benefit from occasional pruning. Pinch the stem tips back, and it will induce gushier growth. If you don't pinch the plant, your White velvet will grow as a trailing plant.
When you grow this plant in containers, keep the soil consistently moist. However, never let the plant sit in the water for too long. Too much shade, too much water, and too much nitrogen-based fertilizer won't kill the plant.
But it will surely make your White velvet unattractive. Also, keep the foliage dry and water only at the base of the plant. In winter, reduce the watering frequency to keep the plant healthy.
White velvet plants can bloom indoors and outdoors. Once the beautiful purple flowers are dead, cut them back. It will induce second blooms!
Is your wandering Jew dying? Here is a way to save your plant!
#3 Moses in the Cradle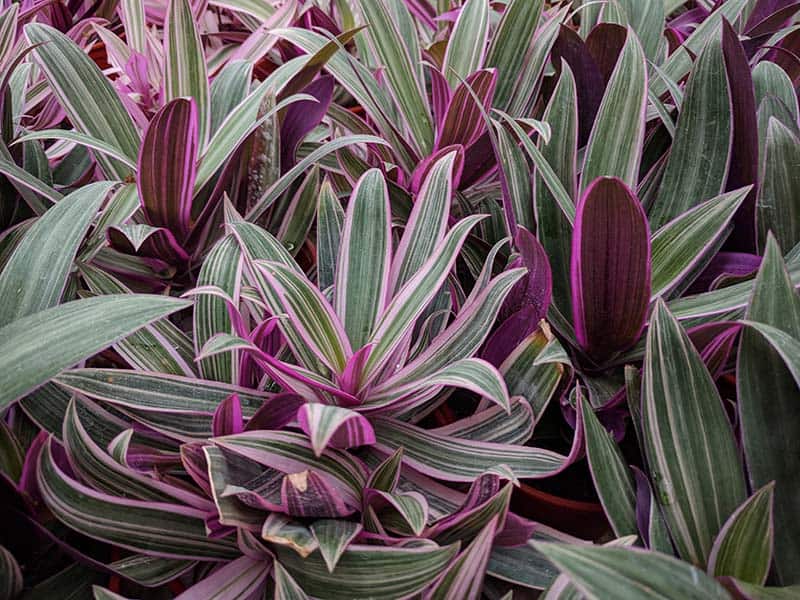 Here is my favorite wandering Jew plant – Tradescantia spathacea! The plant is also called Moses in the Cradle, and is one of the popular and colorful plants, cultivated around the world. You can grow it indoors and outdoors as well. In some regions, people also call it Boat Lily or Oyster plant.
In Central America, and West Indies, Tradescantia is a native and low-maintenance plant with beautiful visual impact.
In nurseries in the USA, you will probably come across dwarf Moses in the Cradle plants. Their average height is between six and twelve inches.
Provide your Moses in the Cradle plant with at least six hours of sunlight every day. Ideally, the light will be bright and indirect.
When Moses in the Cradle doesn't receive enough sunlight, the plant soon becomes leggy. Then, you'll have to prune the plant and use stem cuttings to propagate your Moses in the Cradle.
The plant is beautiful because of the elongated waxy foliage with bright purple undersides. You can also find some varieties with variegated leaves in the combination of green and purple stripes.
Moses in the Cradle also blooms with small, ineffective cradle-shaped white flowers.
#4 Virginia Spiderwort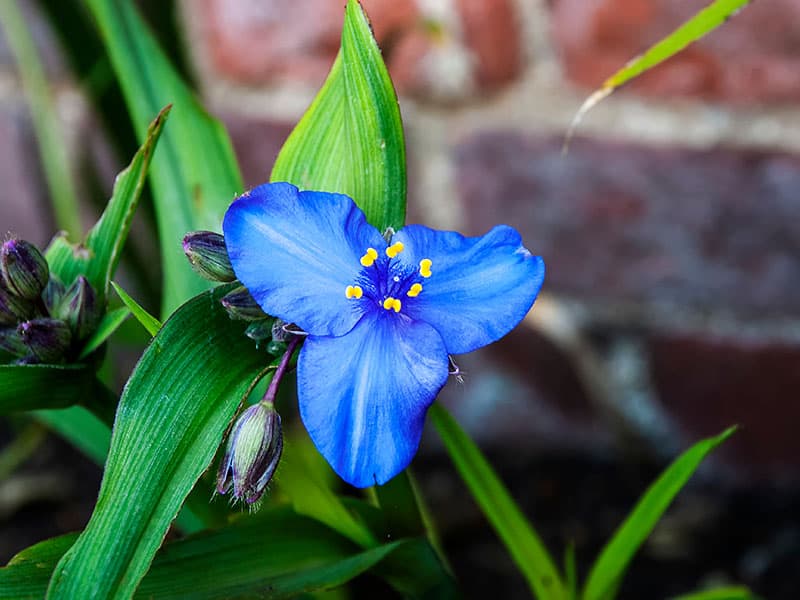 Virginia spiderwort is one of the largest varieties of wandering Jew plants. It can grow up to three feet in height! The botanical name of the plant is Tradescantia virginiana.
It develops long and narrow leaves, bright green. The plant has a long blooming season which may last from March to August in ideal conditions. Virginia spiderwort blooms with large groups of purple flowers with three petals. These flowers only last for one day and are fully opened only in the morning.
Some varieties also develop white flowers with yellow stamens and narrow bracts.
Tradescantia virginiana doesn't need too much water. During hot days, medium frequent watering is great. When the temperatures drop, the plant only needs minimal water.
It is tolerable to different sunlight conditions, including full shade and full sun locations.
Because the plant isn't very tolerant of pollution, it grows better outdoors in rural areas.
Tradescantia virginiana can be propagated by seeds or root division.
Keep in mind that Tradescantia virginiana is an invasive plant. You need to control the growth and divide it every two or three years. In between, remove slumping stalks and deadhead spent flowers.
#5 Wild Crocus
Tradescantia longipes is a beautiful plant for your garden. Interestingly, the plant got the name because of the extra-long flowering stalks, which look like pipes!
It is also called Wild crocus and features a low-growing form and exceptional tolerance to a variety of soil types. However, ideal soil is acidic with great moisture.
You can propagate the Wild crocus plant by division when the clumps are overcrowded. Once the flowering season is done, you should prune the plant to prevent an unattractive appearance. Pruning will also induce second bloom and the plant will grace you with beautiful purple fall blooms!
Wild crocus can self-seed and become invasive if you don't control the growth of the plant.
#6 Silver Inch Plant
Tradescantia zebrina is one of the most common and beautiful varieties of wandering Jew plants. The plant is also called Silver Inch plant because of the variegated leaves.
Zebrina comes from Mexico but is also common in Guatemala. In mild climates, where the temperatures don't drop below 32 degrees Fahrenheit, Tradescantia zebrina can be grown outdoors.
It applies to zones nine to 11, where the plant looks beautiful as a ground cover. The upper sides of the foliages are greenish with a purple hue and have two distinctive silver stripes. The lower sides of the plant are magenta green with fine hairs on the edges.
When you provide as much indoor sunlight as possible the plant develops the brightest colors. In the shade, Zebrina won't look very attractive and look slightly faded. Outdoors, Zebrina can grow to its full potential.
However, the Silver Inch plant can irritate the skin in some people, so be careful when working around the plant.
Zebrina is one of the easiest plants to start from cuttings in moist soil or even in water.
Growing wandering Jew Zebrina from cuttings is easy
#7 Purple Secretia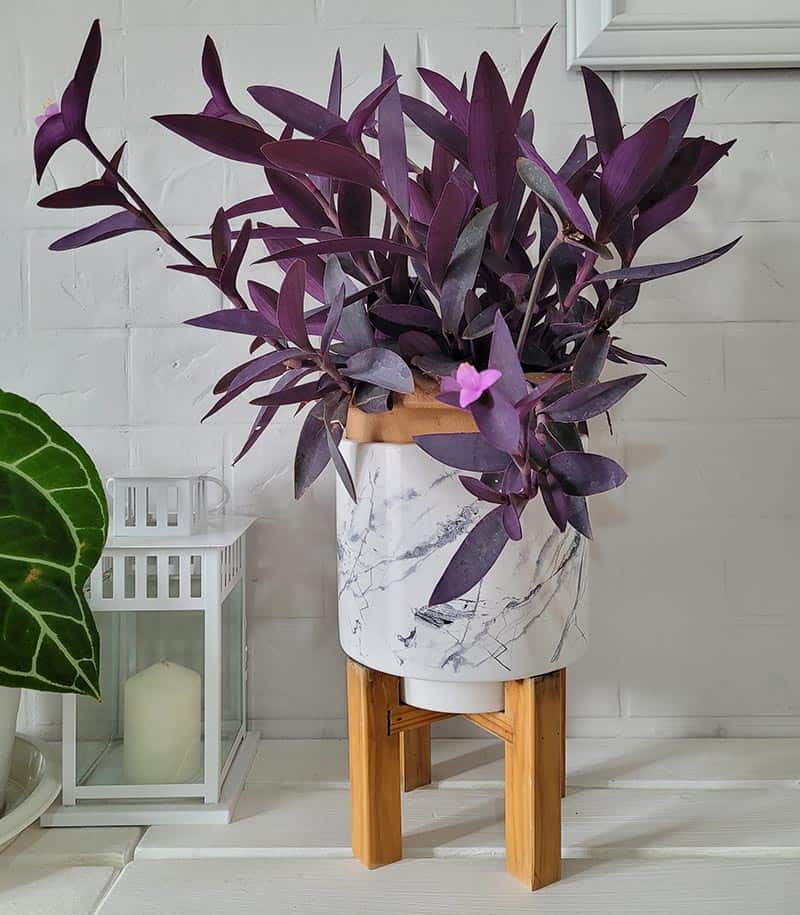 Tradescantia pallida, Purple Secretia or Purple heart plant is a lovely outdoor/indoor plant. You can grow it outdoors in soil, in mixed containers or indoors, in pots.
Most people use the Purple heart plant in combination with other plants with bronze or variegated foliage or burgundy flowers.
I recommend pairing it with red begonias or orange marigolds for the most stunning effect!
The plant grows best in full sun. However, if you plant it in the shade, your Purple heart will survive, but it will be more green than purple.
If you want to keep the plant compact, pinch new growth. Purple heart thrives in simple conditions. It is a drought-tolerant plant but needs monthly fertilization to keep growing.
When the blooming season is over, deadhead the spent flowers.
Purple heart plants can be kept outdoors year-round in frost-free zones. But, if you live in a colder climate, bring the containers indoors. Purple heart plants can also cause skin irritation.
The plant is relatively pests and disease resistant, but you should keep an eye for scales and mealybugs.
#8 Window's Tears
Tradescantia navicularis or Window's Tears plant features beautiful evergreen grayish leaves. The plant needs sunlight to develop to its full potential. It doesn't get too big, and you can keep it in a small basket to showcase its beauty.
Interestingly, this type of wandering Jew develops two types of stems. The first type is like bulbils and short,
Tradescantia navicularis is a trailing plant, and there are several popular varieties you can come across in nurseries. Longer ones appear on these stems with short shoots.
Also, Tradescantia navicularis is a succulent feature of succulent leaves. They are wide and ovate, with dark-purple undersides.
People grow this plant for its ornamental flowers but also attractive blooms in the summer. The blossoms have bright magenta to lilac petals and bearded filaments. Each flower has three petals.
Tradescantia navicularis has flowers that open in the morning and close later. Each flower lasts only for one day, and a new flower appears in three to five days.
During the growing season, the plant needs consistent moisturizing. But in winter you should reduce it.
#9 Red Hill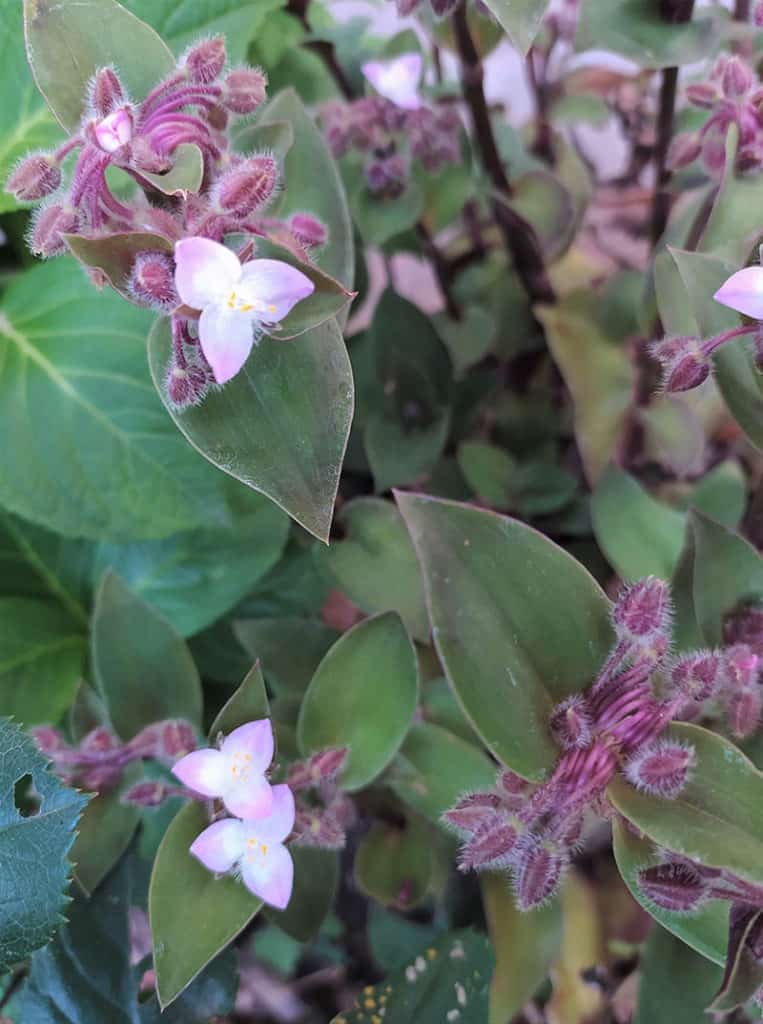 Tradescantia blossfeldiana or Red hill is another trailing type of Wandering Jew. The plant features a short main stem with rosette-forming thick and glossy leaves.
Each leaf has a purple underside.
Red hill also blooms with lovely three-petalled blue, pink, white or purple flowers.
Tradescantia blossfeldiana isn't a frost-hardy plant, and you can keep it outside only during warm summer and spring months. When the days become colder, ensure winter protection.
Red hill wandering Jew thrives in full sun to partial shade. It only needs very little water to survive and even less during winter.
Overall, the plant is easy to grow and suitable for beginners.
March is the ideal time to plant the Red hill plant.
Some nurseries also sell heavily variegated cultivars. They need at least eight hours of sunlight to develop bright colors.
#10 Fantasy Venice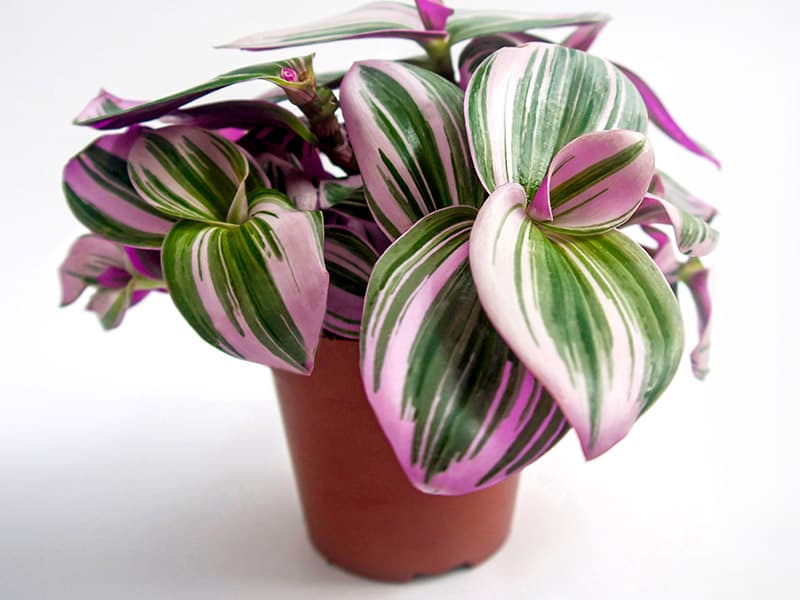 Tradescantia Nanouk is the scientific name for the wonderful Fantasy Venice plant. It looks out of the world with green leaves variegated with pink and white strips. Nanouk is one of the popular cultivars, a true Instagram star!
It is actually a hybrid plant, developed in the Netherlands where scientists worked hard to develop a hardy and beautiful Tradescantia plant.
Ideal growing conditions for Fantasy Venice are full, indirect sunlight and weekly watering. The Nanouk plant is tolerable to different humidity levels because of the thick and fleshy leaves. It can grow well even in a dryer room!
Things to know about Tradescantia Nanouk
If You Love Purple, Grow Wandering Jew Plants
Many wandering Jew plants feature purplish or pinkish variegation. It is one of the most popular plants at the moment, because of its low-maintenance nature and beautiful appearance. Stripes on the leaves, and small, charming or bright purple flowers won't stay unnoticed!
Some wandering Jew plants are a beautiful addition to your garden, as a trailing ground cover and most of them look beautiful as a houseplant!
My favorite is Tradescantia spathacea! Which one will you choose?
Please share your thoughts on my list!