Are you looking for unique house plants to grow in your home? Here is the list you needed! Some of the plants from my list you probably didn't know existed! They will blow your mind with their distinct appearance.
The foliage, the stems, the flowers, colors, and features make them stand out from the average indoor plants you can see in any household. I'll also include a few growing tips for these rare and weird indoor plants!
Unique houseplants will provide a pop of color, add structure or become the best decoration ever!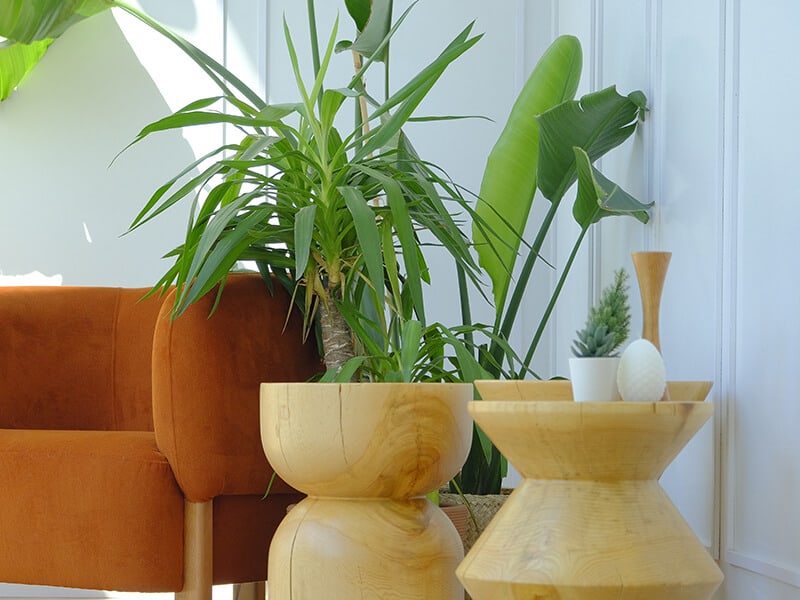 #1 Sensitive Plant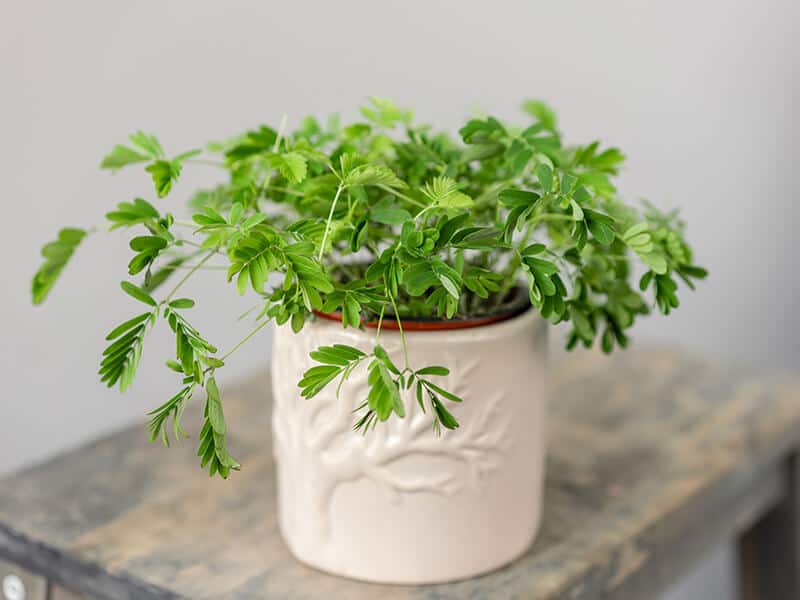 Mimosa pudica or Sensitive plant is a unique plant that has interesting leaf movement when you touch it. It is how the plant got the name. The leaves are lined with fine hairs and are responsive to motions and temperature changes.
Scientists believe that the movements are part of the plant's defensive mechanism. The plant blooms in summer, with pink and purple flowers.
Read more about Sensitive plants movements!
Check out the Mimosa pudica movements:
#2 Sweetheart Hoya Plant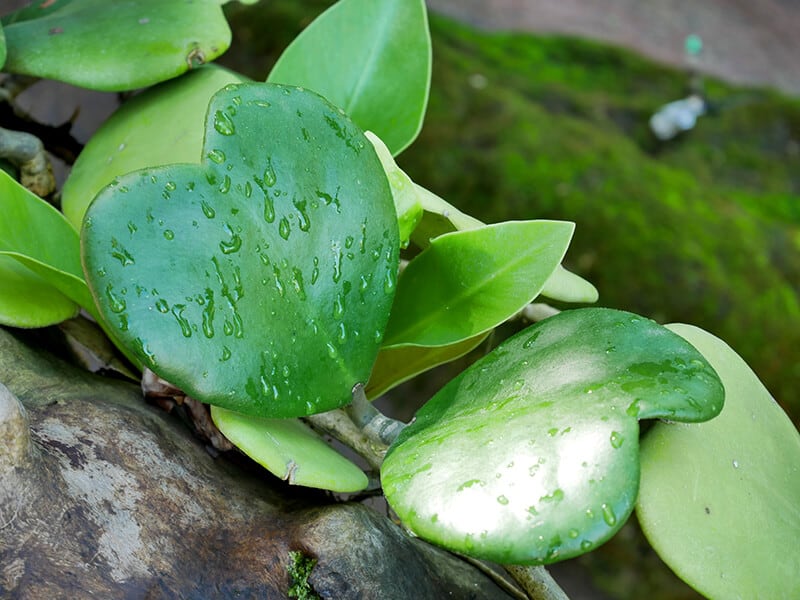 A quick glance at the Sweetheart Hoya plant reveals how the plant got its name! It has thick and heart-shaped leaves! The plant is easy to grow and a slow grower.
If you plant it in the hanging basket, you'll soon have a bush of tiny green hearts! Sometimes, people call it the Valentine plant, and it makes a perfect gift for Valentine's day!
A mature plant can become around 12 feet long!
Learn how to grow the Hoya plant!
#3 Watermelon Peperomia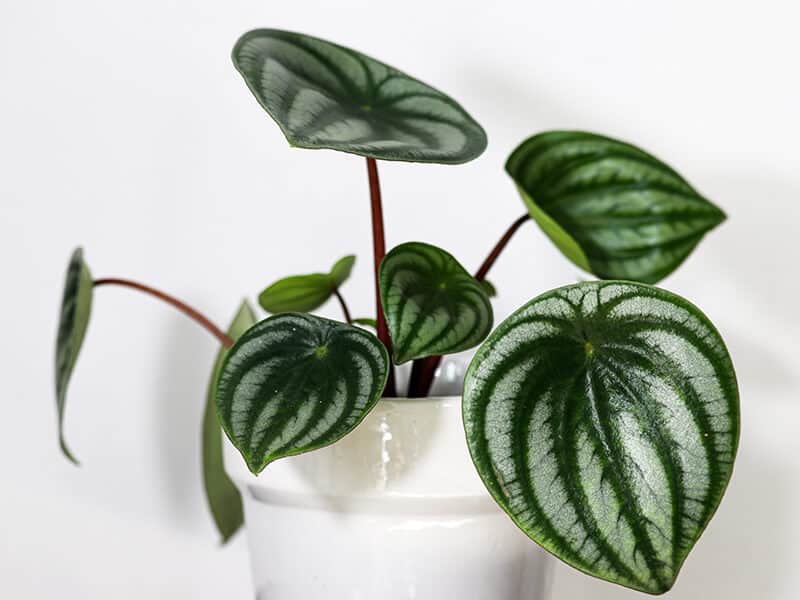 Watermelon Peperomia or Begonia or Peperomia Argyreia is famous for its unique foliage. The leaves have a fusion of different shades of green, which resembles the look of a watermelon.
Commonly, the plant grows up to 12 inches, but dwarf varieties are half the size.
Generally, the plant is easy to grow and suitable for beginners. Because of its compact size, it can be grouped with other indoor household plants.
Find out if Watermelon Peperomia is succulent!
#4 Donkeys Tails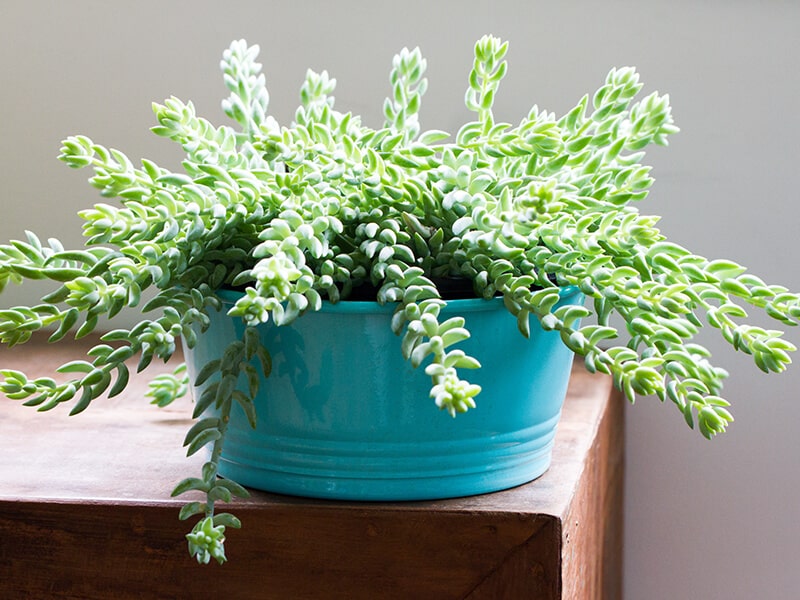 The Donkey Tail plant or Sedum Morganianum comes from Mexico and is a low-maintenance plant. Other names of the plant are Lamb's tail and Burro's tail. It is known for its fleshy leaves shaped like tears.
Additionally, the plant develops lovely colorful flowers in late spring. However, for the plant to bloom indoors, you'll have to ensure a lot of sunlight and other optimal conditions.
Find out how to care for Donkey's Tail indoors!
#5 Staghorn Fern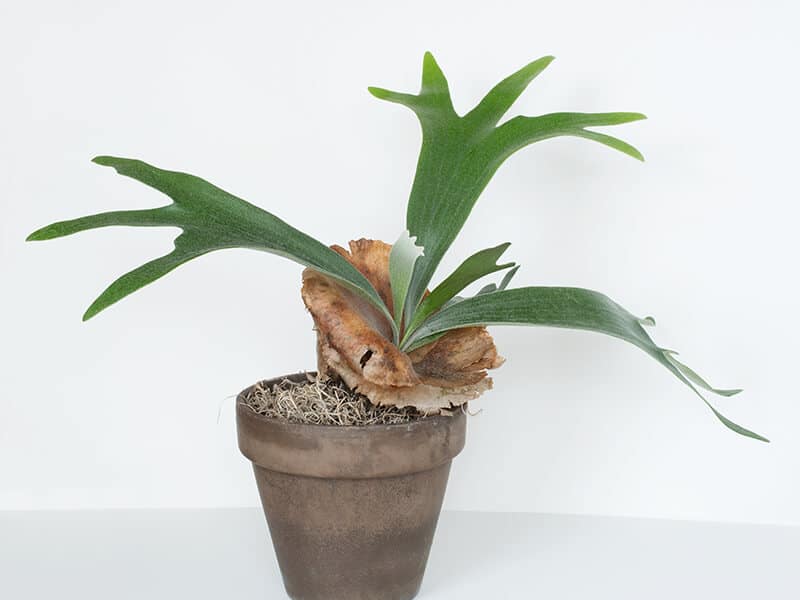 Staghorn Fern is an expensive and rare plant that requires specialized care to grow to its full potential. You'll have to take careful care of the plant during the growth period, and ensure a good amount of fertilizer, optimal humidity, and temperature.
The plant has two different sets of leaves, which gives it an out-of-this-world appearance. One set looks like horns!
Discover what the best way to care for a Staghorn Fern is!
#6 Nerve Plant
The plant got the name Nerve plant because of the nerve-like net on the small leaves. The scientific name of the plant is Fittonia albivenis and the plant comes from tropical areas of Peru.
Therefore, it thrives in warm temperatures and high humidity! A sunny window is an ideal location for growing the Nerve plant indoors.
Here are more growing tips for the Nerve plant!
#7 Moon Cactus
Gymnocalycium mihanovichii or Moon Cactus is native to South America. But, the plant cultivars which don't have chlorophyll are more popular than the standard variety. These mutants have colorful pigmentation in red, yellow, and orange.
Surprisingly, Moon Cactus also flowers and develops a charming flower that looks almost like Daisy!
Find out more about this unique Cactus!
#8 Banana Shrub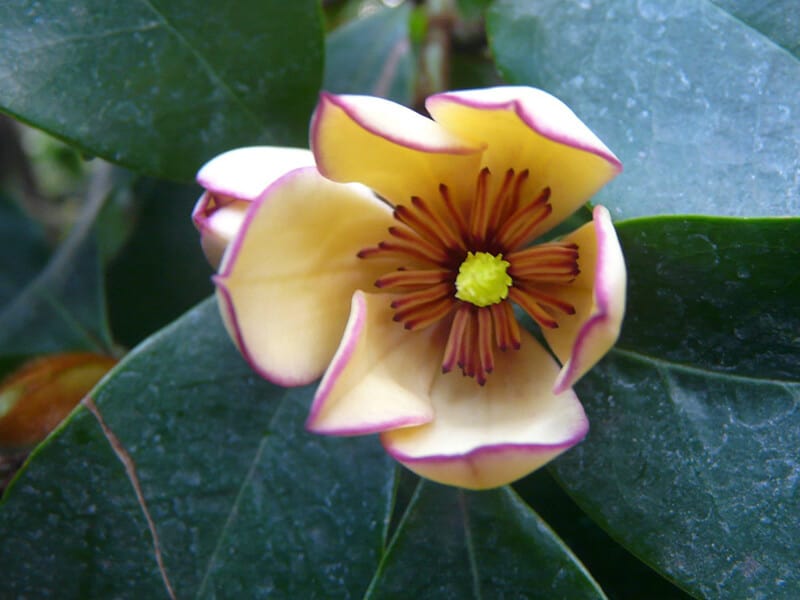 The Banana shrub is a beautiful plant because of its dark-green leaves and sophisticated flowers! Interestingly, flowers look like tiny Magnolia flowers and have a heavy scent like ripe bananas!
The blooming time is spring, but some plants will continue to bloom occasionally in the summer as well. There are several popular cultivars, and my favorite is Port Wine because of the rose flowers!
Check more about this heavily fragrant plant!
#9 Living Stones
Living Stones are succulents, commonly called pebble plants. These are surprisingly weird plants that look almost like rocks, which is how the plants got the name. They are relatively easy to grow, but keep an eye on the plant to prevent overwatering. It will kill the plant.
The plant is native to Africa and grows very slow. However, the unique appearance of the plant makes it worth waiting for!
Read more about these rock-like plants!
This is how to care for Living Stones. Watch this video below:
#10 Climbing Onion
Climbing Onion, or Bowiea sea onion or Bowiea volubilis isn't an onion at all! In fact, the plant is a close relative to Lilies. The plant is succulent without leaves and develops from a bulb, located outside the soil.
When you grow it indoors, your Climbing Onion will amaze all your visitors because of its unique look. Some may argue that Climbing Onion isn't pretty, but it is definitely a statement indoor plant!
Check out more information about this unique houseplant!
#11 Philodendron Micans
Velvety Philodendron hederaceum or Micans is a rare houseplant, that reaches around 12 inches in height and double of it in the spread.
The plant is a fast grower and looks best when planted in a hanging pot. You can also create a structure for it to climb on and prune along the way. Regular pruning will also enhance the fuller look of this velvety plant!
Here is how to care for Philodendron Micans.
#12 Lifesaver Plant
Lifesaver Plant or Huernia zebrina is a succulent which develops the most bizarre flower you'll ever see! The flowering season is from late spring to summer. Generally, the plant is easy to grow in small pots and has air-purifying properties.
The flower looks like a donut in the middle of the flower!
Check out more information about this unique cactus!
#13 Chinese Water Bamboo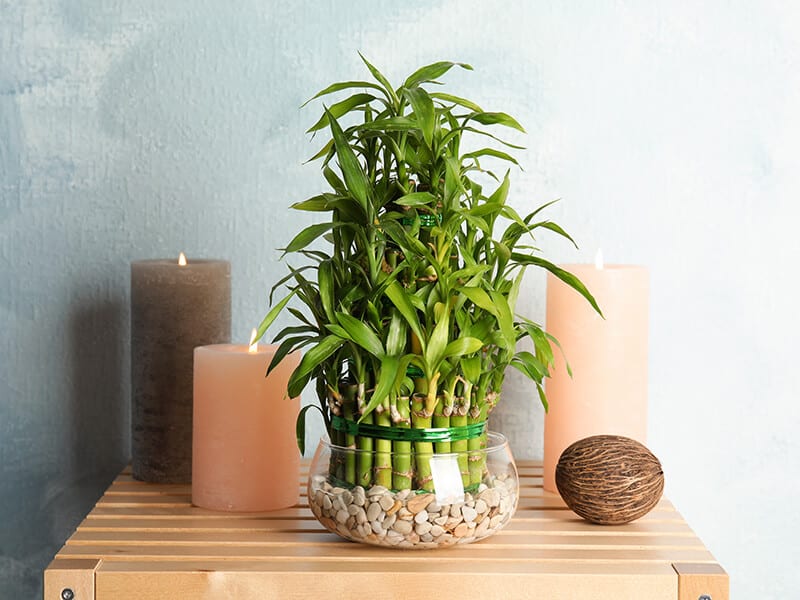 Chinese Water Bamboo, Lucky Bamboo, Water Bamboo or scientifically Dracaena sanderiana is a small plant with upright stems and curved foliage. The key to growing this plant with a distinctive airy appearance is a consistent water source and a lot of light! Therefore, Lucky Bamboo is often grown in the water and looks stunning as a tabletop decoration.
Read more about Dracaena sanderiana!
#14 Lipstick Echeveria
Echeveria agavoides or Lipstick Echeveria is a statement plant in your collection. The foliage is pointy and bright green with bloody-red tips and edges. The plant develops in a rosette shape and doesn't grow taller than six inches.
Because of its compact size and beautiful look, the plant is suitable for indoor spaces.
Read more about the unusual Lipstick Echeveria succulent!
#15 Pinstripe Calathea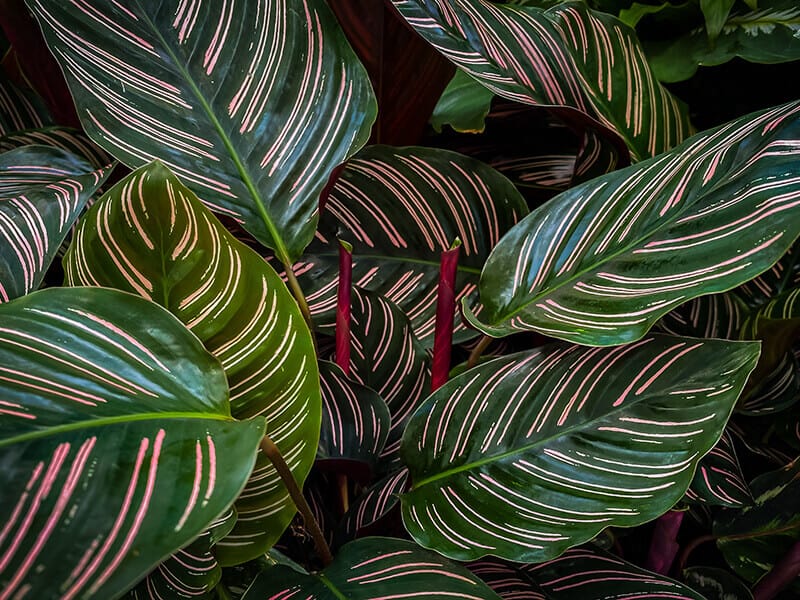 Calathea ornata or more commonly Pinstripe Calathea has colorful pink stripes on its deep green leaves. The unusual and wonderful plant is also easy to care for, and makes a perfect housewarming gift! The plant needs bright, filtered light and moderate watering with high humidity.
Find the best tips for growing Pinstripe Calathea!
#16 Red Aglaonema
Red Aglaonema is a beautiful tropical plant that features large leaves. Sometimes, the leaves turn pink or red! People also refer to it as the Chinese evergreen plant. The colorful and large leaves instantly brighten every space!
Is Red Aglaonema a challenging plant to grow? Find out before you bring it to your home!
#17 Bat Flowers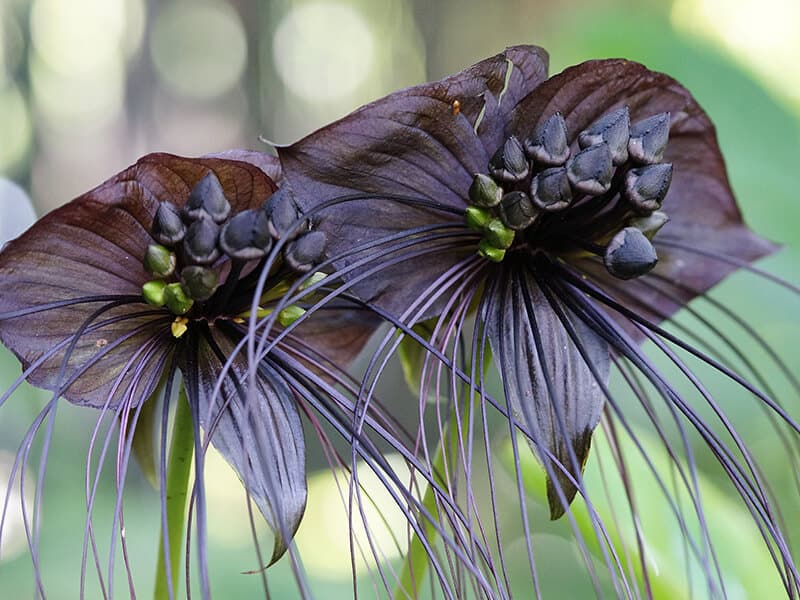 Tacca chantrieri is an exotic and beautiful flower known as Bat flower because of its dark and spooky appearance. During the blooming season, the flowers look like flying bats!
The leaves are large and emerald and the unusual flower only contributes to the unique look. Bat flowers require complex care to grow to their full potential, but all the effort pays out!
Here is all you need to know about growing Bat flowers!
Find out interesting and useful tips about Bat flowers!
#18 Areca Palm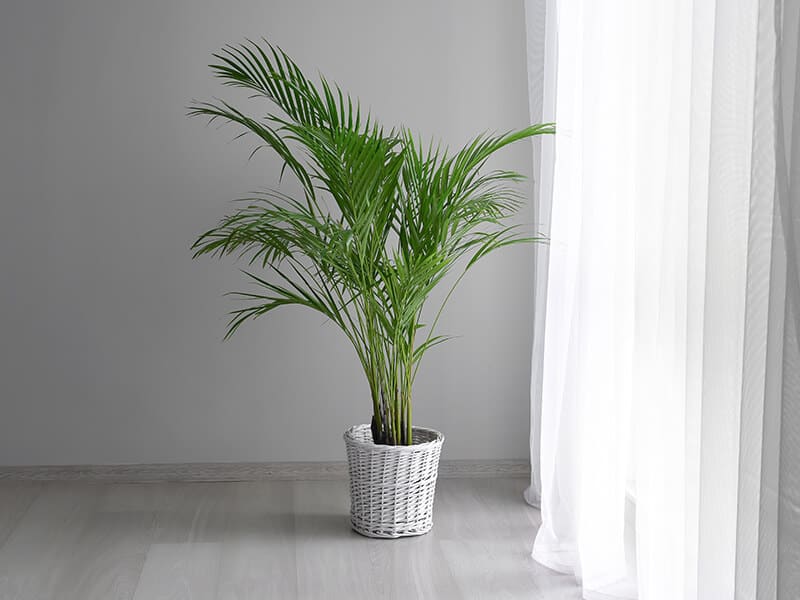 Dypsis lutescens or Areca Palm likes bright, but filtered light. The west-facing window is the ideal location for it, and the plant will award you with a stunning appearance. Areca palms are exotic and rarely grown indoors, but they can transform every room.
Here is how to help a damaged Areca palm!
#19 Rabbit Succulent
Rabbit succulent is a small and charming plant that grows in clusters. The botanical name of the plant is Monilaria obconica. This succulent plant grows in the shape of bunny ears, hence the name.
The plant is one of the easiest to grow, and it is perfect for people who travel a lot. You can leave your Rabbit plant for days, and it won't suffer!
Find out more about the cutest succulent ever – Rabbit!
#20 Calathea Orbifolia
Calathea orbifolia comes from Bolivia and has lovely, ornamental leaves in different shades of green. The plant is easy to grow, with partial shade and well-drained soil. It also likes humidity, because it is a tropical plant. Also, Calathea is excellent for air-purifying properties.
Here is more interesting information on Calathea Orbifolia!
#21 Snake Plant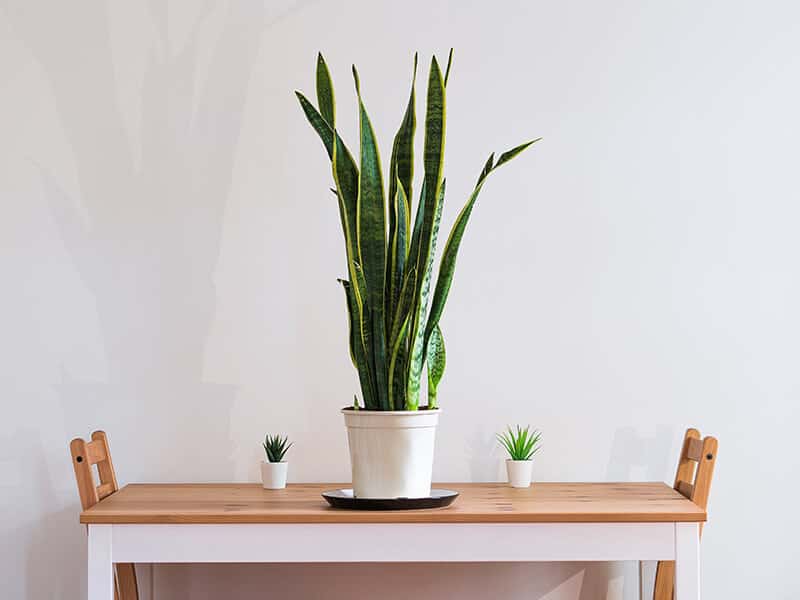 Snake plant, or more specifically Dracaena trifasciata, is an evergreen tropical plant. It has upright and stiff leaves in the fusion of green and yellow. The plant is easy to grow and doesn't mind being neglected. Snake plant is a statement plant, perfect for an empty corner.
Here is more information on the Snake plant.
#22 Cement Leaf Plant
Cement Leaf plant or Titanopsis Calcarea is a unique-looking succulent coming from South Africa. The plant has a rosette shape and lovely foliage. The dense colorful bumps are what makes this plant so attractive. Generally, it is similar to the Living stone plant!
The flowers are round and bright yellow and they provide a statement pop of color in every setting!
Read more about this succulent!
#23 Dwarf Umbrella Tree Bonsai
The Schefflera arboricola or Hawaiian Dwarf umbrella tree is easy to grow because the plant doesn't need complex care. Medium-light and humidity and warm temperature are ideal for your Dwarf umbrella tree to thrive.
The plant is perfect for office space and can grow well under fluorescent light.
Find out what will make your plant stop growing!
#24 Boston Fern
If you have a lot of empty space craving for decoration, consider growing Nephrolepis exaltata or a Boston Fern plant. In the mature age, the plant can grow up to three feet in height. The expected spread is about the same.
The ideal location for Boston Fern is near the window, and the plant grows fastest in acidic soil type. Also, ensure that the soil is well-drained, and you'll watch your plant thrive!
Find out if you can grow Boston Fern in hanging baskets!
Discover what is killing your Boston Fern:
#25 Laceleaf
Anthurium or Laceleaf is grown for its gorgeous flowers and glossy foliage. There are numerous cultivars of the plant that determine the color of the wide flowers. My favorite cultivar is Anthurium Flamingo!
If you wish to grow Anthurium in your space, keep it away from pets and children because the plant can irritate the respiratory system.
Here is all you need to know about the Laceleaf plant!
#26 Lemon Button Fern
The scientific name of the Lemon Button Fern plant is Nephrolepis cordifolia is a beginner-friendly plant. However, if you are a professional plant collector, you'll also enjoy this easy-maintenance, beautiful plant. Lemon Button fern is also a very affordable plant!
During the growing season, the plant has a specific aroma that resembles the lemon scent.
Find out how to take care of your Lemon Button Fern!
#27 Ivy
Ivy is more commonly known as an outdoor plant. However, if you know how to care for it properly, the plant can survive indoors. Ensure that the plant requires enough bright light to keep the plant healthy and reduce the risk of pests.
Also, if you don't have enough light in your space, choose Ivy varieties, such as Hedera, that can survive even with medium light.
Here are practical tips for growing Ivy indoors!
#28 White Bird Of Paradise
Strelitzia nicolai or White Bird of Paradise is a tropical indoor plant with large, oval-shaped leaves. The leaves look like banana leaves, and the plant grows up to eight feet in height. It gives a tropical vibe to every interior. Moreover, the plant is wind-resistant so you can also use it on a balcony or patio during warm months.
Check out more exciting information about the Bird of Paradise plant.
#29 Fiddle Leaf Fig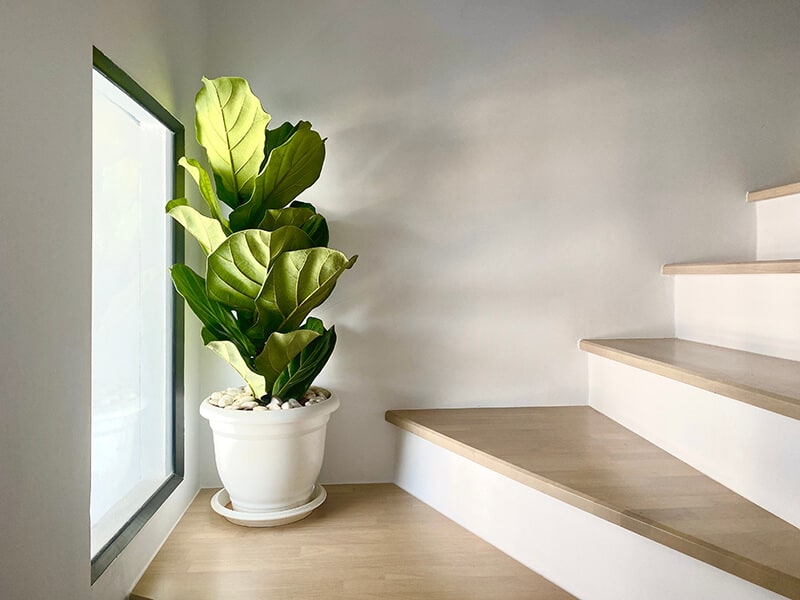 Ficus lyrata is better known as Fiddle Leaf Fig. If you want a stunning, easy-going indoor tree, Fiddle Leaf Fig is a great choice.
You can also find compact variants, more suited for tiny spaces. Standard variants grow up to ten feet, so they might be too big for apartments. Fiddle Leaf Fig is a simple and popular plant, but it doesn't diminish its distinctive look!
Here are more facts to know about Fiddle Leaf Fig!
#30 Zig-Zag Cactus
The plant Disocactus anguliger is more popular under the name Zig-Zag Cactus or Fishbone Cactus. It got the name of the unusual pattern on the fleshy foliage.
The plant can grow up to three feet in its upright growing habit!
This cactus is spineless and has stunning flowers! It is also edible!
Discover more about what makes the Zig-Zag cactus so special!
#31 Coffee Plant
Coffee Arabica or simply Coffee plant is what the name suggests – the plant you can harvest for coffee! Surprisingly, the Coffee plant makes a good potted, indoor plant, despite being originally an outdoor plant.
It is compact and develops beautiful flowers in the spring. Each flower eventually produces two beans you can brew into your coffee! Keep in mind that other parts of the plant, other than seeds, are toxic!
Read more about the Coffee plant!
Find out why are your Coffee plant leaves turning brown. Watch the video:
#32 Club Moss
Club Moss or botanically Selaginella kraussiana is a charming little plant, grown for its beautiful foliage. There are several popular varieties in green and gold shades. The most beautiful are cultivars that have creamy new growth, which induced the name Club Moss frosty. These plants require high humidity, so they are ideal for the bathroom or kitchen!
Here is what to know about the Club Moss plant!
#33 Dolphin Necklace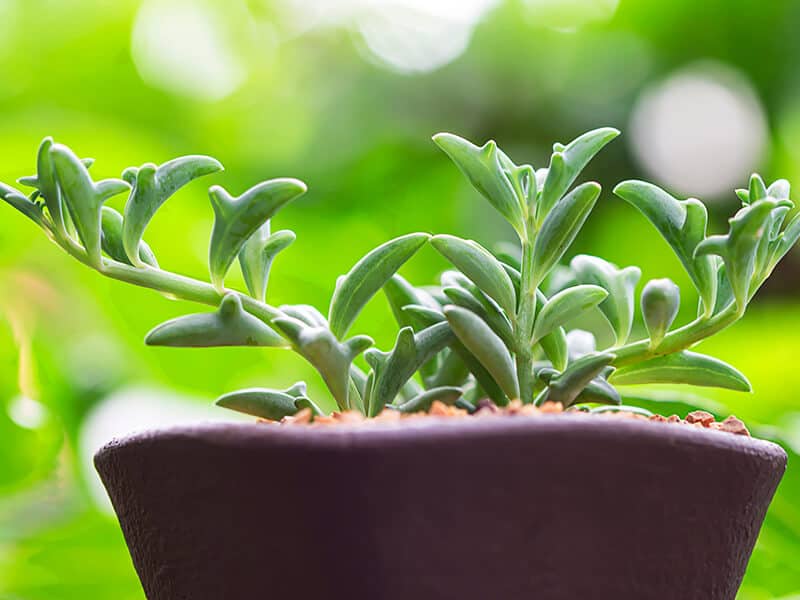 Curio × peregrinus or Dolphin necklace is a unique succulent. It is actually a hybrid, consisting of a String of pearls plant, and a hot dog cactus. It is easy to grow succulents that develop the most stunning flowers!
The plant is rare and difficult to find.
Read more about the origin of this rare plant!
Weird Looking Plants Are The Only Decoration You'll Ever Need
Grouping several houseplants in one corner of the room is a great way to brighten the space and provide a natural vibe. But, you can also choose one statement, a weird-looking plant that will amaze all your visitors!
I cannot decide between spooky Bat flowers and scented Lemon Button Fern! Maybe I'll grow both!
What about you? Which unique plant can you imagine in your space?
If you find the article inspirational, please don't forget to give it a thumbs up!