How many times have you dealt with those kinds of plants that are invasive to your beautiful garden? Most of them have been transplanted from their natural habitat, and once they reached our gardens, they harmed the other plants.
In the absence of their natural competitors and other predators and diseases, these unwanted garden plants, as I named them, start spreading uncontrolled. As a result, they invade the other plants you are cultivating and ruin the whole landscape.
How Do Invasive Plants Affect Other Species?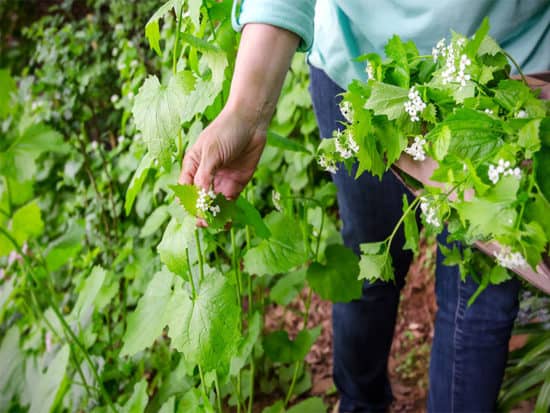 Well, some unwanted garden plants are just disrupting the design of your garden. While some can have a more negative impact on the native ecosystem, as well as on the wildlife habitats.
Furthermore, unwanted plants can harm the utility operations you are doing periodically, as well as the outdoor recreation activities.
According to studies, invasive plants and species from other corners of this world started dominating millions of prairies, desserts, acres of forest, and the usual garden behind people's homes.
In this article, you will find everything about the 10 most common unwanted garden plants, along with information about each of them. Keep on reading to find some easy, home-made ways to control or erase these wild plants' development.
What Makes a Plant Invasive?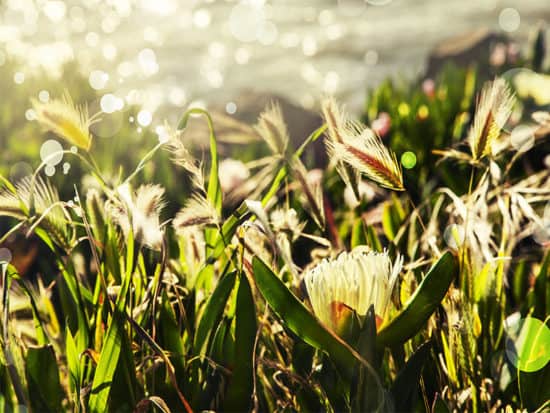 Some of you might not know much about invasive plants, or it is challenging to recognize your garden's unwanted greens.
Well, first of all, invasive plants have the ability to grow and reproduce easier than other plants. It means these flowers or green plants produce huge quantities of seed, meaning they spread fastly and aggressively all over the place.
Most of these seeds are spread either by the wind. Some are taken by the birds. Furthermore, the seeds are also distributed by humans, even they do not know.
As you have noticed many times, invasive plants tend to grow faster than other greens.
The biggest downside regarding unwanted garden plants is that humans cannot determine from the early stages if a plant is invasive or not. Recognizing the invasive plants from their very first days of life is a matter of experience.
Not all the savage plants are invasive, but some of them can complete the whole landscaper view. But some do, and if you are a responsible gardener, I bet you would like to be more aware of these unwanted plants.
As a result, once knowing some information about these invasive weeds, you will know how to deal with them. Furthermore, before planting any new seed in your garden, it is better to be aware first if the plant is invasive or not.
Keep on reading to find more about the common invasive plants you might have already met.
Top 10 Unwanted Garden Plants With Descriptions
After careful research, I brought together 10 of the most popular invasive plants in every garden. Read the information about each of these plants and see if you recognize any of them in your garden
1. Goutweed (Aegopodium podagraria)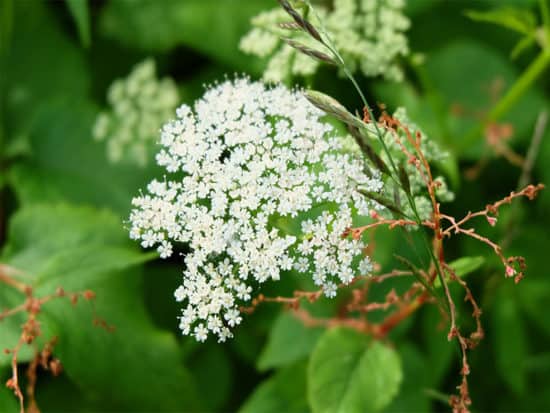 Also popular as: bishop's weed, snow-on-the-mountain.
The very first garden plant that can cause harm to other plants is Goutweed. This is a prolific ground cover that can spread quickly all over. You can notice this plant by its white and green leaves. However, some naturalized plants do not have this variegation.
Goutweed can be really harmful to other plants, as it once escapes the garden and develops into natural areas, it can choke the other greeneries.
Firstly popular as snow-on-the-mountain or bishop's weed, Goutweed was brought from Asia and Europe to North America.
Controlling Goutweed
The first and easiest way to get rid of Goutweed is by moving it away. You can try hand pulling, although it is not so effective. Considering that Goutweed has deep roots that can reach the soil deep down and won't let go, getting rid of these plants might be a headache.
Some gardeners choose to use herbicides, such as glyphosate, although usually, goutweed is very resistant to herbicides. These solutions can kill almost everything. However, take care of how you spread it, as these herbicides can harm even ornamental plants as well.
2. Dandelion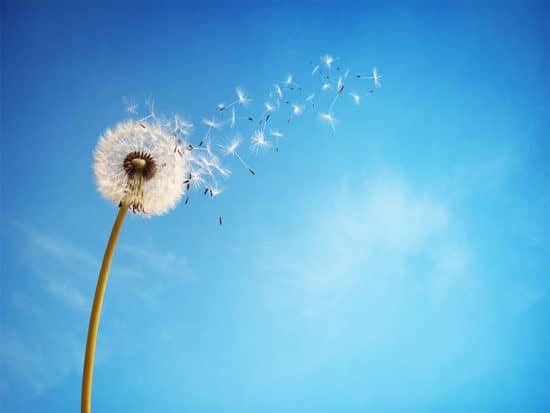 Also popular: blowball, lion's tooth, the cankerworm
Kids love dandelion, blowing all its petals, and get up surrounded by this perennial plant. However, before spreading all its seeds, it's important to understand that you can easily contribute to this unwanted plant's growth.
While some might even grow dandelion for its therapeutic value, some are trying to find methods to get rid of this weed. Now, I should be fair first and recognize the advantages of this plant.
Its tender leaves work great in green salads, while dandelion flowers have therapeutic properties. Some people use these petals in wine, some are making herbal vinegar. In contrast, others use Dandelion as a substitute for coffee.
There are also people who are cultivating dandelions as food for their chickens, rabbits, ducks, and geese. Moreover, these plants are great as food for bees, and many other insects.
How To Fight Dandelions
Several methods work great for those of you who want to get rid of dandelions or simply control their growth. It's impossible not to have noticed Dandelion's long taproot, which extends more than one foot sometimes.
The responsible part of strong development is the fluffy seed heads, those which people love to blow in the air.
From March to fall frost, these seeds flow all over the air and then breed. So make sure you get these weeds before they start floating. Gardeners with lots of experience will tell you to dig up the roots or just cover the dandelions' with a thick layer before they come up.
3. Bindweed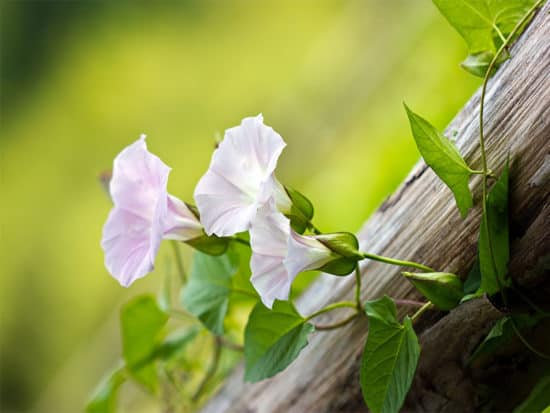 Also popular: lady's nightcap, creeping Jenny, possession vine, woodbine, wild morning glory
Did you know that bindweed is the perennial cousin to sweet potatoes? Well, now you know it. However, as cute as they might look, this type of unwanted plant can be a true headache for some gardeners.
As many gardening professionals have stated, the bindweed is very persistent, and some of them have named this weed "zombie plant". Why? Because it is kind of a pain to get rid of it for good.
How To Fight With Bindweed
If you are a gardener or have just started this new passion, you should know about bindweed that it can sprout, then resprout even on very wide distances. Imagine its roots can spread as 30 feet underground.
As such, if you do not act in real-time, the weed's flowers will spread all over the garden, and resist for up to 50 years.
To get rid of this plant, you must dig for its roots and pull its roots as soon as they appear. Keep pulling, so you are sure there is no root left. Hopefully, this way, you will get rid of bindweed. On the other side, if you let bindweed establish, it will be harder to eliminate it.
As tools, I recommend you to use a hoe, so you can dig up the bindweed better and do not leave any fragments of this plant behind.
4. Norway Maple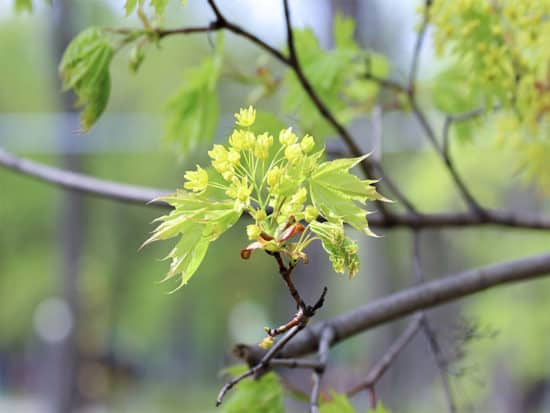 Also popular as: Acer Platanoides
Norway maple is one of the most invasive species of plants that can spread immediately and aggressively. However, these trees have been demonstrated to be intrusive and cannot harm the other plants as much as others. If you were going to plant them, then take your time to analyze the consequences. Norway Maple is known for its tolerance to challenging urban conditions, and it often becomes a weedy plant, harmful to other plants in your garden.
Getting Rid Of Norway Maple
There are several ways to stop Norway Maple from growing. You can use the manual method, which implies cutting down these trees. You need to carefully cut these plants until there is no one left. The chemical way of getting read of Norway Maple is by using some pesticides, such as triclopyr and glyphosate. These herbicides can carry down to the roots and kill the plant in less than one week.
5. Chickweed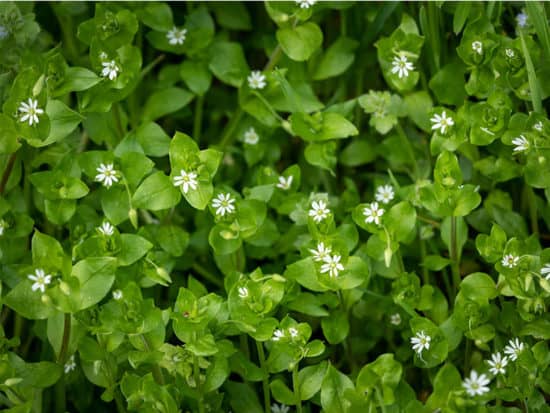 Also popular: satin flower, Passerina, skirt button, starweed
Rather than an unwanted plant, some gardeners use this Chickweed for its tasteful advantages, as well as for its medicinal properties. For instance, some people prefer it for its honey and lemon juice, which goes perfectly in a tasty salad.
On the other hand, Chickweed has amazing skin results, no wonder why there are lots of lotions and soothing creams containing this plant.
Dealing With Chickweed
Chickweed is that kind of unwanted garden plant that grows very low and has a high tolerance to cold temperatures. One of the best ways to fight against its development is to turn it over with a fork during wintertime.
If you couldn't or forgot to do this, spring would be a good time to remove chickweed by careful-hand-pulling.
Another aspect that you should be aware of is that Chickweed can germinate into the soil for up to 10 years. If you have a major problem with this type of plant, then stay on top of it right before it starts seeding.
Another piece of advice is to never compost chickweed plants, in either of their growth stages.
The best part? You can use the Chickweed as natural food for your ducks. Make sure to toss this weed, and your birds will love it.
6. Ground Ivy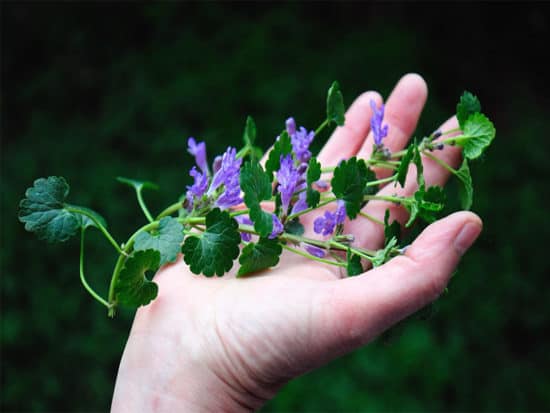 Also popular: cat's foot, dollar weed, field balm
The Ground Ivy is present in most of the gardens, especially in the eastern half of the United States. This plant is fast-growing and quick-spreading-roots.
As such, you should always keep an eye on this unwanted plant, so you can control its growth better.
How To Deal With Ground Ivy
One of the best ways to get rid of the Ground Ivy plant is by keeping pulling it out, year by year. If you do this constantly, you have the chance to recede this plant. Most of the gardeners are doing this, pulling it out by hand, which is perfectly ok.
Another trick is to water the area you are going to work in. The ground will be smoother and well-damped, which creates the proper gardening area and eases your work. Tackle the task of pulling out weeds right before their seeds start developing.
I asked other gardeners about their tips and tricks over Ground Ivy, and some of them recommend using beds. These will keep the soil drier, which slows down the unwanted weeds' growth.
On the other hand, the same specialists stated that if you continue tilling, you will spread all the root fragments and help Ground Ivy's growth.
7. Burdock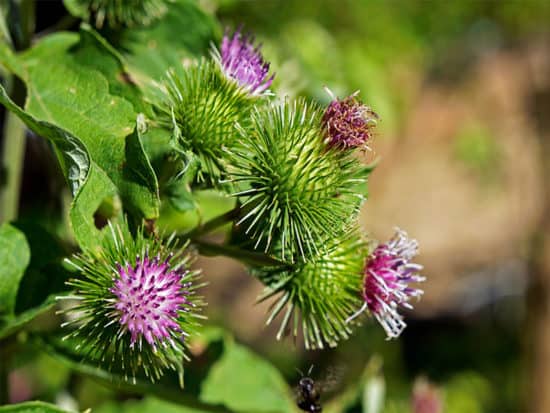 Also popular: wild rhubarb, clotbur
Before jumping straight to the best ways of getting rid of Burdock, it is fair to mention its beneficial uses too. As such, some people are using this plant's roots for medicinal conditions. Burdock seems to have great results against arthritis to a sore throat.
Some gardeners are using this unwanted plant and its leaves for composting. Their deep roots bring a lot of nutrients to the compost pile.
Getting Rid of Burdock
Some of the best-experienced gardeners said they control the Burdock by pouring some vinegar right on the stem on the hottest days.
For instance, one easy "kill" the Burdock is to till the soil every time right between rows. This easy action should repeat in the spring when the seeds don't grow already.
This method makes sense, considering Burdock usually develops in those areas that are not worked so much. Burdock has deep roots, similar to Dandelion. As such, take your time to dig out well in the soil, as the roots are vigorous and they tend to push back up.
8. Canada Thistle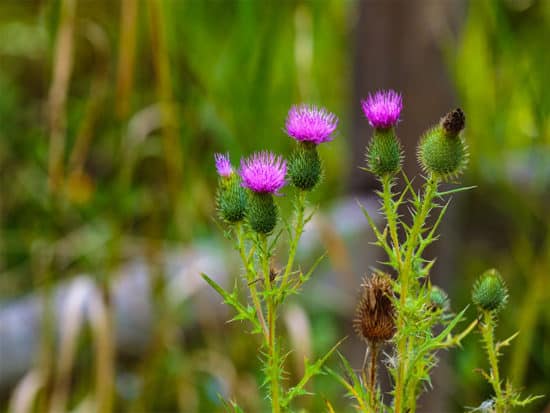 Also popular: small-flowered thistle, creeping thistle, green thistle
How many times have you noticed this plant growing? Although it has those tiny, beautiful flowers, it tends to grow chaotically and fast. If you don't know how to get rid of it, keep reading to find some great methods you can use to exterminate Canada Thistle.
Dealing With Canada Thistle
Handling this summer perennial plants requires a bit of attention and precise methods. The first thing to keep in mind is wearing a nice pair of heavy leather gloves. With a lot of determination, keep on tilling the soil and chop down the plant.
Other gardeners would tell you to pour vinegar, salt, into a mixture of them to create salty water that will destroy the Canada Thistle. You can repeat the process of pouring this water as soon as you see these unwanted plants growing and you exhaust the roots.
Other gardeners succeeded in getting rid of these plants by using a fork or a narrow shovel, so they can dig deeper. The main secret here is to dig around the mother plants, the one that is taller, and reach the whole root system.
Make sure you do not leave any fragments in the soil, as they can develop other plants. To ease your work, do this procedure when the soil is saturated and the roots are separating faster from the soil.
Like many other unwanted plants I have already mentioned, the Canada thistle should be removed as soon as it first appears.
9. Periwinkle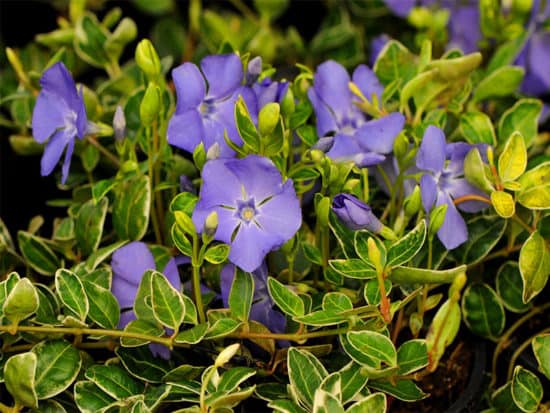 Also popular: Vinca
Periwinkle or creeping myrtle is one the easiest growing unwanted plants. Although it looks pretty, due to the root tendency to internode right where stems touch the ground, Periwinkle can transform into an invasive competitor to many other plants. It has glossy evergreen leaves and little blue flowers, and it has remarkable tolerance to poor soils, even mechanical damage.
Getting rid of Periwinkle
There are two simple ways to remove the Periwinkle. First of all, you can remove the plant by hand and eliminate the small infestations before spreading. Furthermore, if you remove the plants before they bloom again, you decrease the chances of spreading again. You can soften the soil for better results by watering it one night before.
You can choose the chemical removal using herbicides. If you have large Periwinkle areas, you can apply postemergence herbicide for better control. Try to apply the herbicide in early fall or late spring, the exact time when Periwinkle is actively growing.
10. Japanese Knotweed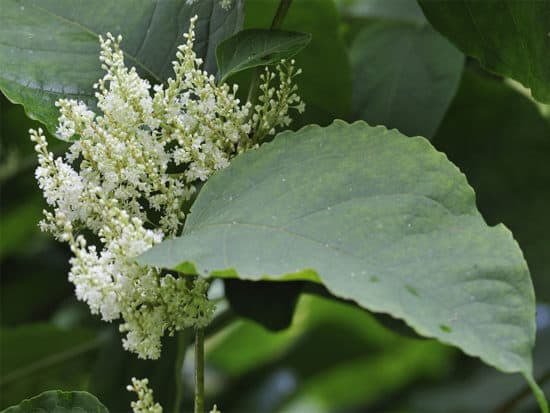 This is an aggressive semi-woody perennial plant coming from eastern Asia. The Japanese Knotweed spreads quickly and creates dense thickets while reducing plant biodiversity and harming the other vegetation.
Due to the thick layers of stems and the big leaves on the ground, this plant makes it difficult for native plant species to grow. Furthermore, due to the robust root system, Japanese Knotweed can break off even concrete and asphalt.
How To Get Rid of Japanese Knotweed
There are several ways to prevent the growth of Japanese Knotweed. First, you need to cut down and remove the canes. You can also apply Glyphosate and other weed killers and spray them onto these plants. Make sure you do not spray the spray killer on the vegetation nearby.
Leave the herbicide for at least 7 days to enter the soil and only after that pull the weeds out.
You can also mow the plants weekly, cut the plant as short as you can to weaken, and eventually kill the plant. Apply weed killers twice per year, mostly around the time this plant thrives the most.
Last Thoughts
There are many other invasive garden plants to mention, but these were the most common ones for gardeners. Hope the information above helped you and you learned more today. Do you know any other methods to fight against the unwanted plants? Let me know.