Are you searching for variegated indoor plants with patterns to add a bit of color and drama to your home? Here is just the list you needed!
Some of these variegated plants look out of this world with unique speckles of colors, while others have more subtle variegations.
Additionally, most of the variegated plants are grown because of the ornamental leaves. But, several also develop stunning flowers, which improve the overall look of the plant!
In most cases, the variegations on the leaves aren't mutation. These foliage changes are a part of the plant's unique DNK. They add visual interest in every space and make desirable collecting plants.
Here is the selection of the finest variegated houseplants!
#1 Philodendron Birkin
Philodendron Birkin features round, dark green leaves with pointy tips. The plant is easy to identify because of the white stripes and creamy variegations. No two leaves are the same as the Philodendron Birkin!
But, the leaves aren't the only thing with high visual interest in Birkin. The stems are thick and bright, which gives the plant a sophisticated look. Birkin is a slow-grower and sometimes may reverse back to the non-variegated version of the plant.
What to do when Birkin reverts to green.
#2 Variegated Monstera
Monstera borsigiana Albo variegata or shortly Variegated Monstera is a rare and expensive plant. It has marbled variegation on the leaves, appearing in a half-moon shape.
If you are interested in Albo Monstera, keep in mind that the only way to ensure variegation is to get the cuttings from a mother, variegated plant. The seeds don't produce variegation.
Caring for Variegated Monstera is a bit tricky because you have to prune the plant regularly to ensure the optimal balance between variegated leaves.
The difference between Variegated Monsteras.
#3 Sansevieria Golden Hahnii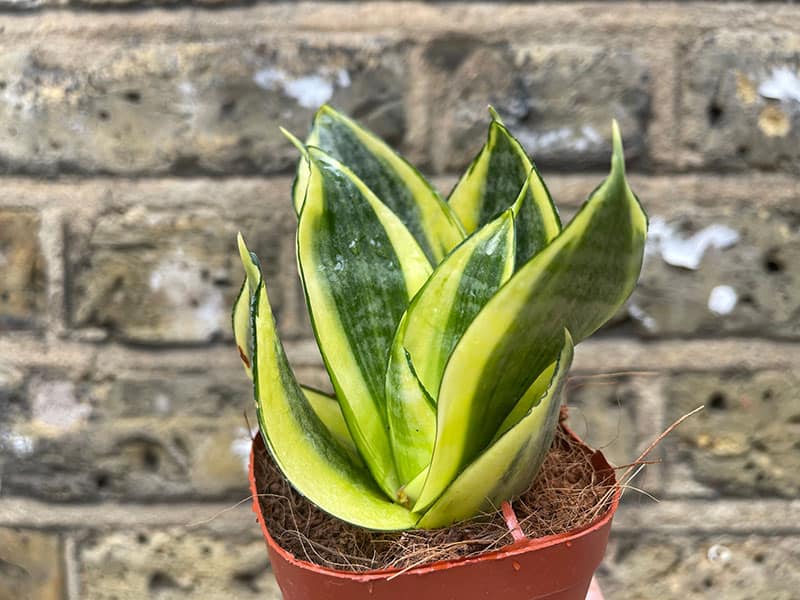 Sansevieria Trifasciata Golden Hahnii or simply Golden Hahnii Sansevieria has yellow-green leaves, long and narrow with pointy tips. The plant usually grows up to 8 inches, but will be significantly shorter in poor conditions. It needs a lot of sunlight and warm temperatures to thrive.
Sansevieria doesn't need fertilizer, only a medium amount of water every two weeks.
#4 Stromanthe Triostar
Stromanthe sanguinea Tricolor or Stromanthe Triostar is a beautiful gem on this list. Stunning leaves are fully variegated with pink splotches of color!
If you live in a hot climate, you may grow Stomanthe Triostar outdoors, but in most cases, people grow it as a houseplant. Triostar rarely produces flowers indoors, but that is okay because the leaves steal all the show!
Variegated Stromanthe is easy to care for, as long as you provide dappled light, high humidity and keep the soil moist but not wet.
#5 Aglaonema Silver Queen
Aglaonema commutatum Silver Queen belongs to the Aroid family and is best known for its huge and ornamental leaves with silvery variegations. The plant is native to New Guinea and Asia and doesn't taller than 15 inches. Because it can survive in low light conditions, it makes a great houseplant.
When you get your Silver Queen, plant it in free-draining compost for the best results.
#6 White Fusion Calathea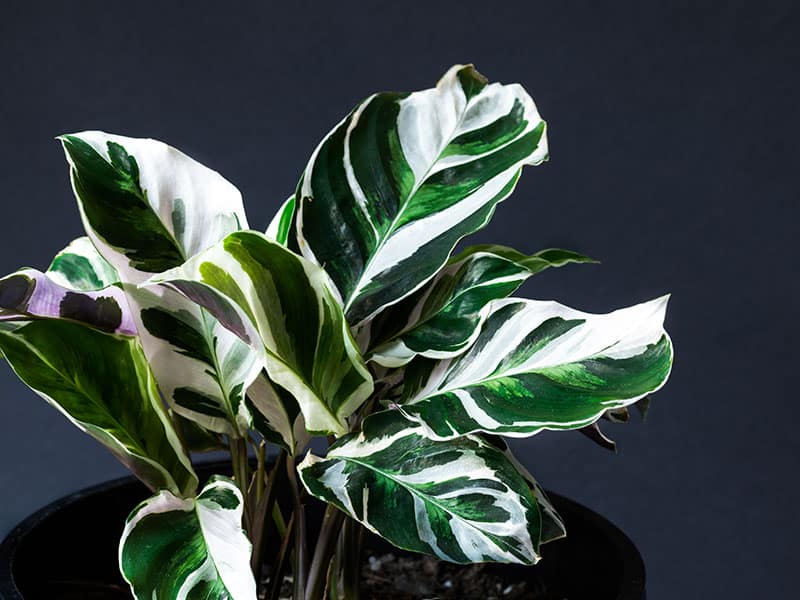 White Fusion Calathea is one of the easiest variegated plants to care for. It needs warmth, little water, well-draining soil and filtered light!
White Fusion makes a focal point in every plant display due to its colorful leaves with white stripes and purple and green centers. It is one of the Prayer plants, and many consider it a queen of these plants because of its low-maintenance and beautiful appearance!
#7 Zebra Plant
Calathea Zebrina or simply the Zebra plant is another great Prayer plant. Zebra comes from Mexico and usually grows up to three feet in height. It got the name because of variegated leaves in light and dark shades of green, which resemble the pattern on zebras.
Overall, the Zebra plant might be a bit tricky to grow because it needs a lot of moisture and warm temperatures. But, keep it away from direct sunlight as it may burn the leaves.
Discover more about potential problems that your Zebra plant can experience!
#8 Royal Variegated Banana
Behind the bulky scientific name Musa acuminata × balbisiana Ae Ae, you'll find Royal variegated Banana. The plant features large leaves with white and light green variegation on the leaf blades.

In tropical areas, the Royal variegated Banana gets more than 16 feet tall. But as a houseplant, it is significantly shorter. The plant looks great indoors when displayed as a single specimen, but you can also mix it with other smaller and less showy plants.
#9 Spider Plant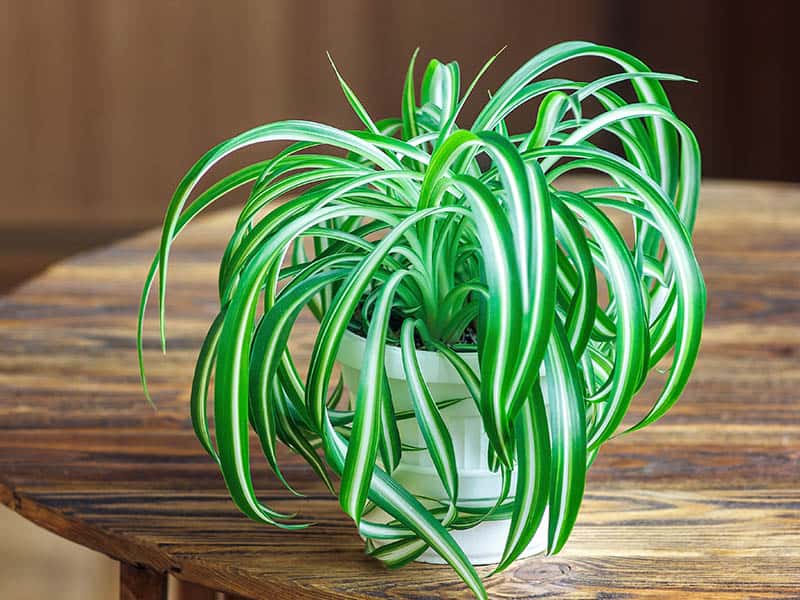 Chlorophytum Comosum or Spider Plant needs bright but indirect light. If your Spider Plant is exposed to plenty of bright light, the leaves will become scorched. But, if it doesn't get enough sunlight, your Spider Plant will lose variegation.
The plant needs a consistent amount of water. But, you can use rainwater or distilled water to prevent fluoride brown spots on the foliage.
#10 Polka Dot Plant
Hypoestes phyllostachya is better known as Polka Dot Plant and is a lovely eye-catching plant. It has ornamental variegated leaves, unlike any other plant! The foliage looks as if someone spilled a bucket of pastel pink color on the plant! You'll also notice different shades of pink on the green base, including deep pink, bright pink, and white color.
The plant is native to Madagascar.
Read the complete guide on how to care for Polka Dot Plant to make sure variegation pops out!
#11 Orbifolia
Calathea orbifolia is another Prayer plant on my list with high visual interest because of the ornamental leaves. The plant develops glossy, and statement oval leaves with deep and light green variegation. However, to keep the plant radiant and beautiful, you'll have to give it a lot of effort.
Overall, Orbifolia needs high humidity, consistent moisture, medium-light, and watering. But, with Orbifolia consistency is the key. Even the slightest changes in moisture, humidity and light may cause your plant to get sick.
#12 Dracaena Lemon Lime
Dracaena Fragrans Lemon Lime is one of the best houseplants that is both beautiful and healthy. It is because Lemon Lime Dracaena has air-purifying capabilities and can effectively remove toxins from the air.
Dracaena features long and narrow leaves, variegated with hot green. The plant is also fragrant and adds freshness to every indoor space. On top of everything, it is easy to grow and requires less maintenance than most indoor plants.
#13 Satin Pothos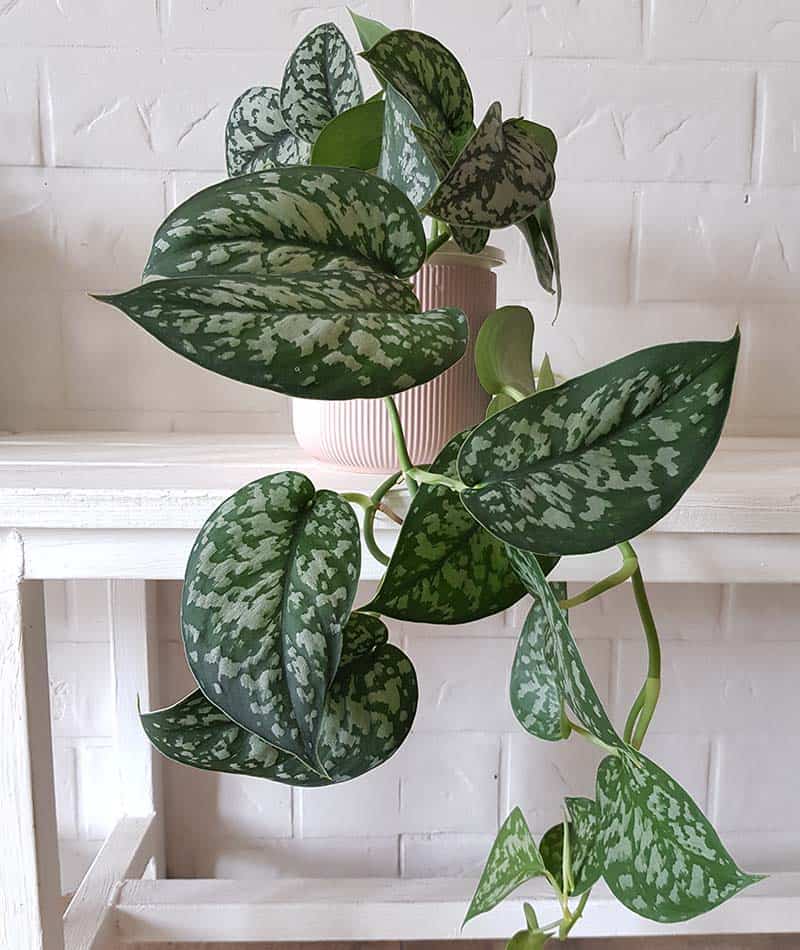 Scindapsus Pictus or Satin Pothos needs rich, well-draining soil. It needs frequent monthly fertilization to remain healthy. Deciding how much water Satin Pothos need is simple. Just touch the top two inches of the soil and if they are dry, water the plant moderately.
Other growing conditions for Satin Pothos include average humidity, medium temperatures and indirect light.
#14 Aglaonema
Aglaonema pictum tricolor, shortly Aglaonema have cute foliage that resembles the fashionable military print. The leaves are variegated with multiple shades of green and look as if they have been colored with watercolors!
Keep your Aglaonema in a warm and humid room, such as a bathroom, and ensure medium exposure to light.
#15 Aluminum Plant
Pilea cadierei or Aluminum plant is the perfect variegated indoor plant for beginners. As long as you ensure plenty of sunlight and water when the soil gets dry, the Aluminum plant will thrive.
At its best, the plant reaches two feet in height! It also needs pruning to remain good-looking and enhance healthy leaves growth.
Keep in mind that the Aluminum plant is toxic to pets, so find a good location for it so it is out of reach.
#16 Nerve Plant
Fittonia is the scientific name of the popular Nerve plant. The plant got the name by distinct variegated veins on the foliage which stand out on the dark green leaves.
Fittonia needs moist, but well-draining soil. In average household conditions, Fittonia grows up to six inches. It is adaptable to different lighting conditions but will thrive when exposed to filtered bright light. If you don't ensure enough light for the Nerve plant, the plant will turn all-green and lose the variegation.
Learn how to identify and treat other Fittonia problems.
#17 Prayer Plant
Maranta leuconeura is the best-known representative of Prayer plants.
The plant needs consistent, warm temperatures and bright filtered light. Direct sunlight will burn the leaves.
Also, you need to provide consistent moisture for the soil year-round, except in the winter. Misting the foliage will help keep them healthy and variegated.
#18 Baby Rubber Plant
Peperomia Obtusifolia Variegata is better known by the name Baby Rubber Plant. Round leaves variegated in different shades of green and thick branching patterns give the plant a lush vibe.
The subtle beauty of Baby Rubber Plant, simple care, and fast-growing rate are reasons for the increased popularity of the plant. The plant is adaptable to different conditions and instantly grace every indoor place!
#19 Painted Leaf Begonia
If you seek something more dramatic, check Begonia rex-cultorum or Painted Leaf Begonia. Large, multicolored leaves in shades of purple, pink, green and burgundy add a dramatic effect to the plant.
The average height of the plant is 24 inches, and the spread is about 18 inches.
Discover the light and temperature requirements for growing Painted Leaf Begonia!
#20 Pothos
Epipremnum Aureum or shortly Pothos or Devil's Ivy is a plant with lovely glossy foliage. The variegated leaves grow on cascading stems. In essence, the Epipremnum Aureum is a vine that looks best in a hanging basket but you can also grow it as ground cover. It is an excellent indoor plant because it can survive low light conditions.
Keep in mind that Pothos is a severely toxic plant so keep it away from children and pets.
#21 Balfour Aralia
Balfour Aralia is exclusively grown for its ornamental foliage. The scientific name of the plant is Polyscias scutellaria Balfourii. Additionally, the plant is sometimes called the Dinner Plate plant because of the round and scalloped foliage that looks similar to saucers.
Because it is a tropical plant, the ideal conditions for it are high humidity and warm temperatures, in addition to moist, well-draining soil.
#22 Silver Inch Plant
Tradescantia tricolor or Silver Inch plant is a cheerful plant that adds a dash of color in every setting. Caring for the plant is tricky, because the plant may turn fully green when ideal conditions are lacking.
Overwatering is the most common reason for dead Silver Inch plants and low light is the cause of variegation loss.
Learn how to propagate your Inch plant with cuttings.
#23 Moon Valley
Pilea involucrata Moon Valley comes from Central America. The plant has structured leaves that look almost like craters on the Moon.
Foliage also has copper veins that stand out on the hot green base.
Moon Valley is a popular household plant for its compact size and adaptability to different conditions.
#24 Philodendron Florida Ghost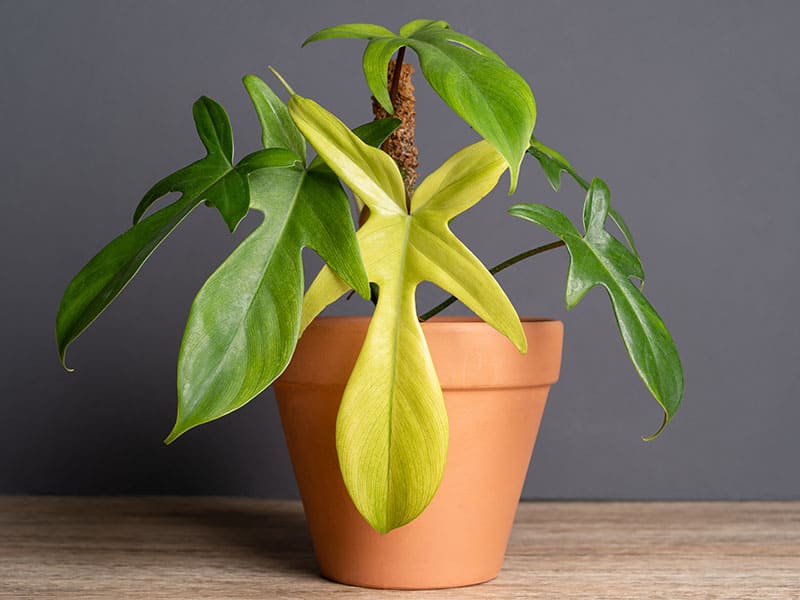 Philodendron Florida Ghost is another variegated variety of Philodendron. It has light leaves, shaped like flying ghosts!
In general, Florida Ghost is a low-maintenance plant, but you may struggle to find it because it is so rare. Most plants have creamy white leaves. As the plant matures, the color becomes darker and more yellowish.
Florida Ghost goes dormant in winter, so you won't notice new growth when the temperatures drop. Water it a couple of times during the winter to keep the plant healthy.
#25 Hoya Carnosa Albomarginata
Hoya Carnosa Albomarginata is native to Asia and has ovate leaves variegated with white and pink color. The plant needs warm temperatures and plenty of bright light to thrive. It remains compact when fully matured, so it is the perfect plant for small apartments.
The plant also develops lovely star-shaped flowers.
#26 Watermelon Peperomia
Peperomia argyreia is called Watermelon, because of the variegated leaves, which have the pattern of watermelon!
The leaves are spade-shaped and glossy, thick and rich, and a reason for the increased popularity of the plant. The plant needs a monthly dose of fertilizer during spring and summer.
Discover which fertilizers are best for Peperomia plants!
Propagation guide for Watermelon Peperomia.
#27 Speckled Japanese Aralia
Fatsia japonica Spider's Web or Speckled Japanese Aralia is a bushy plant loved for its beautiful foliage.
The deep-green leaves are wide and speckled with creamy white. Interestingly, the white speckling changes throughout the seasons and as the plant matures. The plant tolerates multiple soil types and is generally a disease-free low-care plant.
#28 Swallowtail Plant
Christia obcordata goes under the common name Swallowtail plant.
The plant features triangular leaves with bright red veins which stand out on the bright green base. The Swallowtail plant is sometimes called the Butterfly plant because the leaves resemble the shape of a butterfly wing.
The plant looks best in hanging baskets and is cold-temperatures sensitive.
#29 Tineke Rubber Plant
Ficus Elastica Tineke or Tineke Rubber plant features large leaves variegated with cream and pink. The plant is popular because of its fast-growing rate and wonderful, upright leaves. Ficus is generally easy to care for, as long as you don't overwater it.
Tineke loves bright light but may survive in dappled light areas.
#30 African Mask Plant
Alocasia amazonica, better known as African Mask plant, is a hybrid plant that thrives in warm and humid settings. Keep the soil wet but not soggy during spring and summer. Reduce the amount of moisture in winter. You can also mist the plant every day to help boost the humidity!
#31 Pin-Stripe Calathea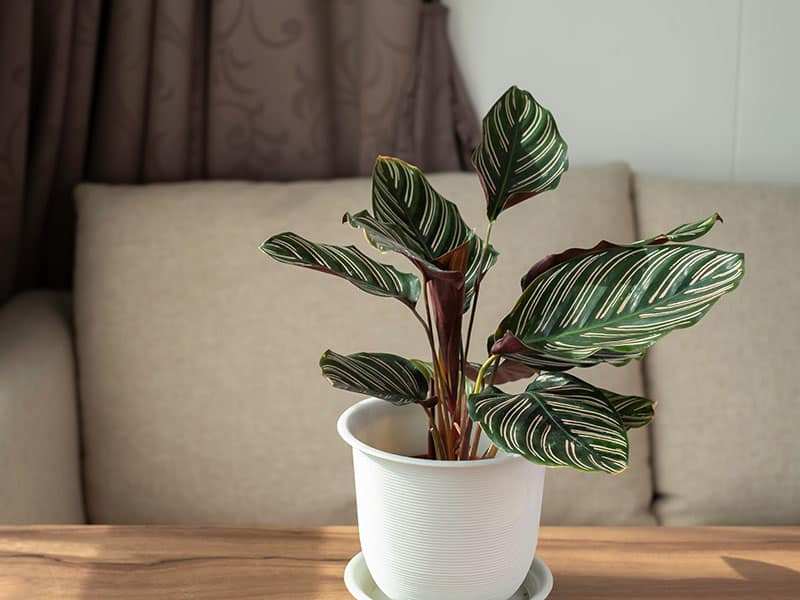 Pin-Stripe Calathea might not be a suitable variegated plant for beginners because there are a couple of things to keep in mind. First, mind the water quality you use to water the plant. If the water contains high mineral content, the leaves may burn. Therefore, you can use distilled water or a water softener.
Also, the plant needs warm temperatures and consistent moisture.
Learn when to use fertilizer for your Pin-Stripe Calathea.
#32 Dwarf Jade Plant
Portulacaria afra variegata or Dwarf Jade Plant is often called Rainbow bush because of its colorful appearance. This lovely succulent is a sprawler which develops reddish stems and long leaves with cream and green speckles.
The plant looks beautiful in a hanging basket, and may even be a bonsai plant.
#33 Cryptanthus
Cryptanthus zonatus or Earth Star surprisingly belongs to the Pineapple family. The foliage is showy with distinct variegations and rosette-shaped growing habits. Sometimes, Cryptanthus may produce creamy white star-shaped flowers in the center of the plant.
Bright indirect light is the best way to ensure eye-catching foliage. Read more tips regarding warmth and humidity for your Cryptanthus.
#34 Friendship Plant
Billbergia Hallelujah is a head-turning plant with colorful foliage. On average, the plant may get one foot tall and develop the most vivid variegations when exposed to bright light. Interestingly, the plant may produce flowers year-round! People also call it the Friendship plant so it may be a perfect housewarming gift.
It can flower at any time during the year with red, white, or blue flowers.
#35 Fruit Salad Plant
Another name for Monstera Thai Constellation is the Fruit Salad plant.
It differs from Albo Variegata by its smaller splotches of colors. Therefore, the Fruit Salad plant has more subtle variegations but may look more elegant in formal settings.
The plant is rare and expensive, but may easily transform any plant setting or corner in your home.
Learn the differences between multiple variegation types you can notice on the plants.
#36 Philodendron Burle Marx
Philodendron Burle Marx is a colorful climber that you can easily train to grow in the preferred direction. The plant is popular for the exotic foliage which adds a jungle vibe to the interior setting.
It is a fast grower that doesn't need complex care but is very rewarding. Burle Marx contains calcium oxalate crystals, so it is considered a toxic plant to pets and humans.
Philodendron makes an excellent indoor plant in warmer zones.
The simple method to prune Flapjack.
#37 Flapjack
Kalanchoe thyrsiflora or Flapjack goes under many names. It is a succulent plant with leaves shaped like paddles with an average height of two feet. Flapjack needs succulent fertilizer to stay healthy and thrives in full sun location and warm temperatures.
During the blooming season, cold night temperatures will extend the lifespan of flowers!
Variegation Is The New Green
Lush green plants are always popular, but variegated slowly overcomes! Multicolored indoor plants are wonderful decorations in all homes. If you choose ones with climbing abilities or air-purifying features, you'll score the prize!
When choosing the variegated plant for your space, check the growing requirements. Most of the plants from the list are adaptable to different growing conditions, but their colorful variegations will remain vivid only in ideal environments.
Which plant is your top pick? I chose the Tineke Rubber plant!
Come back for more interesting articles about plants and gardening!