Some people may snicker at the idea of planting black flowers and plants. But do you know all pictures need some dark colors for more depth and emphasis? That applies to gardening as well. Several plants with deep tones will lighten your yard better than you thought.
However, planting these blossoms and grasses can be quite a challenge for those unfamiliar with gardening. Therefore, here I'll present to you some tips so that your garden looks as beautiful as possible.
So, don't wait here any longer! Let's find out about them now!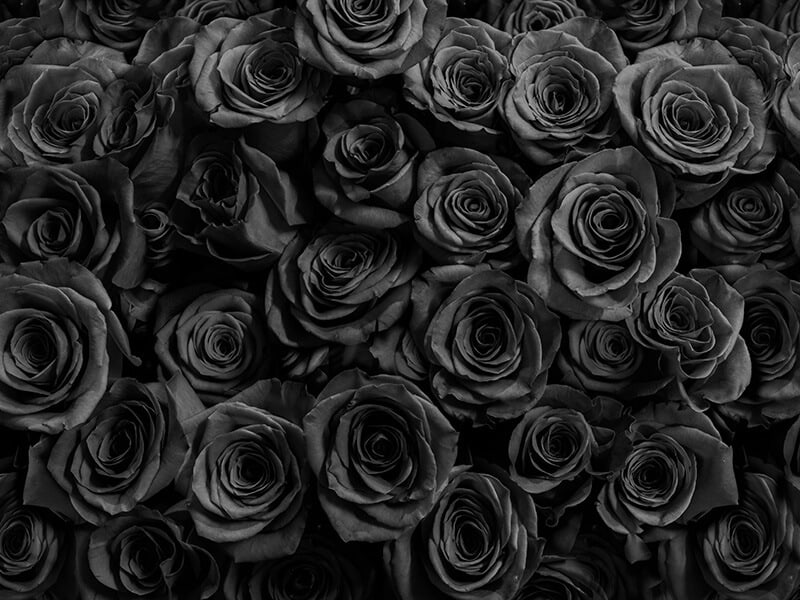 Vital Elements To Grow A Garden With Ink-Like Tone
Admit it! Black is not an easy color to play around with. With some negligences, your garden can look like it just walks out of a horror movie instead of being aesthetic. So, here are some key points you should remember before working your way.
Planting Spot
When it comes to black flowers and plants, don't ever grow them in the shade. Do so, and your plants will fade in with the shadow. They look best when under the sunlight.
Combine Them With Other Colors
It'd be a bit boring if your garden had only one tone. Mixing your black flowers with colors is an excellent way to emphasize their beauty. And lighter tones like silver or gold are a proper match with black.
Backdrop is also a decent choice to add some contrast to your garden. Let's try growing your plants in front of a bed of green foliage or neon-colored blossoms.
Your Plants' Conditions
It's rare to see foliage completely black. Most of the time, your flowers would have a dark shade that turns somewhat black. And their color can change, depending on various conditions: soil pH, sunshine, or water amount.
Thus, if you want your plants to retain their dark tone, you should pay close attention to their conditions.
9 Dark Plants And Flowers To Welcome The Spring
Spring often refers to bright colors: red, pink, yellow,… But you don't have to follow the majority. Why not think out of the box and decorate your garden with the black blossoms and leaves.
Black Cat Pussy Willow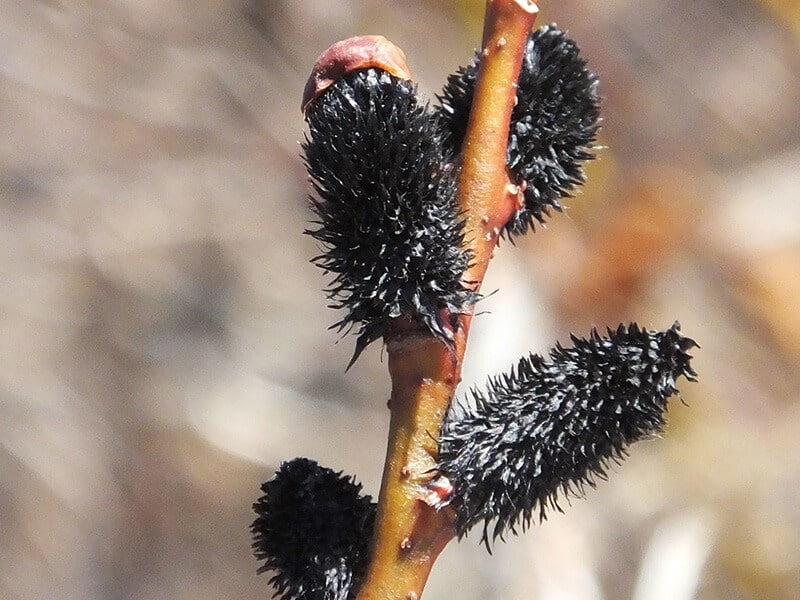 I must admit this is quite an adorable name for a plant. And not only the tree, its flowers have a cute name too: catkins. I assume that's because their look is pretty similar to the cat tails. These buds are pink and silver at first and will change to black when they are mature.
In order to know how to grow this black cat pussy willow, you should see how other people did it.
"Midnight Wine" Weigela
Right from its name, this plant has caught my interest. Born from the predecessor "Wine and Roses", this "Midnight Wine" is a must-have if you want to garnish your border or perennial bed.
The best thing is it doesn't demand any care. With just water and sunlight, you are free to enjoy its dark color throughout the year.
Get to know more about this "Midnight Wine" weigela.
"Midnight Mystic" Hyacinth
This hyacinth here is pretty hard to find, hence its nickname "Midnight Mystic". However, this award-winning flower is worth all your effort. These tiny coal-black buds on the top of short stems are perfect for planting in containers or along borders.
Also, if you want these flowers to have a beautiful black shade, plant them outdoors. They can still survive indoors, but their color will become somewhat purple, which is still lovely enough. While searching for this hyacinth is a challenge, growing them is much easier.
You can't find any other information as detailed about "Midnight Mystic" hyacinth.
"Silver Laced" Primrose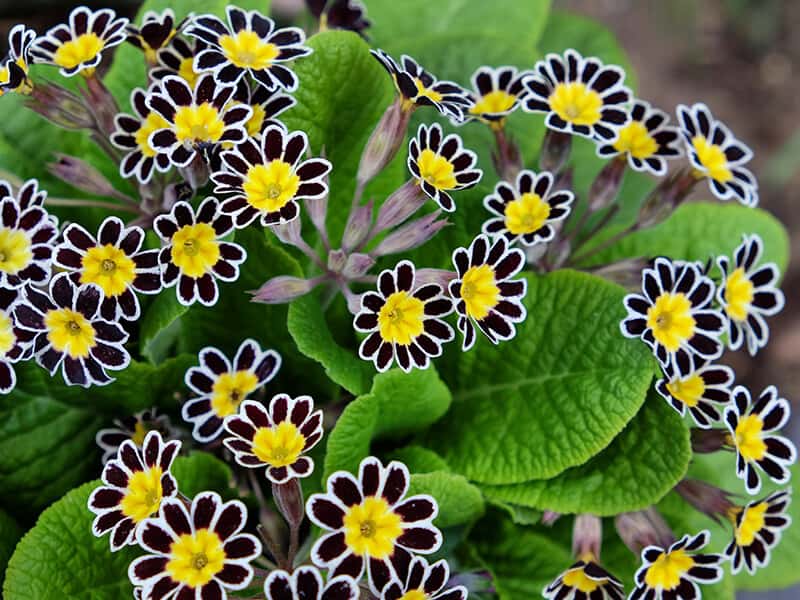 Don't get fooled by its name! This primrose is indeed a black flower. However, its petals have white edges, hence the nickname "silver-laced". Accompanied with the bright yellow center, this primrose will keep your garden colorful as you want.
With this profile, you'll grow "Silver Laced" primroses successfully.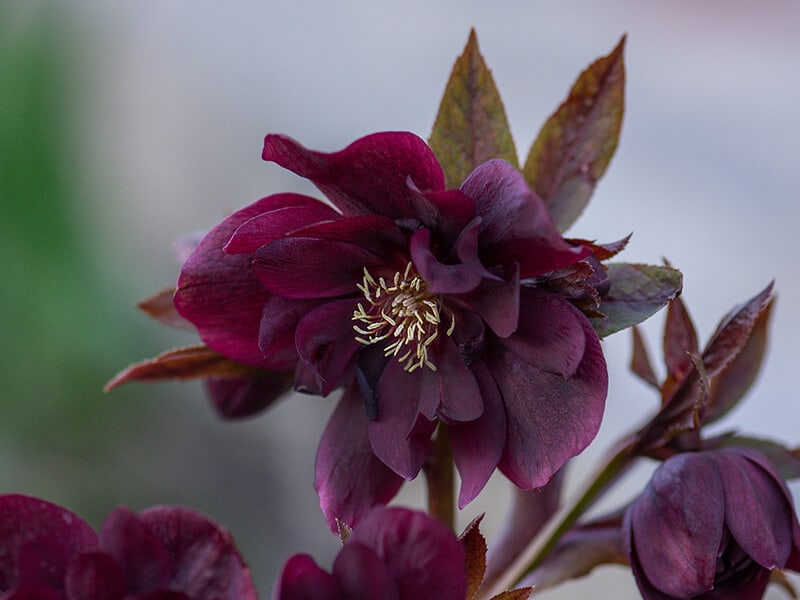 While many people want to welcome spring with pink, white, or lilac hellebores, I prefer this mysterious black type. Jet black petals with a creamy yellow center, this flower indeed presents a New York night right in your garden.
Unlike its fancy name, hellebore, or you can call it lenten rose, is quite a tolerant plant. It can endure with little water and sunshine. Hellebore is even resistant to deer and rabbits, so you can plant it without much worry.
Don't let your "New York Night" Hellebore wilther because you didn't read this.
"Queen of the Night" Tulip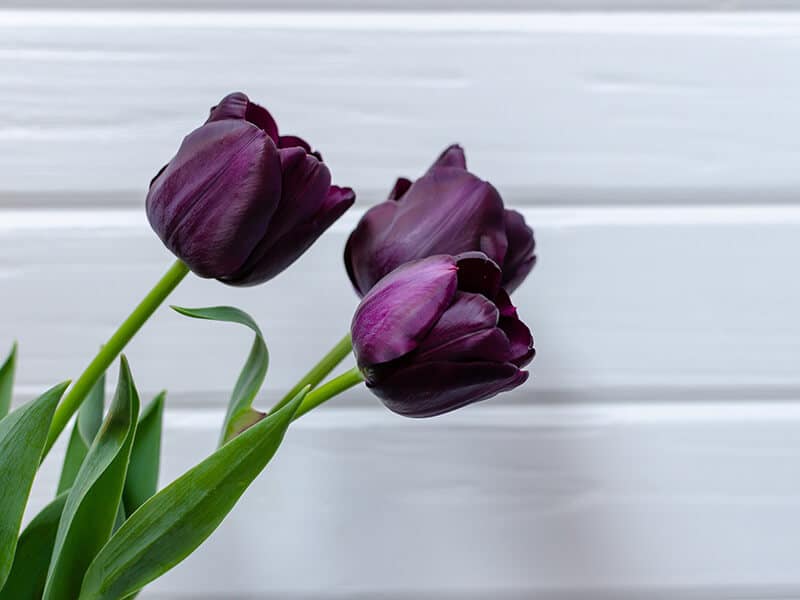 Among black flowers and plants, the one that strikes the most is this "Queen of the Night" tulip. This flower really lives up to its "queen" name with its deep purple hue. What's better than having these tulips blooming full force in your garden in May?
Not to mention, tulip's flower meaning (love, forgiveness, and happiness) makes it an ideal gift for your family or lover. You only need to plant its seeds in your garden or containers and wait for them to grow.
Learn some tricks about growing these "Queen of the Night" tulips!
"Dark Dimension" Hyacinth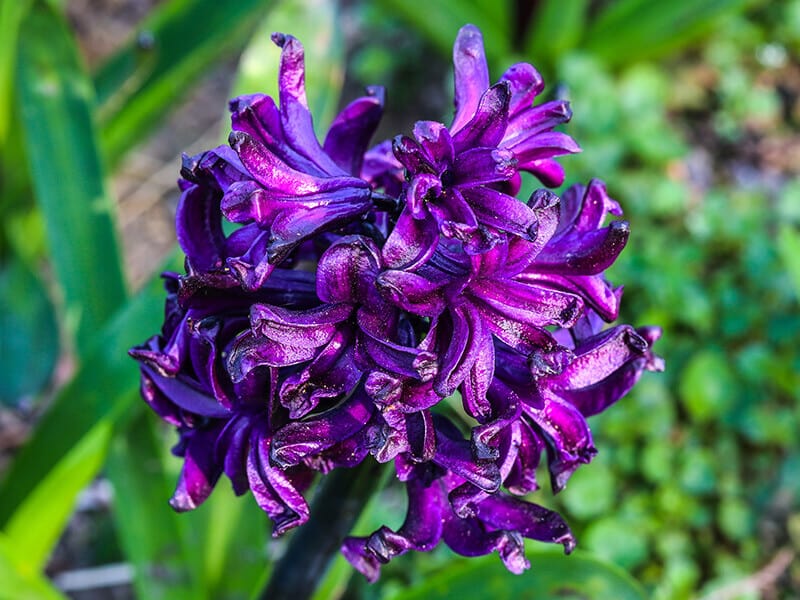 If you want something more magnificent than "Midnight Mystic", this "Dark Dimension" will surely meet your demand. As one of the hyacinth types with the darkest color, this flower can help your regular plain-colored blossoms pop out easily.
With this knowledge, you'll never fail at planting "Dark Dimension" hyacinth.
"Old Black Magic" Bearded Iris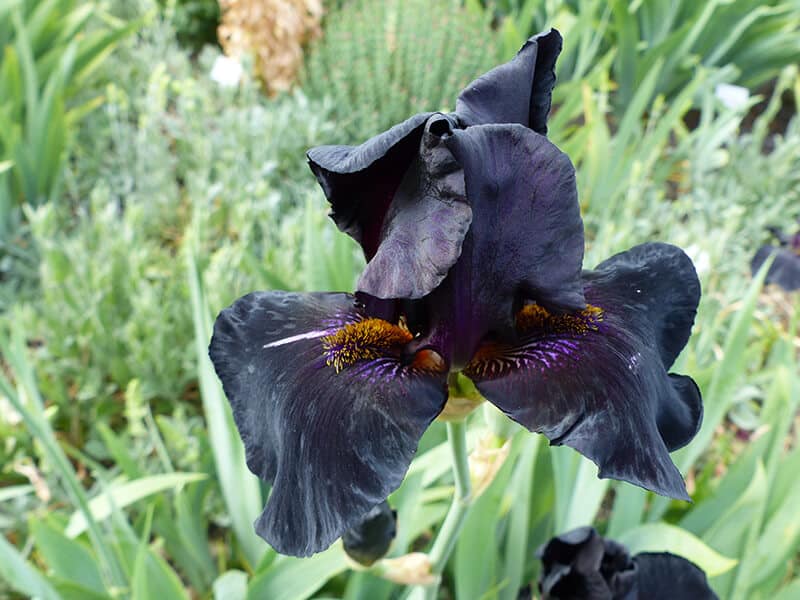 Bearded Iris has several variations with deep purple to black shades: "Before the Storm", "Winesap", etc. And this "Old Black Magic" has caught my eyes because of its unique name and sweet aroma.
Moreover, this iris belongs to the self-style groups, which means its standards and falls share the same black color. Accompanied by the orange beard, this flower is really a sight to watch, especially when planted near the pastel-colored irises.
Your "Old Black Magic" bearded irises will be the most beautiful if you know this.
Persian Lily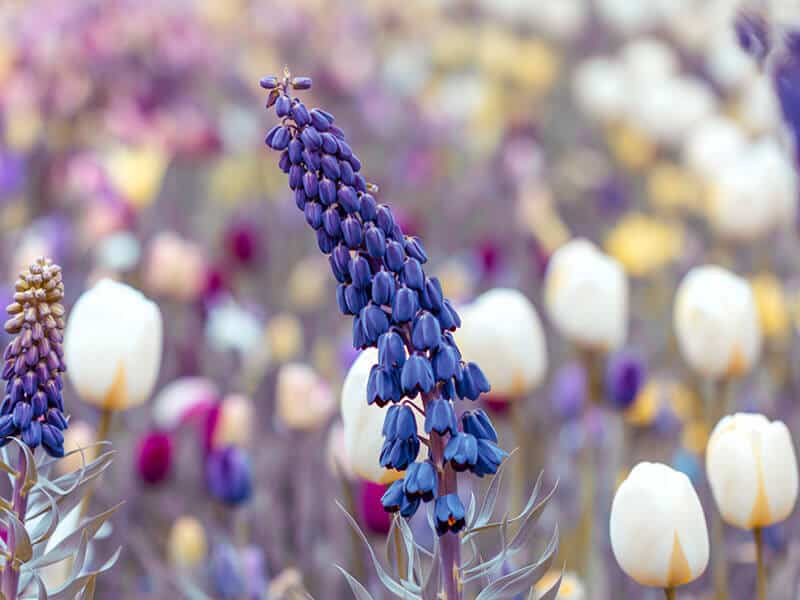 With this lily, you'll look like you have a thousand of purple-black bells in your garden. While they don't produce any sound, they still give a beautiful sight worthy of spring weather.
Since Persian lily comes from Turkey, Syria, Iran, and Iraq, it can withstand dry soils and conditions.
Here is some knowledge about this black lily from Turkey and Syria.
Chill In Your Summer Garden With 12 Black Blossoms And Plants
On hot days, you must want to cool your head down. And one of the best ways is through filling your gardens with chilly colors. And in this case, it's black! Let's see what black plants and flowers can survive under the heat of summer.
"Black Charm" Asiatic Lily
If you want some flowers with a more dramatic appearance, this Asiatic lily should be on your list. What separates it from other choices is its intense black color in both petals and pollen anthers.
Combine this type with light-colored lilies like "Patricia's Pride", and your flower bouquet will look much more attractive. If you want to grow this "Black Charm" in your garden, make sure to plant them at least 6-inch deep in the ground, so they can rebloom.
Let yourself be charmed by this black asiatic lily.
"Arabian Night" Dahlia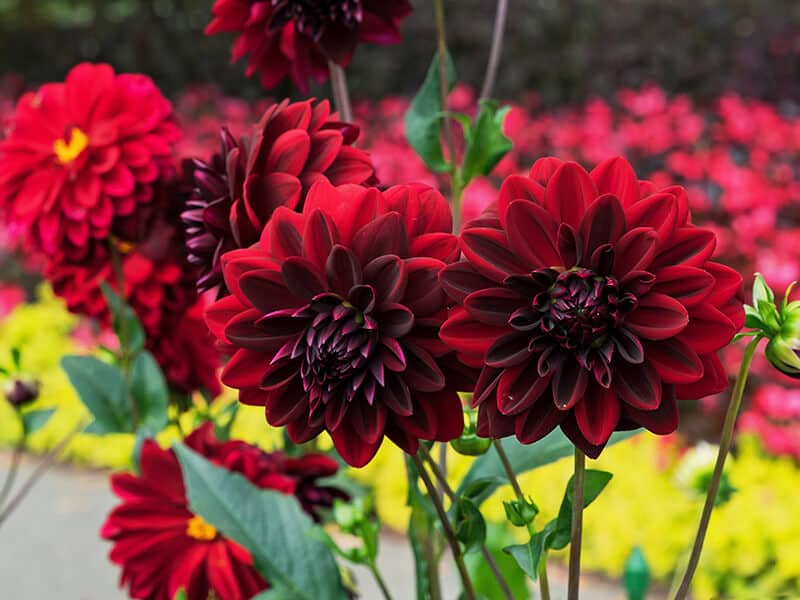 There's one thing about dahlia you should know: Dahlia doesn't have an actual black type, at least if you set it side by side with the other choices. However, this "Arabian Night" I introduce now has a dark red shade that your guests would think it's black.
Its hue is one of the reasons that this dahlia has won several awards regarding floral display. Who wouldn't love a massive flower with the deep red incurved petals? "Arabian Night" dahlia is the most gorgeous in a vase or a shallow bowl.
This information about "Arabian Night" dahlia is a must-read if you want to grow it.
"Penny Black" Nemophila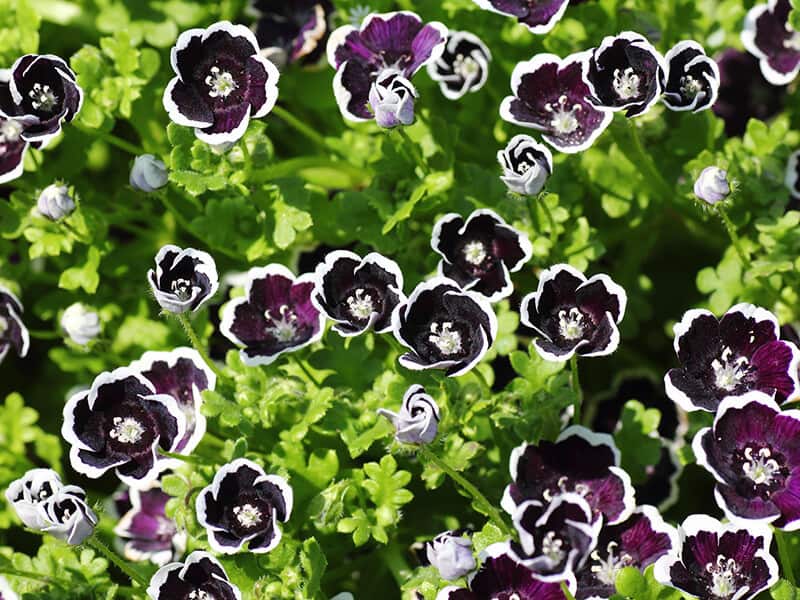 This nemophila doesn't have only one shade. Instead, you'll see both black and white on its petals, with an addition of a vibrant-colored center. This contrast makes a glamorous choice for your window boxed, rock gardens, or pathways.
This nemophila blooms from June to late summer. It won't grow high like other blossoms, so it's also suitable for your garden beds. Combine with other nemophila in lighter tones, and no one will take their eyes off your yard.
Discover more about these tiny flowers with black-and-white petals.
"Black Widow" Cranesbill Geranium
Don't mind its name. This dainty flower won't let you mourn for your garden at all. In fact, its dark violet color will keep your yard high-class than you would have thought. The reason for this saddening name is because its petals turn backward, revealing the stamens.
You'll be glad you learn about this "Black Widow" flower before growing it.
"Black Magic" Elephant Ears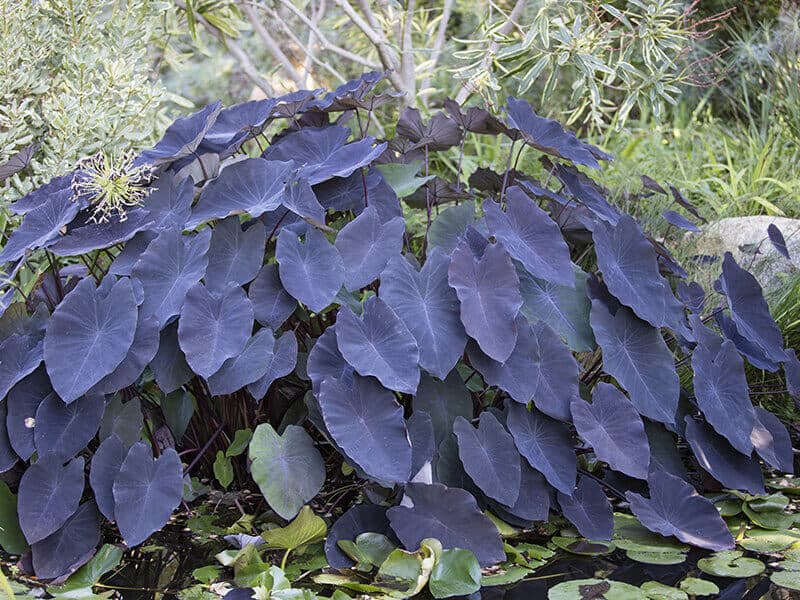 While these giant leaves can grow indoors all year round, you'd better treat it as a summer plant. That's because these leaves come from tropical regions, so they are weak against cold weather. With proper care, you'll get to enjoy their beautiful dark color.
These tips will help you a lot in planting these "Black Magic" elephant ears.
Chocolate Lily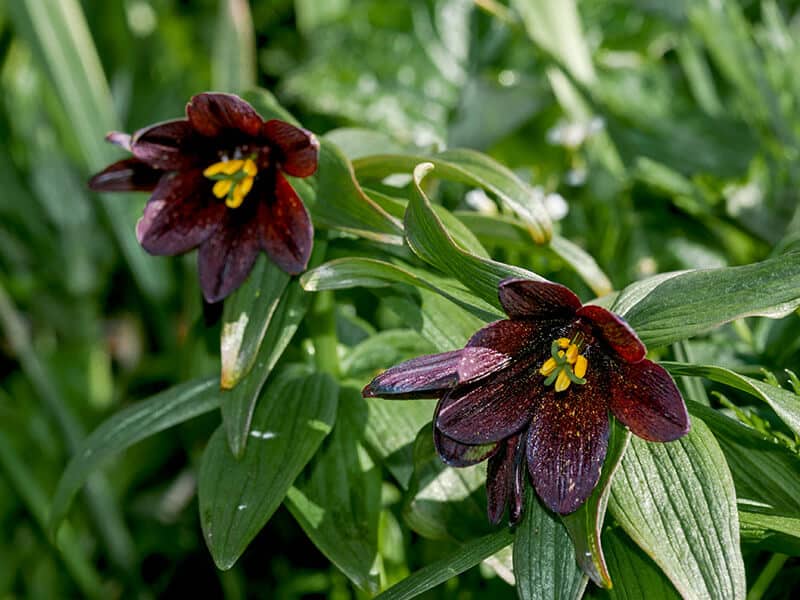 Sometimes, you can't trust plants' names. Despite the attractive name, this lily's scent is somewhat off-putting. However, its appearance has compensated for this. With a lovely black-purple hue and some yellow streaks, it'll help your garden become more colorful.
Not to mention, chocolate lilies can easily spread to your whole yard without requiring much care.
Skip these facts about chocolate lilies and you'll regret it later.
"Blacknight" Hollyhock (Alcea Rosea)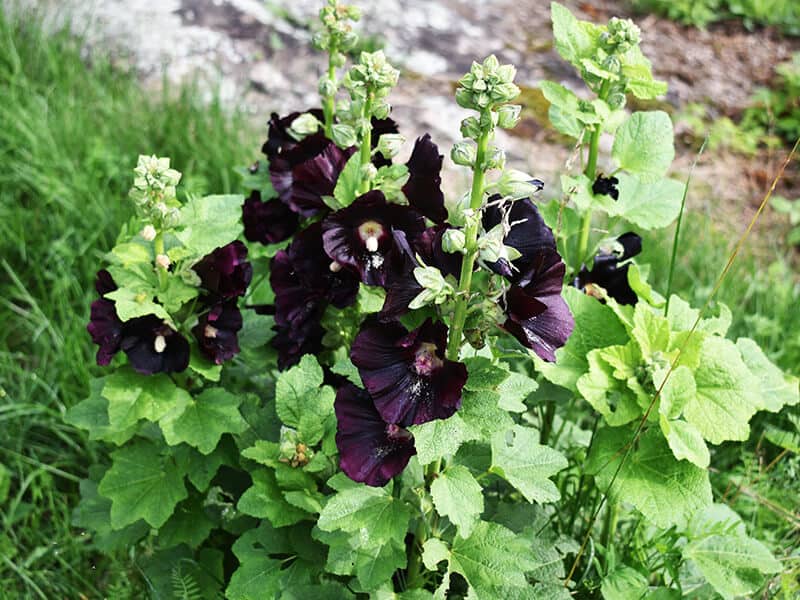 This "blacknight" hollyhock is the result of almost two decades of experimenting. Just like pansies, hollyhocks also have dark petals with a vivid-colored center.
However, hollyhocks look more like a funnel, thus making them perfect for growing against the wall. This way, they can also receive lots of sunshine. This flower often blooms from the end of spring to mid-summer.
Some preparation for this "Blacknight" hollyhock will lead you to success.
"Black Forest" Calla Lily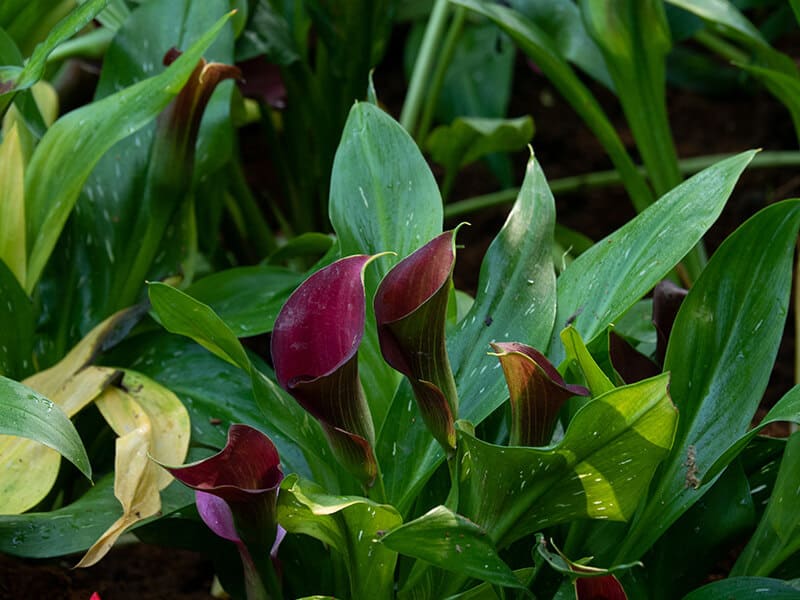 Blooming in mid-summer, this "Black Forest" lily is suitable for those living in humid areas. Planting this flower alongside white calla lilies is a marvelous way to decorate your garden.
However, you should store this black lily in your house when winter comes, so the wind and frost won't harm it. Also, you'll need to keep its planting ground moist all the time for the best result.
Find out more about "Black Forest" calla lily.
"Odessa" Calla Lily
If you aren't a fan of the reddish hue from the previous calla lily, why not go for this royal purple version? These lilies will bloom with their head held high, making your garden look more spectacular on hot days.
The more you know about "Odessa" calla lily, the more you love it.
"Chat Noir" Dahlia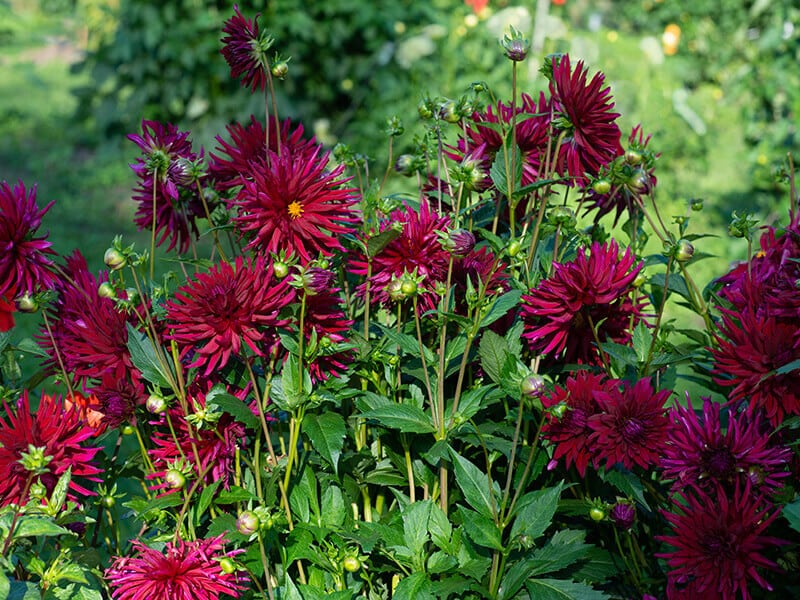 Different from the large petals of "Arabian Night", this dahlia consists of various point petals in burgundy color. While the previous choice looks best with a single one branch, you should grow it in a bush of five for the best visual effect.
Learn how to grow and care for this "Chat Noir" dahlia before it's too late!
"Green Wizard" Coneflower
Any passenger would stop at your garden when they catch sight of these coneflowers. Black acorn-shaped flowers with yellow rim and green sepals, these three elements form a combination that no one has seen on Earth.
All about this "Green Wizard" coneflower.
"Indigo Rose" Tomato
Yes, I know tomatoes should be red. But what can stop gardeners making new variants of every plant? And this "Indigo Rose" is the standard example. You won't believe your eyes when seeing these tomatoes as black as eggplants.
Also, they can still be eaten as typical tomatoes. But you should wait until the color turns dark and the fruits become soft to harvest them.
Let's see how these "Indigo Rose" tomatoes look in real life.
These Ink-Toned Plants Will Make Your Yard Scary Enough For Halloween
When it comes to autumn, one of the biggest events has to be Halloween. Besides decorating your house, have you ever thought of making your garden follow the same dark theme? These flowers below can help you!
"Zwartkop" Aeonium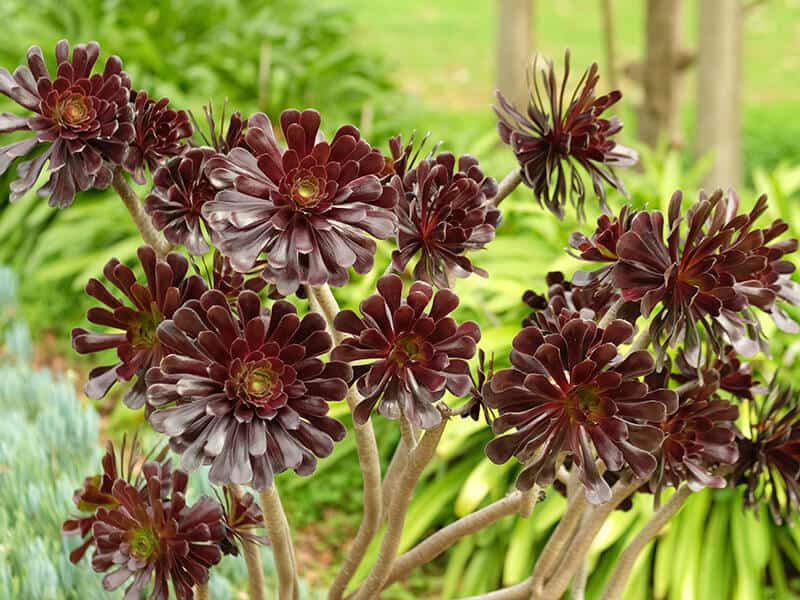 You may have heard some people call this succulent a "black rose". I bet you don't understand what they mean. How can one mistake succulent for rose, right? But you will realize once you see this plant.
Its stems, which look like stalks, are so big that they remind you of rose petals with their dark red color. And you'll be more surprised to find out this succulent does bloom flowers when fall comes.
This "Zwartkop" aeonium requires proper care like this instruction.
"Night Embers" Sedum
Having flowers bloom in fall may sound bizarre. But that's precisely what happens with this sedum. As its name indicates, the light pink flowers among deep-purple leaves look like embers in the night. And they'll warm your garden against chilly winds.
With this guide, you can easily plant this "Night Embers" sedum.
17 Trees To Cover Your Garden In Black At Anytime
While those options above can only darken your garden for a while, with these plants and flowers in this part, your garden will look like an ink ocean in any season.
Bat Flower (Bat Orchid)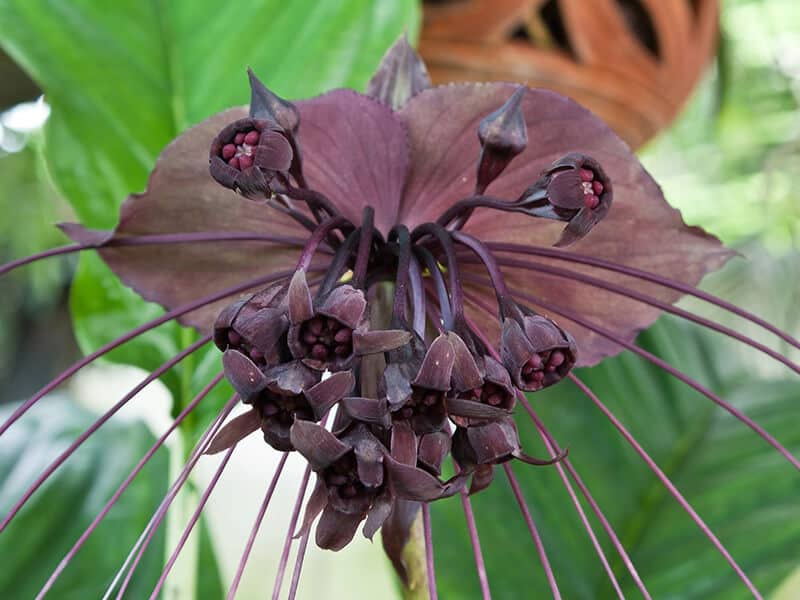 This must be the weirdest-shaped flower. Some people even feel scared looking at it. As its name indicates, this orchid resembles a bat's face with its petals and seed pods, not to mention the 28-inch whiskers.
One compelling thing about this flower is that its black color is totally natural. However, remember that this orchid isn't fitting as a cut flower as it will wither soon when planted in the vase.
Planting bat flowers is super simple, especially with this instruction.
"Black Beauty" Pansy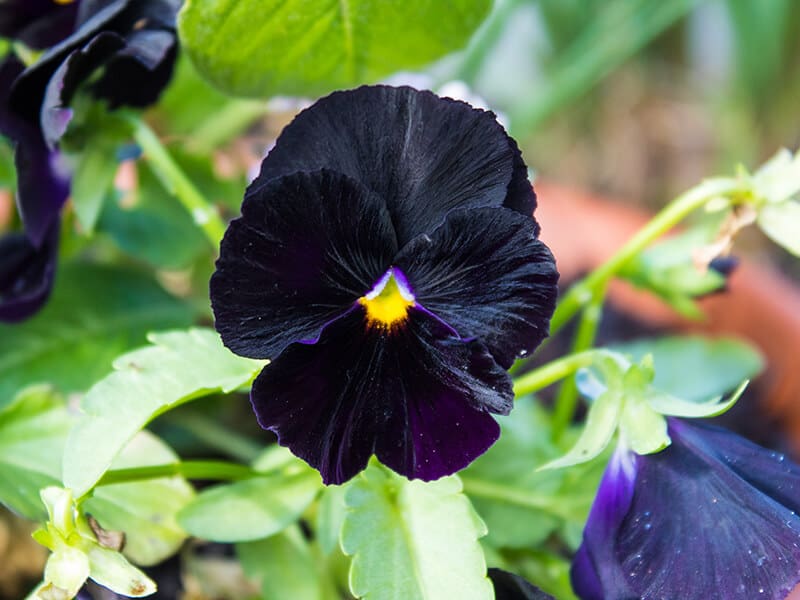 Pansies have always been a favorite flower among gardeners. And this black beauty will be an extraordinary sight in your garden, with their almost pure black petals contrasting the bright yellow center.
You can sow these pansies between May and July to have them bloom in the next spring. Make them into a huge bed or plant them into some hanging baskets; it's all your choice.
If you want your "Black Beauty pansy" to bloom to its fullest, don't skip this!
"Black Baccara" Rose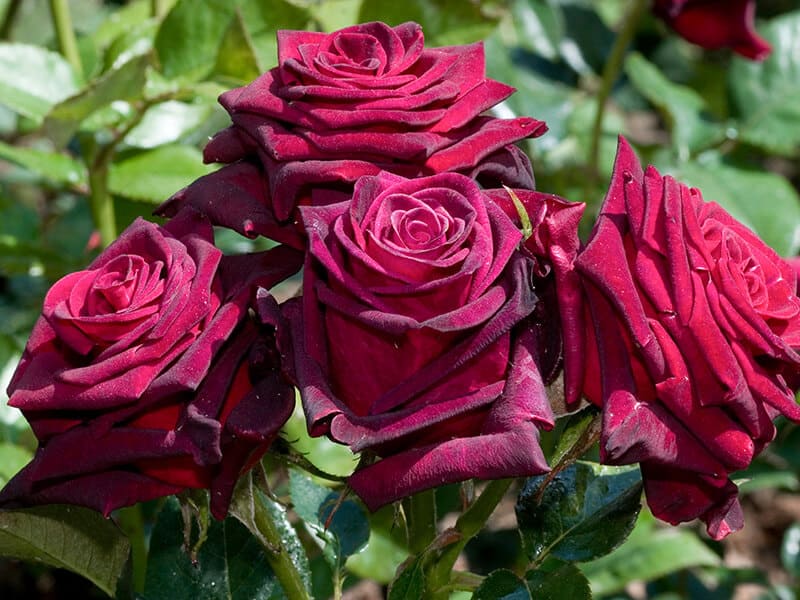 Red roses, white roses, yellow roses,… all are already too familiar. But have you heard of black roses? If not, then you should try growing this "Black Baccara" rose in your garden.
With its deep red hue turning almost to black, your garden will look fancier than ever. Even when cut, these roses are still a stunning ornament to your house with their robust fragrance.
You should plant those blossoms somewhere full of sunlight, or at least partially shaded, so they can produce the best flowers.
A queen of flowers, "Black Baccara" rose, will need the best planting instruction possible.
"Chocolate" Cosmos
Do you want to have some chocolates in your garden? Well, not real chocolate, but this cosmos can work just fine. Aside from the dark red color that's almost black, it also produces a sweet chocolate scent.
This flower doesn't require much care. Watering once a week is enough for it to be healthy. However, "Chocolate" cosmos needs to be kept indoors in winter as it can't tolerate low temperatures.
Follow this guide, and your "Chocolate" cosmos will be lovelier than ever.
"Black Cat" Petunia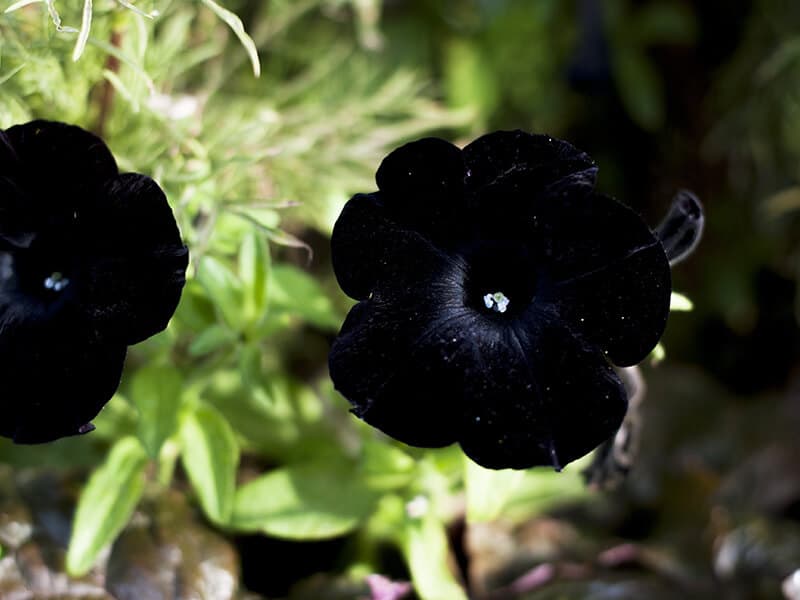 Petunia comes in various colors: purple, cherry red, yellow, or lilac. And this time, I'll present you with the black version. While some people may say this shade looks like deep purple, it's actually black under sunlight.
And different from other options, these black petunias' centers sometimes have dark colors as well. This flower is also suitable for people with less free time as it doesn't require much water.
Here are some exclusive tricks for your award-winning "Black Cat" petunia.
"Black Delight" Viola
This fragile-looking flower can handle even the scorching heat of summer or the freezing cold of winter. It'd be nice to have this viola appear in your rock garden as a lovely highlight. Or you can make it into pretty pots besides your windows.
Reveal all secrets about this "Black Delight" viola.
"Black Prince" Coleus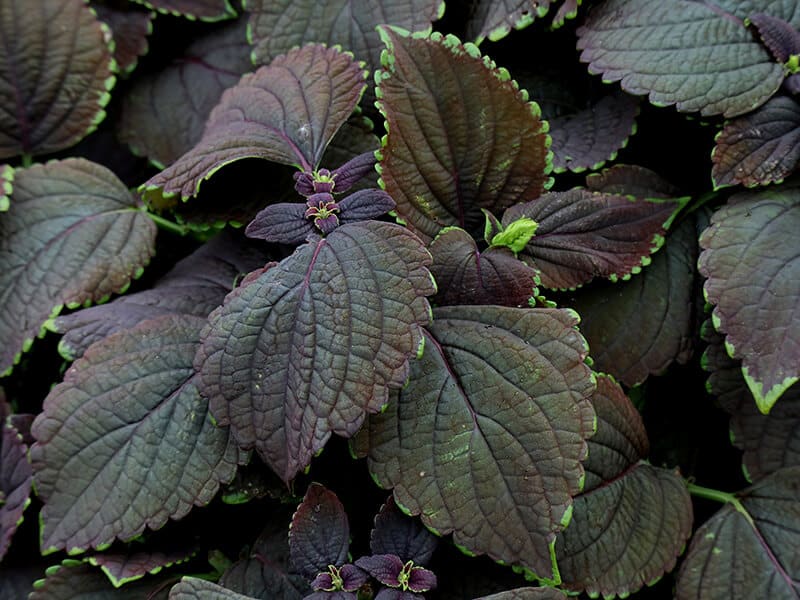 Don't mistake this coleus with ones you use for cooking! This "Black Price" will cover your garden with its majestic black color. Or you can plant it in a small container to overwhelm any guest coming to your house.
If you want to propagate your "Black Prince" coleus, here is your answer.
Black Mondo Grass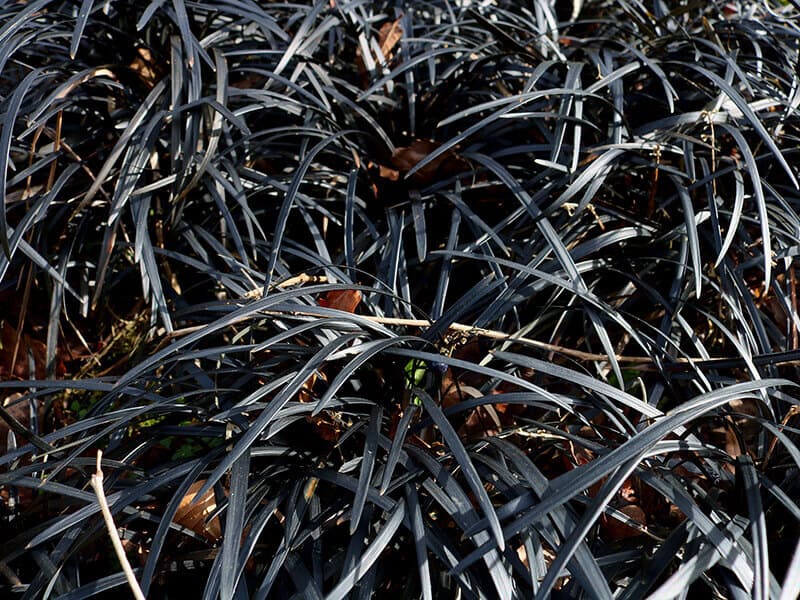 Black mondo grass, also known as monkey grass, is not grass. Surprise? In fact, it's a flowering plant as pink or light purple flowers will appear from late spring to early summer. But most of the time, people plant it, expecting a whole black grass mat in your garden.
If you want so too, grow this black mondo grass in some rich and moist areas. The best time to plant it is in early spring, so you can utilize the moisture. Although mondo grass only lasts for a short time, it can handle both full sun or shade.
An 101 lesson about black mondo grass for you!
"Red Rubin" Basil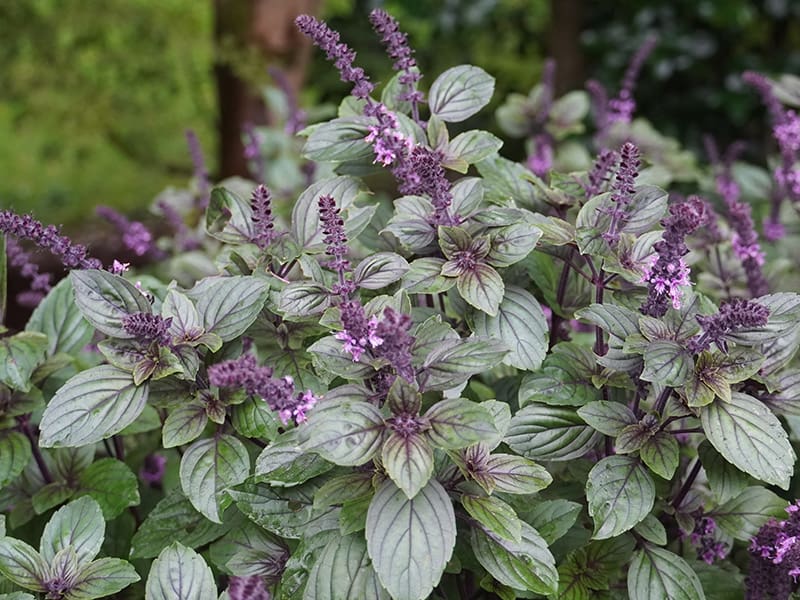 Most of the time, people won't think of using their plants in the garden for cooking. But that will change with this "Red Rubin" basil. Not only is it attractive with the reddish-purple leaves, but this plant also tastes as good as Italian basil.
Have you ever thought of making a drink with this "Red Rubin" basil?
"Black Magic" Mangave
These leaves will become darker and darker under more sunlight. So, you should plant them in combo containers where the sun shines the brightest. But that doesn't mangave can't survive in the winter. Its black shade fades at low temperatures but will come back with spring.
Everything you need to know about this "Black Magic" mangave is here!
"Blackie" Sweet Potato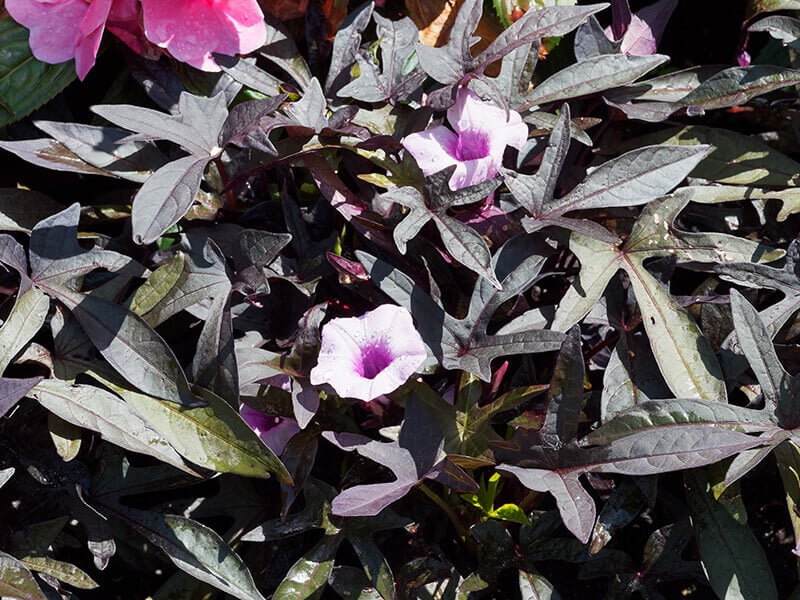 I won't talk about the sweet potatoes you usually eat. While this one can't fill your hungry stomach, it can satisfy your aesthetic by filling your garden with its burgundy-colored leaves.
It makes a perfect border plant or groundcover. But you can also grow these leaves in baskets with other plants.
Even a gardening beginner can succeed at growing "Blackie" sweet potato with this guide.
"Enchanted Sunrise" Begonia
Contrasting colors can always charm people. This begonia is no exception, with its dark-hue leaves and salmon-like flowers. When planted in a patio planter, this "Enchanted Sunrise" will make your garden glowing, even in winter.
You wouldn't want to miss this information about "Enchanted Sunrise" begonia.
"Britt-Marie Crawford" Ligularia Dentata
If you love Gothic style, you must leave one space in your garden for this ligularia dentata. Its leaves bear a mixed color between burgundy and chocolate, leaving your garden as enigmatic as ever.
But summer is when this plant looks the best as its bright golden yellow blooms appear. This bold contrast will be suitable for your flower beds or borders.
For the best result, you'll need to know how to care for these ligularia dentata.
"Dark Reiter" Geranium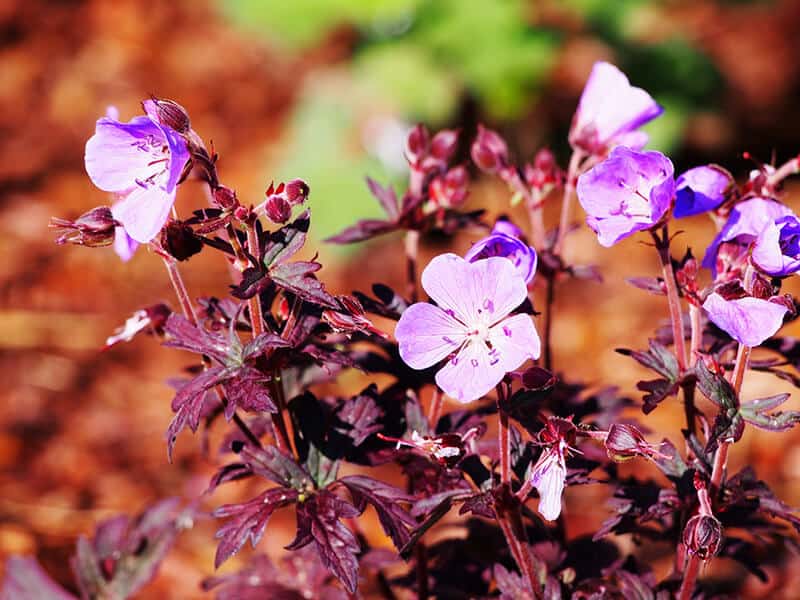 Although not many know about this geranium, it has become a trend recently among garden experts for its gorgeous dark plum color, especially when combined with silver-toned foliages.
And the true surprise comes in summer when geranium lilac flowers start to blossom.
There's no harm in learning a bit more about this "Dark Reiter" geranium.
"Black Lace" Elderberry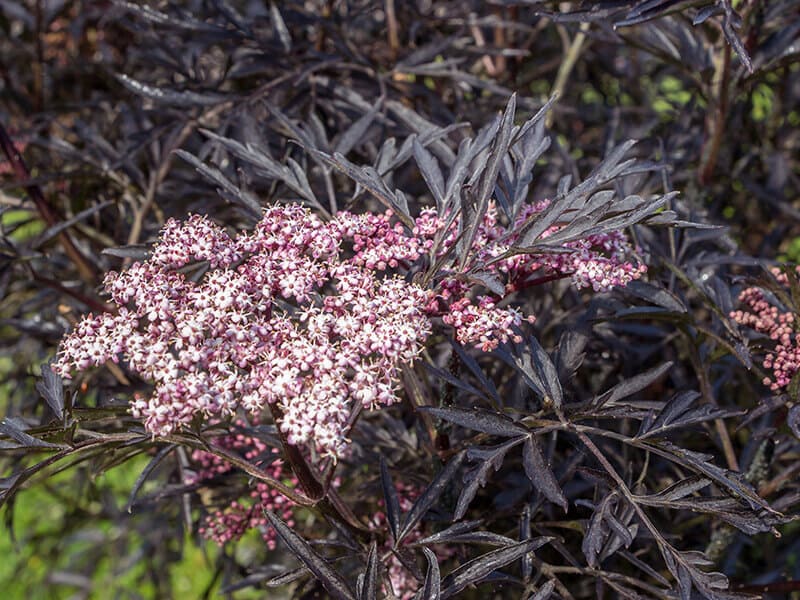 Do you like how Japanese maple leaves look as a whole? If yes, you should write down this elderberry on your list as its leaves will bring you the same effect, only in a more intense dark color.
Also, when summer reaches, your garden will be Interspersed with pale pink flowers from this tree.
Once your "Black Lace" elderberry grows, no one can ignore it.
"Twilight Magic" Crape Myrtle
I'd say nothing beats having a garden full of dark leaves and pink flowers in the summer. And this crape myrtle will bring you exactly that combination.
While the flowers only come out from midsummer until August, you can enjoy the dark plum-colored of the foliage all year round.
Your growing "Twilight Magic" crape myrtle will be much easier with this guide.
"Black Pearl" Heuchera (Black Coral Bells)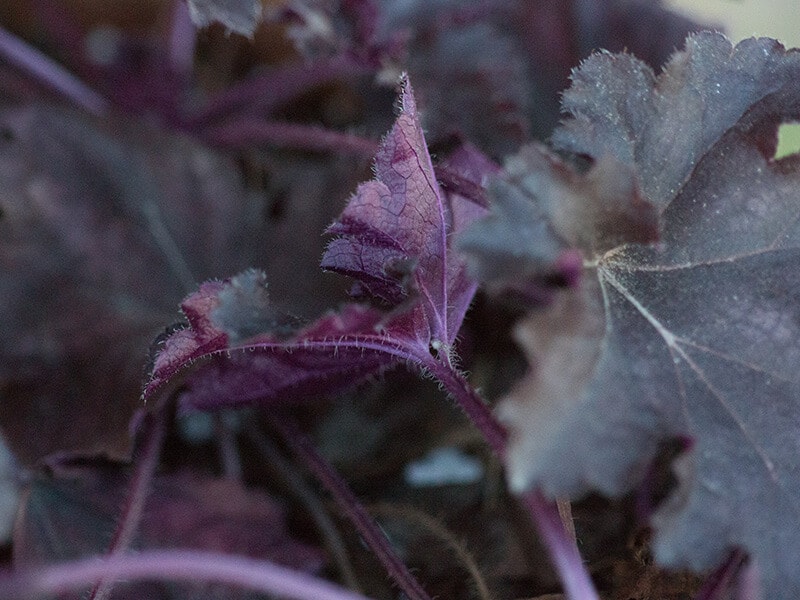 If you want some black leaves in your garden, this heuchera should be your priority for its chocolate color. And it'll become even more eye-catching in mid summer when all the flowers blossom white. The classic black-white contrast never gets old, you know?
All the tricks to grow "Black Pearl" heuchera are here for you.
Have You Picked Your Favorite Black Flowers And Plants?
I think these 40 options here are enough to decorate your garden. You don't need to grow all these plants above at once. Choose two or three species at most, and combine them with other light-colored flowers, so they can create a centerpiece in your yard.
Do you have other options for your garden? Or do you have some exclusive tricks so that the flowers can bloom magnificently? Whatever your thoughts are, you can share them in the comment section below. And feel free to introduce this list to other plant lovers like you.