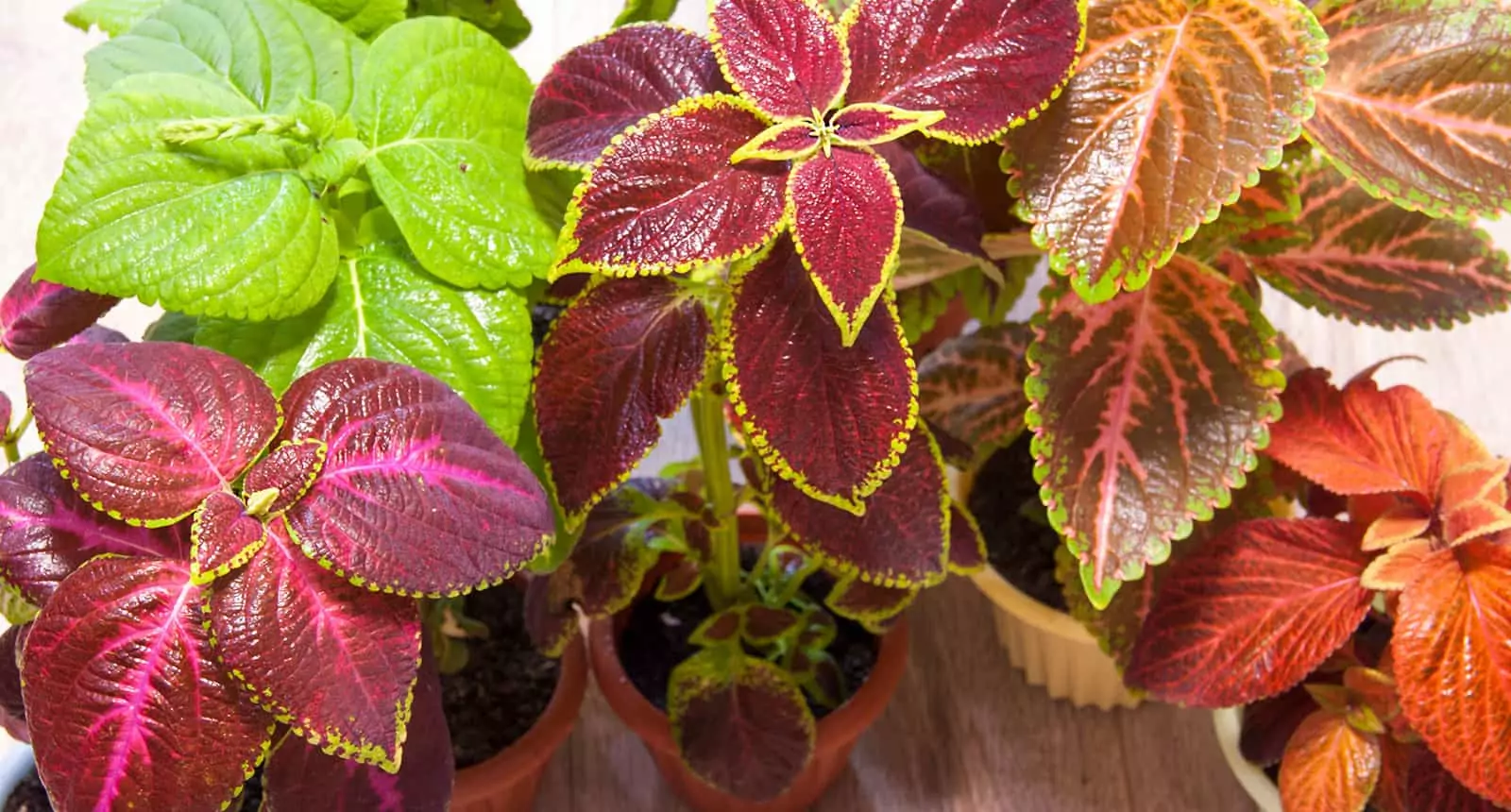 Growing Coleus indoors is easy. You just need to know how to do it. Although this plant is usually grown outdoors, if growing conditions are right, your Coleus plants will also thrive indoors.
The best part? Coleus plants answer very well to potted environments. In today's article, I will teach you all about these plants and how to grow and take care of them indoors, so let's begin.
Is Coleus a Good Indoor Plant?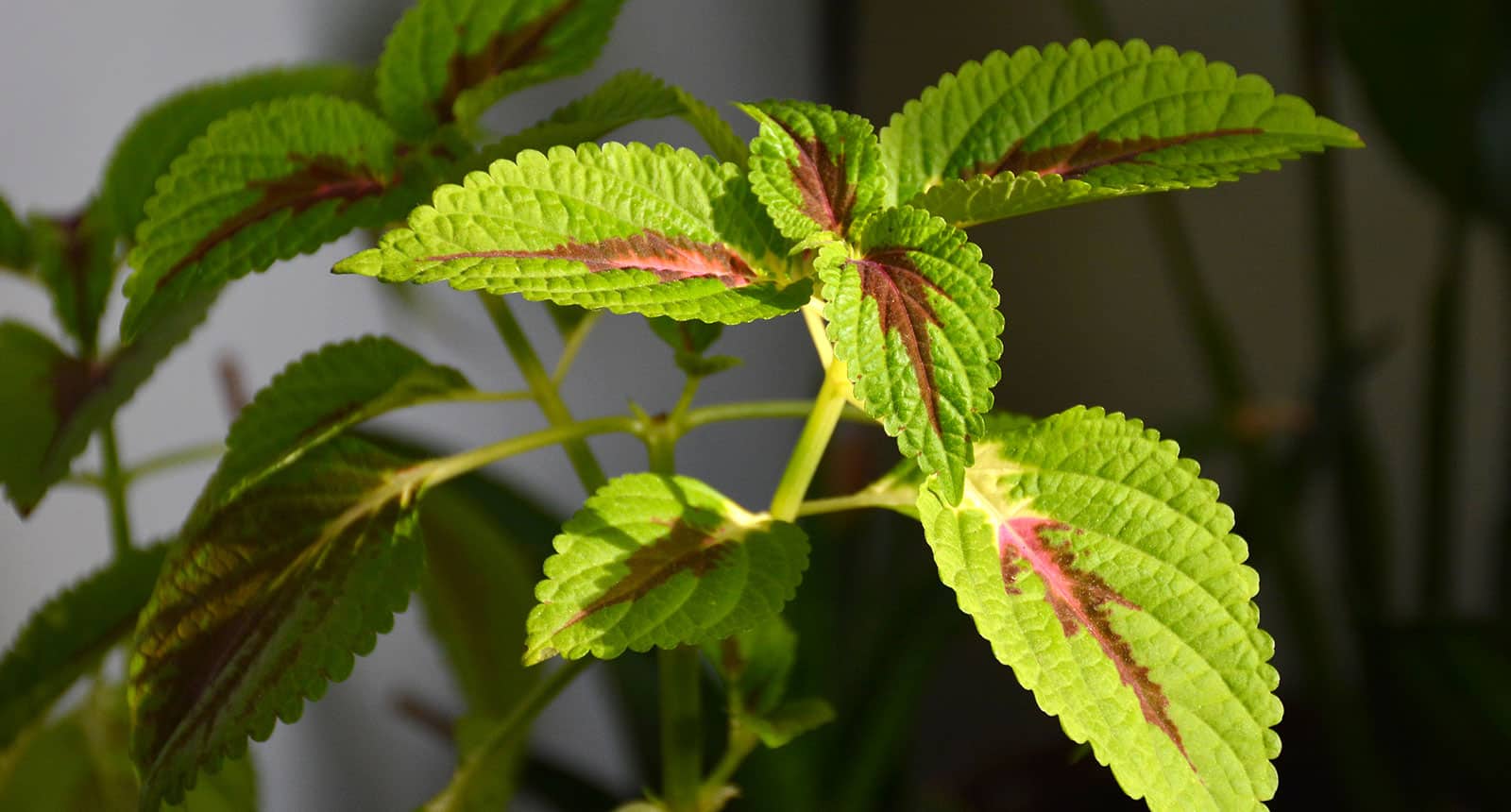 Coleus is a good indoor plant thanks to its predisposition for warm climates. It's an evergreen perennial that's primarily grown as annual due to its sensitivity to frost, so it's a great indoor plant.
Did you know that coleus plants belong to the popular Mint or Lamiaceae family? And like peppermint, people use their leaves for medicinal purposes (though they're not particularly appetizing).
They're native to Australia and Asia and provide a wide array of pigmented leaves in shades of maroon, cream, white, pink, green, and violet. Coleus often starts from seed around 45 days before the last frost. This beautiful plant develops quickly, usually reaching robust and mature size in 6-9 months.
I appreciate these plants because they're unique and low maintenance. So, they're perfect for indoors. Coleus is popular among both beginners and experienced gardeners because it's so diverse.
Coleus Characteristics
| | |
| --- | --- |
| Botanical name: | Plectranthus scutellarioides (also referred to as Coleus blumei in the past) |
| Common name: | Coleus |
| Origin: | Australia, Africa, and Asia |
| Plant type: | Herbaceous perennial |
| Light requirements: | Indirect light |
| Temperature: | 65°F-75ºF (24C°-27ºC) |
| Watering: | Keep the soil damp during the growing season and let the top dry between watering in winter |
| Soil type: | Moist but well-drained |
| Soil pH: | Neutral-acidic |
| Humidity: | Medium-high humidity |
| Fertilizer: | Slow-release fertilizer (10-10-10) at planting time |
| Flowering: | Pinch off buds promptly to prevent flowering, or the plant will go to seed and die |
| Pruning: | Pinch back developing stems to keep compact growth |
| Propagation: | Stem cuttings can be propagated easily |
| Repotting: | Repot every 1-2 years and increase the size of the container according to the plant's size |
| Pests and diseases: | Fairly resistant, but mold, root rot, mildew, aphids, mealybugs, and spider mites can cause issues |
| Hardiness zones: | 10, 11 (USDA) |
| Toxicity: | Toxic to pets, mildly toxic to people |
3 Popular Varieties of Coleus
You can select from hundreds of different coleus varieties, with new ones being developed constantly. In addition to named varieties, multiple series are available with original traits in a wide selection of colors. Here's a list of some of the most popular and eye-catching varieties you can grow indoors.
This variety has a midnight-violet foliage embellished with a hint of red. What I like most about the Black Dragon plants is their compact growth habit.
They cause a dramatic effect in borders, beds, and containers thanks to their deeply-lobed, small leaves with a velvet-like appearance. This variety grows 10-12 inches in height with a similar spread so it's great for indoor setups. It's easy to grow and maintain.
It's great as a bedding plant. However, you can also use it to boost more colorful annuals. The color can differ depending on the growing conditions.
This variety features deep burgundy foliage with very bright green edges, enhancing the serrated leaves. It develops to a full height of 12-20 inches with a spread of 12-14 inches.
If you're looking for a bushy plant with a mounding growth habit, look no further than Chocolate Mint. It thrives in full shade and grows quickly, so it's perfect for indoor setups.
If you're a fan of eye-catching indoor plants, then Watermelon is the perfect choice for you. It's a unique and colorful variety with vivid pink foliage with green corners with red veins and cream flecks.
The Watermelon variety has a mounding growth habit with a full height of 20-22 inches and a spread of 18-20 inches. The best part? It will provide vibrant color to your containers or indoor garden.
You can see this video to know more:
Growing Coleus Indoors (Seed, Stem Cuttings, Transplanting)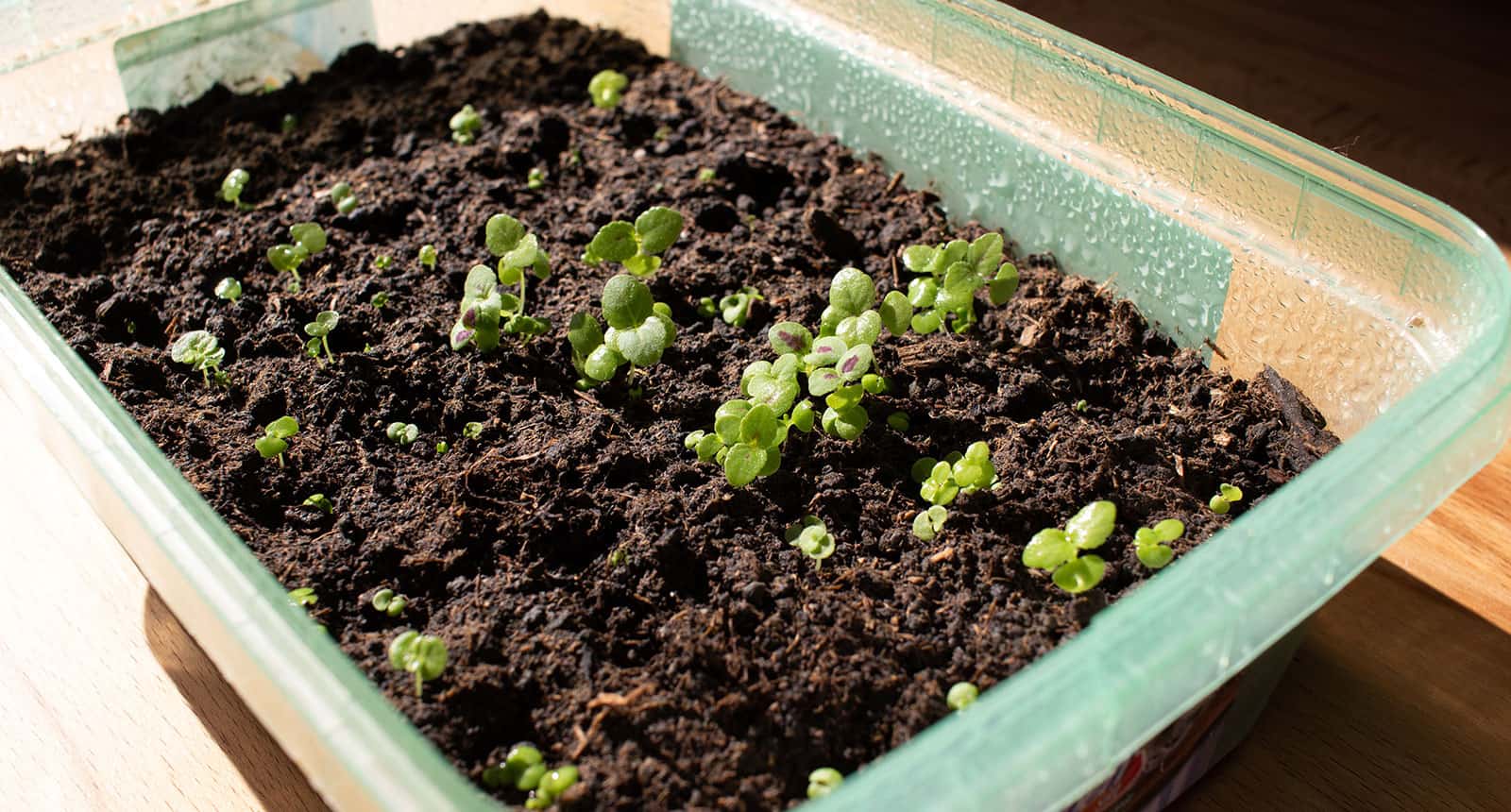 The easiest way to start growing your coleus plant is to buy nursery starts in the spring. You can also get seeds and start them outdoors or indoors if you're in Zones 9-11.
Collecting seeds from existing plants isn't such a good idea, as many contemporary varieties are hybrids. Meaning, they won't provide true results, if the seeds are even usable.
If you do have a favorite variety that you want to reproduce, coleus is simple to propagate through stem cuttings. Let's learn how to grow coleus indoors in different ways.
Start your coleus seeds indoors 8-10 weeks before your standard last frost date. Obtain small containers or seed trays, and a high-quality and well-draining potting mix for your new plants.
Fill your containers or trays with potting mix and put 3-4 of the small seeds on the surface of the ground. They require light to germinate, so gently push them into the ground, but don't cover.
Coleus seeds need a consistent temperature of 70-75°F to germinate, so you may need to utilize a heat mat. Position in a sunny windowsill. If preferred, you can cover the tray with a plastic or cover. If you use a humidity cover, make sure your seeds get indirect light as the direct sun may cause harm.
Water the potting mix but don't overdo it. To prevent the seeds from washing away, you can use a plant mister or spray bottle to gently water the ground. After 1-2 weeks, they will germinate, and at this point, you can take off the plastic or humidity cover, if utilizing. Then, thin the seedlings.
This will ensure that there's one plant per seed container or tray. Keep your seedlings in a bright, sunny location and keep even moisture in the ground. When they have 2 sets of leaves or are about 2-3 inches tall, transplant them from your seed containers or trays to 3-4-inch separate containers.
Keep your soil evenly hydrated and never let it dry out. After the seedlings have at least 6 sets of leaves or are about 6 inches tall, you can pinch out the growing points to boost bushy growth.
Once all the risks of frost have ended, you can transplant them into a permanent container. You can also transplant them into your outdoor garden if you're in Zones 9-12. Just make sure that all the risk of frost has ended and nighttime temperatures are in the 60s. Planting your seeds is super easy.
Prepare your planting area by digging up the top of your soil and add some potting mix. Push your seeds lightly into the ground and when they have 1 set of leaves, thin to 6-10 inches apart.
Stem cuttings develop roots easily. Meaning, they're the perfect way to produce clones of your favorite plant. You can snatch cuttings all year round. I like to take them in the late summer.
This way, I can keep them indoors over the winter days, so that by the time spring arrives, they're ready to go. Cut a 4-6-inch part of the stem with professional pruning shears and remove the leaves from the base 3-quarters of the cutting. You can either put them in potting ground or water to root.
If you're utilizing potting soil, place the cut end into powdered rooting hormone, create a hole in the soil and carefully place the cutting. Keep your cuttings in a bright location, out of direct sunlight.
I usually grow mine in water. If you opt for this technique, make sure to change their water often (every few days) for better results. If they're in the soil, keep it evenly hydrated but don't overdo it.
After 1-2 weeks, roots should begin to grow. And when they're 1-2 inches long, you can transplant them into a new container with potting soil. New foliar growth is the sign of a successful job.
Whether you have obtained nursery starts, started seeds, or rooted your cuttings at home, you will need to wait until all risk of frost has ended before transplanting them into containers or gardens.
Before doing this, harden off your seedlings by putting them outdoors in a well-protected area for about 1 hour a day, gradually increasing this time for about 7-10 days to acclimate the younger plants.
Prepare your planting area in advance. As stated, many varieties like a part to full shade places, although some varieties can handle more sun. Check your nursery tag or seed packet for more instructions.
Pick a sheltered spot, where plants won't be exposed to rain or wind, as they have vulnerable stems that can easily break in windy spots. You will need a well-draining, organically rich, and loose soil with a pH of 6.0-7.0. However, I recommend making a soil test and making adjustments according to the results.
I prepare my beds by turning over the ground and applying a well-rotted compost. If you want, you can add a slow-release fertilizer (10-10-10) at planting time. To transplant, simply dig a hole the exact size of the temporary container your plant is developing in, and gently take it away from the container.
Put it into the ground at the same depth as it was developing in the previous place. Backfill with the soil before applying water. You will need to space these plants according to the future full size of the variety you're growing. Usually, I plant mine 8-12 inches apart for better results and an eye-pleasing look.
If you plant your plants too close together, they won't get enough airflow. And this can cause a buildup of humidity, possibly leading to fungal disease. I usually grow mine in containers on covered decks.
Make sure that you have a permanent container that's large enough to accommodate the future full size of your plants. Also, use well-draining soil and leave space for other plants in a combined planting.
You will want a container that's at least 8 inches broad and deep for one plant. If you want to add some colorful annual plants or plant more than one, then consider a big container with drain holes.
You can see this video to know more:
How Do You Take Care Of a Coleus Plant Indoors?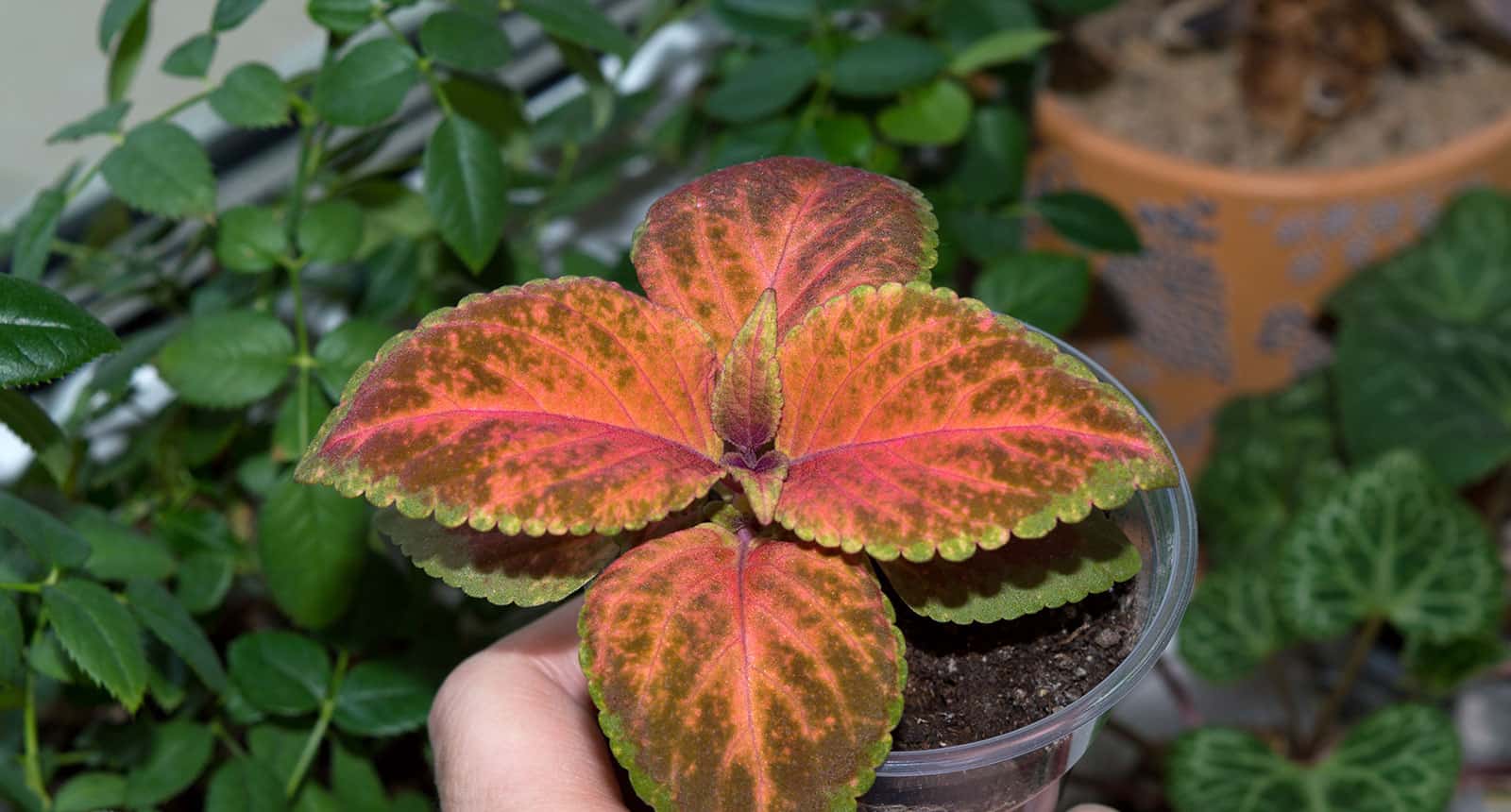 Once you start growing coleus indoors, keeping the plant healthy is important. Continued care will keep your plants happy and extend their lifespan. Here's a list of tips to help keep your coleus thriving.
Water frequently to keep the ground slightly damp (never soggy and never bone dry).
Feed your plants once every 1-2 weeks during spring and summer utilizing a water-soluble food or fertilizer diluted to half-strength.
Place the container on a tray with a coat of damp pebbles if the air in your house or apartment is dry. However, don't let the bottom of the container stand directly in water.
Pinch the points of your plant occasionally to keep it bushy. Take off 1/3 of growth if your plant becomes leggy and long.
Take off blooms as soon as they show, as they take away all energy from the foliage. Otherwise, your plant will go to seed and vanish.
If your plant becomes too scraggly, perhaps it's time to start fresh with a fresh plant.
Coleus isn't prone to diseases and pests. These issues are common in commercial greenhouse environments. However, the usual intruders like spider mites, aphids, mealybugs, and whiteflies can cause damage to the colorful foliage and stop the plants' development. Serious infestations that fly under the radar can cause a buildup of honeydew, resulting in mold. You can use neem oil. Or insecticidal soap, according to the instructions on the package.
You can see this video to know more:
Does Coleus Like Sun or Shade?
When grown indoors, these plants prefer indirect but bright light. Therefore, you should put them on a windowsill that gets light in the morning and provides shade during the harsh sun.
A little direct sun is fine, except intense summer sun. This will scorch the leaves and cause the colors to fade. Too little light, on the other hand, dulls leaf colors and can cause leaves to drop.
You may need to add more light with artificial lights during the winter period. Watch your plants closely. If the leaves lose color, your plant is likely getting too much or too light sunlight.
Do Coleus Like to Be Misted?
Most tropical plants require high humidity levels to grow and thrive, including coleus plants. However, they don't need daily misting, so you should avoid spritzing your coleus plants daily.
Will Coleus Come Back Every Year?
Coleus is a lovely, spring-through-fall annual plant, outside USDA zones 9-11. Since it's a tropical plant, it can't handle cold and will weaken and vanish once the weather drops below 50 degrees Fahrenheit. This is why this plant makes a great indoor plant.
Can I Bring My Coleus Inside for the Winter?
You can take your coleus inside for the winder since it's a spring-through-fall annual plant. Meaning, it can't handle the cold. Dig up your plants in the autumn before winter hits. Grab as many of the roots as possible. Then, put your plants in separate containers with loose, well-draining soil.
How Long Do Coleus Plants Live for?
Typically, coleus plants live for multiple years in a frost-free location. In USDA zones 10-11, the winter is mild enough to grow coleus outdoors. These amazing plants appreciate damp soil that drains well. Keep Coleus plants out of the intense, direct sun, as they burn easily.
Is Coleus Poisonous to Dogs?
Unfortunately, the exotic and lovely leaves of these plants act as somewhat a warning sign to cats, dogs, and horses. They can become severely ill if they ingest or come in contact with coleus plants.
This is because of the essential oil in Coleus plants that can cause gastrointestinal symptoms and tropical irritations in animals. Poisoning isn't usually fatal. However, it should still be taken very seriously.
If you notice diarrhea, vomiting, pawing at the mouth, drooling, difficulty breathing, weakness, low body temperature, loss of appetite, or mouth or facial irritation in your pet, please contact the vet.
Sorry, I Have Plants This Weekend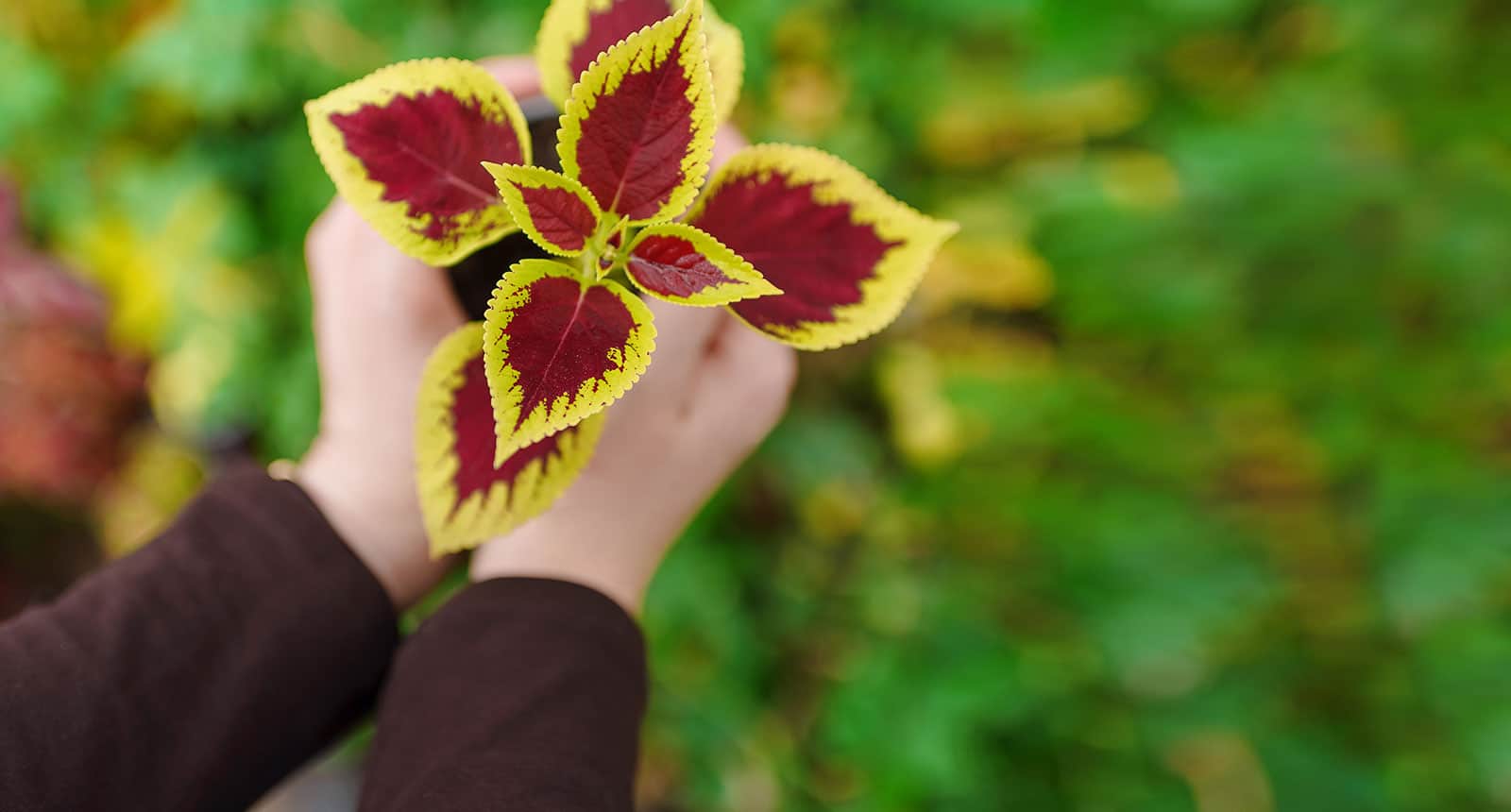 Growing Coleus indoors is super easy if you know how to do it properly. And today's guide will help you grow your favorite Coleus successfully.
They're available in many garden nurseries and centers with many providing online sales. You can find a lot of colorful varieties at a better price, online.
However, avoid purchasing plants until after all dangers of frost have ended, unless you have a frost-free and warm place to keep them before planting out.
Buy them in spring for planting out after the last frosts, so don't buy later in the season. Otherwise, they will last only until temperatures drop again and die.
Was this helpful? Do you have any gardening advice that you would like to share? If so, drop a comment below and share this article with your friends.