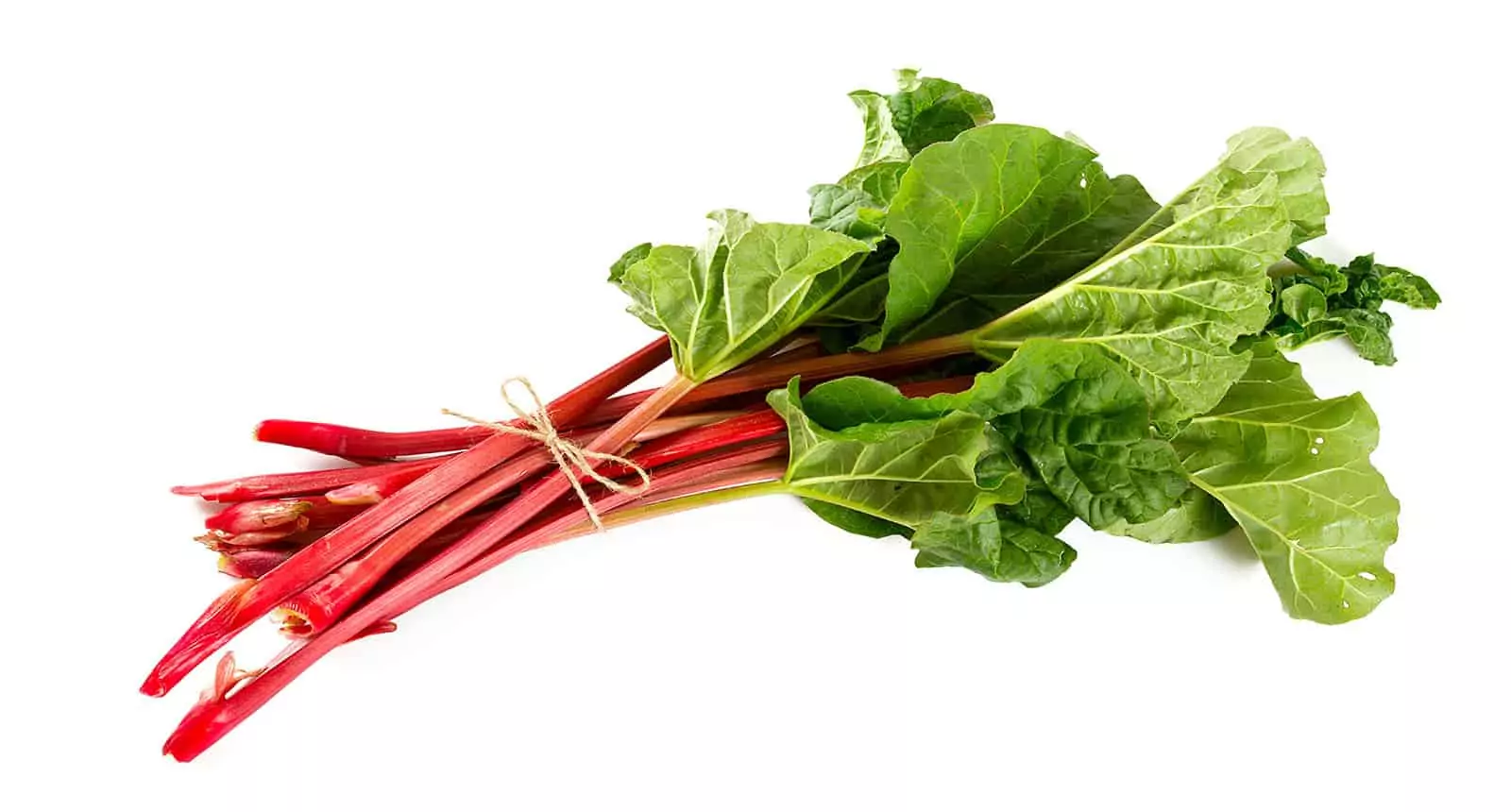 How to plant a rhubarb and enjoy your crumble rhubarb pie made of the fresh produce you grew entirely by yourself? That is no longer a problem as you can do it easily like a professional with a detailed but simple guide you will find below.
Rhubarb is a simple perennial to grow yet so many people are confused with what and how to grow it. One thing is certain, the incredibly tasty rhubarb jam or pie is something you simply cannot resist tasting. So why not try to grow and harvest it yourself?
8 Steps To Plant Rhubarb Successfully
Now, planting a rhubarb requires several preparation steps that need to be followed to expect good harvesting as a result. So, follow these steps and read the explanations closely to get the awesome and healthy plants that you can pick and prepare a delicious meal of your choice.
Prepare the soil – use the fertile, a bit acidic soil that drains well but not sandy.
Prepare the containers, raised beds, or planting beds – the plant needs well-spaced containers or planting areas in order to grow properly.
Use healthy crowns, roots, and seeds for planting – to have healthy plants you need to start with healthy crowns, roots, and seeds so check them carefully
Plant/seed the rhubarb – decide on your planting choice, start indoors, transplant later, or start outdoor right away
Water it thoroughly – plants need regular watering, best early in the morning during hot days
Let it grow – allow new plants to grow for two years before harvesting them
Check for pests occasionally – although not common, check for root rotting or rhubarb curculio that can attack the plants
Pick the rhubarb – harvest the stalks that are between 8 and 16 inches long during April, May, June, or very early July.
What Is Rhubarb?
Rhubarb is a perennial plant that is technically considered to be a vegetable but also considered a fruit. The mystery comes from the fact that the plant is a vegetable according to its features but legally, New York's court declared it a fruit as it is often prepared like one.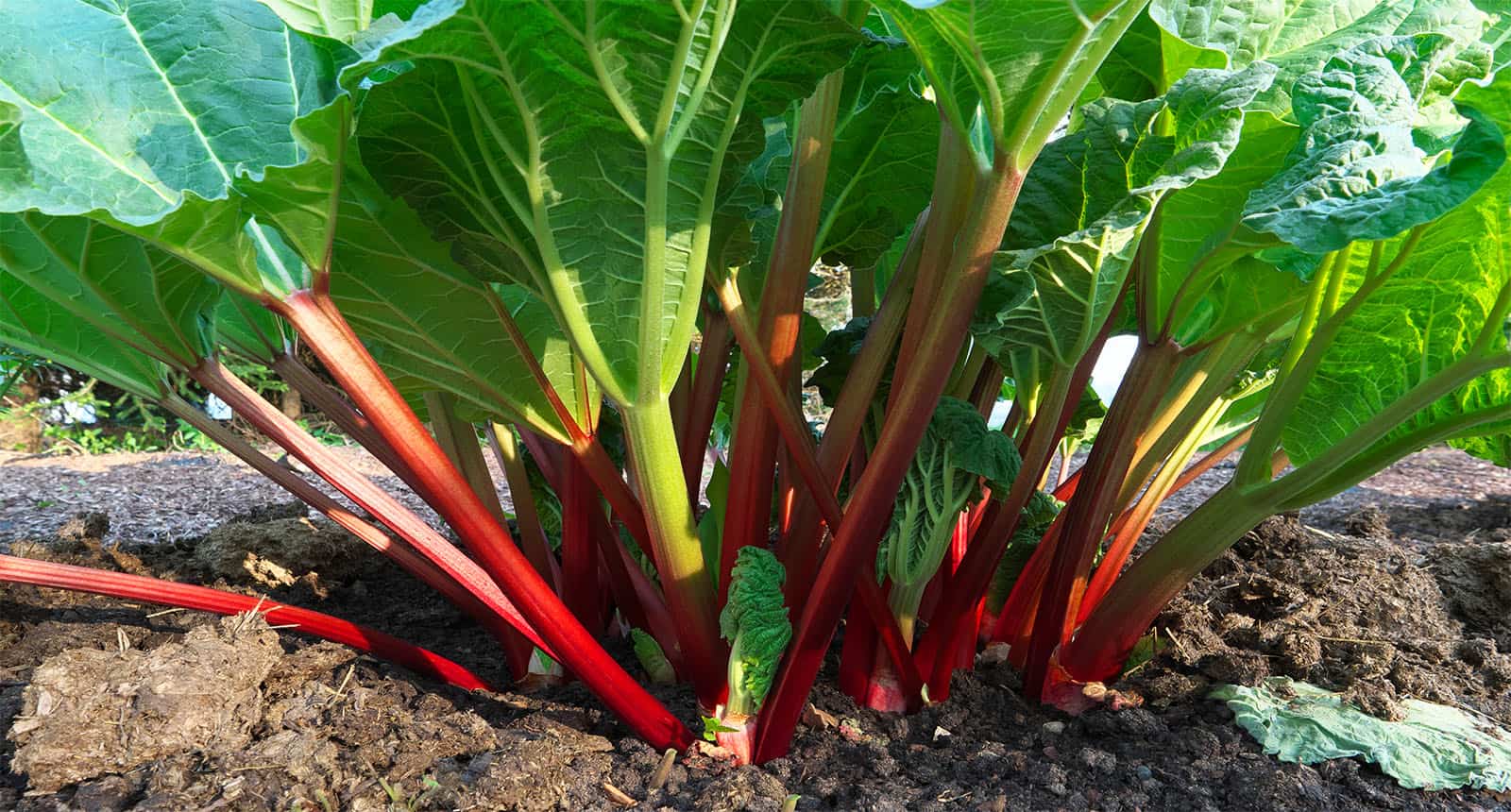 I am not going to lie to you, but the only edible part is its stalk while leaves are poisonous, and roots unedible. Rhubarb leaves contain oxalic acid which can be harmful to both human and animal health, especially for cats and dogs. Stalks are often used in desserts while the roots used to be used in ancient Chinese medicine.
Stalks can be eaten raw but due to the not-so-appealing taste, it is rather cooked and used in many desserts. The popular Rhubarb pie brought fame to the plant itself. Growing the plant is easy, but you have to be patient for the harvesting to start.
What Do You Need To Know To Grow Rhubarb?
Before planting and eventually harvesting rhubarb, there are some things that you need to take into consideration. Choose the right soil, proper containers, or raised beds and prepare yourself to harvest your rhubarb produce for many years.
Check out this video to see more about growing rhubarb.
Soil
The best soil for growing rhubarb is loamy soil that is well-drained. Such soil needs to retain enough water but also to provide nutrients to the root. This plant requires water to grow strong roots and stems but does not like too much water so the soil needs to dry out easily during the day.
Make sure that the soil is free of weeds and roots. If you are using garden soil, make sure to remove all the weeds and check for the underground weed roots that could slow down the rhubarb growth. PH level is not vital so you do not have to worry about that part.
Containers or Garden
Rhubarb can grow in containers, raised beds, or even pots. Whatever you choose, make sure to fill it up with the proper soil. If you plant or seed the rhubarb in pots and containers, use the bigger size as your plant will need space for growing healthy leaves and roots.
You can always start your seeds, crowns, and roots in the containers in the house and transplant the growing plants out in the open. These plants are winter hardy and they would withstand low temperatures during winter so you can grow them in almost any hardy zones.
Planting
If you are buying ready-to-grow crowns and roots, make sure these are healthy and not wilted. Rhubarb crowns and roots are planted in a different season than the seeds so before buying any of these check out what will work out best for you.
Crowns and roots need to be spaced in order to allow the plants to grow and prosper. If you are going with the seeds you can start them off in the pots, and then transplant them to the garden, bigger containers, or raised beds.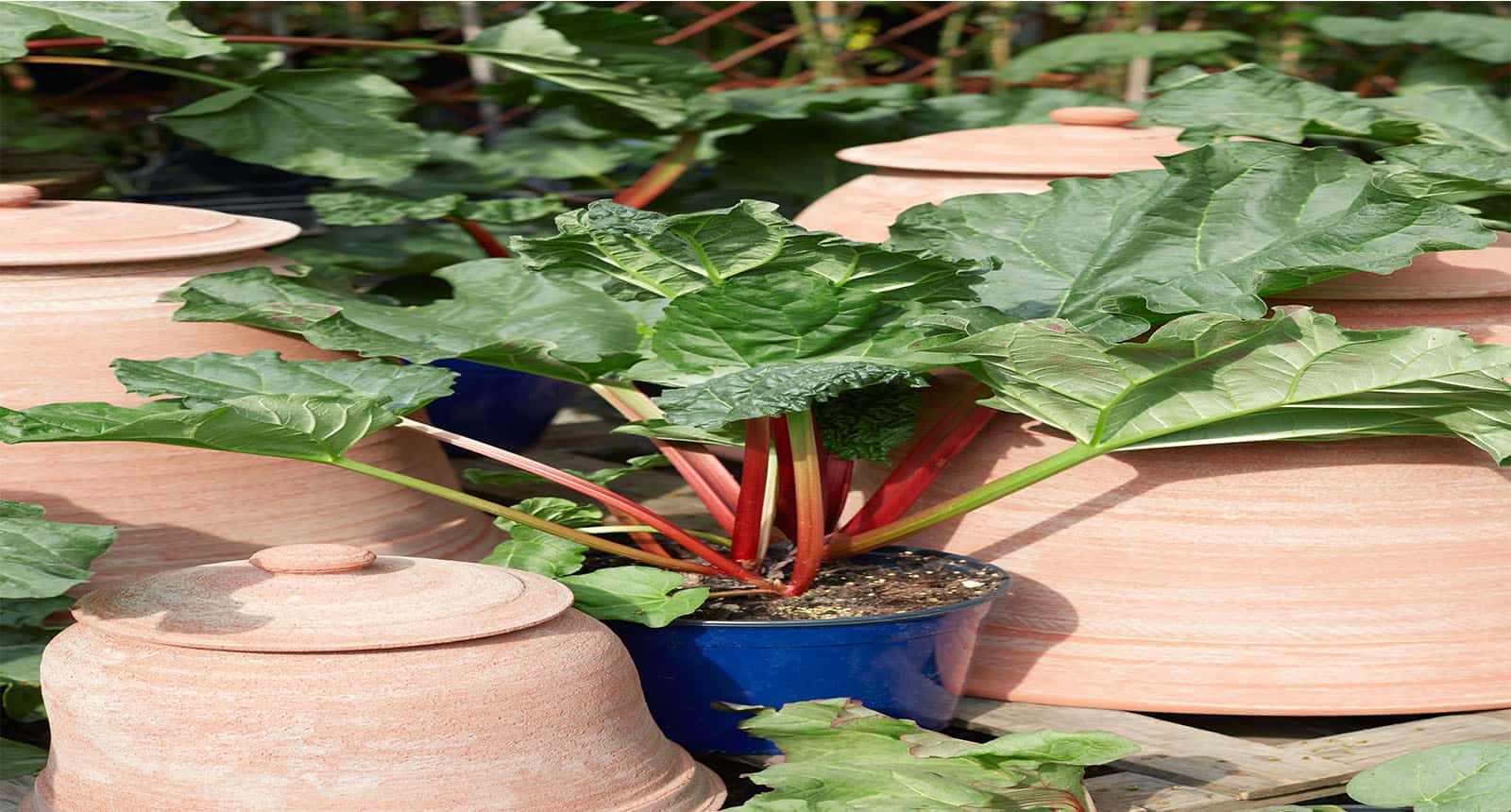 After planting the rhubarb, you need to be patient and wait for two years before first harvesting. During this time, your plants will grow and turn into a healthy and strong plant that will be able to bring you fresh produce for many years to come.
Watering
Soil, where rhubarb will grow, needs to be moist so do not allow it to become too dry. This plant needs deep watering in order for roots to develop. Also, do not overwater as the roots can root in too wet soil. Water early in the morning and allow the soil to dry out during the day.
During winter you do not have to water your plants if they are planted in the garden or the open. Containers that are inside water scarcely, and remember that the soil needs only to be moist, not soaked to prevent root rotting.
Harvesting
Before the first harvesting, the plants need to grow for at least two years or growing seasons. After this period you can harvest stems from April to July choosing the stems that are healthy and long enough. After this period passes, it is best to leave the plant to prepare itself for the winter and next growing season.
The best part is that the rhubarb will regenerate itself every year and provide you with fresh produce for the next at least ten years. Every year, the plant will grow stronger and bigger so, it is worth waiting those two years and enjoy your products for many years to come.
Check out this video to see more about harvesting rhubarb.
Pests and Diseases
Although rhubarb is not prone to pests and diseases some of these may try to attack your plants. Watch out for the root rotting due to excess watering. Make sure to plant the rhubarb in the soil that will stay moist but will also dry out enough to prevent rotting.
The most common pest that attacks rhubarb is the rhubarb curculio that will eat the leaves of the plant. Also, snails and slugs love to nib the leaves too. If the damage is not too great, do not treat the plant with chemicals as you will not eat the leaves.
How To Plant Rhubarb – Step-by-step Instructions
Planting rhubarb requires some steps to be followed. Choosing the wrong spot in your garden or planting too deep or too close can result in a plant that is poorly advancing or not giving the results that you had in mind. So, keep reading and follow these steps so you can do it right.
Step 1 – Digging a Hole
Make a hole that is 12 inches to two feet deep depending on the size of the crown you are going to plant. The hole should be around 2 feet wide as the roots take up much space. Make sure to make enough space between plants as they grow quite big.
Step 2 – Adding Compost
To make sure your newly planted rhubarb has rich soil for a great start, add some compost or manure to enrich the soil. The plant needs to grow for many years, so the soil needs to offer enough nutrients for a plant to thrive and bring amazing produce.
Step 3 – Placing The Crown
Put the crown in the hole, right in the middle but not too deep. The crown seems small, but it will need a lot of space when it starts growing. Make sure to put the buds on the top, because if you are not careful, and buds end up facing the soil, the plant will not grow properly.
Step 4 – Covering The Buds With Soil
When you placed the crown, cover it lightly with around one inch of soil. Do not put too much soil as the plant needs to grow through the soil fast and to develop healthy stems and leaves. Allow the space for the buds to be lightly covered with soil, but still to be protected from drying out in the sun.
Step 5 – Watering
When you covered the crown with soil, water it thoroughly. Do not allow the soil to become mud, or to harden as this will prevent the plant from growing properly. It would be best to slowly water the area and allow the crown to start its cycle.
What Is More To Know About Rhubarb?
When you know general things about this perennial, you should go and try planting some of those. You can try with seeds, crowns, or roots. Whatever you choose, you can expect that the plant will grow and thrive easily and eventually be ready for harvesting.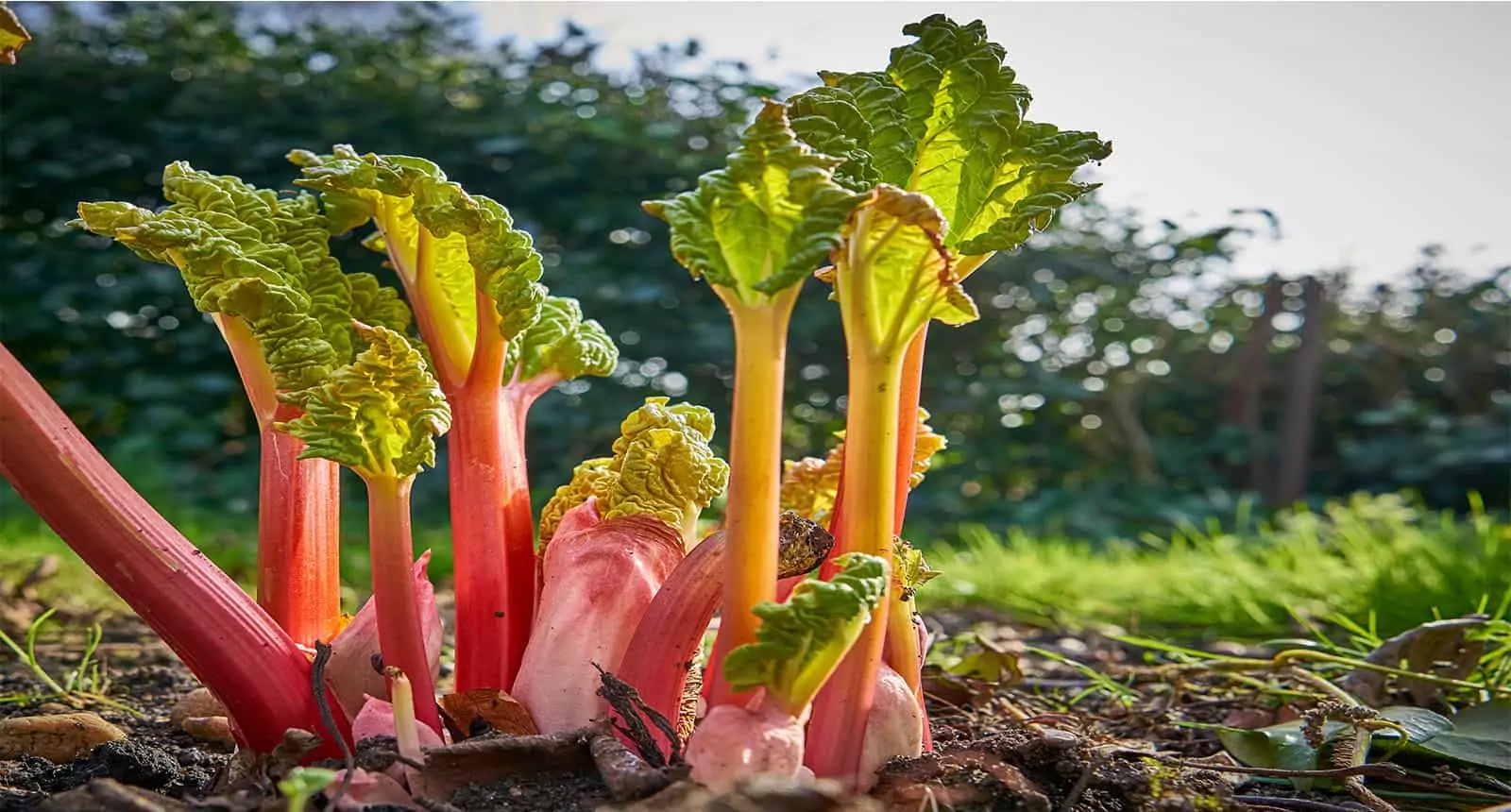 Can You Grow Rhubarb From Seed Pods?
It is easy to obtain rhubarb seeds at your local store but you can also collect seeds from the grown rhubarb when the seeds turn brown. Put them on the wet towel and let them soak. The new plants from the seeds should appear in around three weeks.
Seeds should be started indoors in containers filled with sterile soil. Put the seeds only half an inch below the soil and spray them with water regularly. The plant will benefit from warmth and light and after around six to seven weeks it could be ready for transplanting in the garden.
How Deep Do You Need To Plant Rhubarb?
If you are dividing an existing plant to get a new one, you should take crowns with some buds and plant them in the garden. Dig out the holes for the roots that are quite shallow not more than four inches deep. They require nutritive soil so make sure to plant them in raised beds or enriched garden soil.
They do not like transplanting, so make sure that only transplanting is when you take out plants that grew from seeds indoors. The formed plant does not like to be moved and it will likely stop growing and thriving.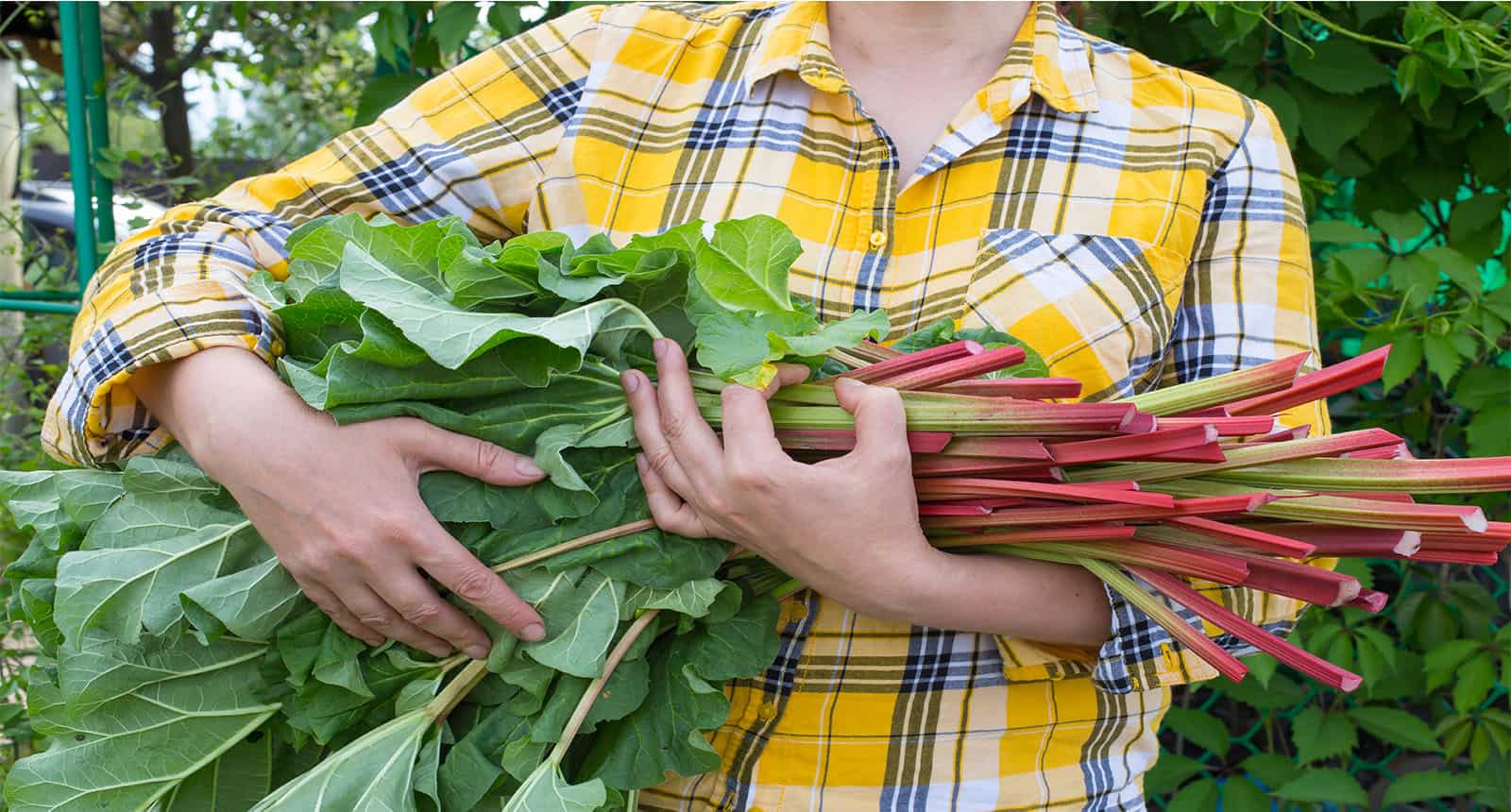 When To Plant Rhubarb?
Planting crowns or new plants are best in early spring as soon as the soil warms up a bit and you can work with it. Or you can plant it in the autumn but long before the soil starts to freeze to allow the roots to form and prepare for the winter.
Also, if you have grown your plant in a pot, you can transplant it all year when the soil does not freeze. If you do it during summer, make sure to keep the soil moist regularly to help the plant accommodate new conditions.
Planting Rhubarb Plant In Sun Or Shade?
Rhubarb is the plant that benefits most from the full sun but it will also thrive in partial shade. If you intend to plant rhubarb in hot regions, it is advisable to plant it somewhere where it will be protected from the hot sun in the afternoon. Why is this important to know?
Rhubarb plants planted in the shade will not grow or produce tasty stalks. The quality of the rhubarb stems highly depends on sun exposure as the plant requires it to reach maturity and readiness for harvesting. The plant needs to grow and produce new leaves for ten years so the conditions need to be impeccable.
What You Should Plant Near Rhubarb?
Rhubarb leaves are toxic and repel all kinds of pests. That is why it is good to plant them near many plants as they will serve as a natural insect repellent. For example, it will repel whiteflies that commonly attack cauliflower, broccoli, kale or cabbage, and kohlrabi.
The same is with fly aphids that are commonly found on beans. Also, rhubarb will benefit from extra nitrogen coming from when the beans are harvested. Garlic and onion will repel weevils and leaf beetles that can attack rhubarb leaves.
Also, you can pair strawberries and rhubarb both in the kitchen and garden. They will taste great together and in the garden, strawberries can cover the ground beneath the rhubarb preventing weeds. They are harvested together so they will consume the same nutrients and grow well together.
What You Should Not Plant Near Rhubarb?
Many plants go well with rhubarb, however, there are some plants that you should avoid planting near rhubarb as they may provoke pest infestations. Plants like sunflower and thistles are prone to curculios infestation, so these should be planted far from each other.
Potatoes are also rhubarb's bad neighbor as these two will compete for space, both under and over the ground, and for nutrients that are vital for both. Tomatoes are also not recommended for planting near rhubarb as both of them grow tall and wide and need a lot of sunlight.
What To Do If The Rhubarb Plant Is Not Growing?
If you have noticed that your rhubarb plant is not growing or suddenly stopped growing there may be several reasons for that. If the temperature goes over 90o F (32o C) rhubarb like many plants will stop their growth. Help your plant with some regular watering if it is stressed because of the drought.
If the summer is unusually rainy and wet, the rhubarb may suffer from root or crown rotting. Also, some pest infestations such as curculios may affect the growth of rhubarb. Sometimes you only need to put some manure around your plant to encourage growth.
What Plant Resembles Rhubarb?
Wild rhubarb or common burdock is a plant that looks very like rhubarb. This plant has large leaves with a shape that resembles a heart and reddish plant stems. Despite this great resemblance, you have to be careful as this wild rhubarb is not edible and can cause serious stomach upsets and problems.
Sometimes it is even possible that people have an allergic reaction on the skin so if you see this plant it is better to handle it carefully. You can recognize this plant by its hairy underside of the leaves and its height that can reach up to six feet.
Bringing Rhubarb To Your Garden
If you have decided to grow rhubarb in your garden to have it for your own cooking need or mass production, you will find that this plant is easy to grow and harvest when it comes time for that. Although it may be susceptible to some pests, it will not suffer too much because of them.
Rhubarb is an amazing plant to grow, but make sure to provide it with lots of space and sun for it to bring high-quality products that you can use in your kitchen or for further distribution. And once you try out the desserts made with the rhubarb's stalks you will not stop thinking about including the plant in your garden.
Have you already planted rhubarb in your garden? Do you think of having it in your garden? Share your thoughts with me in the comments below.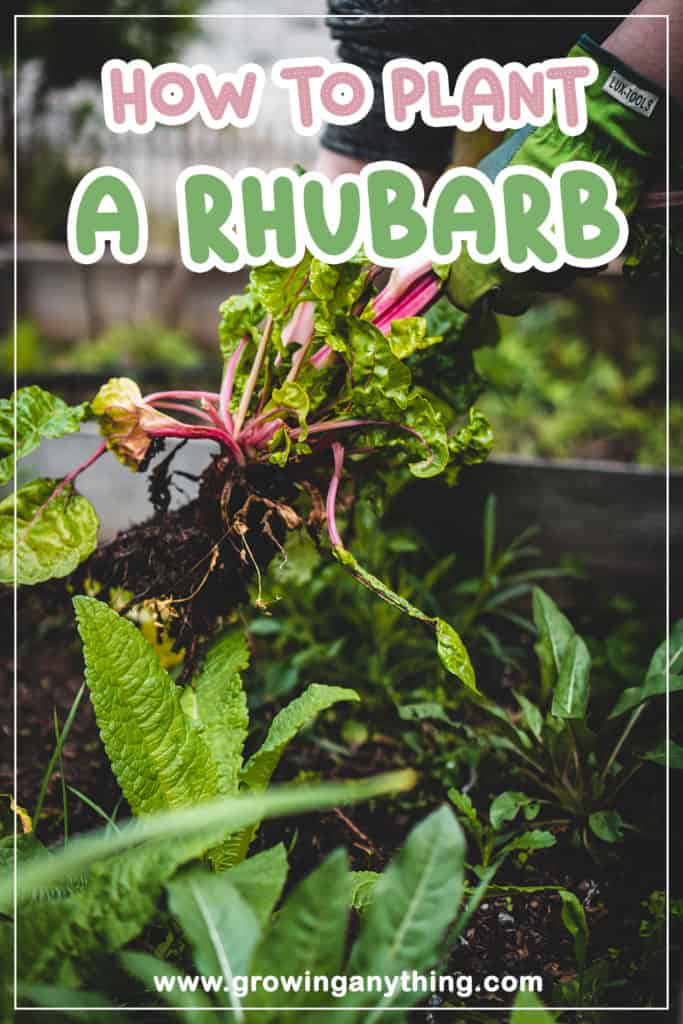 References
1947: The Great Rhubarb Controversy | Trade Lawyers – Barnes Richardson Colburn.
Rhubarb – Wikipedia. En.wikipedia.org.