I bet you all want some sunshine in your garden on days filled with clouds and rain, and these 55 types of orange flowers will satisfy you in no time.
I have included those types that shine when it's warm and those shining even brighter when cold, so you can have your own choices no matter where you live. And with a detailed tip attached at the end of each type, you won't have much difficulty growing them.
Are you ready now? Let's dive into the sea of orange flowers now!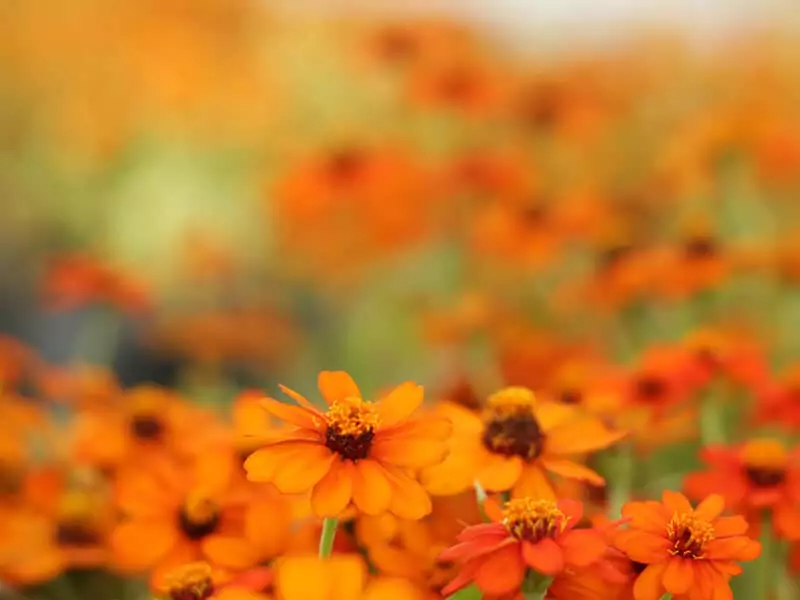 55 Flowers That Coat Your Garden With Golden Orange
Red, pink, white,… there are various flower colors. But in my mind, nothing can beat orange blossoms in terms of beauty and attraction. Scroll down with me!
Pot Marigold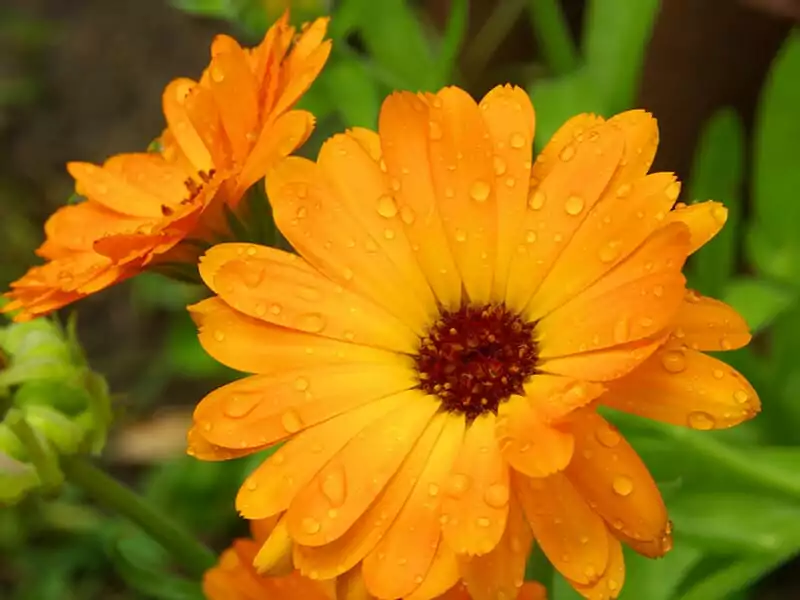 Other Names: Calendula
If the name "pot marigold" confuses you with the other orange marigold, you can call it Calendula. And while orange marigold only blooms in summer, this flower can bring sunshine to your garden even in winter.
With just under 15 minutes, you learn how to grow, harvest, and make this Calendula into oil. Watch this video:
Pocketbook Plant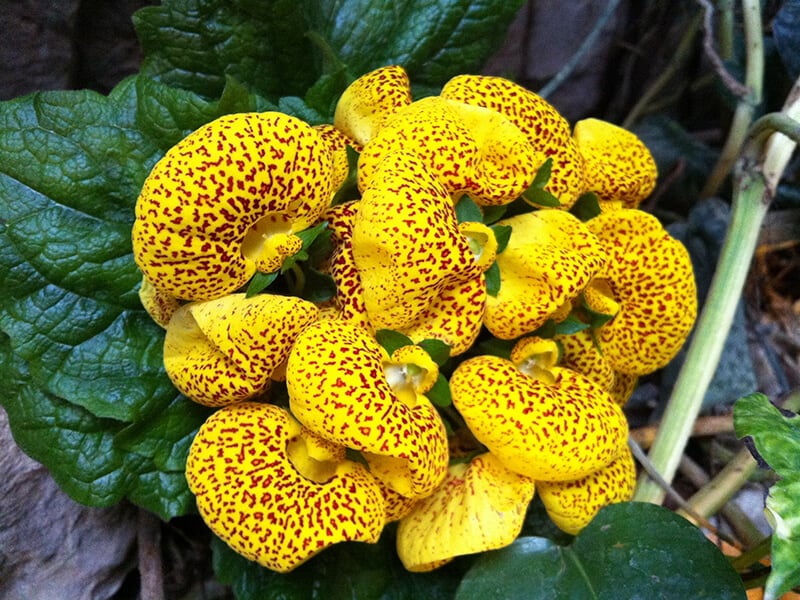 Other Names: Calceolaria Crenatiflora, A Lady's Purse, Slipper Flower, Slipperwort
If you're looking for some unique flowers as a Valentine present, start with this pocketbook plant now! Its orange color will lighten a smile on your lover's face for sure!
Taking care of your pocketbook plant is a piece of cake with this instruction.
Orange Marigold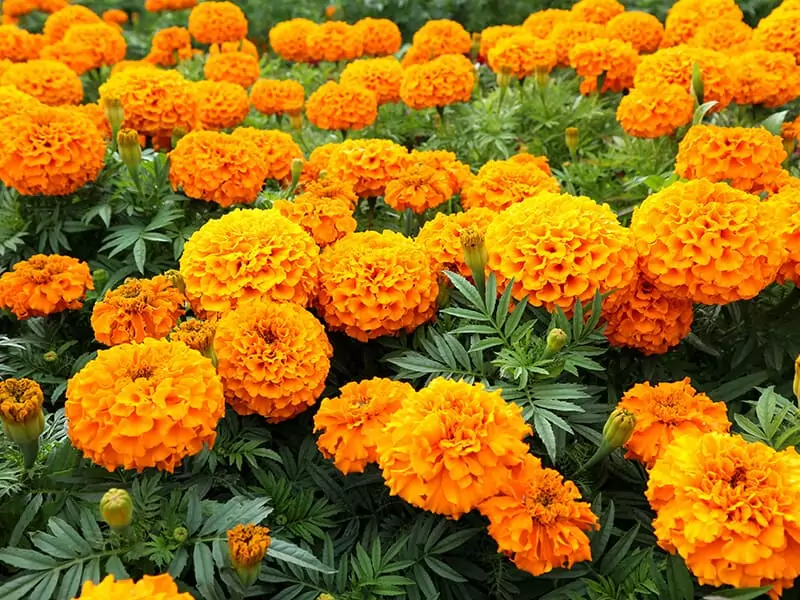 Other Names: Tagetes
These marigolds will coat your garden in a golden color throughout summer. And don't be afraid the sun will ruin its beauty. These Tagetes love sunshine, so just plant them somewhere with full sun.
Anything else you need to know about orange marigolds? Well, here it is!
California Poppy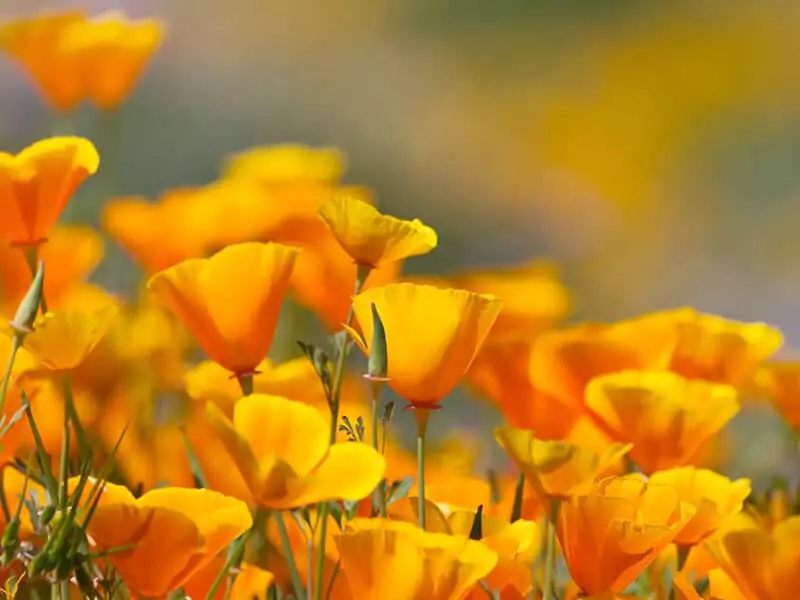 Other Names: Eschscholzia California, A Cup Of Gold, California Sunlight, Golden Poppy
No matter which name you call this poppy, the fact that it'll make your garden much more gorgeous under the summer heat with its cup shape and bright golden color.
There are still numerous fascinating things about California poppies.
Orange Poppy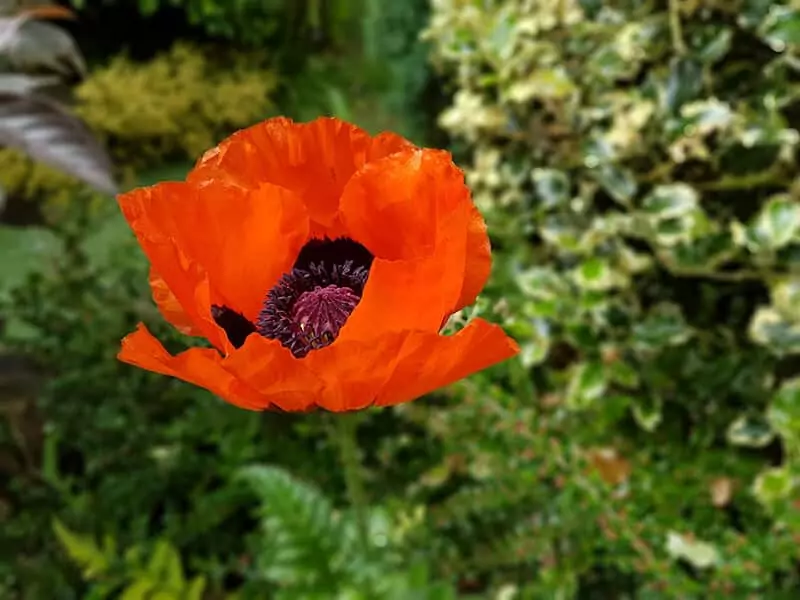 Other Names: Papaver Orientale, Oriental Poppy, Prince Of Orange
If you prefer some contrast for your garden, then switch out the California poppy and plant this instead. As this blossom has dark centers, making it into a flower bed in your yard would be an excellent choice.
Learn how to take care of Papaver Orientale with this!
Orange Cockscomb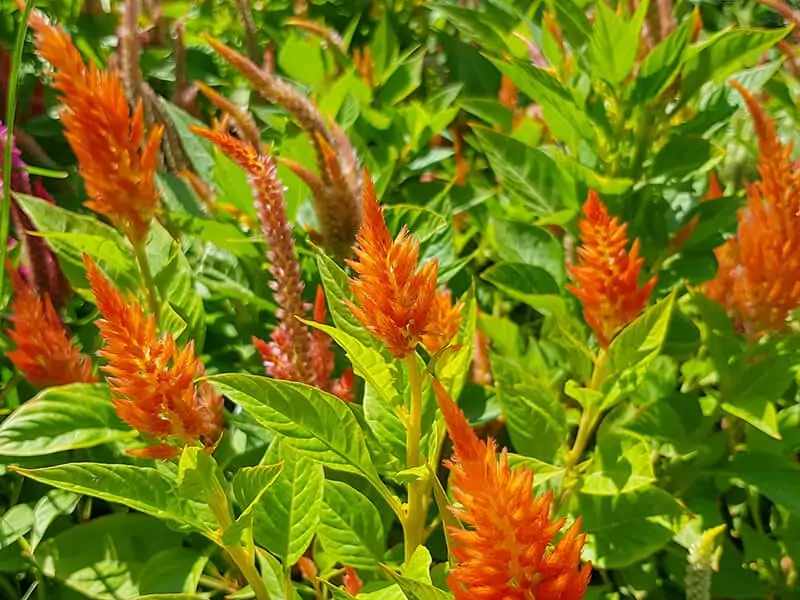 Other Names: Celosia Cristata
Here is another orange flower. This one has two varieties for you to choose from: One has a cone shape, whereas the other comes in the form of wavy orange blooms.
No matter which type of orange cockscomb you pick, you'd better read these growing tips in advance.
Mexican Sunflower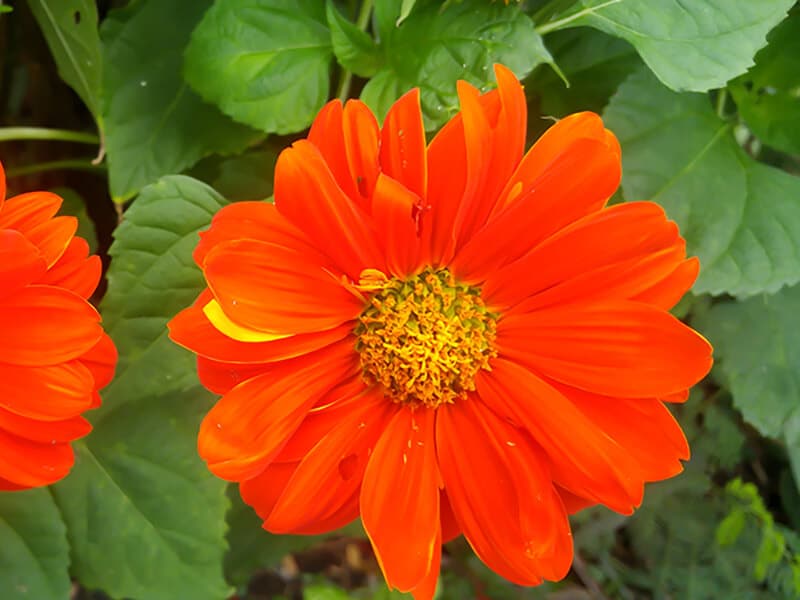 Other Names: Tithonia Rotundifolia
Typically, "sunflower" means bright yellow. But that isn't true with this Mexican variant. It's not as big as the regular ones and has a deep orange tone. Anything's more surprising?
Mexican sunflowers bloom twice a year, one lasting shortly in spring and another in summer.
The tricks to keep Tithonia bloom twice are here!
Orange Aloe Vera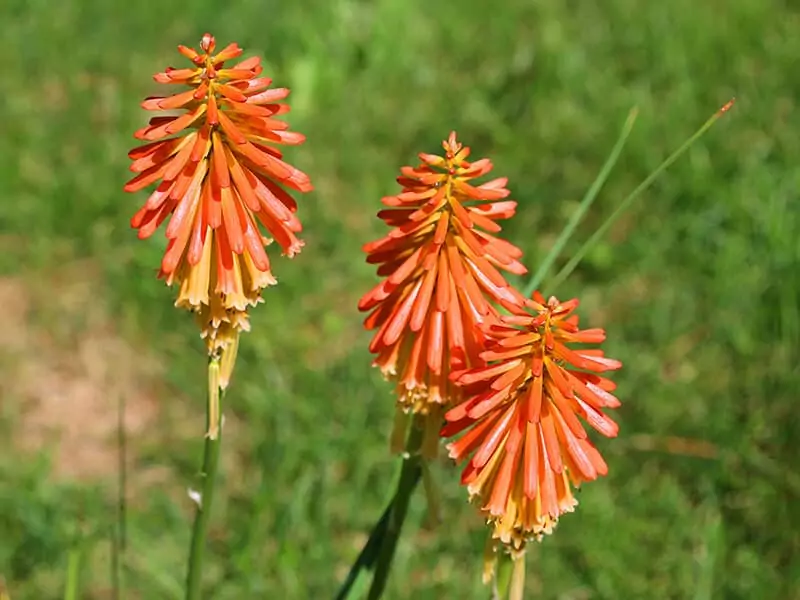 Other Names: Aloe Barbadensis
Many people know about aloe vera's health benefits, but few have seen its beautiful orange flower. While this boom can't handle cold weather, it can tolerate drought just fine.
You want to enjoy the flavor of aloe vera, right? Then, pay attention to this instruction!
Orange Begonia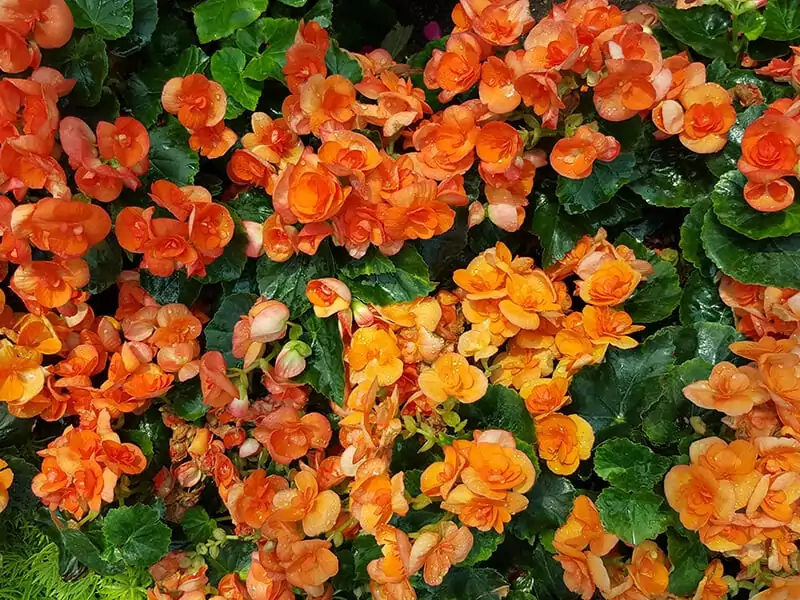 No matter whether it's a bed of flowers or hanging baskets, orange begonia will light up your garden more than you could have imagined. This plant comes in several kinds in different sizes to suit whichever your demand is.
"Nonstop Orange" is one of the most famous among other orange begonia types.
Orange Bird Of Paradise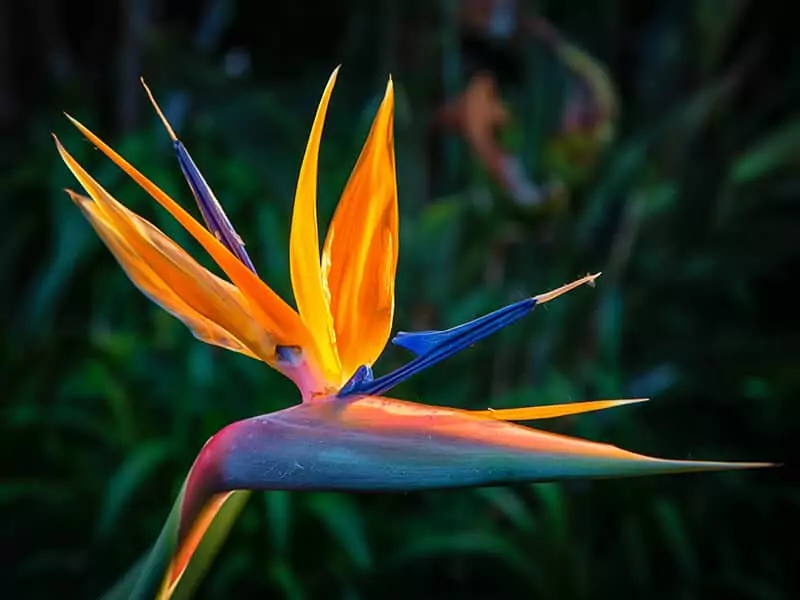 Other Names: Strelitzia Reginae
This flower will be a nice accompaniment for your tall vases with a shape resembling a flying bird. Bird of paradise is a pretty tolerant plant, you just need to protect it from the cold, and its beauty is all yours to watch.
Here is a complete guide on how to grow an orange Bird of Paradise.
Orange Coneflower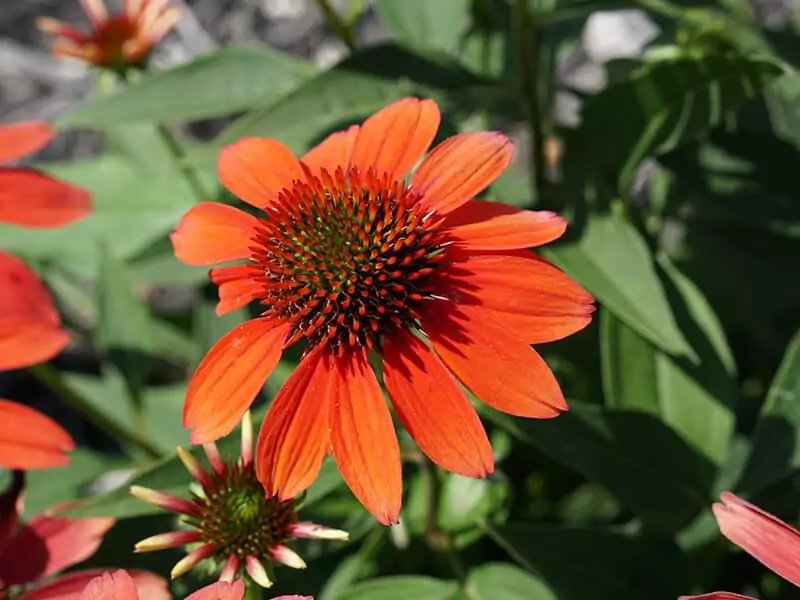 Other Names: Rudbeckia Fulgida, Sombrero
This coneflower will attract various birds to your yard, thanks to the seeds in its cone. Aside from that, its orange petals with a black center cone will make your garden strikingly beautiful.
Learn how to take care of this orange coneflower with some help from this guide.
Lantana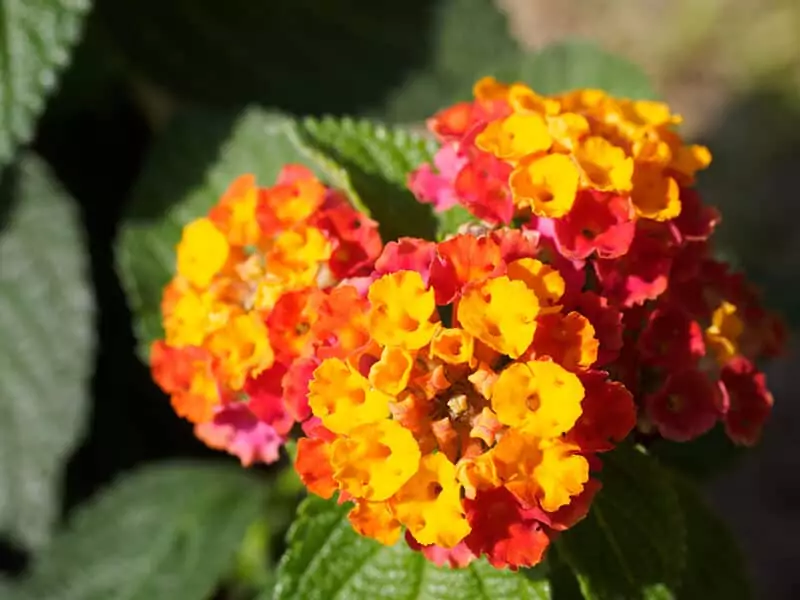 Other Names: Lantana Camara
Unlike some plants in this list with big, proud blooms, lantana consists of several tiny orange flowers. That makes it an ideal choice if you want to decorate your house with some hanging baskets.
You can't find any guide about growing lantana more detailed than this! Watch this video:
Orange Rose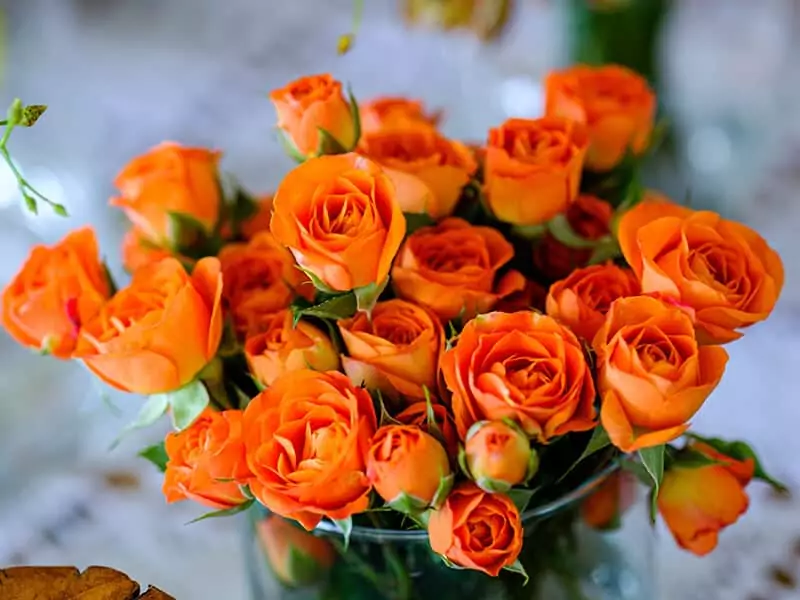 Other Names: Rosa
How can I leave roses, the queen of flowers, out of this list? While orange roses can't provide you with a robust fragrance like other relatives, their presence is enough to take your garden to another level.
Are you curious about the meaning behind orange roses?
Orange Daylily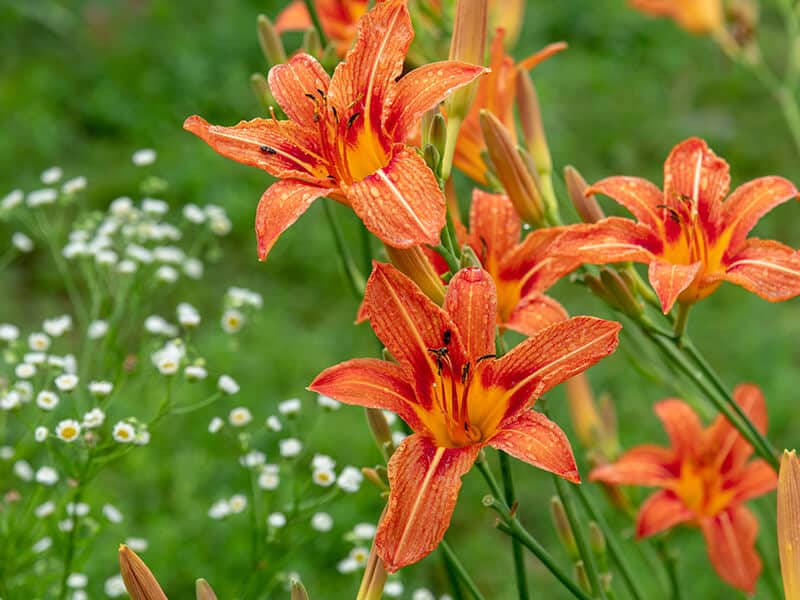 Other Names: Hemerocallis Fulva, Tiger Daylily, Tawny Daylily, Ditch Lily, Flore Pleno
You may wonder why this flower is called "daylily" while it looks almost like other regular lilies. That's because this one can last only 24 hours. It'll wilt at dusk, and another flower will bloom the next day.
Discover more about this unique orange daylily!
Orange Pansy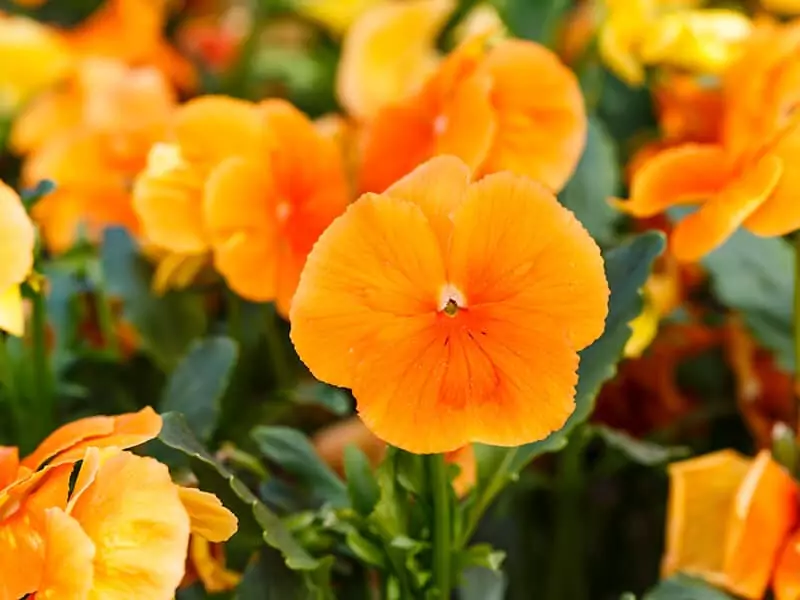 No garden can lack a bush of these lovely orange pansies. Not only can you grow them at any time of the year, but you can also enjoy their pleasant aroma.
But first, you need to know how to take care of these flowers, such as this pansy "Deep Orange".
Orange Bulbine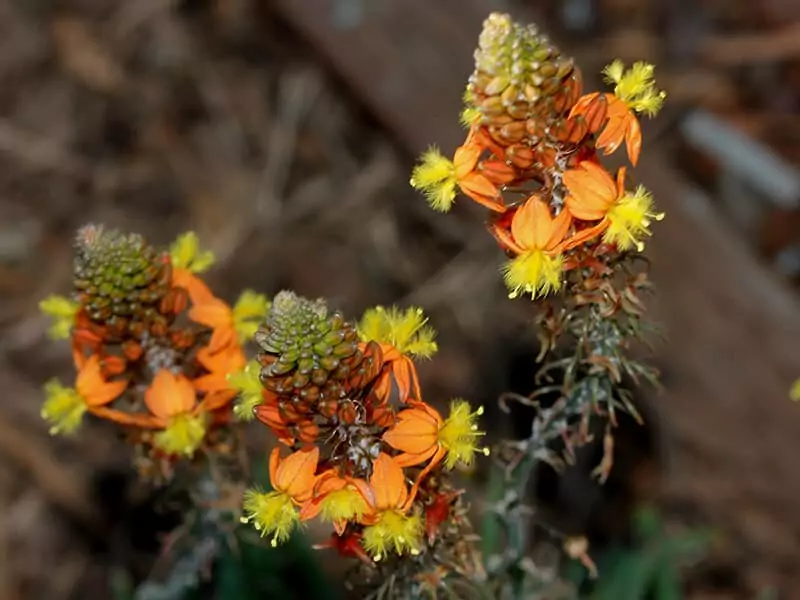 Other Names: Bulbine Frutescens
There's no surprise if you haven't heard about the bulbine before since it originated in South Africa. This succulent plant is known for its orange curving petals with frilly yellow stamens.
Read this and prepare a space in your garden for orange bulbine now!
Strawflower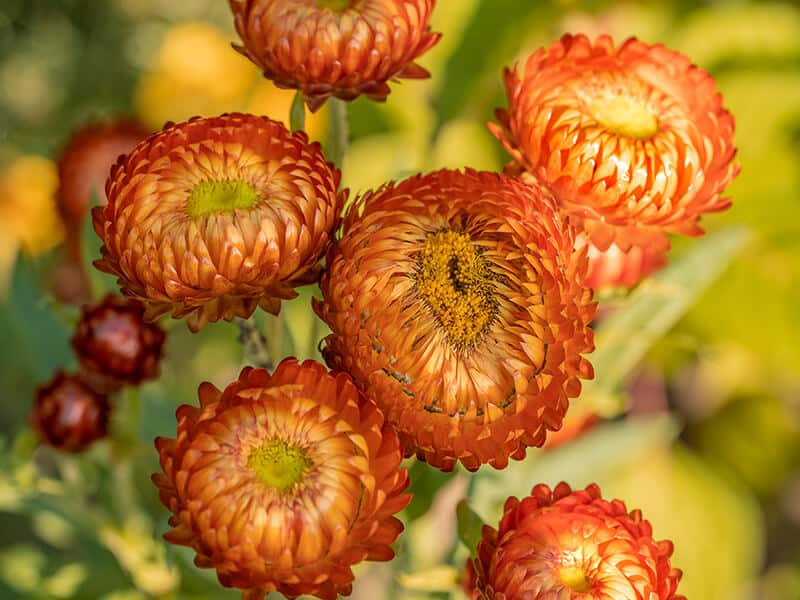 Other Names: Xerochrysum Bracteatum
When mentioning straw, you often imagine a bright yellow. But this flower lies more on the orange hue, as it looks like a miniature sun at sunset.
Keep your strawflower bloom with this guidance!
Orange Zinnia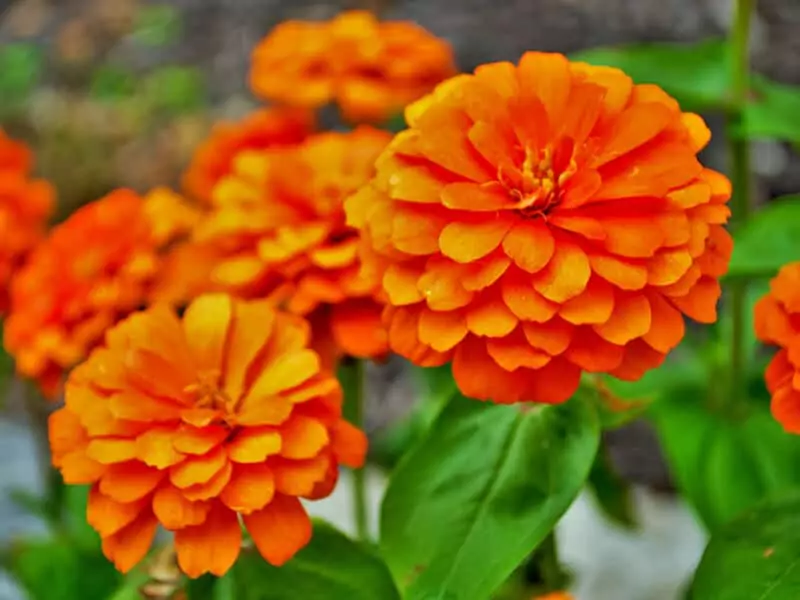 Other Names: Zinnia Elegans
Zinnia comes in various colors: red, pink, white, or even multi-colored. However, this orange type is my favorite. And even with just this golden tone, you have several varieties to select: the "Queeny Lime Orange", the "Orange King", or the "Zinderella Peach".
Discover other knowledge about orange zinnia!
Gerbera Daisy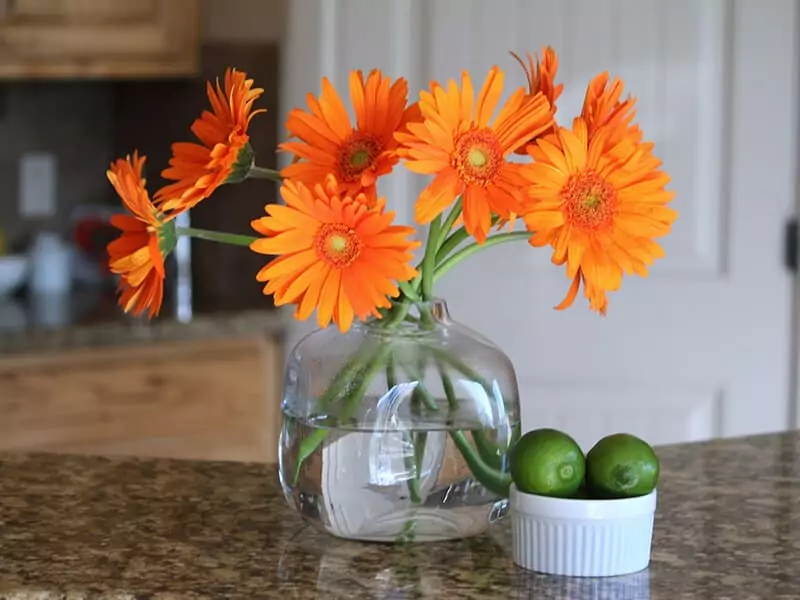 Other Names: Gerbera Jamesonii
Want some cut flowers for your vase? Then, here is a king among millions of cut blossoms for you: Orange gerbera daisy! With its 4-inch height, this flower can fit into any of your vases.
Keep your Gerbera Daisy bright with this guide!
Chrysanthemum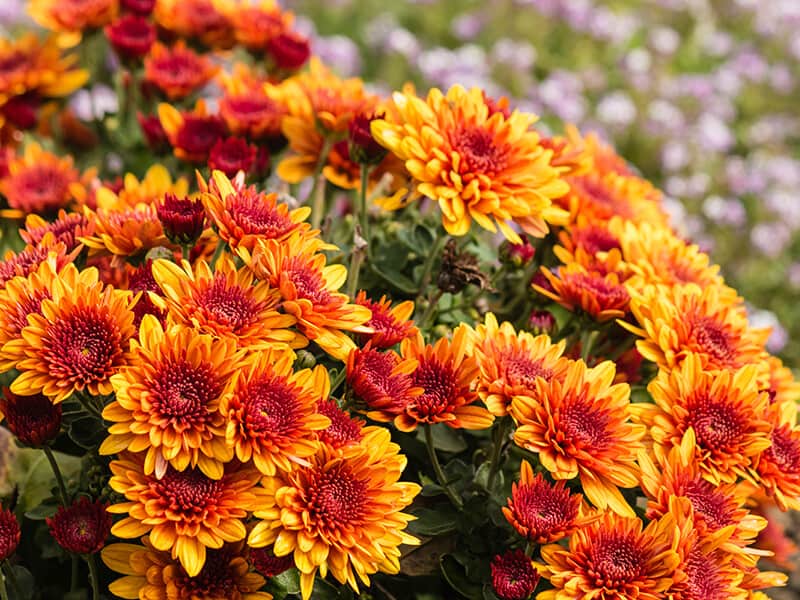 Other Names: Mums
Nothing amazes me more than a massive pot of orange chrysanthemum at fall. There are hundreds of types for you to choose from: "Miranda Orange", "Dazzling Stacy", "Dixter Orange", etc. Each comes with a slightly different orange hue.
Here is the list of all the orange chrysanthemums.
Orange Buttercup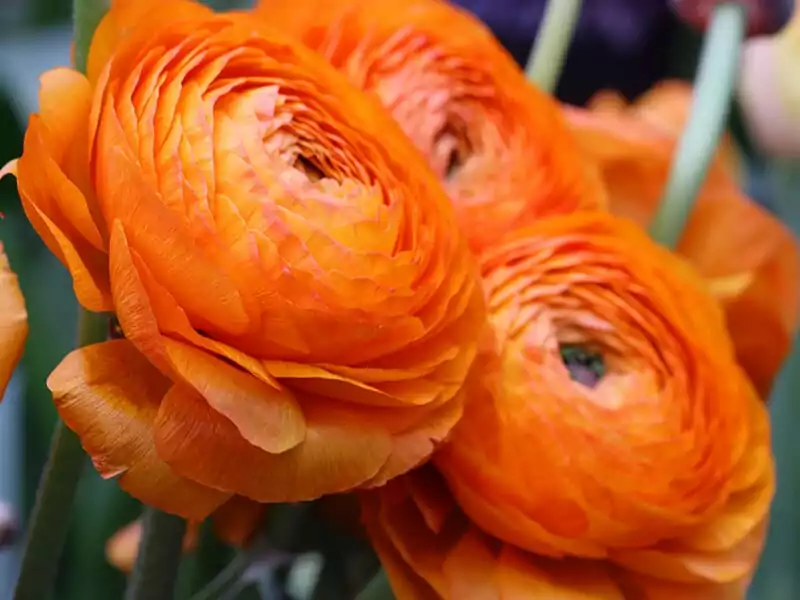 Other Names: Ranunculus
Various silky petals stacking upon each other create this gorgeous flower. Nothing can beat it, especially when you put it beside some blue, yellow, and white blossoms.
You'll be an expert about the buttercup "Elegant Orange" after reading this.
Tiger Lily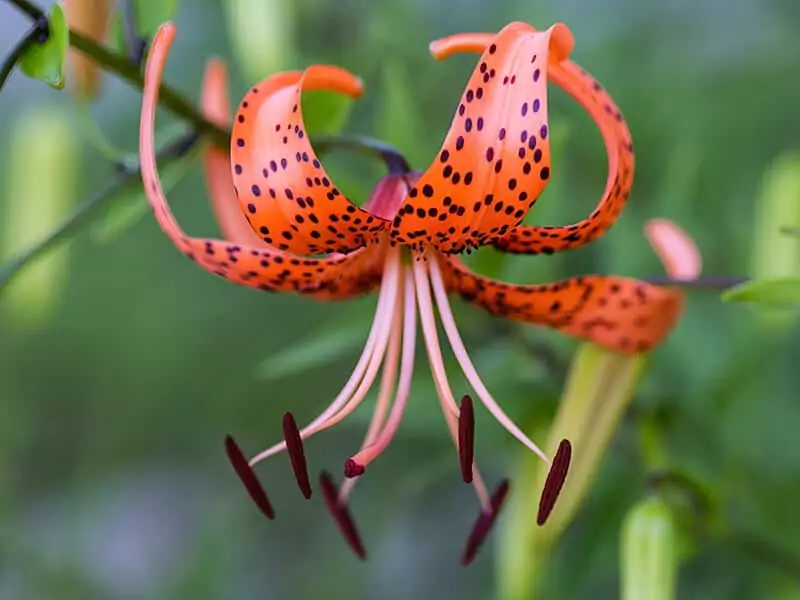 Other Names: Lilium Bulbiferum, Orange Lily, Fire Lily, Jimmy's Bane
One look at this lily can blow your mind away! On its six trumpet-shaped petals are thousands of black dots, making it really identical to a tiger from afar.
Do you know Tiger Lily is the symbol of wealth and pride?
Butterfly Weed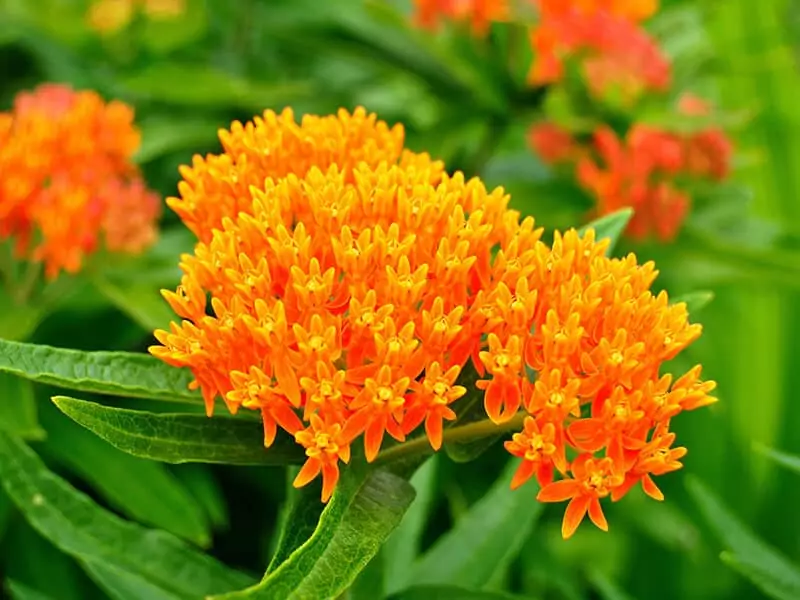 Other Names: Asclepias Tuberosa, Butterfly Milkweed, Chigger Flower
As its name has suggested, this one can easily lure butterflies to your garden. However, butterfly weed isn't for those who are busy as it needs to be watered constantly.
You don't want to miss this ultimately growing butterfly weed guide! Watch this video:
Orange Cosmos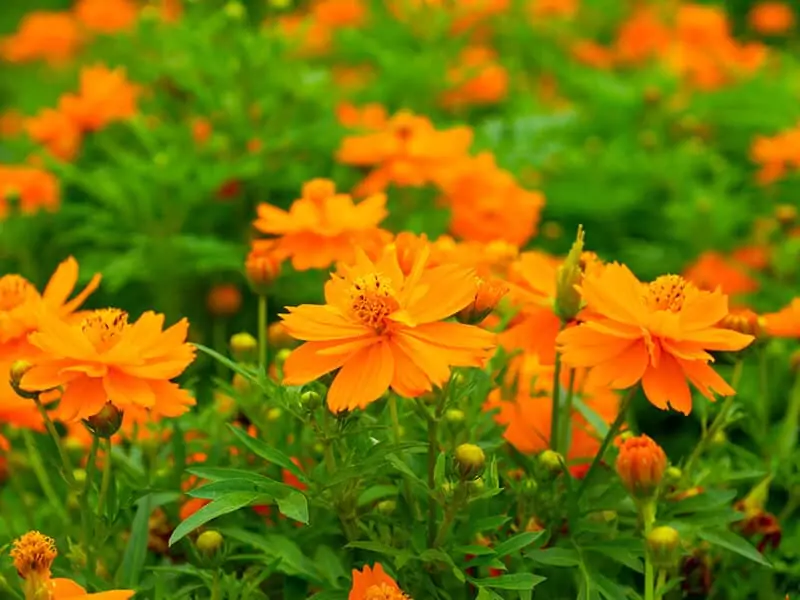 Who doesn't love this fragile-looking flower? What's better than having your garden filled with orange cosmos in summer? Here, I'll answer for you: No!
So, be prepared to take care of this orange cosmos throughout summer!
Wallflower
Ok, I admit: Wallflowers aren't orange full-time. Some days they can be orange, and the next day they can change into pink or purple. But since these flowers are so versatile, why not have some for your rock walls or containers?
This wallflower "Sugar Rush Orange" is my recommendation for you.
Orange Tulip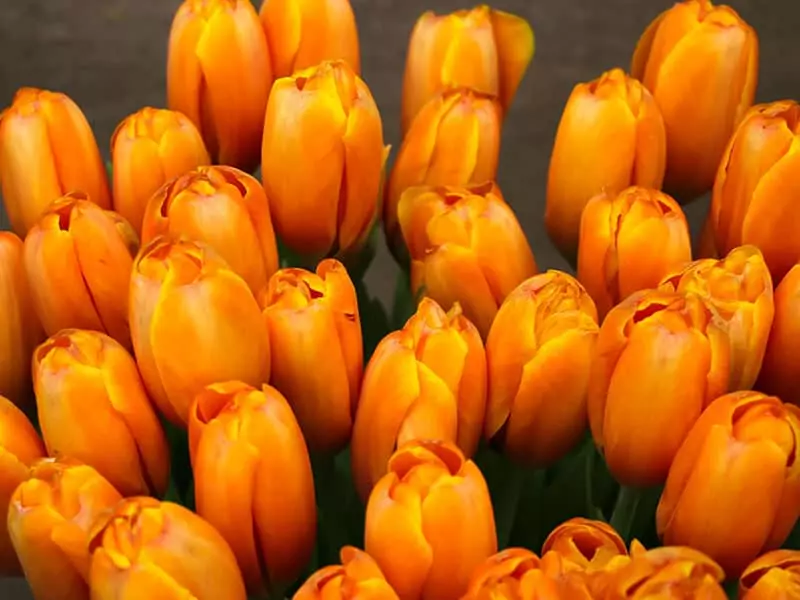 Other Names: Tulipa
Everyone loves tulips, no matter what color they are. So, why don't you try some orange varieties to welcome spring to your home? You need to sow the seeds in the fall and let time do its job.
Let's see which orange tulips I have for you!
Orange Iris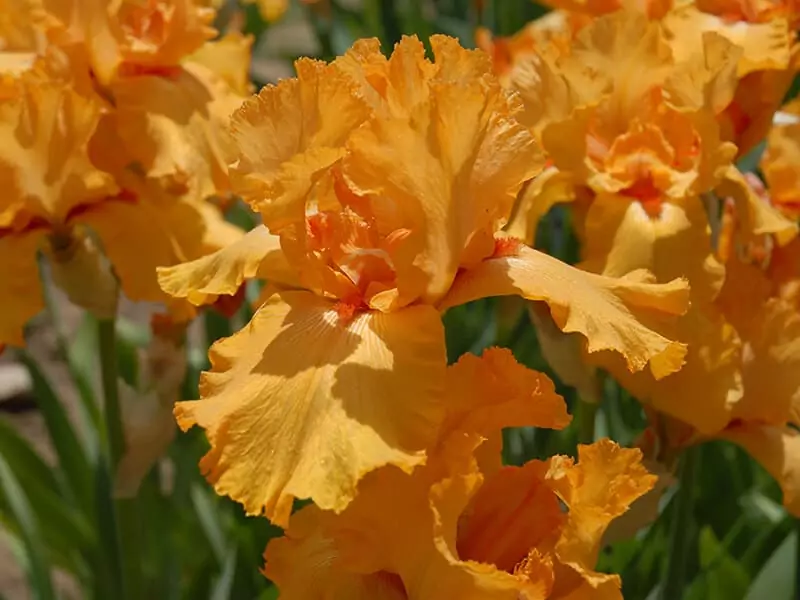 You've seen white irises, black irises,… But how about orange ones? If not, it's time for you to try them now. And my favorite part about irises is that their petals will have different shades of color each.
Are you ready to know one of the most famous orange irises – the "Maid of Orange"?
Flowering Maple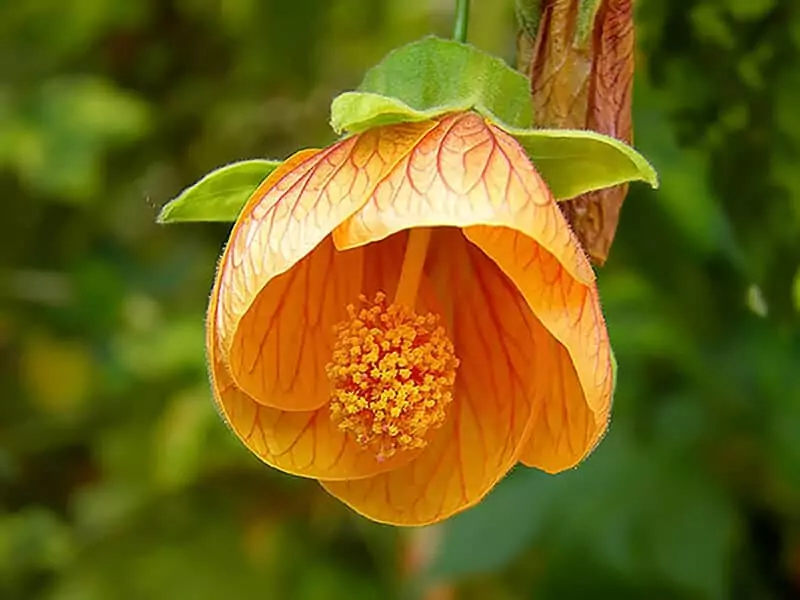 Other Names: Abutilon X Hybridum, Parlor Maple
Many admire maple leaves when autumn comes, but wait until they meet this flowering maple! This only appears on abutilons, a plant similar to small maple trees, in the form of a bell-shaped flower.
Want to grow this flowering maple outdoors? Then, you must look for these tips!
Canna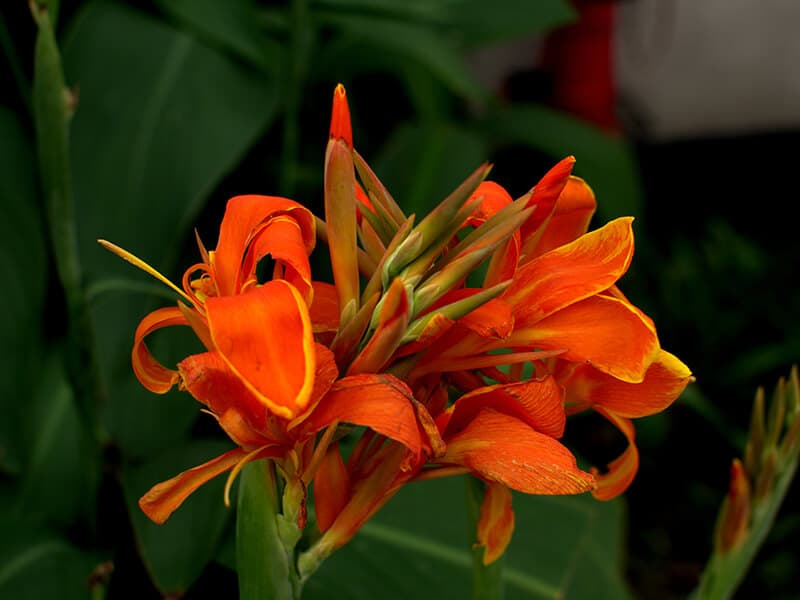 Other Names: Canna Lily
While you may have met it under the name "Canna Lily", this flower doesn't belong to the lily category. If I have to compare, canna looks more like a hibiscus with its droopy petals.
The guide to caring for canna is here! Don't hesitate any longer!
Orange Cymbidium Orchid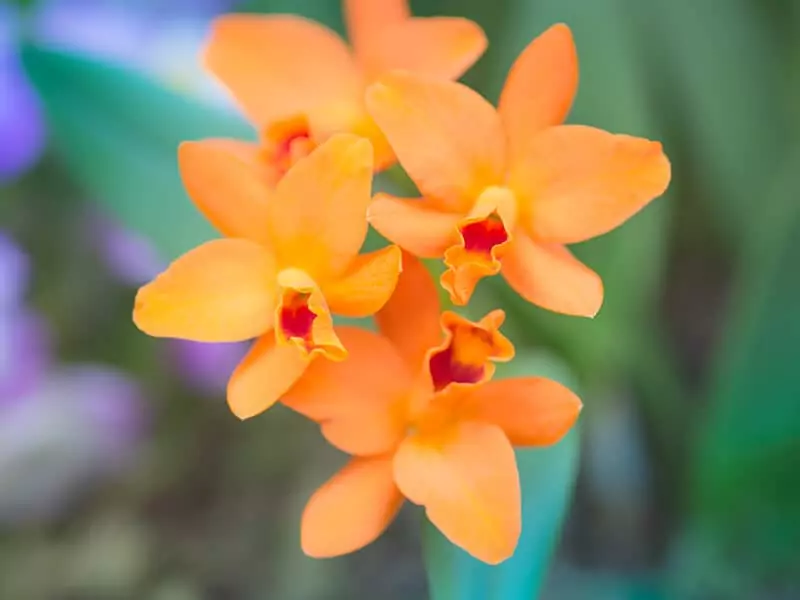 Other Names: Cymbidium, Boat Orchid
Compared to other orchid species, this orange version survives better in cold temperatures. Thus, it's a perfect gift for any gardening beginner.
The mini version of this orange orchid is no less famous. Here are some secrets revealed for you!
Orange Peruvian Lily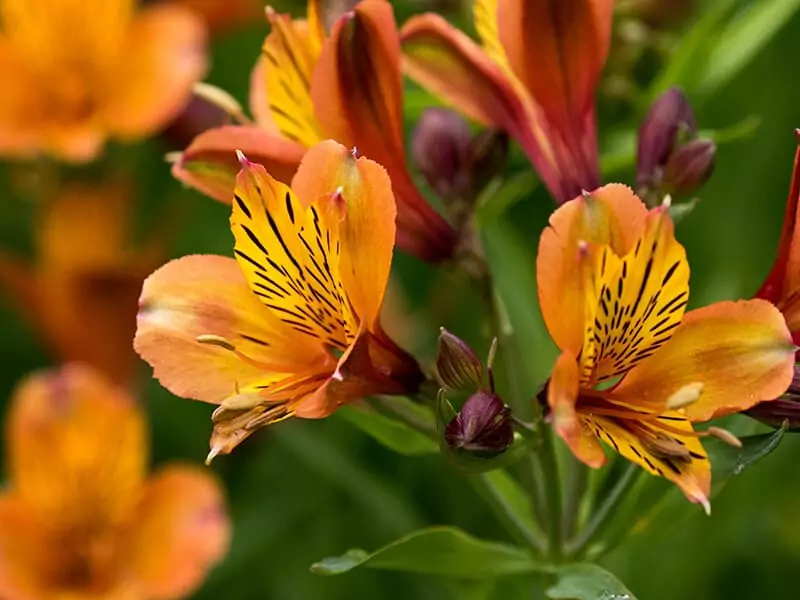 Other Names: Alstroemeria, Lily of the Incas
This exotic flower carries the meaning of undying love and friendship. What a superb present for your loved one, right? And when coming with other blossoms, Peruvian lilies make a charming bouquet.
Lily of the Incas is quite delicate, so you'd better read these notes!
Orange Dahlia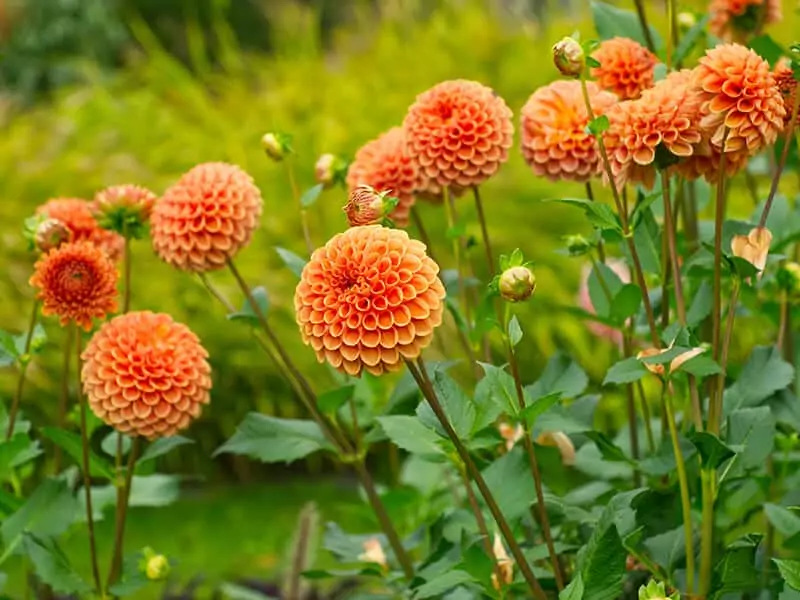 Other Names: Dahlia Pinnata
As an award-winning flower, orange dahlia really livens up its fame. With its big blossom and spiky petals in a deep orange hue, no one can refuse dahlia's presence in their garden.
Some of the most stunning orange dahlias are waiting for you!
Chinese Lantern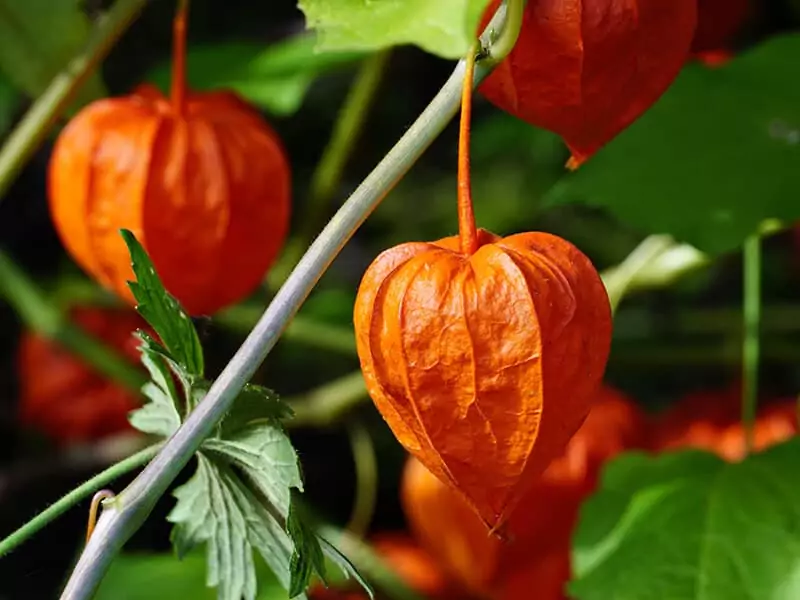 Other Names: Physalis Alkekengi
No, I don't mean the literal Chinese lantern. What I want to talk about is the plant with its pods covered by calyxes. These calyxes make them look like small lanterns hanging on the tree.
Grow this Chinese lantern for autumn nights.
Red Hot Poker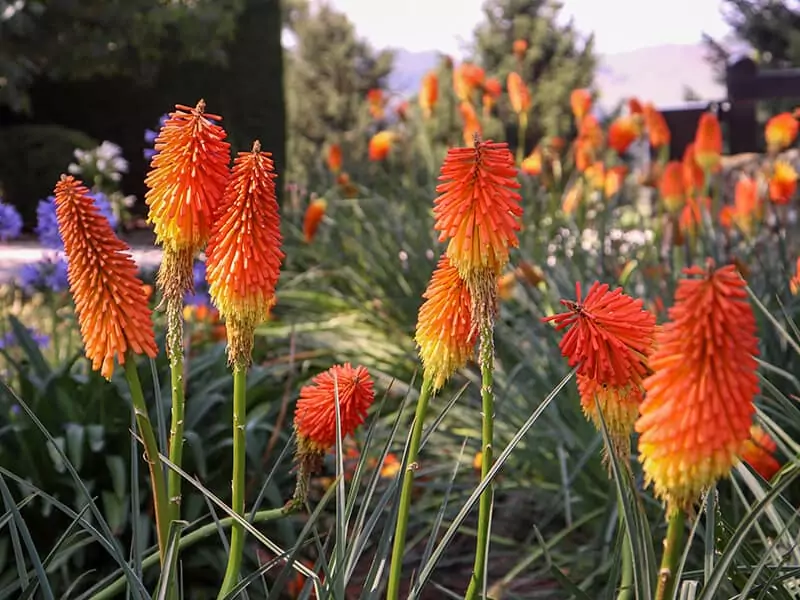 Other Names: Kniphofia Uvaria, Torch Lily
Although it has "red" in its name, this Torch Lily's color is actually more orange than red. Accompanying its hue is the cone shape, making it look like a flaming torch, hence its other name.
If you don't know if you should love this red hot poker, you should listen to this instruction:
Coppertip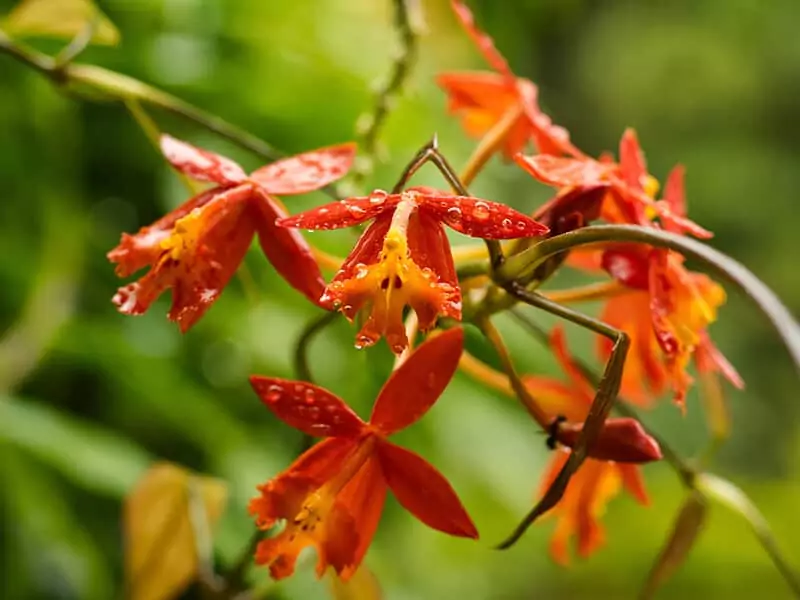 Other Names: Crocosmia, Montbretia
If you intend to build a hummingbird garden, this coppertip is a must-have. It can bloom from mid-summer through fall, guaranteeing your garden alluring all the time.
Several exciting facts about this extravagant coppertip!
Crown Imperial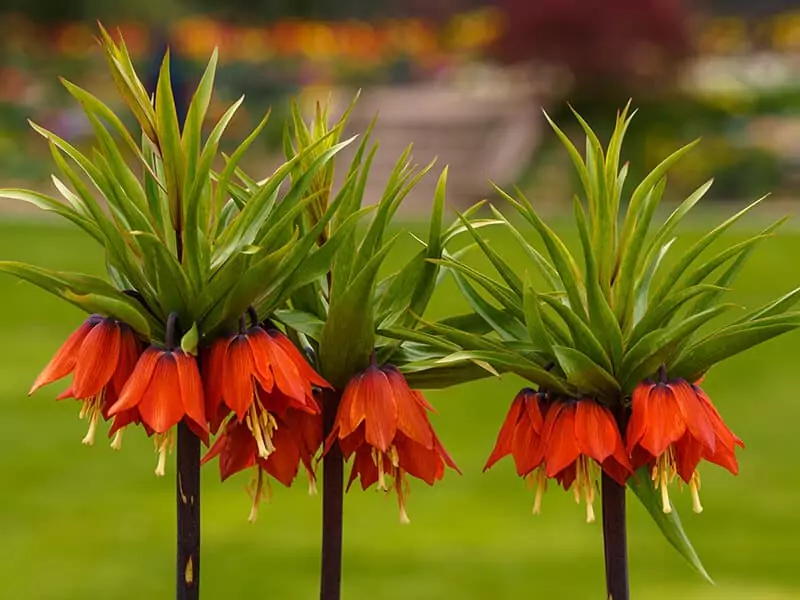 Other Names: Fritillaria Imperialis, Kaiser's Crown
This plant stands out thanks to its dramatic appearance. You can imagine it right from its name. Unlike other flowers, crown imperial usually has its flowers facing down.
I bet you haven't heard about these stories about this Crown Imperial.
Lion's Tail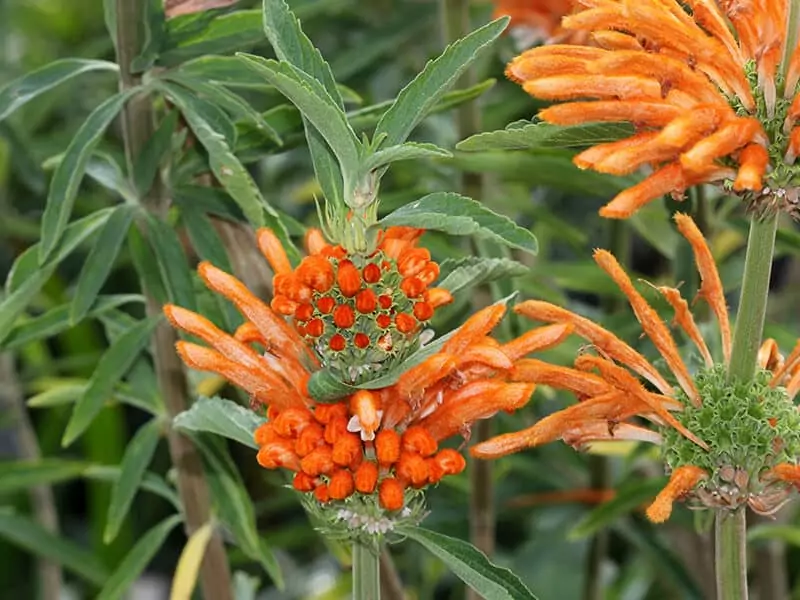 Other Names: Leonotis Leonurus
Do you dare to see a lion's tail in real life? With a real lion, maybe you won't. But if it's this beautiful flower, you can't take your eyes off it.
Let's see how lion's talks look like in your garden?
Orange Carnation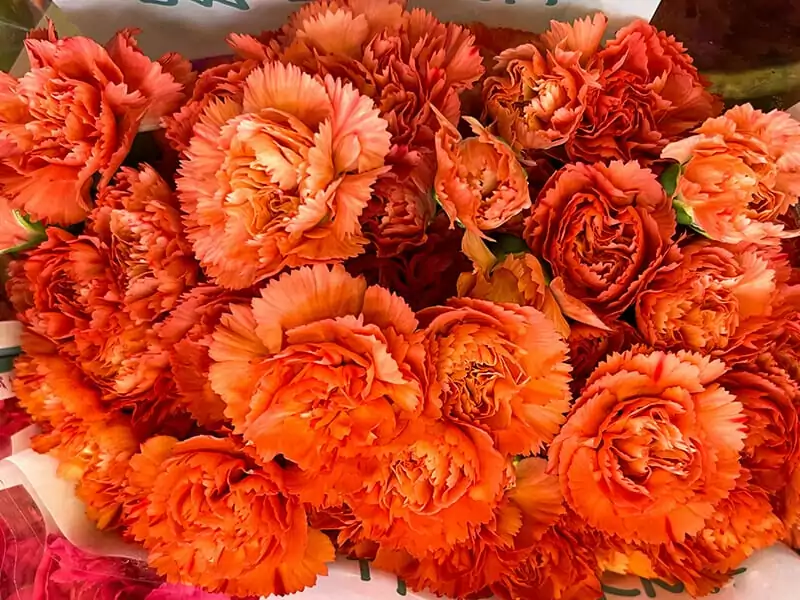 Other Names: Dianthus Caryophyllus, Grenadine,
Carnation is another flower that can decorate your garden with its peach-orange color at any time of the year. Just make sure you cut the spent blooms so the next one can grow.
Learn this meaning of carnations and prepare it for your family and friends.
Helenium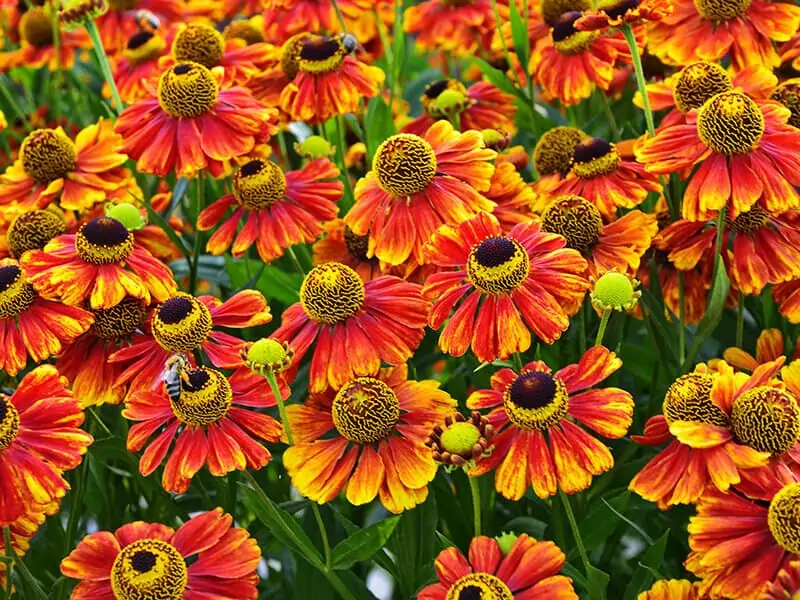 Other Names: Sneezeweed
This helenium will warm your garden up when the temperature drops with its vivid orange tone. Sometimes, you'll catch sneezeweeds with petals coming in two shades of orange and yellow.
Let's see how you should tend to this helenium to keep them bright all the time.
Orange Star Flower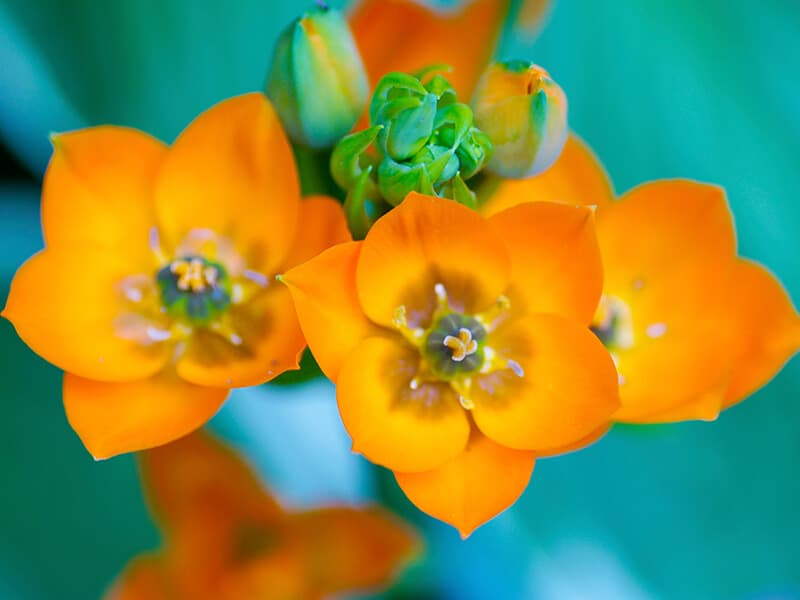 Other Names: Ornithogalum Dubium, Star Of Bethlehem, Sun Star
Your winter garden won't look so dull if you plant this star flower beforehand. With its star-shaped blossoms, this plant makes your yard look like a sea of stars.
Here is the answer in case you want to propagate orange star flowers.
Trumpet Vine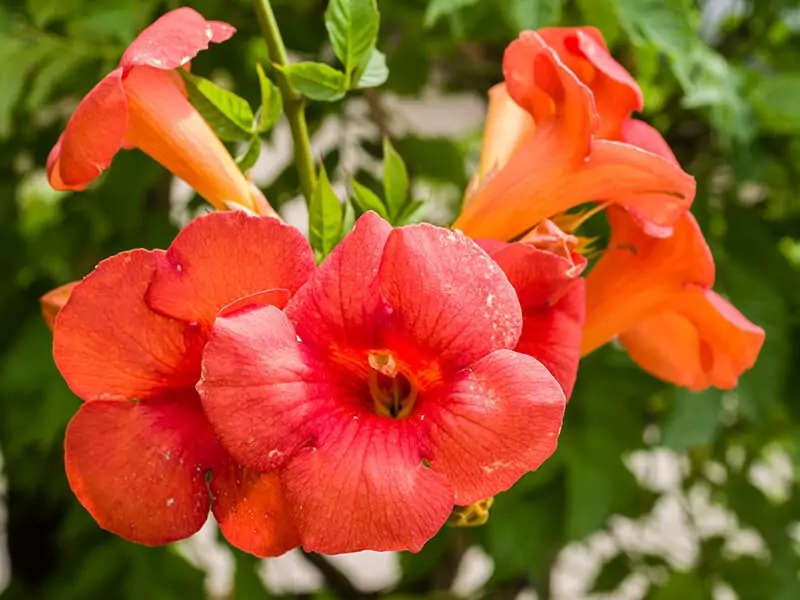 Other Names: Campsis Radicans
Just like its name shows, this plant provides trumpet-shaped flowers. And since it's a pretty vigorous climbing plant, growing trumpet vine will create a beautiful orange wall for you.
How to limit its growth so as not to get too aggressive? This is the solution.
New Guinea Impatiens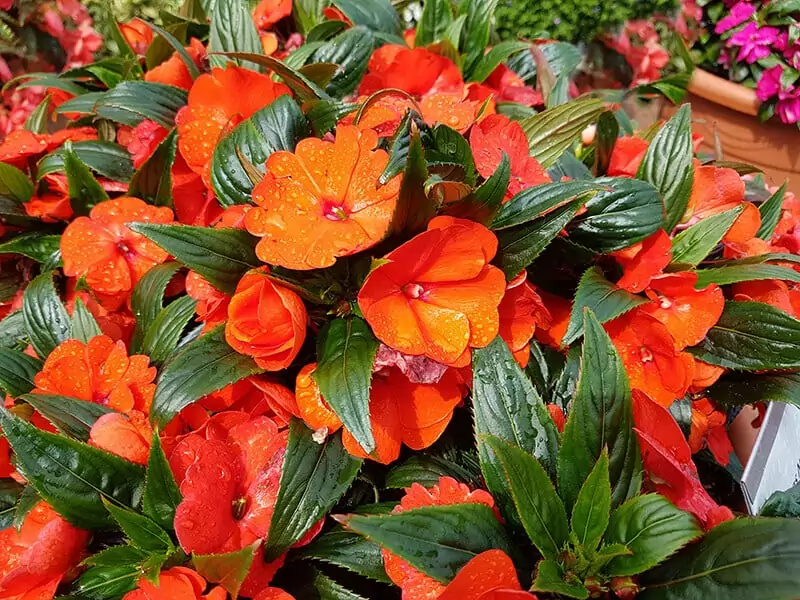 Other Names: Impatiens Hawkeri
You might look at its name and think it's going to be a challenge to plant this flower. But the truth is entirely opposite, as it can thrive in any soil.
Still, there are some tricks in caring for New Guinea Impatiens you should discover.
Trumpet Honeysuckle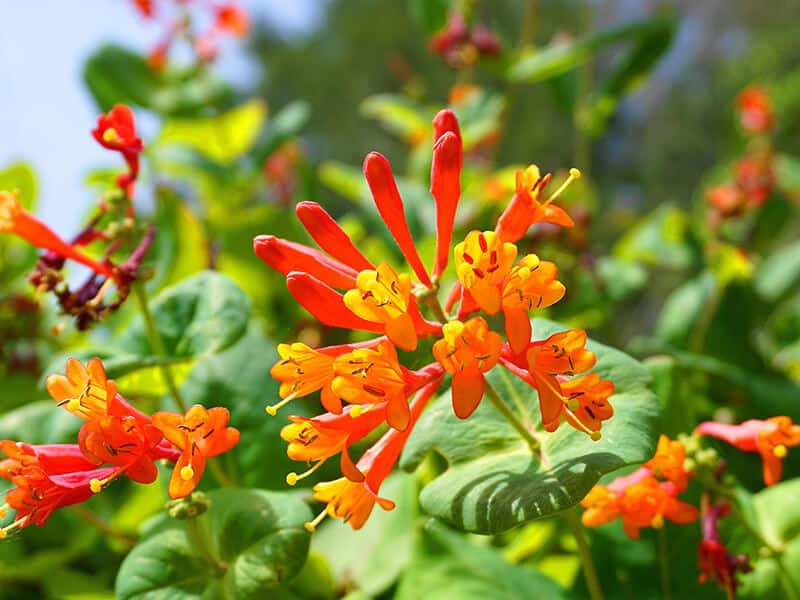 Other Names: Lonicera, Orange Honeysuckle, Northwest Honeysuckle, Western Trumpet, Coral Honeysuckle
Aside from its lovely orange blooms, this honeysuckle also provides you with a pleasant scent. It'll be a superb climbing or trailing plant for your garden.
An informative article about trumpet honeysuckle.
Pincushion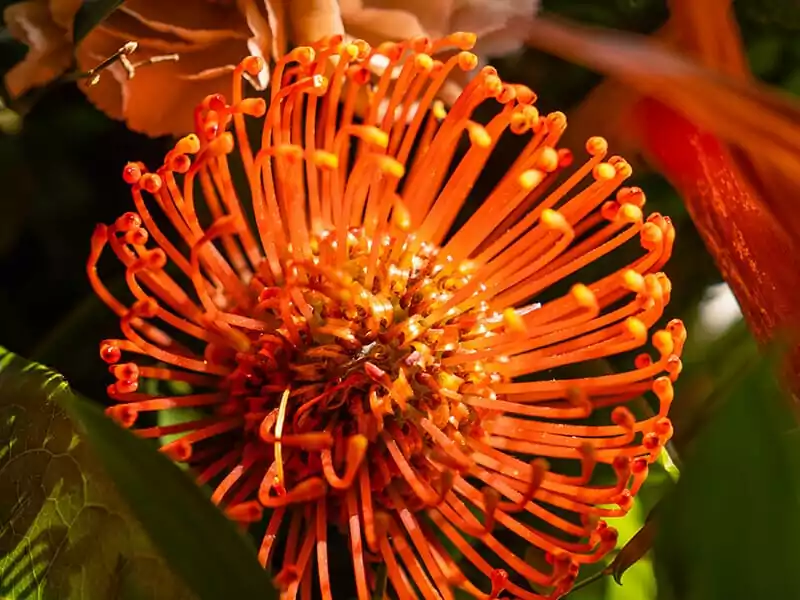 Other Names: Leucospermum
Long thin petals surround the round center, no wonder why this flower is named "pincushion". But don't let its description fool you as it will be a nice decoration in your garden or flower bouquet.
Disclose some more about this pincushion.
Penstemon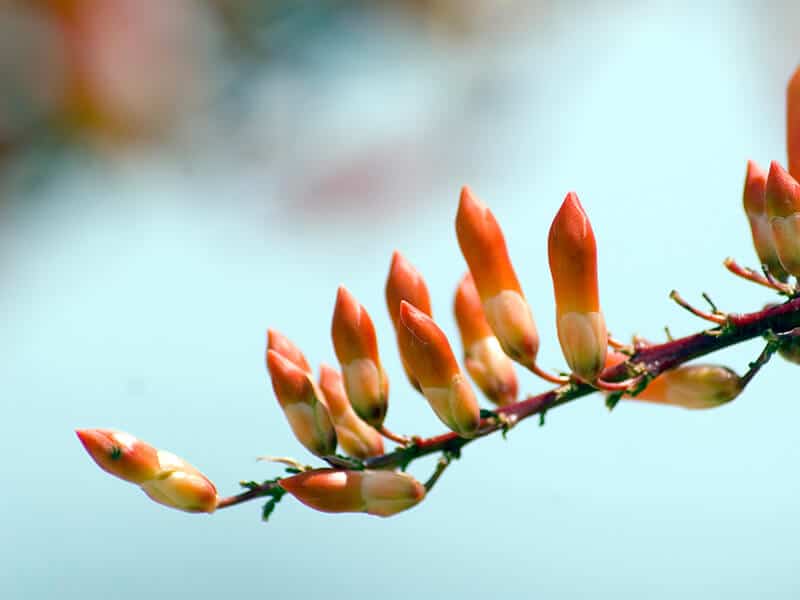 Other Names: Firecracker
This flower can grow 3 feet maximum, but only under direct sunlight. Its orange-red flowers will bring lots of birds to your garden.
Let's find out where you should plant these penstemons.
Orange Nasturtium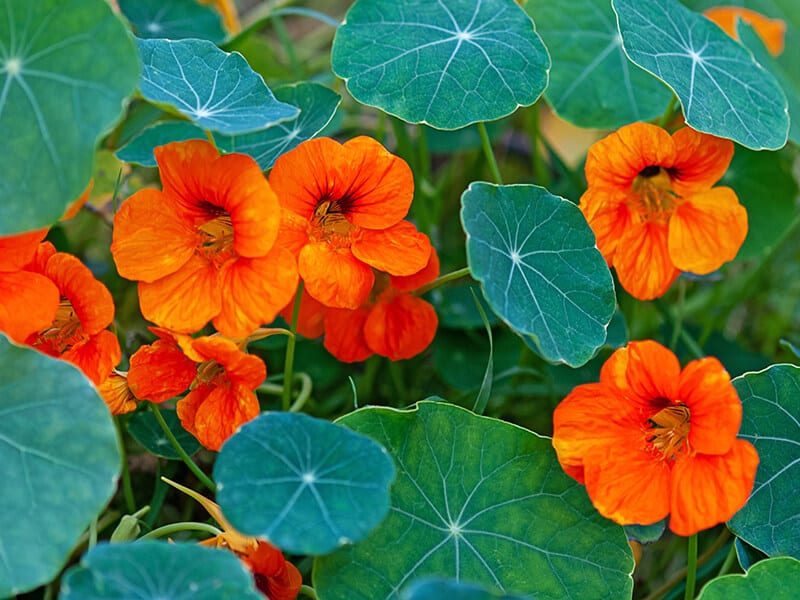 Other Names: Tropaeolum
As nasturtium doesn't prefer hot weather, it'll be a nice choice to bring some bright color to your garden when it gets cold. You can grow nasturtium into medium-size flower walls.
Do you know nasturtium is edible? There are still some more fascinating facts about it.
Orange Moss Rose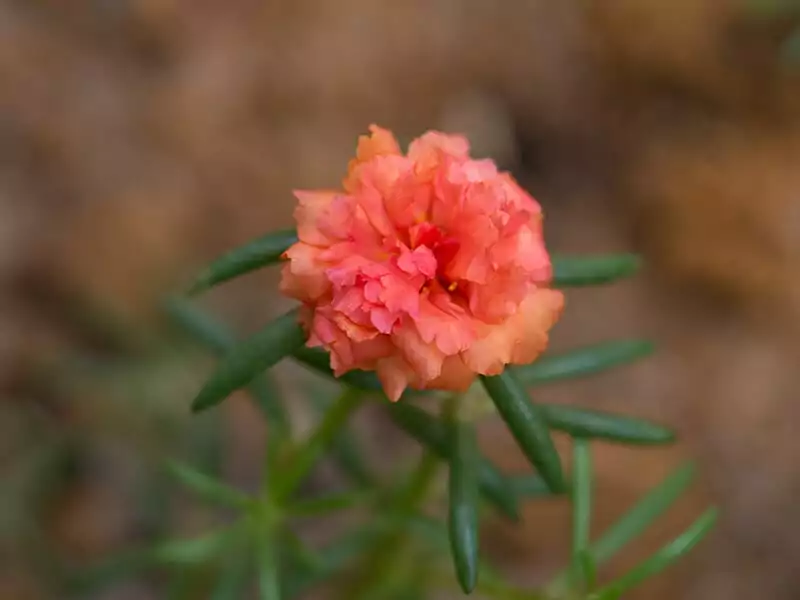 Other Names: Portulaca Grandiflora
While it is called "rose", it doesn't look like a rose at all. Though moss roses are pretty short, they suit more as a ground cover or staying in the container.
Orange moss rose can handle high heat, but what else should you pay attention to?
Orange Snapdragon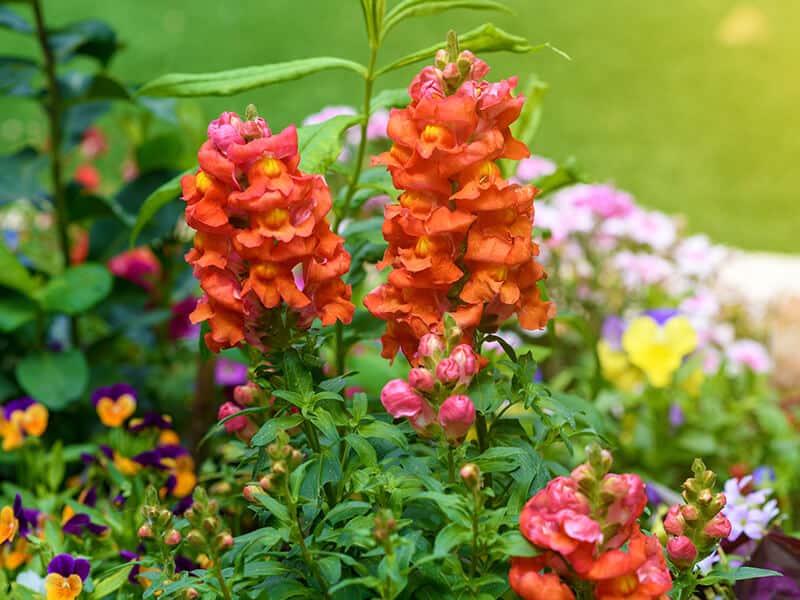 Other Names: Antirrhinum
No orange flowers can make your garden stand out more than this snapdragon. With its ruffled petals, this plant can be a lovely adornment for any celebration.
You must want to know about snapdragon's flower meaning.
Nemesia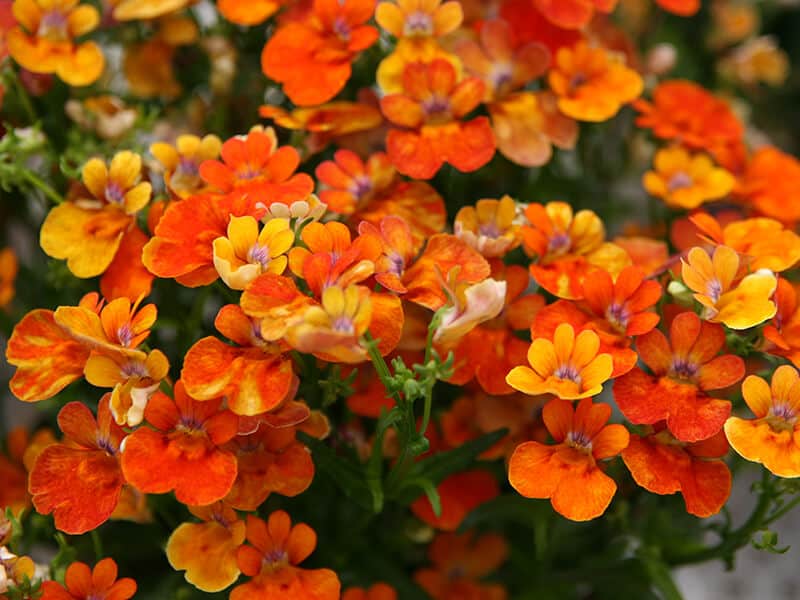 Other Names: Serengeti Sunset
Despite resembling orchids, these two flowers don't have any relation at all. It's an all-time favorite plant for all gardeners, as it goes well in both containers and hanging baskets. You can even grow them as an edging plant.
Should you plant nemesia in full shade or full sun? This is your answer.
Orange Frangipani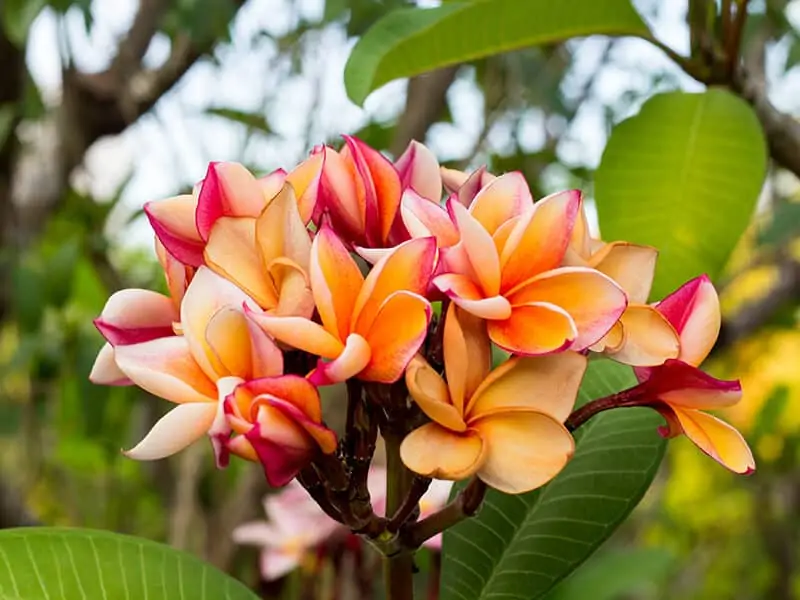 If you are in tropical regions, you must have seen frangipani once or twice. And anyone who has met this flower can't forget its sweet fragrance.
Complete information about frangipani in general and this orange version as well.
Orange Hibiscus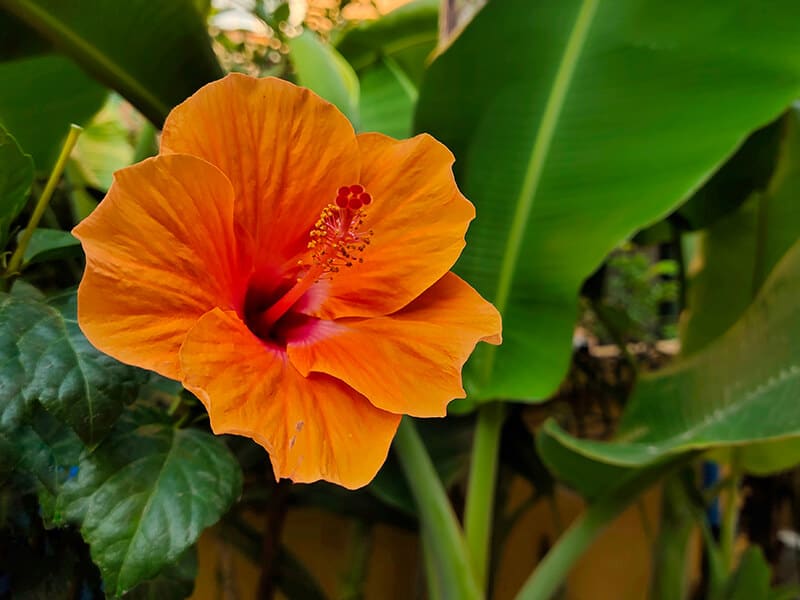 For fans of giant flowers, nothing can be fancier than this orange hibiscus. Different from its usual red color, this type brings a new beauty to your garden.
However, orange hibiscus appears in various types. Let's find out what they are!
Cat's Tail Aloe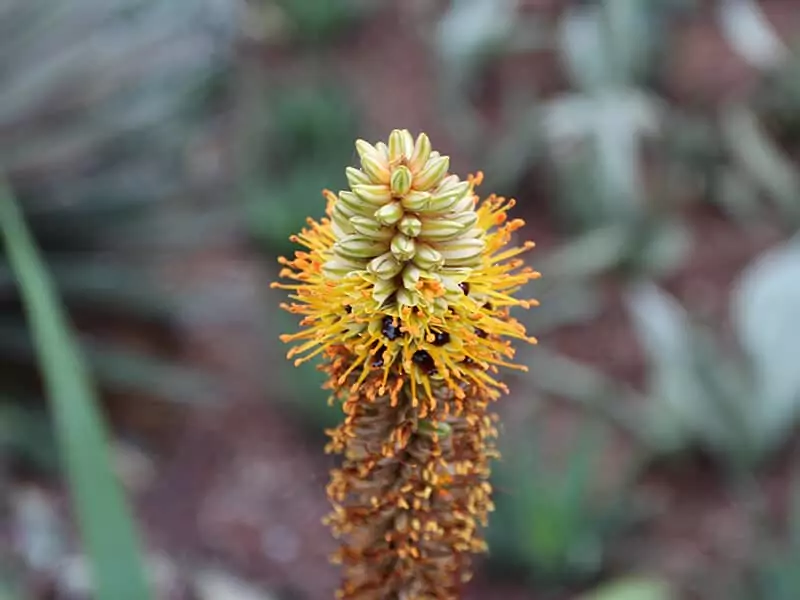 Other Names: Aloe Castanea
I have talked about the lion's tail plant. And here is another flower with a cuter name: Cat's tail. This name is born due to the bloom's curl, long, and thin shape.
Read some specific guidance about this cat's tail aloe before planting it!
Painted Abutilon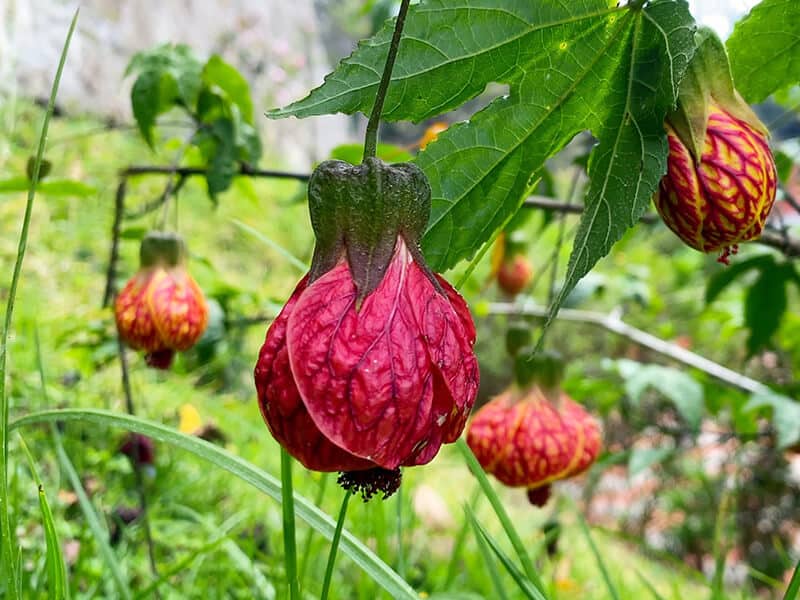 Other Names: Abutilon Pictum
While its foliage looks like green maple leaves, this plant sticks out because of the bell-shaped flowers dangling on branches with their deep orange, almost red, hue.
Anyone who loves painted abutilon should learn this information!
Orange Hummingbird Hyssop
Other Names: Agastache
This flower is for people who want to attract hummingbirds to their garden. It might sound slightly bizarre, but this hummingbird hyssop will fresh your mind with its mint scent.
If you need some guides in planting orange hummingbird hyssop, here's my suggestion.
Orange Bell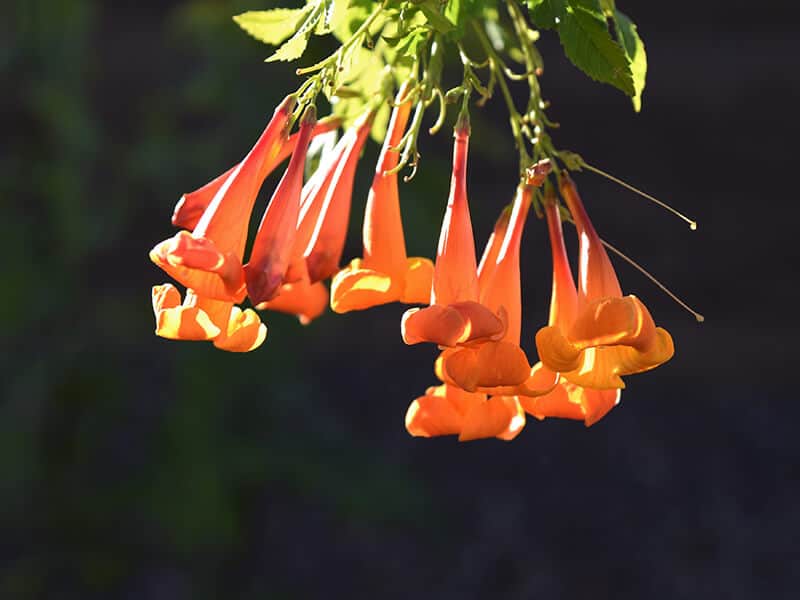 Other Names: Tecoma Alata, Flaming Bells, Orange Star, Orange Trumpet Bush, Orange Jubilee
This flower often appears in places with higher average temperatures. When blooming, the flowers take the shape of a trumpet and bright orange color.
Let see how a professional talks about this orange bell:
Have You Decided Which Orange Flowers To Adorn Your Garden?
No matter which ones you choose, I guarantee they will lighten up your garden even on the darkest days. Just make sure you follow the guide, tips, and tricks, and they will bloom beautifully for you.
Do you have other choices in mind? Or do you have some tips to share with other readers and me? Feel free to write them all down in the comment section below. And don't forget to share this flower list with your other friends as well.