Hawaii flowers are so beautiful, but their names are quite difficult to learn and remember, right? That's why I have included all the familiar and strange names in this list. So, you can choose whatever you like to call your favorite flowers.
Moreover, you'll also find some characteristics of the most well-loved flowers in Hawaii. With this, you won't be bored when decorating your house with them.
So, how about starting right away?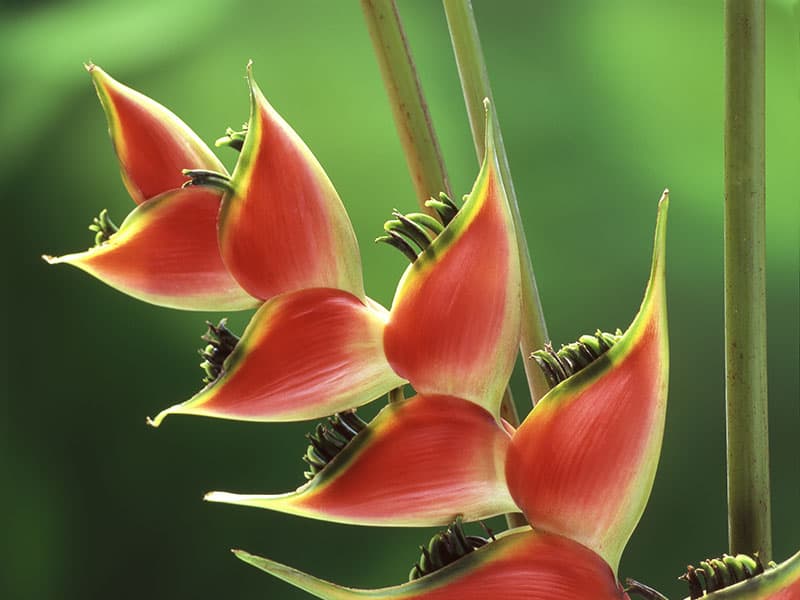 31 Names For 31 Most Beautiful Blossoms In Hawaii
Now, it's time to find out what I have in store for you. Be prepared, or these flowers will steal your heart right from the start!
Anthurium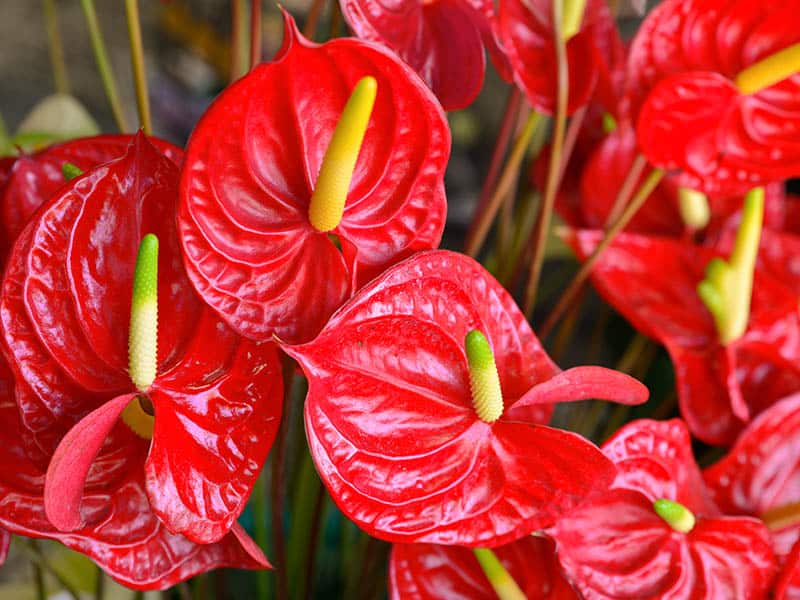 Other Names: Hawaiian Heart, Flamingo Flower
There's no wonder about these two names of this anthurium. The first one is because of its heart-shaped flower, and the latter is due to its vivid red color. Sometimes, anthurium also appears in other hues: pink, purple, green, and white.
You don't want to miss this thorough instruction on planting and caring for anthurium.
Hawaiian Hibiscus
Here is another iconic flower in Hawaii: Hibiscus. You'll mainly find ones with red and yellow colors in Hawaii. The yellow variant even gets promoted as a state flower.
One small thing for you to remember: Hibiscus withers easily after being cut, so you'd better keep them blooming in your garden instead of some vases.
Bougainvillea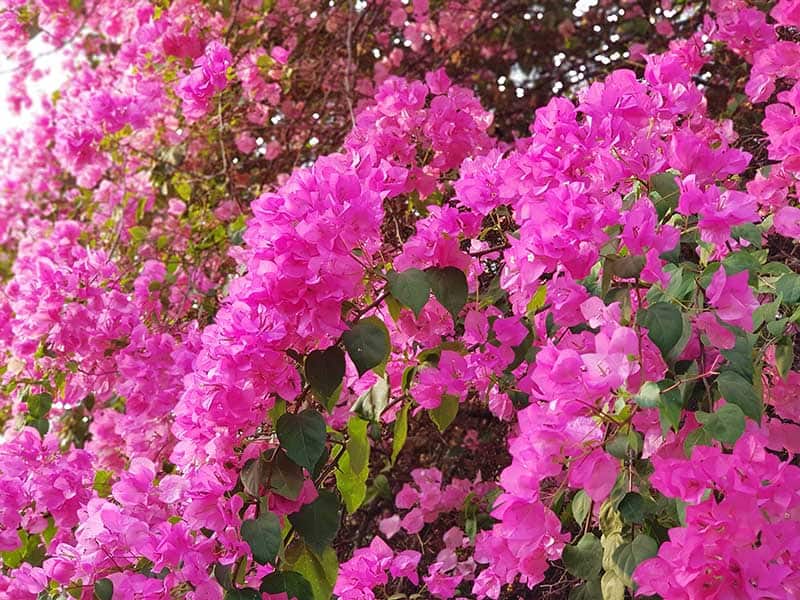 Other Names: Paper Flowers
No choice is greater than bougainvillea if you want to decorate your house. No matter which way you choose to hang this plant, the result will come out as beautiful as ever. Bougainvillea can also grow vigorously and will fill your windows, rooftops,… with its colors.
The more you know about bougainvillea, the more you love it.
Double Hibiscus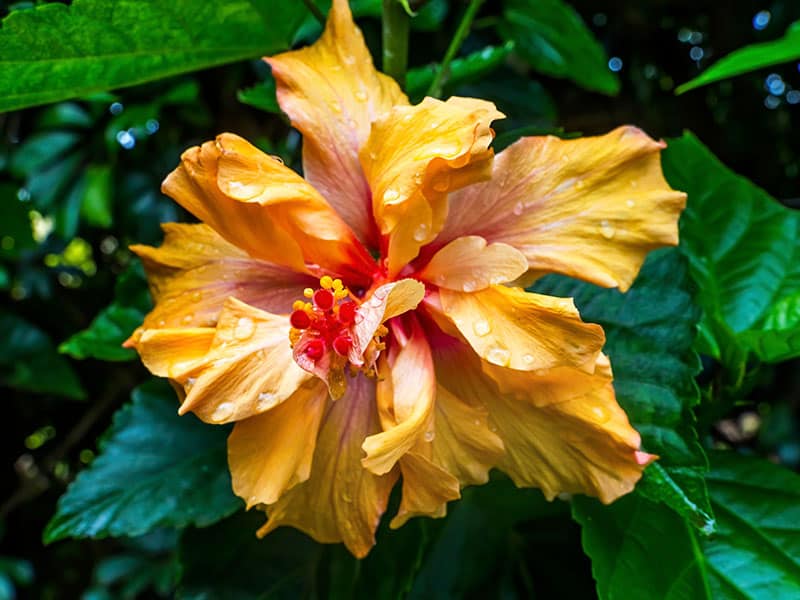 If Hawaiian hibiscus is still a bit normal to you, let's take a chance with this double hibiscus. Yes, that's right! This modern variant looks like two hibiscus flowers growing on the same end. There's a wide range of colors for you to choose from: pink, orange, red, etc.
All available double hibiscus colors are stated here.
Princess Flower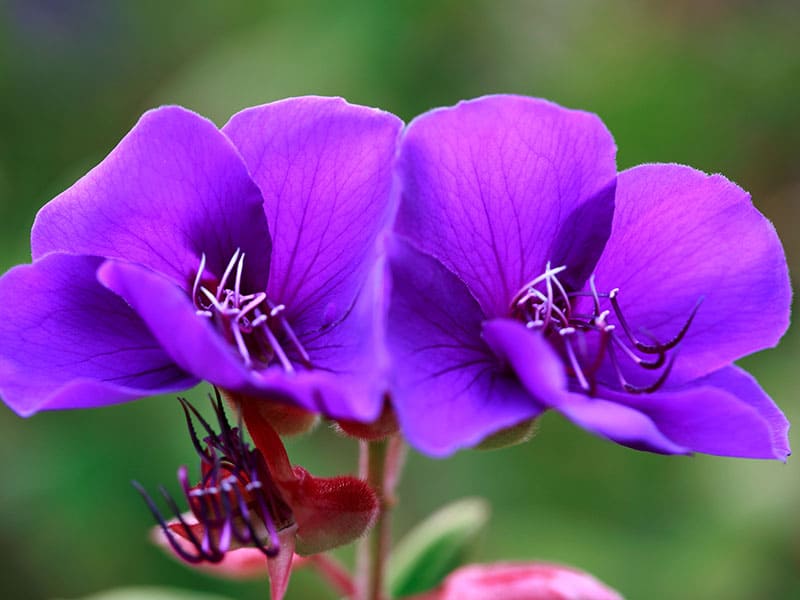 Other Names: Lasiandra, Purple Glory Bush
Every time I see this pretty flower with its lovely purple petals, it really reminds me of a princess in her violet dress. But this plant isn't as fragile as you may have thought. In fact, just grow it in a spot with full or partial sunlight.
Crave for more knowledge about Princess Flower? This is all you need.
Bromeliad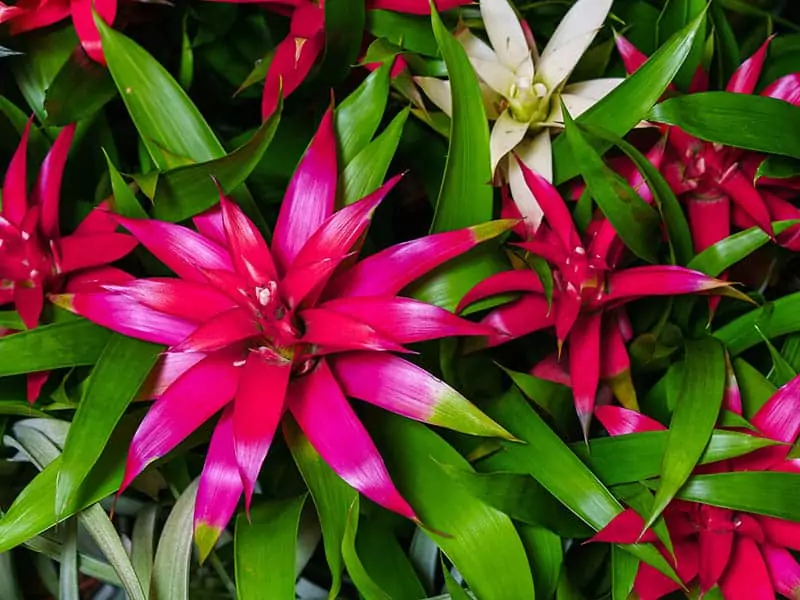 Up to this point, you've seen many gorgeous flowers. But this indoor flower can still steal your heart with its bright red color in less than a second. Bromeliad comes with other shades like green or purple. Make a bouquet with it, and no one can take their eyes off this plant.
Though bromeliad may look difficult to grow, planting it is surprisingly easy.
Naupaka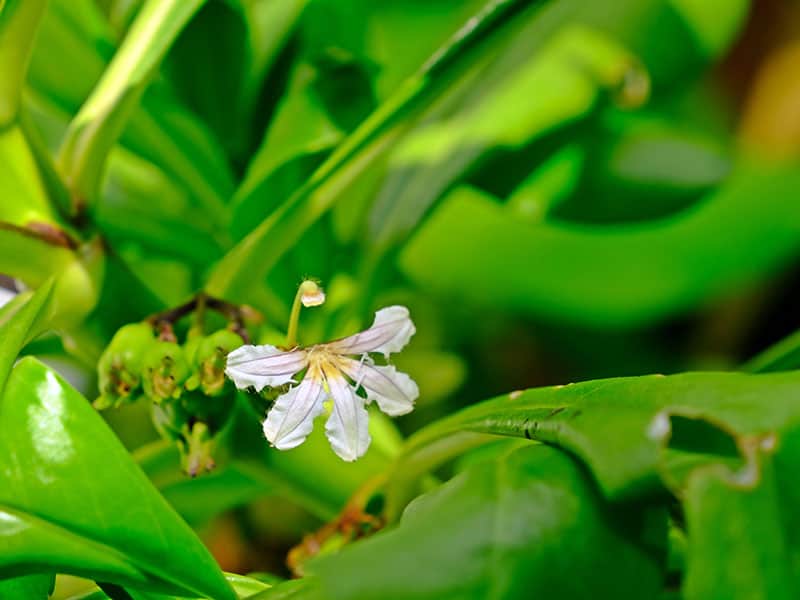 You might wonder about its bizarre half-missing shape. The Hawaiians explain it with a story of a princess falling in love with a commoner, which was forbidden at that time.
The grieving princess took off the white flower on her hair and ripped it in half. Thus, Naupaka has two varieties: one in the mountains and one on the beach. If you want some fragrance in your garden, opt for the former, also the "female" ones.
There are still so many more fascinating facts about Naupaka.
Heliconia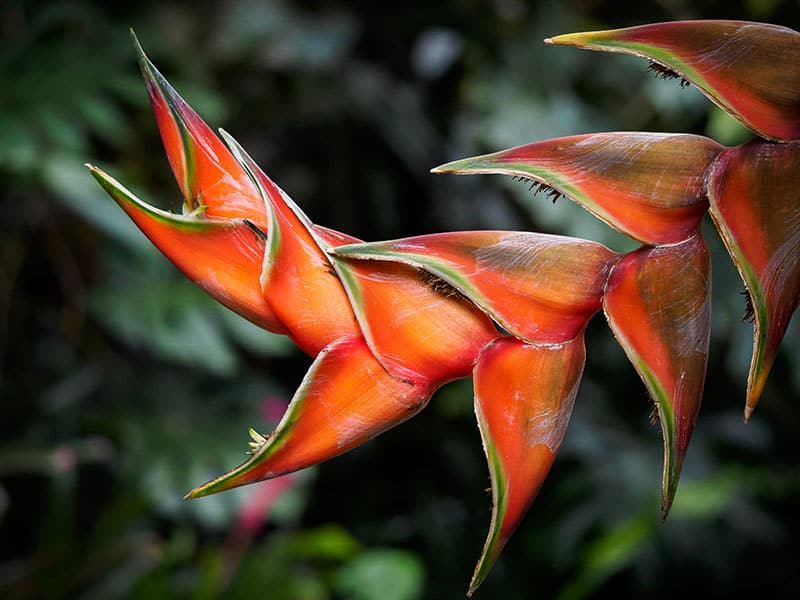 Other Names: Lobster Claw
There's no wonder about Heliconia's other name because these flowers' appearance really resembles lobster claws. However, Heliconia also comes in various shapes, sizes, and colors. Sometimes, you may think of these variants as other flowers.
You'll need some advice about growing Heliconia from a gardening expert.
Blue Jade Vine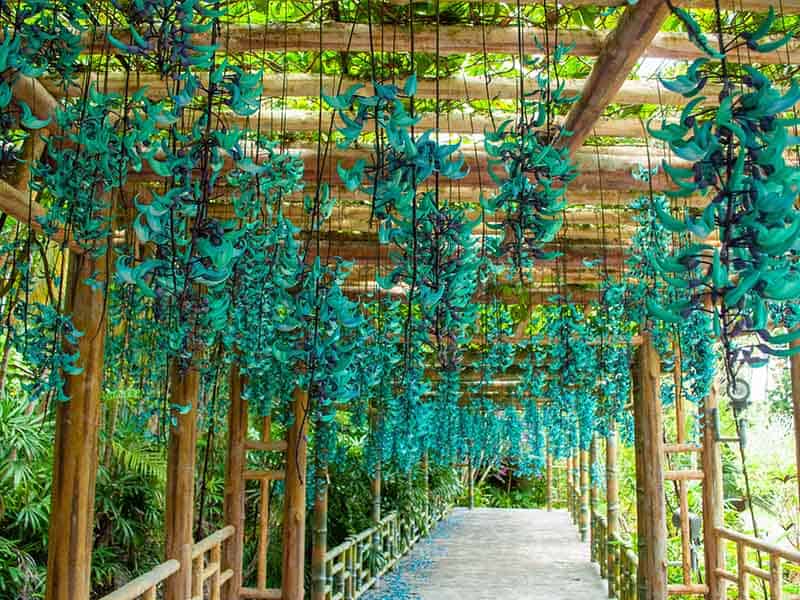 Its name alone is enough to draw my attention. And after the beautiful name comes a just-as-gorgeous appearance. While it's vine, there are numerous flowers blooming along the branches with different shades of blue, all glowing like jade stone.
Blue Jade Vine is often grown outdoors, but you can even plant it inside with this guide.
Red Passionflower Vine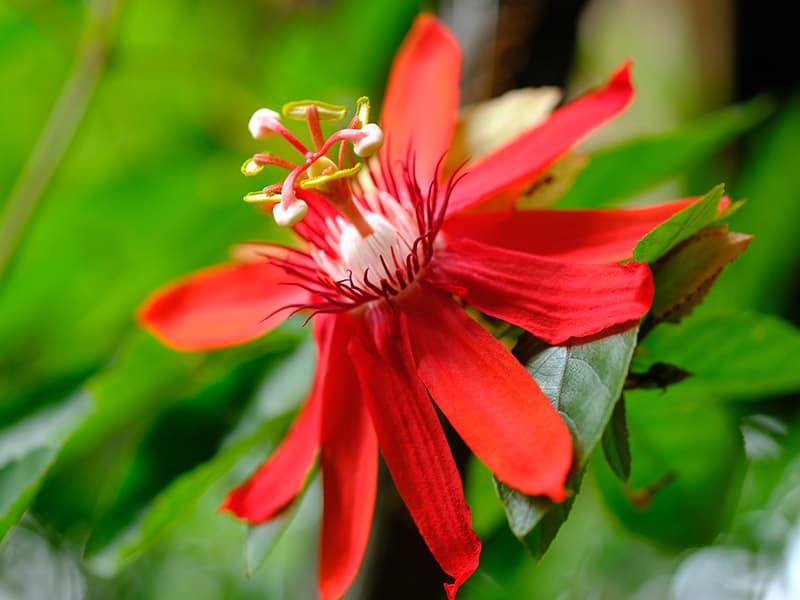 Being the same flower vine to produce shade in your garden, but this red Passionflower is 100% different from the Blue Jade. While the blue one is more elegant, this one shines bright, just like its name. It can also grow fast, so you can use it to cover your garden wall.
This pretty red Passionflower Vine has more surprises than you thought.
Plumeria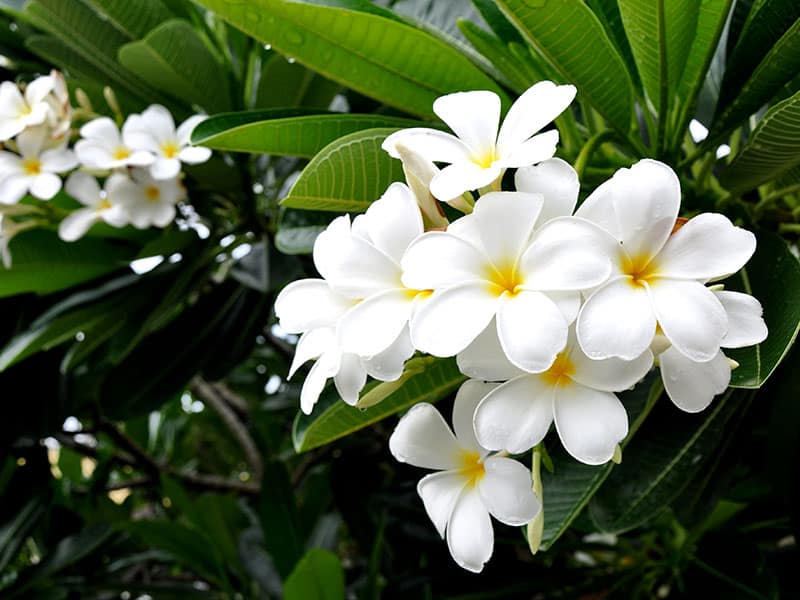 Other Names: Semboja
Many of you are so familiar with the idea of Hawaiian girls wearing some white flowers over their ears. These flowers are white plumeria. Once, it belonged to the rich as a symbol of their wealth, but now everyone can wear it.
Do you know how to cut and care for plumeria afterward? If not, this guide is a must.
Pikake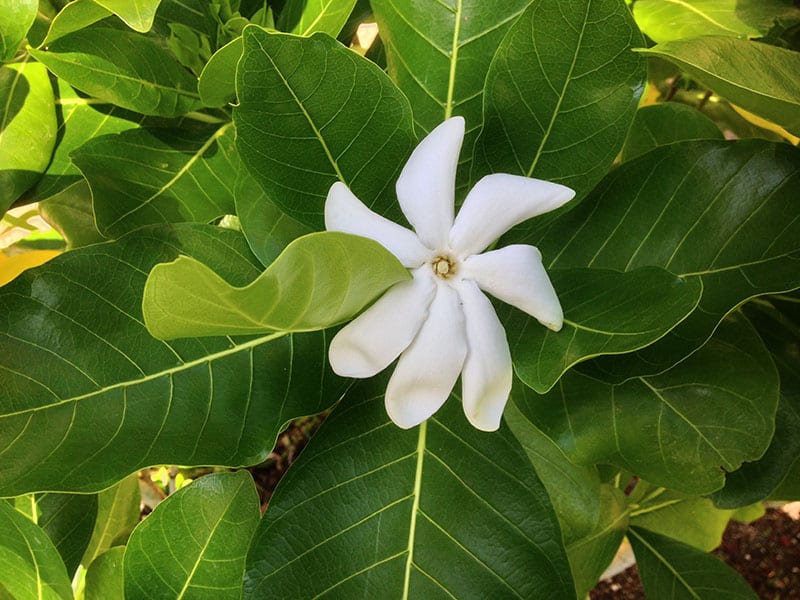 Other Names: Hawaiian Peacock Jasmine, Sambac Jasmine, Pikake Jasmine
Don't look down on Pikake because of its humble appearance. Its scent will blow your mind away. In fact, Pikake's fragrance has made Hawaiian top-selling perfumes all over the world. The native people also use this flower to make necklaces worn by hula dancers.
If you want some Pikake in your yard, here are some must-do preparations.
Red Ginger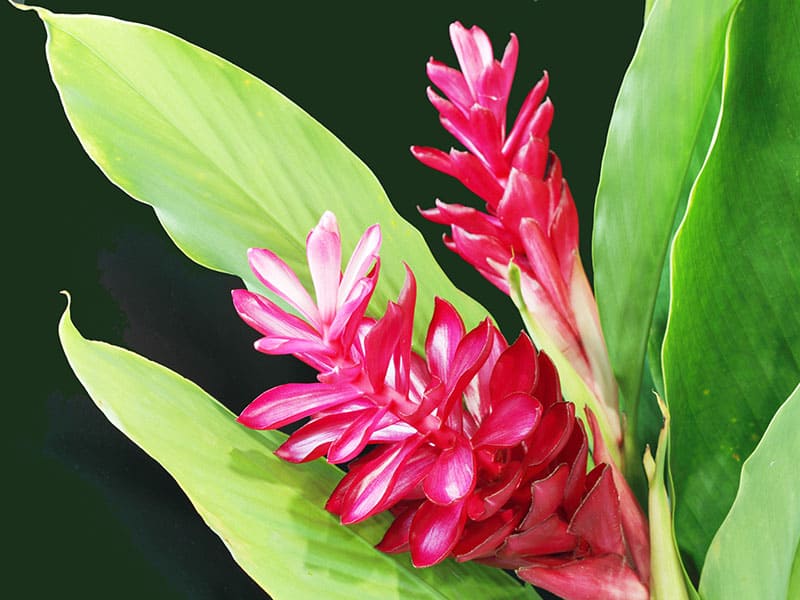 Other Names: Torch Red Ginger
Not only is it a gorgeous flower to grow, but this blossom also appears in various Hawaiian dishes. At first sight, it doesn't seem to hold any scent, but if you squeeze the flower, you'll smell a candy-like fragrance, which is used a lot in shampoos.
Red ginger still has other benefits, waiting for you to find out!
Blue Ginger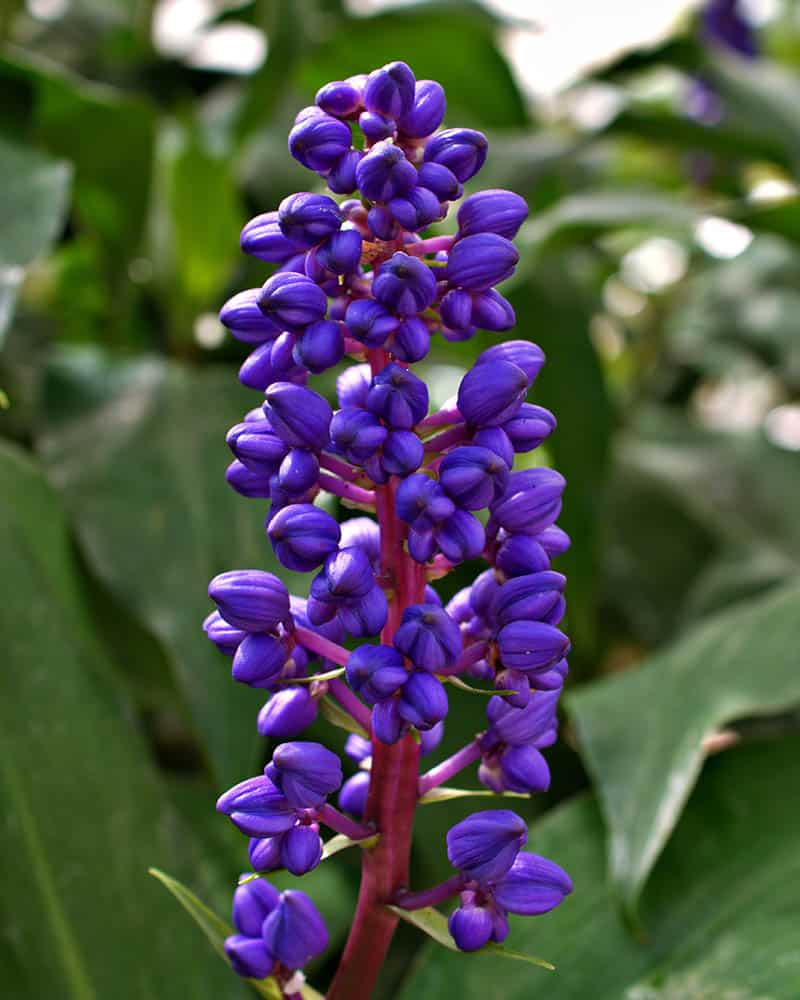 Aside from the usual red ginger, you may have a chance to come upon another type of ginger flower: the blue one. So, it's a nice choice if you want something new and unique in your garden or flower bouquet.
Is there any difference between growing blue ginger and its relative? Let's find out!
Kahili Ginger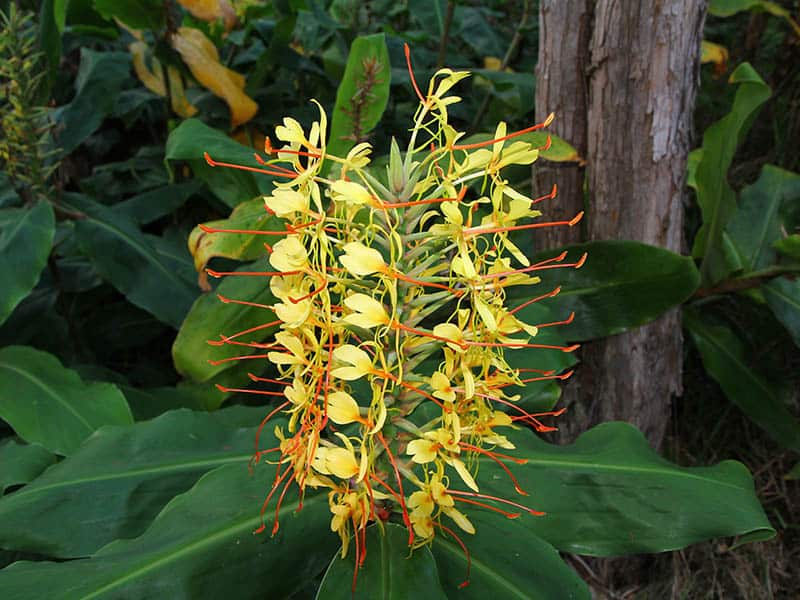 Other Names: Yellow Ginger Lily, Kahili Garland Lily
Another ginger flower with feathers and long branches. You can plant Kahili plants up to 8 feet tall, but you can trim them to keep them suitable for containers. Some sand and peat moss will help you grow these flowers more easily.
You'll be surprised by what Kahili ginger will provide.
Bird of Paradise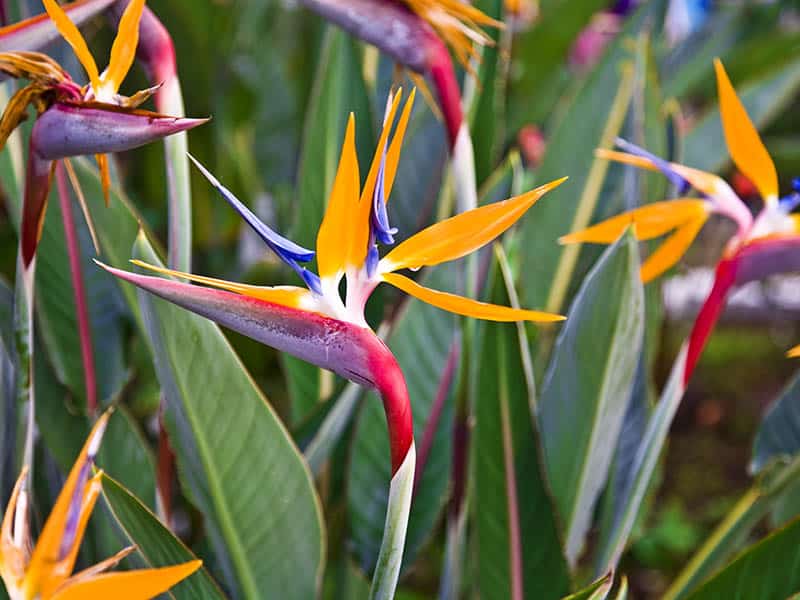 Other Names: Crane Flower, Strelitzia Reginae
One look, and you can't forget the sight of this flower. Bird of Paradise has one of the most striking colors I've ever seen. Accompanied with its unique shape resembling a flying bird, no wonder that many favors this Crane flower as their adornment.
Some extra tips will help you choose the right pot for Bird of Paradise more easily.
Hawaiian Gardenia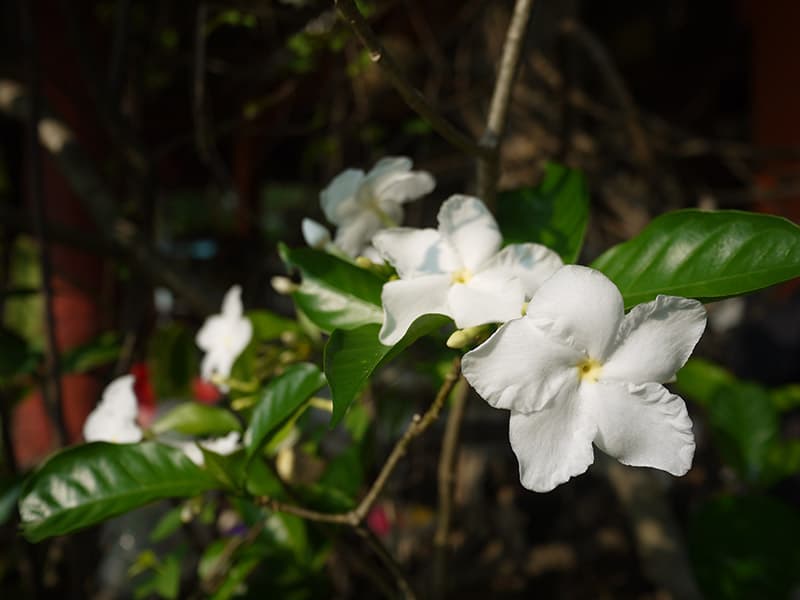 Other Names: Gardenia Brighamii, Na'u
Since it belongs to the coffee family, this Gardenia will fill your yard with its rich fragrance. This flower is more suitable for tropical areas as it needs lots of sun and humidity to grow. Gardenia can be quite picky, but the result is worth all your effort.
With this guidance, your Gardenia will bloom beautifully.
Ilima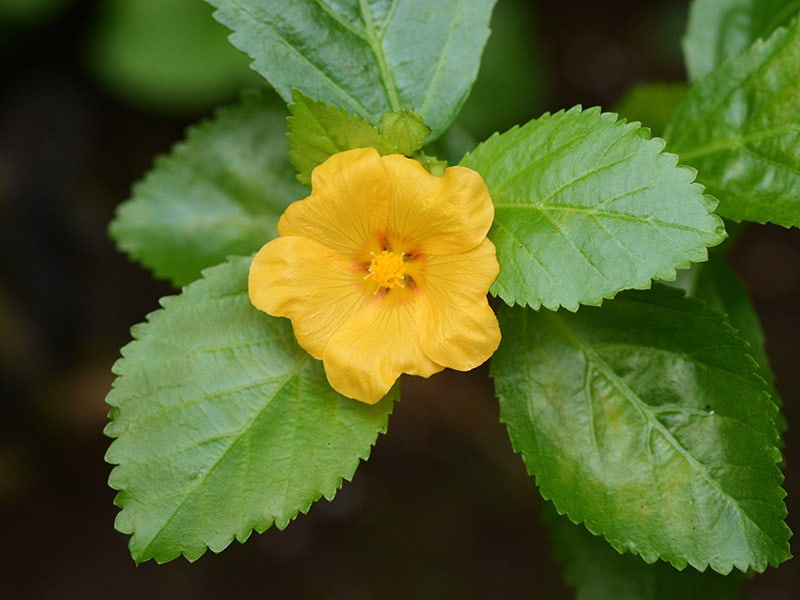 Other Names: Black Coral
Ilma mainly appears in the forest of O'ahu, thus becoming the island's official flower. There are various types of Ilma. The most popular are coastal variants with soft hairs that touch like velvet and mountain ones with pointed apex.
Learn more about Ilima with this instruction.
Ohia Lehua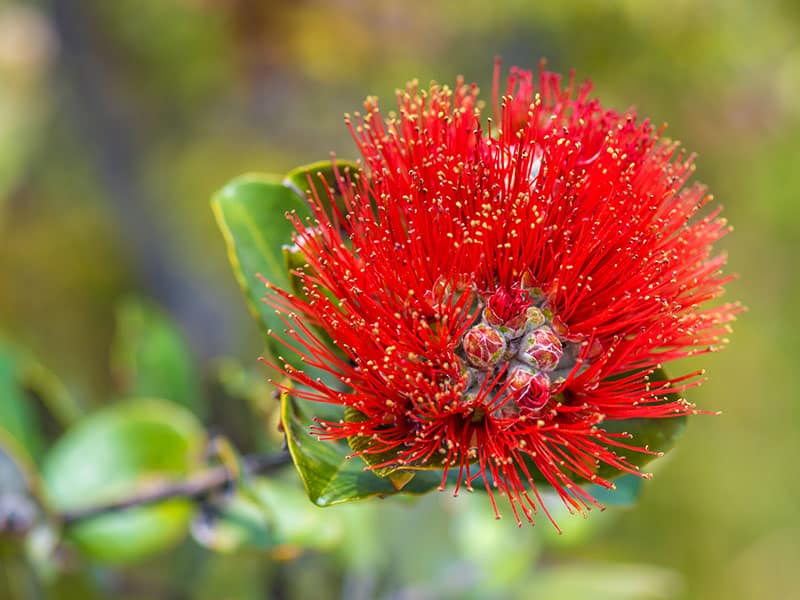 Ohia lehua is more than just a flower; it symbolizes the volcano goddess in Hawaii. This blossom is also the first to bloom on lava after a volcano eruption. Aside from the familiar red color, it also comes with salmon, yellow, or orange shades.
You want to know the full story of Ohia Lehua? Here you go!
'Uki 'Uki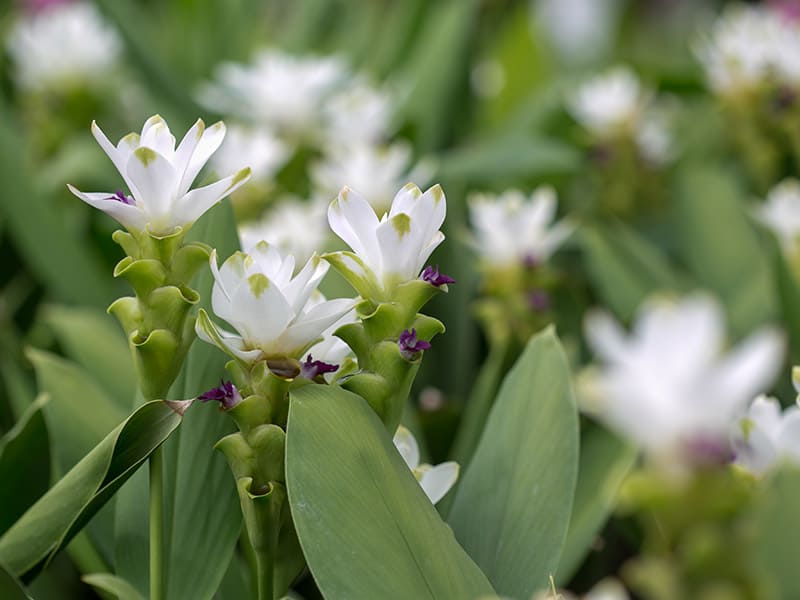 Other Names: Hawaiian Lily
Its strange name may take you aback, but 'Uki 'Uki is actually a familiar flower in Hawaii. Aside from its pretty white blossom, Hawaiian people also use 'Uki 'Uki purple fruits in their cloth.
Are you sure you know everything about 'Uki 'Uki?
Water Lily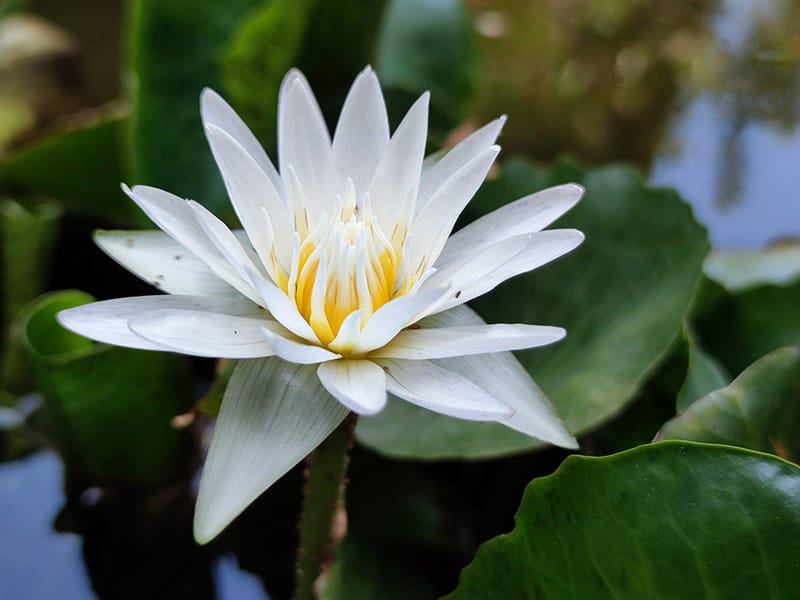 If you have a small pond in your garden, water lily is a must-have decoration for it! Or you can use this flower for any round, large vase that isn't used in your house. Its purple, pink, or white color will light up your home for sure.
Here are some facts not many people know about water lilies.
Royal Poinciana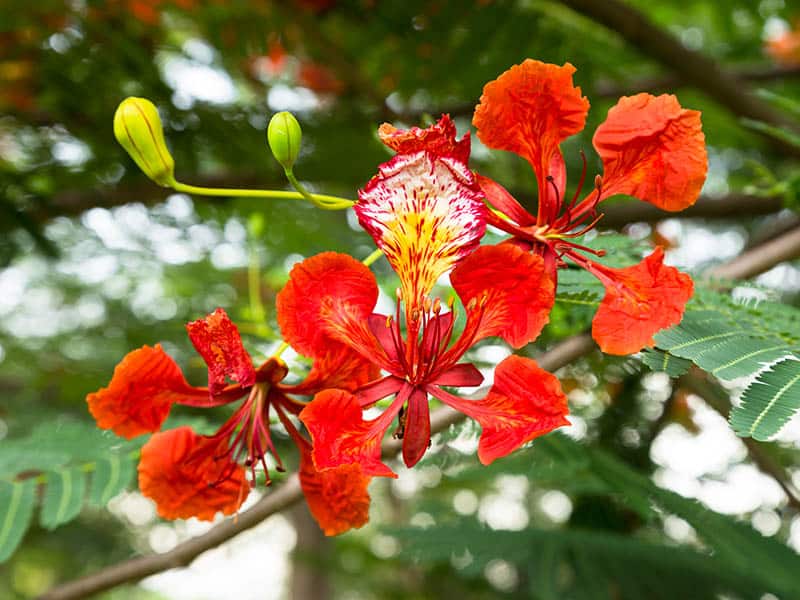 Other Names: Flamboyant Tree, Flame Tree
With this tree in your garden, every bystander will have to look back at least once when passing your house in summer. That's because, at this time, this tree will bloom thousands of blazing red flowers, making it look like a huge flame from afar.
You won't regret learning this planting guidance about Royal Poinciana.
Hawaiian Silversword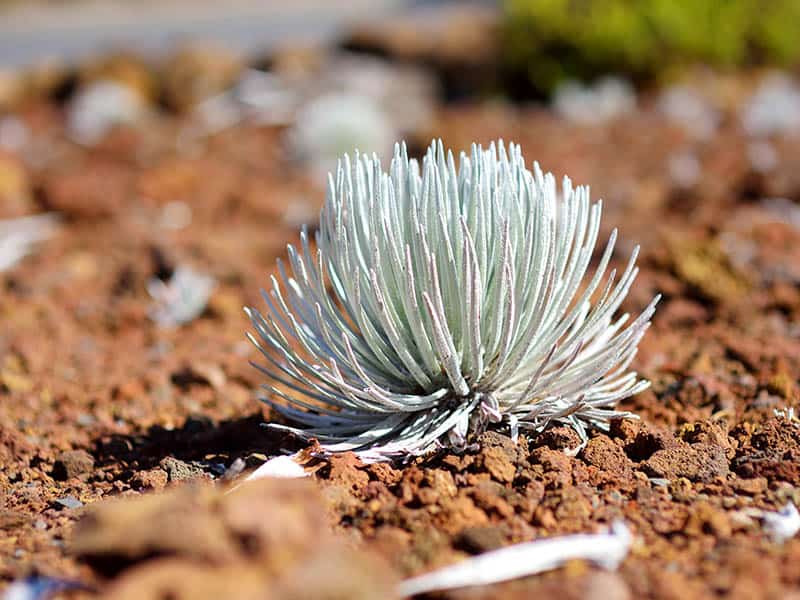 This plant is really a sight to behold as it can grow up to 6 feet. And while its regular appearance is striking enough, you have to wait until all of its violet flowers bloom. Make sure you won't miss it because Silversword only blooms once in its life.
With this information, you'll know why Hawaiian people treasure Silversword so much.
Passion Fruit Flower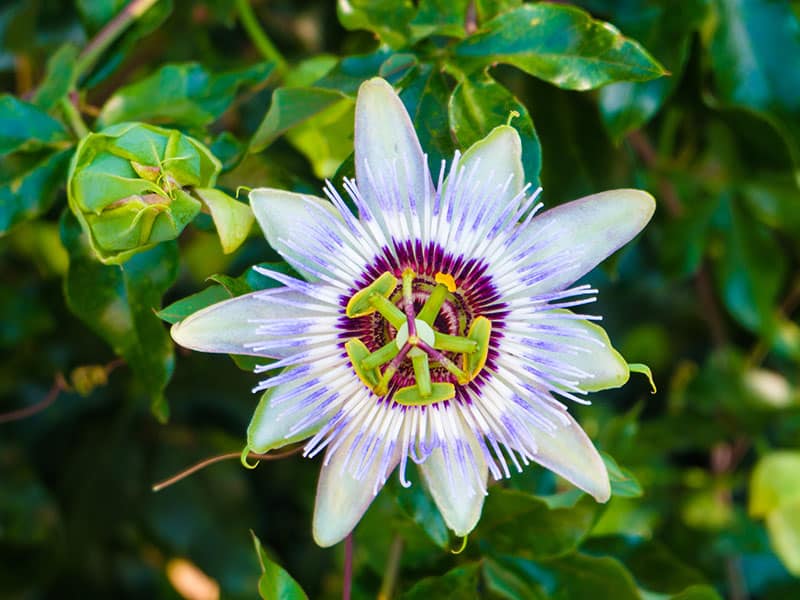 You may be familiar with the sweet, juicy passion fruit. But have you ever seen its flower? I bet it'll shock you with its complex appearance. And this flower is also a great addition to your desserts or salads.
Take a walk around and find different types of passion fruit flowers!
Ixora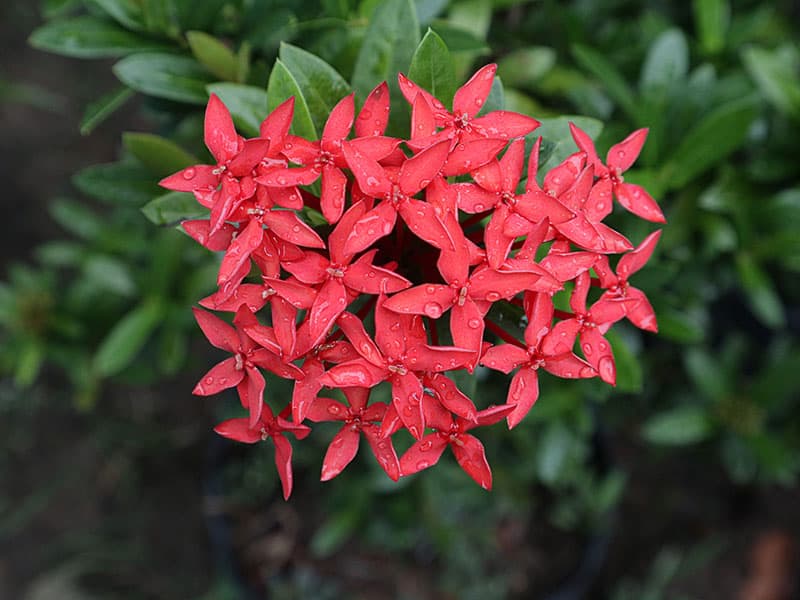 If you often go to Asian temples, you may have seen Ixora once or twice. For people who haven't seen it before, you can mistake this flower with a group of tiny butterflies. In Hawaii, people often use it to decorate their houses or hair.
Sometimes, your Ixora won't bloom despite all your effort. Here is the answer to that problem.
Pua Kala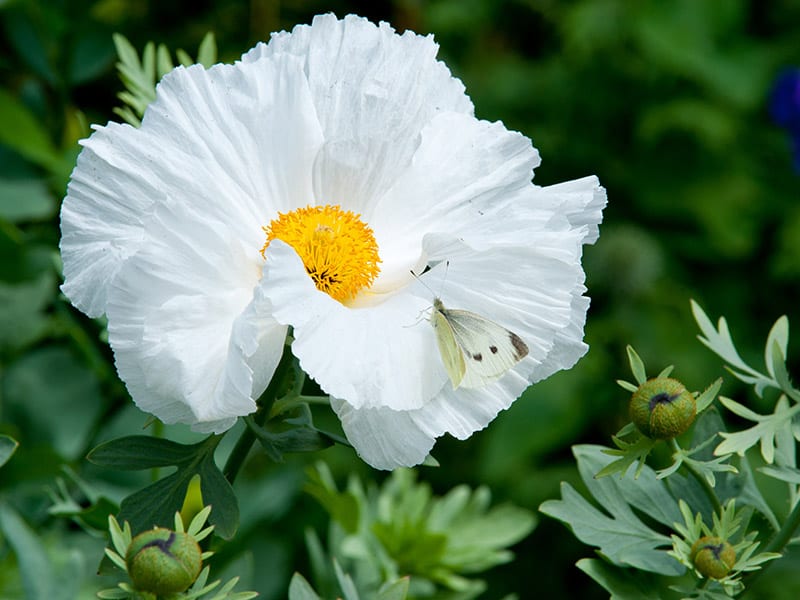 Other Names: Hawaiian Poppy
Though its other name is Hawaiian poppy, don't mistake it with the European variants. This one is round with white color. Also, while Hawaiian people use this flower sap for toothache treatment, Pua Kala is actually poisonous. So, be careful when touching it.
This information will help you grow this Hawaiian poppy more easily.
Lokelani Rose
Though it comes from Spain, this rose has captured the hearts of Hawaiian people, especially on Maui island. And you'll be the same once you look at this Lokelani rose. Its strong fragrance is also one of the reasons why they call it "heavenly rose".
After reading this, you can even use Lokelani rose in your cooking.
Hawaii Ipomoea
Other Names: Hawaii Moon Flower
You may have seen ipomoea with purple color. But in Hawaii, it's totally white with no hint of other tones. Maybe that's why local people call it "moon flower". However, if you want to enjoy this bloom, try to wake up early because the flower will wilt in daylight.
This is a full knowledge about this Hawaii ipomoea.
Oahu Riverhemp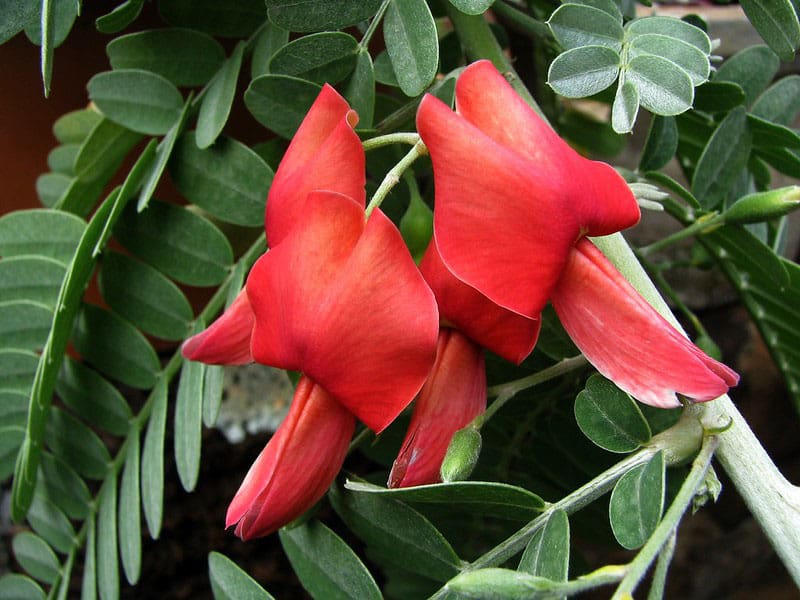 Other Names: Sesbania Tomentosa, ʻōhai
Hawaiian people really have a soft spot for red flowers since you can see them everywhere on this island. And this Oahu riverhemp isn't an exception. While red is the most common color of this flower, you can also find it in salmon pink or yellow shades.
You'll be a professional about Oahu riverhemp with this information.
Protea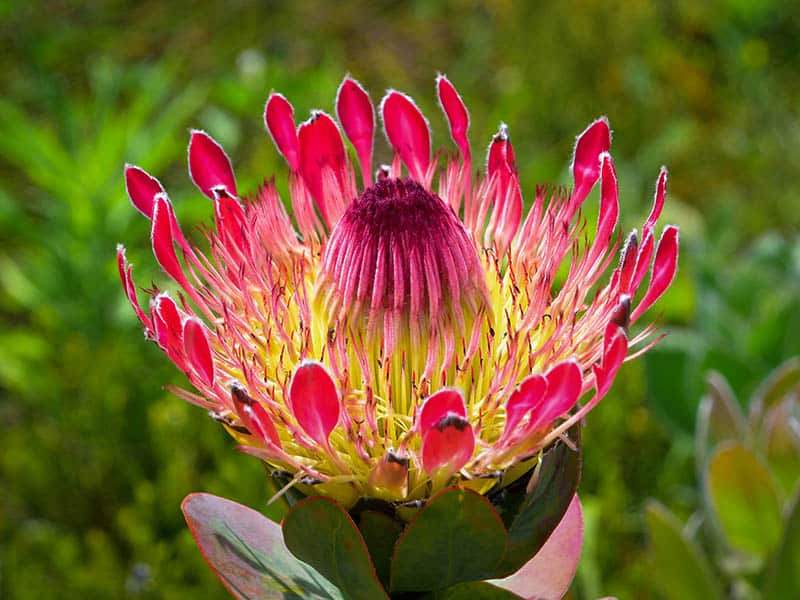 Other Names: Honeypot
While its other name is honeypot, this bloom comes with a striking red or pink color that befits its unique appearance. Protea also has several variants, each so different that you can hardly recognize they are from the same species.
While protea can last for a long time, these tips will help retain their beauty.
Red Cranesbill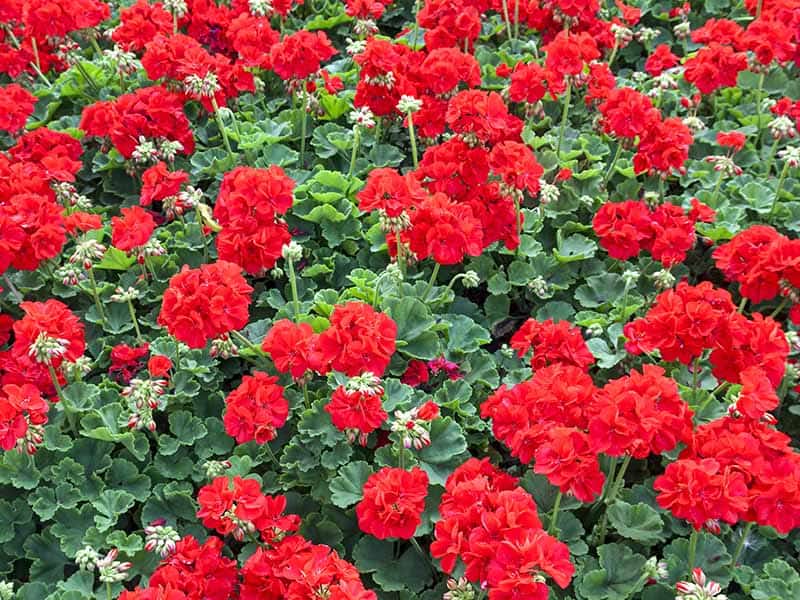 Other Names: Geranium Arboreum, Hinahina, Nohoanu
You can only find this pretty bloom on Maui island. And even there, meeting it can be quite a challenge. But once you see this Hinahina, it'll pay off all your effort. This cranesbill has a darker shade compared to other red flowers, resembling the magenta tone.
Broaden your knowledge about red cranesbill with this information.
Are You Ready To Decorate Your Garden In Hawaii Style?
With all this information, I bet you no longer have any trouble with Hawaiian flowers anymore. But if you have, feel free to state all your questions and thoughts in the comment section below.
And it's no good to keep this fantastic guideline to yourself, right? Don't hesitate to share it with your friends and family. They'll be happy to get some new ideas for their garden as well.