Do you lack inspiration for a DIY firewood rack? Hopefully, the article will help you pick the right solution for your firewood.
Most people prefer their firewood racks nearby home, so they don't have to go outside in the cold for long to bring firewood.
Because the firewood can be covered in dirt and bugs, it is more practical to store firewood outside than inside. But, here are several ideas for indoor and outdoor DIY firewood racks!
The following racks will ensure your firewoods are close, dry, and kept clean! The ideas are easy to replicate, and won't cost you a lot of money!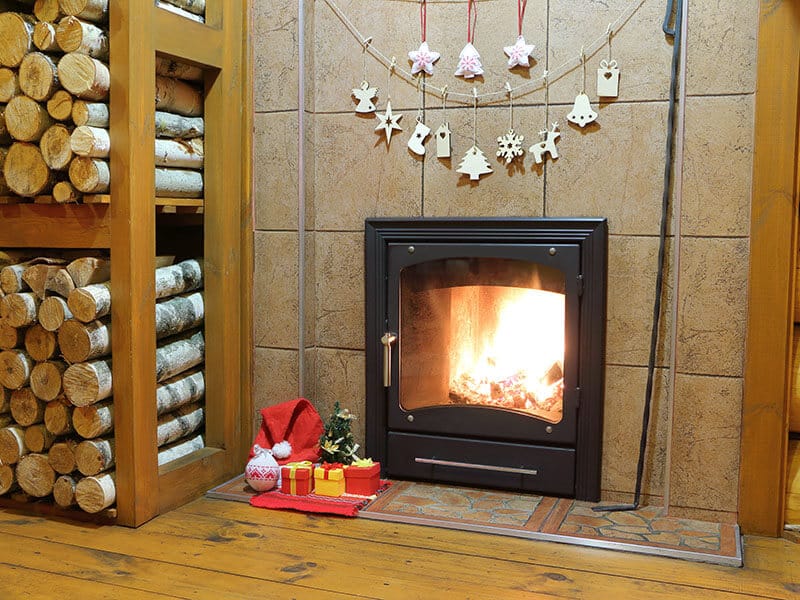 DIY Outdoor Firewood Racks
If you need an outdoor firewood rack, you can use pretty much everything! All you need is inspiration, which you can find below!
Let's start constructing!
1. Practical Firewood Rack
The first idea is quite practical and ensures your logs are easily accessible. You'll have to prepare two cinder blocks and several wood planks. This idea is the simplest one on the list and doesn't require you to use any tools or have any skills!
All you have to do is position the blocks close to each other. Then, you can place wooden planks away from each other so they form a self-standing V structure. You can secure the blocks together or leave the rack like this. Either way, you are ready to sort your logs!
A rack like this can easily be broken apart and stored in pieces during summer. When the temperatures drop, assemble the rack again and start using it.
You can see this video to know more:
2. Pallet Wood Rack
Pallet wood is such a versatile construction material, and you can build almost everything from it, including a firewood rack! If you plan to keep the rack outside in an unprotected area, build a roof and your logs always stay dry and clean.
If you have a dedicated spot in your garage for the logs, you can build a firewood rack in less than one hour.
Before you start, you'll have to cut the pallet and disassemble it to get sturdy planks for construction. The next step is to construct and connect the sidewalls and bottom.
At this point, your firewood rack can be complete, or you continue to build a roof. In that case, you might need an additional pallet for the material.
3. Another Cinder Block Rack
Cinder blocks are great items to have if you are crafty and you enjoy working on DIY projects. The next firewood rack is excellent if you have more logs to store. You can use three or more blocks and four wooden planks for outside walls.
Because the structure is large and built to hold a lot of load, it is useful to build a frame that will hold the structure together.
You can use thin planks to build a rectangular frame to support the structure and hold it when it is heavily loaded.
4. Compact Log Rack
If you have pallet wood leftovers from another DIY pallet project, use the remaining pieces to build a small firewood rack.
Once you have disassembled the pallet, you can cut pieces in half and build the base first. Save longer planks for sides and nail the short ones to build the side walls. Then, you can experiment with the length and build a sloping roof or a flat one.
Like in previous ideas, you can skip the roof if your rack will be kept somewhere sheltered, such as a garage or shed.
5. 2-in-1 Bench and Storage Rack
Here is an interesting, practical, and space-saving idea to try.
If you want to build a durable construction, I recommend using Cedar naturaltone as construction material. Prepare wood glue, screws, measuring tape, cordless drill, and miter saw.
First, you can sketch the construction or use already existing plans.
Start by cutting the legs, base, and side planks. Then, build the frame and the seating surface. Once the structure is done, you can sand it slightly, add a finish, and seating pillows to create a cozy and comfortable place!
6. Cute Self-Standing Firewood Rack for Your Porch
The next project is easy to put together and surprisingly, can hold a heavy load of logs. Measure and cut the material for the top and bottom rack first. Then, proceed on to vertical sides and caps. Provide material for the bottom and middle rack, so your rack is sturdier and can hold more logs.
Once you've prepared and cut everything, start by connecting vertical structures with screws. You can use wood glue, but screwing the planks together will make the rack sturdier and more reliable. Then, you can secure middle support and finish by completing the base of the rack.
7. Round Rack
Circularly stacking firewood is a popular, space-saving option for storing large amounts of logs. But, you can also build a round firewood rack, which is stylish and practical at the same time!
You have to build a large round frame that can be around ten inches wide with a minimum diameter of three feet.
Add one large plank in the middle of your round frame to divide the rack and create shelves. You can add one or two more shelves on the side to expand the options for storing larger and smaller logs.
Once you are satisfied with your design, secure the rack on the wall!
8. Aesthetically-Pleasing Firewood Holder
Who said firewood racks have to be simple and dull? You can build three triangular holders for your logs, which will resemble the silhouette of mountains! You can build it using basic wood rack principles, and customize the design to match your preferences.
Prepare wide wooden boards for sides and or build sidewalls from smaller planks. If you don't have enough space or don't need a large three-piece firewood rack, build only one. The procedure is even simpler. Connect the two boards and on the base and you've got a nice, A-frame firewood rack!
9. Fruit Crates Firewood Rack
If you can get your hands on the fruit crates, keep several of them, as you can build interesting items using them! You can use them to decorate your home or organize items.
A firewood rack with thin fruit crates is more suitable for smaller logs, as the material used for wood crates isn't very sturdy and might not hold a heavy load. But, if you own heavy-duty, sturdy wooden crates, you can store weighty logs!
Get six fruit crates and glue them together to create a wide rack with several open shelves. Wooden crates are rustic and can be painted easily. We can also use plastic crates for the project, but they aren't as decorative as wooden crates.
10. Wooden Rack and A Table For Outdoor Items
The next idea for a firewood rack is perfect if you want to keep your patio tidy, young logs stored, and have an additional surface to store outdoor items, such as gardening tools or watering can.
The first step to do is find a dedicated place on your patio for a firewood rack. Then, measure the spot and then cut the planks to match the size of the spot.
Create a simple, rectangular frame that will serve as a base for your firewood rack. Add horizontal planks as shelves to keep the logs tidy and easily accessible.
If you have an old fire pit grate, you can place it on top. Because it is metal and sturdy, it can hold some heavier items.
If you don't have a metal grate, a simple wide, wooden board will work great, too.
DIY Indoor Firewood Racks
Some people prefer to have a compact and stylish log holder near their fire pit so they don't have to go outside in the cold to get more logs. If you are one of those people, the following ideas are for you!
11. DIY Rolling Cart
A rolling cart can be used indoors or outdoors and is one of the most practical storing structures you can build. Before you start, prepare your supplies and cut the boards and planks to the desired size. I recommend using redwood if you plan to use a rolling cart indoors. Use a nail gun to build a rectangular frame for the base.
You'll have to buy four casters to mount on the base, but it shouldn't take you more than a couple of minutes per caster. Using blocks for each caster might seem like an additional step, but it makes attaching casters much simpler.
You can also sand the structure and paint it to fit your interior decoration.
12. Industrial Concrete Rack
A concrete rack for firewood features a minimalistic and modern design. If you create a flat top surface, your rack can also serve as a side table and hold your coffee and magazines.
The list of supplies for the project includes bags of concrete mix, epoxy, melamine, adhesive, concrete sealer. The required tools are a drill, miter saw, and screws.
Start by sketching your rack. Include the measurements in order to ease the future steps.
Use melamine to build the inner and outer box, which serves as a mold for the rack. Then, use the pack of the cement to create a box and remove the mold once the cement is dry.
Assemble the top of the rack. If you want to lift the rack ever so slightly, you can attach legs to the bottom.
13. Minimalistic Holder
The next firewood rack features a minimalistic, clean, and modern design and allows you to customize the color and finish. However, if you paint it white, it will fit most rooms!
You can use plywood for the structure, and make the cuts before you start.
Create a tall and narrow rack using four narrow planks for the sides. Cut eight pieces to serve as a material for the base and top. Secure it together with a nail gun. Ultimately, build the top of the structure and sand it lightly. Apply paint and find a dedicated spot for your new firewood rack!
14. Elegant Copper Log Rack
Copper can be a great material to use to create elegant and practical structures for your home. A copper firewood rack is perfect for indoors because it is easy to build, stylish, and portable. Therefore, you can easily take it outdoors when you have to restock the logs for your fire pit!
You'll need five pieces of copper pipe and plywood to create a sturdy and stylish frame. Also, prepare elbow joints and saddle clips to assemble the structure together. If you want to ease the transport of the rack, add casters wheels for improved portability.
Finish with a metal polish to get the more stylish look!
If you decide to try this idea, don't forget to use protective equipment, because you'll have to work with a drill and pipe cutter, which can be harmful.
Let's see this video:
15. Cheap Indoor Firewood Rack
Wooden firewood racks can be quite elegant and suitable for indoor use. But, choose your material well and paint the wood.
If you want to keep the costs for the DIY indoor firewood rack down, use pine wood.
Sketch the rack or use any free plans you can find online.
The easiest way to build this indoor rack is to assemble the rack sides with the base. Next, attach supports and build the top box. You can use it to store small items, such as items you need to start a fire!
To make the structure more durable and protect it from rot, apply multiple layers of wood stain.
16. Stylish Indoor Storage Cabinet
Who said pallet furniture is only good for outdoor use? If you have a pallet in fair condition, you can build a stylish indoor cabinet to store firewood.
To build a compact cabinet, disassemble two pallets and make the cuts. The cabinet should have one large shelf that will hold bigger logs, one smaller one for tiny pieces, and one closed compartment to hold the small items you need to light a fire. The backless design makes the cabinet much easier to build.
Step-by-step video tutorial for indoor pallet cabinet
Store Firewood With a Style
Transform your indoor or outdoor space with great firewood racks ideas. A nice, stylish, and practical logs rack can be the detail you need to finish decorating your patio or living room!
As you can see, everyday materials such as cinder blocks, pallet wood, or plain wood planks can be all you need to build great structures.
Which idea will you try?
If you found the inspiration you needed, don't forget to like the article!