Do you want to know what types of Dracaena plants are suitable for indoor or outdoor use? Are you searching for plants to spruce up your collection? Dracaena might be a perfect choice!
I will walk you through the most popular and beautiful varieties of the Dracaena plant. In general, Dracaena cultivars make excellent houseplants because of their ornamental leaves and adaptable nature. Most Dracaena types will grow without issues in low-light conditions and when exposed to drought.
Dracaena features strong and woody stems and long, ornamental leaves. Some varieties develop bushy structures and have beautiful glossy, deep green leaves.
Larger varieties reach seven feet in height and are great for the garden. Smaller ones grow perfectly well indoors, in containers.
Here are the best types of Dracaena to grow at home!
1. Lucky Bamboo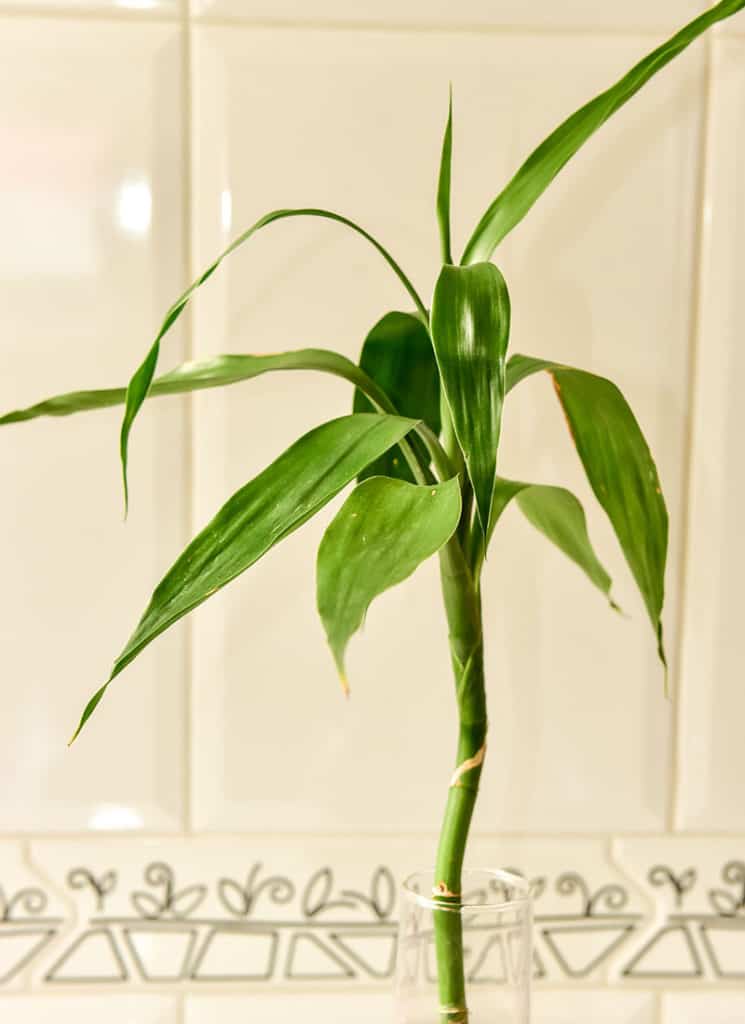 Dracaena Sanderiana or Lucky Bamboo is probably the most common type of Dracaena plant. The plant is easily propagated in water and even easier to grow in standard household conditions!
Lucky Bamboo needs a lot of indirect sunlight to thrive, whereas direct sunlight can burn the foliage. You can grow it hydroponically, in water. In that case, change the water and wash the plant roots thoroughly once a month.
If you choose to grow it in a vase with decorative wet pebbles, thoroughly rinse the pebbles once a month, too.
Lucky Bamboo plant troubleshooting.
2. Janet Craig
Dracaena Deremensis Compacta or Janet Craig is easy to grow. You can pick a bright indoor location or keep it in the partial shade outdoors. If Janet Craig receives too much sunlight, it will start to look worn out.
Juvenile Janet Craig varieties need more water than mature ones. Adult Dracaena plants are relatively drought resistant.
The optimal watering schedule is once a week in the growing season, even less in the winter.
Dracaena Deremensis is also a pest and disease-resistant plant.
3. Lemon Surprise Dracaena
Lemon Surprise Dracaena thrives in bright and filtered sunlight. However, it is also known to tolerate lower light conditions.
Ensure the soil has adequate drainage, but you don't have to worry about soil type or pH value.
Lemon Surprise Dracaena usually gets between 24 and 36 inches tall. The evergreen foliage of this tropical plant is dark green, striped with vivid green shades. Also, the leaves are slightly curled, which improves the ornamental value.
4. Dragon Tree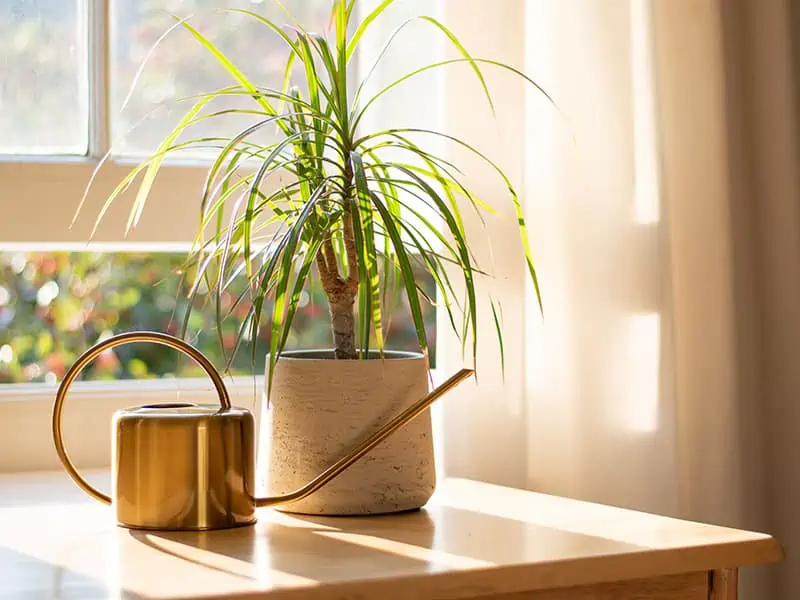 Dracaena Marginata is more popular as a Dragon tree. It is a low-maintenance plant with a long lifespan. Pick a bright or semi-shade location for your Dragon tree to witness the best growth. However, Dracaena Marginata may tolerate lower light levels.
People usually display it as a single specimen plant because it has distinctive leaves with red edges. Dragon tree grows relatively tall, so you can also use it in a group of plants to add height.
Dracaena Marginata prefers evenly moist compost soil and occasional removal of dead leaves.
5. Gold Dust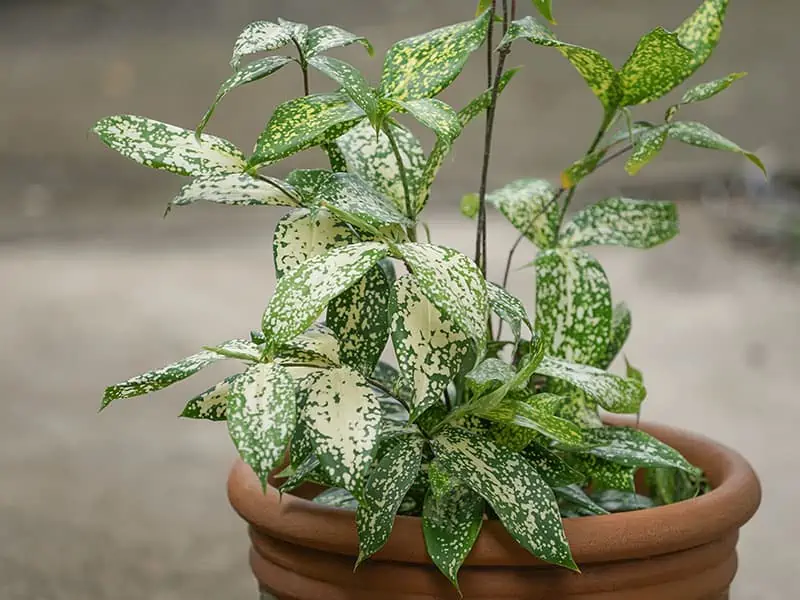 Dracaena Surculosa or Gold Dust is one of the most beautiful and unusual Dracaena types. It is also a relatively compact variety with foliage speckled with creamy yellow dots.
You should plant Dracaena Gold Dust in well-draining soil and keep it somewhere bright. In the growing seasons, this wonderful plant requires watering twice a week. You can also fertilize Dracaena once or twice a month with all-purpose houseplant fertilizer for the best results.
When the plant overgrows its current container, repot it. Wait for the spring to repot the plant to minimize the shock.
6. Snake Plant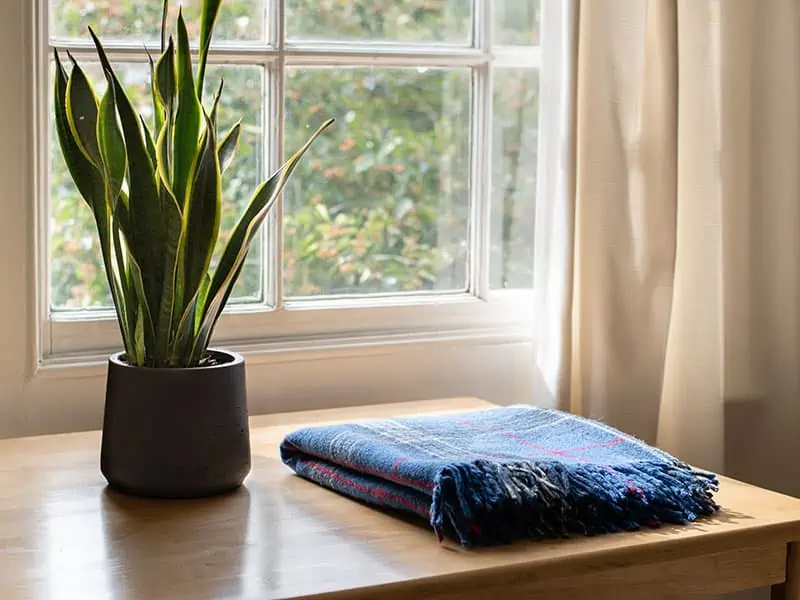 A standard cactus potting mix or well-draining sandy soil is the best choice for the Snake plant or Dracaena Trifasciata.
This popular houseplant only needs watering once a month, maybe twice during dry spells. Keep your Snake plant indoors in average temperatures between 70 and 90 degrees Fahrenheit and with moderate humidity.
In the growing season, the Snake plant benefits from NPK 10-10-10 fertilizer. Because of the low-maintenance nature and excellent adaptability to various conditions, the Snake plant is also a great plant for beginners.
7. Limelight Dracaena
Dracaena Fragrans Limelight has distinctive green foliage with glossy texture! It needs warmth to thrive, so keep in the temperature range between 65 and 90 degrees Fahrenheit.
Dracaena Limelight cannot survive cold temperatures below 55 degrees Fahrenheit. Other growing conditions include medium to bright filtered sunlight and loamy, organically rich soil.
It doesn't need a lot of moisture because moist and soggy soil will make the root rot. Fertilization is optional, but you can use diluted all-purpose fertilizer to boost foliage growth.
Interestingly, Limelight Dracaena flowers once it reaches a mature stage. It can happen after approximately five years of life.
8. Dracaena Reflexa – Song of India
In its native area, Mozambique and Madagascar, Dracaena Reflexa, a Song of India plant reaches 20 feet in height. When you grow it as a houseplant, Song of India rarely grows above three feet.
The ideal soil type for Dracaena Reflexa Song of India is rich, well-draining, and neutral soil.
Also, you can grow it outdoors in zones 11 and 12. You can expect charming winter flowers outdoors, but Dracaena Reflexa rarely blooms indoors.
It is also toxic to cats and dogs, so keep that in mind when finding a suitable place for it.
9. Hawaiian Sunshine Dracaena
Dracaena Fragrans Hawaiian Sunshine is beautiful, a tropical plant with lush foliage and easy-going nature. It is hardy in USDA zones from ten to 11 and makes an excellent companion plant for Canna and Hibiscus.
This Dracaena can survive low temperatures up to 30 degrees Fahrenheit but needs warm weather to grow.
Hawaiian Sunshine Dracaena is tolerable to low-light conditions but thrives in a part-shade location. The plant remains compact and is mostly grown for lush foliage, striped with dark and light green leaves.
10. Dracaena Magenta
Magenta is a somewhat rare cultivar of the Dragon tree with even more noticeable red coloration on the pointy foliage. The plant isn't pet-friendly because it contains toxic ingredients which can seriously harm cats and dogs in case of digestion.
Dracaena Magenta has a slim main cane and slightly thin and upright foliage. It is easy to care for and can be used in the garden in zones ten to 12 or indoors.
11. Dracaena Tricolor
Dracaena Tricolor is a popular cultivar of the Dragon tree with green and pink sword-like leaves. It can improve the appearance of every landscape with its ornamental foliage.
Dracaena Tricolor looks spectacular as a large patio plant. It can tolerate moderately cold winters, but the frost will kill it. Tricolor Dragon Tree is most suited for subtropical gardens and it doesn't require complex care.
You can prune the plant in the spring to help it develop a richer branching pattern. The maximum height of the Dracaena Tricolor can reach about 14 feet. However, if you grow it as a houseplant, it will get significantly smaller.
12. Dracaena Fragrans Massangeana
Dracaena Fragrans Massangeana is known under several names, including Corn and Happy plant. The latter name the plant got because of the low-maintenance nature and lovely combination of green and yellow straps on the leaves.
Also, Dracaena Fragrans Massangeana is a beneficial indoor plant because it filters the air by removing toxins.
The ideal sunlight conditions for Dracaena Massangeana are bright indirect light. But, the plant also grows well under fluorescent lighting, which makes it suitable for offices.
13. Dracaena Marginata Colorama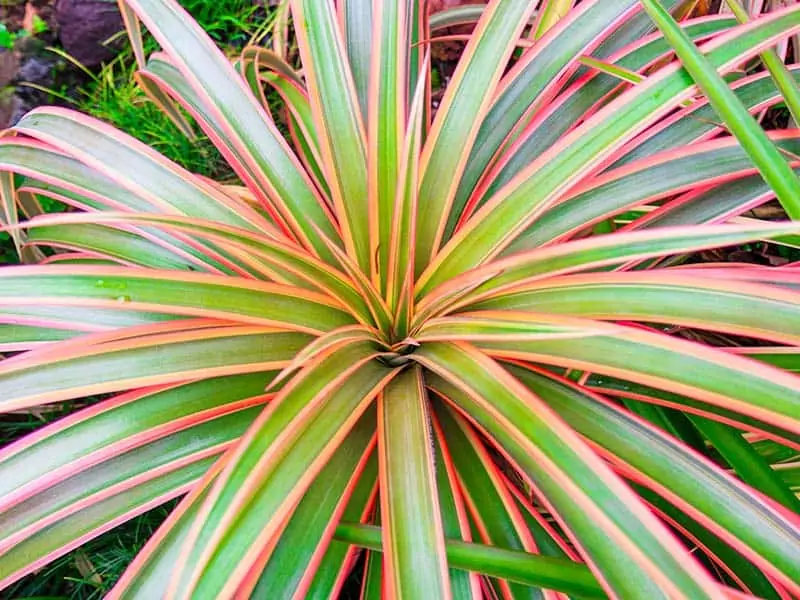 Dracaena Marginata Colorama grows slowly and has low-maintenance nature. It features bright purple foliage, which fits nicely into modern households as a single plant or part of the larger plant display.
Dracaena Marginata Colorama can reach up to 20 feet outdoors. But, indoors, the tree maintains a compact size and rarely grows over four feet.
The tree develops a long, slim, and woody stem and palm-like front. The foliage is thin and pointy and produces spectacular pink and creamy yellow stripes in ideal conditions.
What you need to know about pruning Dracaena Marginata.
14. Dracaena Tree
Dracaena Arborea or Dracaena tree typically grows around eight feet tall. It brings a tropical vibe wherever you place it and quickly acclimates to most household conditions.
Dracaena Arborea has a long lifespan and moderate growth rate and grows best in bright, indirect light indoors. The foliage needs protection against harsh midday sun and responds best to morning sunlight.
The plant is resistant to the wind but isn't to frost and cold temperatures. Keep it protected during winter and away from direct exposure to AC units and heating vents.
15. Lemon Lime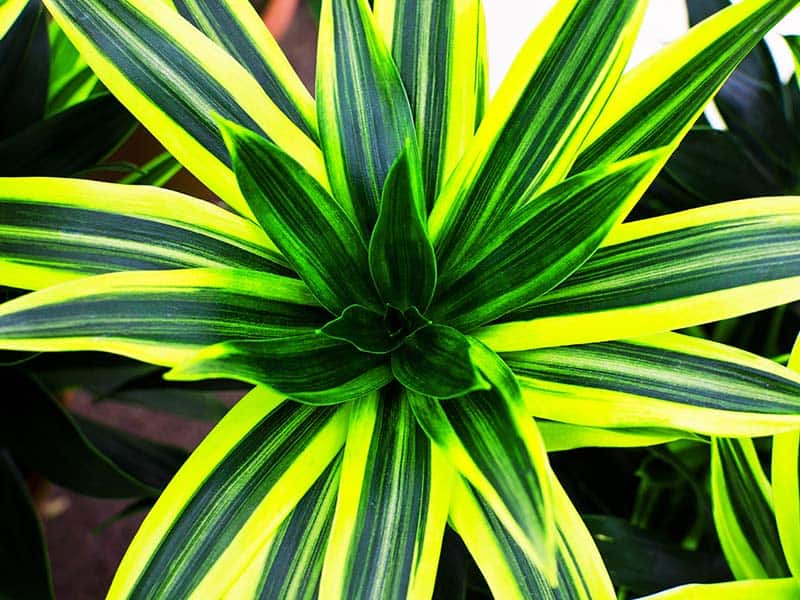 Dracaena Fragrans Lemon Lime differs from the sibling plants because of the neon yellow and green leaves. The care is straightforward and doesn't differ from the rest of the Dracaena plants.
Dracaena Lemon Lime prefers bright indirect light, well-draining, rich soil, and has low-watering needs.
Don't forget to rotate the plant from time to time, so every inch of the plant receives the needed sunlight. In addition to the ornamental value, Lemon Lime has excellent air-purifying capabilities.
The best growing tips for Lemon Lime.
16. Dracaena Deremensis Michiko
Dracaena Michiko is a cultivar that gets happy indoors in most households. With minimal care, Michiko gets around six feet tall. Michiko is a rare Dracaena variety and only well-supplied nurseries have it.
The plant grows best under filtered light and has low moisture requirements. Also, it is relatively pests and disease resistant, but susceptible to mealy bugs.
17. Dracaena Fragrans Victoria
Dracaena Victoria is a perfect houseplant for beginners. It has attractive foliage with long and pointy leaves and yellow stripes on the borders.
In the decorative pot, Dracaena Victoria becomes the perfect housewarming and ornamental gift.
The growing requirements for Victoria Dracaena are simple – low moisture, medium filtered light, and well-draining soil. Also, the plant is suited for warm temperatures and cannot survive harsh winters and frosts.
18. Song of Jamaica
Dracaena Reflexa Song of Jamaica features a multi-stem, shrubby shape. It is an adaptable plant, native to Madagascar.
So, Song of Jamaica grows best in tropical and subtropical gardens. This shrubby variety is hardy indoors and looks lovely in standard containers. It can also tolerate lower lighting indoors.
Moist and well-draining soil is a must for this tropical Dracaena. Still, the plant isn't picky about soil type and pH value.
How to grow Dracaena Reflexa Song of Jamaica from cuttings.
19. Ribbon Plant
Dracaena Sanderiana Variegata Ribbon Plant will grow best near the northern-facing window. Keep your Ribbon plant away from direct sunlight because it can burn the leaves.
You can grow a Ribbon plant in soil or water and propagate it via stem cuttings.
If you choose soil to grow your Ribbon plant, never allow it to become soggy. Let the top inches of soil dry completely between two watering cycles. Also, distilled water is best for the Ribbon plant because too much fluoride in tap water can cause issues with leaves.
Fertilizer use is optional but recommended. You can use diluted fertilizer in the growing season and early in the fall.
20. Dracaena Deremensis Lisa
Dracaena Lisa is best known for its lush foliage and slim silhouette. You can grow it as a houseplant in narrow areas where there isn't too much sunlight. Lisa Dracaena develops wonderful glossy leaves and thrives in low light.
It needs moderate humidity to remain good-looking. You can mist the leaves twice a week to maintain their elegant look and health.
Because of its low-maintenance nature, Lisa is the perfect plant for beginners in gardening.
21. Zebra Striped Dragon Tree
Dracaena Goldieana or Zebra Striped Dragon tree grows well in bright and filtered light. It needs protection against direct sun and draft. But, the plant needs sunlight to grow. Otherwise, the foliage will become dull and lose its ornamental value.
Choose humus-rich and well-draining soil for your Dracaena Goldieana for the best results.
The plant needs regular watering. The soil should remain moist, but not wet so the plant can develop to its full beauty! Interestingly, as the new leaves form, they have bright red undersides. It fades as the foliage matures.
22. Dracaena Warneckii
Warneckii Dracaena is as beautiful as it is hardy and easy to grow! It features feathery and pointy leaves striped with creamy white.
Warneckii Dracaena needs watering when the several inches of soil become dry. I also recommend using fluoride-free water for irrigation because too many minerals can damage the leaves' appearance.
Keep the plant indoors at a consistent temperature, between 60 and 77 degrees Fahrenheit.
The Warneckii plant is sensitive to cold and frost.
23. Dorado Dracaena
Dorado Dracaena isn't as common and popular as some of the above-mentioned varieties. But, it is beautiful and easy to grow, which makes it a remarkable houseplant.
Dorado Dracaena is a slow-growing plant, so you won't have to repot it often. Also, ensure the soil is fast-draining and water the plant occasionally, just enough to keep the soil moderately moist. Overwatering will kill Dorado Dracaena, and overfertilization may cause burns on the foliage.
You can apply diluted houseplant fertilizer once a month in the growing season to keep the plant healthy and thriving.
24. Dracaena Surculosa Florida Beauty
Dracaena Surculosa Florida Beauty looks similar to Gold Dust Dracaena, but the spots on the foliage are brighter. It is also one of the compact Dracaena varieties with dense branching and low-watering needs.
Dracaena Surculosa Florida Beauty can grow in semi-shade or total shade. Too much sunlight will burn the leaves, and the attractive variegation on the ornamental leaves will ultimately fade.
Only water the plant when the soil is dry on the touch and use fertilizer occasionally.
25. Dracaena Cinnabari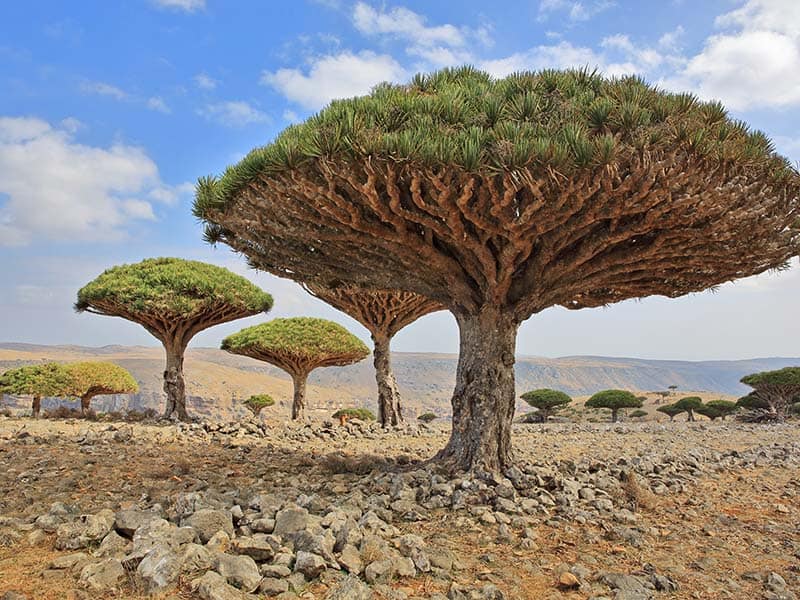 Dragon blood tree, scientifically Dracaena Cinnabari can be propagated from seeds in the loose potting soil. Once the plant establishes, you can transplant it to the garden soil or keep growing it in a large container.
In its native habitat, the Dragon blood tree grows on limestone cliffs, so you can add limestone to boost the growth of your Dracaena.
Dragon blood tree needs consistent moisture, light sunlight exposure and should never be dry. The tree produces distinctive sap, which protects the trunk. Therefore, never harvest the sap if you want to keep your tree happy and thriving!
Choose Dracaena For Low-Maintenance, Decoration, And Air Purification
Dracaena plants are powerful natural air purifiers. In addition to their straightforward care, people love these plants because they are beautiful and bring a tropical vibe to every space.
People usually grow them for their ornamental foliage and lush appearance. These lovely plants also symbolize positive energy according to Feng Shui.
I love Lemon Lime and Dracaena Tricolor for their colorful foliage! Which Dracaena types will you choose?
Come back for more interesting indoor and outdoor gardening articles. I hope you found the article useful!