Are you searching for the best indoor plant shelves ideas? I hear you! Here is the inspiration you needed to display your plants and create a modern and elegant urban jungle inside!
The list below highlights the striking shelves you can use for small succulent plants and large, statement greens, such as adult Snake plants and Philodendrons!
Also, some of the ideas are suitable for commercial indoor spaces and offices. Therefore, mark your favorite ideas for the living room, hallway, bedroom, office, even bathroom! Whether you prefer minimalistic style or enjoy accessories, you will find shelves to your liking!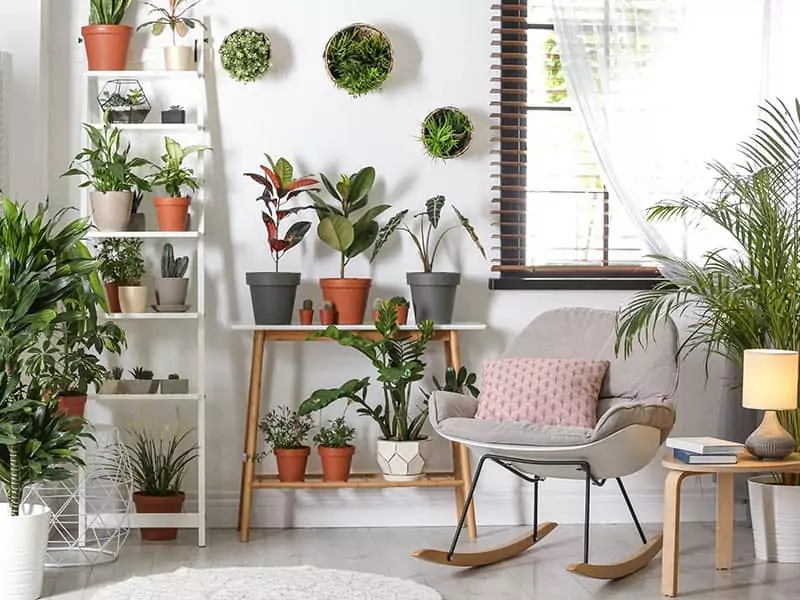 1. Ladder Shelf DIY
A wooden ladder is such a versatile item you can use as a trellis and for a shelf! Today, we will focus on repurposing old wooden ladders to simple, but wonderful indoor plant shelves!
Additionally, if you are renting your space, a wooden ladder shelf is renter-friendly! When you move out, pick your shelf and take it with you!
You can build a ladder shelf from scratch or sand and finish an old ladder. Paint the shelf in white if you prefer elegant shelves!
2. A Simple Plant Stand
A shelf or a stand, whatever you choose to call it, is a beautiful way to display your plant collection! You can find various plant stands on the market, and some of them are quite pricey.
But, if you have basic carpentry skills and motivation to build things with your hands, a vertical DIY stand is a great project to try! You can build simple stands from cedar wood with hooks to hold the pots or try something more complex. Use spray paint to customize the color of your new plant stand!
3. Hanging Shelves For Beginners
If you don't have a lot of space in your home or construction skills, hanging shelves can be the solution. Not only are hanging shelves easy to make and practical, but they are also stylish and fit almost every home or office interior decor.
You can hang them on the window to ensure your plants get as much sunlight as possible.
Hanging shelves will also look good on the plain white wall. You will need at least two pieces of wood boards, drill, rope, and eye hooks. Sanding and finishing shelves with paint are optional.
DIY versatile hanging shelf
4. Round Plant Shelf
Here is an interesting idea to try to transform your home – around, multi-level plant shelves! It will allow you to display as many plants as possible in a small place. Build a multi-tiered wooden pot yourself or purchase round industrial metal shelves.
You can find shelves to mount on the wall or self-standing construction. When choosing the shelves ensure they can hold your heavy pots!
5. Elegant Corner Shelf
If you want to use the space you've got maximally, don't skip corner shelves. They are tricks many architects use in small apartments to maximize storage space.
There are numerous corner shelves on the market, and you can also make simple floating shelves yourself from plywood. Prepare boards for the frame, shelf trim, and shelf top and bottom.
Tools you'll need are a drill, miter saw tape measure and hammer. If you don't want any complex accessories or finishing processes, you can build a corner plant shelf in less than one hour.
6. Timeless Shelves
Sometimes, the simplest solution is the best solution! Wall-mounted plant shelves work in every space and you can get premade shelves and mount them on the wall, or make shelves from wooden boards.
Whichever option you choose, ensure you level the shelves well to prevent your pots from sliding!
If you have never mounted shelves on the wall, you can do it easily with figure-eight fasteners and hollow-wall anchors. You'll also need a wood chisel and screws, as well as shelf support to hold everything in place.
Mount the plant shelves above the sofa or in the bedroom for a lovely plant display.
7. Elegant Metal Shelves
Metal shelves are gorgeous and can be budget-friendly too. Some people prefer them over wooden shelves because wood requires painting, which is a slow and costly process. If you want long-lasting, elegant shelves pick metal!
If you are interested in DIY projects, aluminum shelves aren't difficult to make. You can connect two aluminum pieces through aluminum brazing if you don't want to learn how to weld!
Get a couple of aluminum tubes, boards, hose torch, brazing rods, and wire brush. Once your design is complete, use spray paint to customize the finish!
8. Modern Honeycomb Wall Shelf
Honeycomb wall shelves are trendy, and interior design experts often use them to add a touch of modern and Scandinavian style. You can also use them to display your plants. However, honeycomb wall plant shelves are better suited for lightweight greenery, such as succulents.
If you like honeycomb shelves, make several hexagon wall shelves and join them on the wall to resemble a honeycomb structure.
The easiest way to create these shelves is to get hexagonal cardboard boxes from home hardware stores and repaint them. If you want sturdier shelves, use cedar wood or plywood to build the hexagon boxes.
9. Desktop Jungle
If you work long hours and crave greenery, bring nature in with the desk shelves! You can install them above the desk as floating shelves or pick a self-standing metal-wood structure to position around the desk.
The project can be budget-friendly if you decide to make the shelves yourself, using plywood and basic tools.
Put the plants in and get more productive and inspired in your new office!
10. Above The Bed
Some plants, such as English Ivy and Snake plants are great for the bedroom because they can contribute to a healthier sleeping environment. But, where to position them?
Modern apartments often have small bedrooms without the space for plants! So, you can build shelves above the bed and put the plants there!
When you install the plant shelf above the bed, don't forget to use saucers to collect the excess water. Pick trailing plants for the ultimate effect of an indoor jungle and the most beautiful effect!
11. Repurpose Old Cart
Almost anything can work as a great plant shelf, including an old cart! In fact, if you give a little love to the vintage cart and repaint it, you can get a unique and attractive plant shelf that can work as a beautiful decoration in every living room, bedroom, or hallway!
Because carts have wheels, they are easy to move when you clean.
You'll need to prepare several things to do a complete cart makeover. Those include a bucket, rags for cleaning, sandpaper, tape, glue, spray paint, and brushes. You can also use Old English oil to treat the wooden parts on the cart if there are any.
Don't forget to disassemble the cart completely and clean it thoroughly before you start any work!
12. Ceiling Decoration
Sometimes you don't have any available inch of space, and you have to think outside of the box! Instead of wondering how to squeeze your shelves on the wall, mount the pull-up bar on the ceiling. Then, use the bar to hang your plant baskets and create lovely indoor decorations.
Those who love the boho vibe will adore the idea because it allows them to use macrame plant holders and display many plants!
13. Elegant Tabletop Shelf
The desk topper shelf is an excellent choice for tiny succulents! Make a cute desk topper shelf for small plants and items such as pens and notes from scrap wood.
A desk topper shelf helps you organize the items on your desk better. You will use the desk space more efficiently.
Sketch the desk topper shelf and decide on the size. Cut the plywood with a hand saw and use basic mending plates to support your shelf. You can place a desk topper shelf on the kitchen counter to hold your pots with herbs!
14. Unusual Tree Trunk Shelf
A tree trunk shelf adds a rustic vibe to space. Making a plant shelf out of an old tree trunk might be a tricky project to tackle, but with the proper guidance and tools, you can complete it.
You will first need to cut a large piece of a tree trunk which will serve as a shelf base. Sanding it well is the next step. When you are done shaping the tree trunk, apply several coats of semi-gloss polyurethane to make the shelf glossy and beautiful.
Hang the shelf on the wall or use it as a self-standing shelf for plants.
15. Geometric for Striking Shelves
Geometric shelves, such as square box shelves blend well in every interior style. You can make them from cheap materials or solid wood, finish them and paint them to match your style preferences. Box shelves are practical and can hold more items than plants.
Sure, you can make simple box shelves at Ikea, but making ones yourself is such a fun project! Prepare material, such as plywood sheets, wood glue, and screw-hole buttons. Design shallow box cubes for small plants or use heavy-duty boxes for heavier pots.
16. DIY Pallet Shelf
If you have a pallet in good condition, use it to create an adorable indoor plant shelf. First, clean the pallet thoroughly.
You'll then have to disassemble the central parts of your pallet until you are left with three or more pieces of wood. Turn the pallet vertically and attach pieces of the pallet to hold the pots.
If the pallet is in good condition, you don't have to refinish it and leave it in natural wood tones. The alternative is sanding the wood and painting it to match the rest of your interior decor.
17. Don't Forget the Crates
A crates shelf is a simple DIY project with the highest chances of success! The basic supplies include several fruit crates, wood glue, and an idea!
Wood brackets and short screws are a sturdier alternative to wood glue. Connect the crates and fill them with pots!
You can paint the crate shelf once you assemble it or prep and paint every crate before you build the shelf. Also, I recommend using at least six crates to build a large and sturdy plant shelf!
Guide on making crate shelves
18. Office Shelves
The office decor is often minimalistic, in neutral colors and clean lines. Also, people prefer low-maintenance plants, such as succulents and cacti when choosing greenery for the office. If you want to add life to your office, assemble the wall shelf, which can carry several smaller pots.
You'll need brackets and simple wood boards to create the shelf base and attach it to the wall. Pine shelving is elegant and will look good in most offices, but you can also pick cheaper material.
With a pen, mark the opening on the shelf which holds the pot. Also, decide on spacing. If you grow trailing and bushier plants, space the pot holes wider so each plant can develop its luscious foliage.
For pots with upright succulents and cacti, you can distribute them closer.
19. Plant Shelf For Narrow Space
A narrow plant shelf or plant tower is perfect for tight spaces. Build it with multiple racks and as tall as possible to display many plants. Clean cuts and cheap material make this project beginner-friendly.
You can start with the frame and attach the legs to your tower. Then, decide how many racks you need for your plants. Drill pocket holes and attach racks.
If you aren't interested in DIY projects, go through local thrift shops and search for vintage wicker towers.
20. Bathroom Shelf For High-Humidity-Loving Plants
Plants are welcome in every part of your home! But, to ensure success you need to pick plants for every room carefully.
Check the plant growing requirements and the conditions in your room – available sunlight, temperature, and humidity. If you want to decorate your bathroom, build corner shelves for plants that thrive in high humidity and don't mind growing in the shade!
Growing plants in the bathroom make it more stylish and improve air quality.
The easiest way to make corner shelves
21. Old Beam Rustic Shelf
If you have recently been in a home renovation project and you don't know what to do with an old wood beam, here is an idea! Make a plant shelf from a wood beam!
The easiest way to do it is to attach the beam directly to the wall. Adding metal legs to the beam will ensure an industrial vibe to your new plant shelf. You can put the pots on top of the beam and below for maximum space use.
Tips on attaching wood beam on the wall
22. Repurpose Old Clothes Stand
Gardeners who prefer hanging baskets on their patio might struggle to find the appropriate place for the plants when the temperatures drop. Most trailing plants look fabulous in hanging baskets but can only stay outside during spring and summer.
When the winter comes, you'll need to bring them inside to save them from cold and warmth.
Use old clothes stand for it! Or build a stand by yourself. You don't have to be a welder to join metal without welding. Brazing, soldering, and gluing are all possible solutions.
23. Dropped Ceiling Plant Shelf
I saved my favorite idea for the end of the list! If you have many plants and you are a dedicated gardener, you won't mind spending more money and effort to build an attractive dropped ceiling shelf!
The project is more complex than the rest of the ideas on the list, but it also allows maximum space use and ensures longevity. You can learn how to install drop ceiling tiles by yourself.
But, if you need to demolish parts of your room to make everything work, I recommend hiring a professional for the job.
Showcase Your Plant Collection On Attractive Shelves
Plant shelves are such an amazing way to decorate your home and ensure your green gems get the attention they deserve! You can choose between wooden shelves and metal ones, store-bought or DIY plant shelves!
The possibilities are endless, all you need is an idea and inspiration!
Hopefully, my list helped you to pick the shelves for your home! Idea 23 with a dropped ceiling looks stunning, but the one with a ladder or old cart is more achievable for me. Share your thoughts on my list and come back for more interesting articles about plants!