Most people do not realize how much it can help them to know how to grow poppies from seeds!
The poppy flowers can be annuals, biennials, as well as perennials. Some of the most famous representatives of this plant family are the 'Oriental poppies', 'Himalayan poppies', 'Welsh poppies', and the 'Field poppies'.
Even though these flowers do not last a long time, but they are gorgeous and should be a part of every garden. Usually, people plant the oriental type of poppies in their gardens. What makes them different from other flowers is their hairy stem and foliage.
The flowers are usually red, but they can also be pink, white, or purple. They are quite small and usually do not exceed a height of 15 cm.
People have been using these flowers for many years, with one of the first references to them dating as far back as the Egyptian civilization. During the Bronze Age, people also cultivated them because they believed that the seeds help with sleeping and fertility.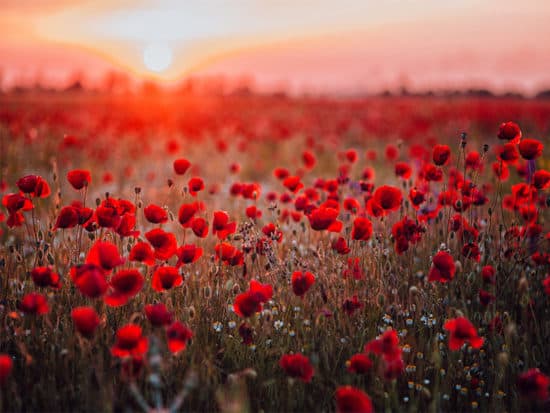 Field of Red Poppies:
Poppy Flower Varieties
As I already mentioned, there are a lot of species that fall into the category of 'poppy' flowers. If you are looking to start growing poppies, you should know some of the most common types and their characteristics. So, let's mention some of the most famous poppy varieties:
Oriental Poppies – the foliage of this flower can be red, orange, or pink. Their blooming time is in early summer. When planting oriental poppies, you should make sure that they are in full sun throughout the day.
Flanders or Shirley Poppies – this flower is the symbol of WW1 because it used to grow on the battlefields and it is also mentioned in John McCrae's "In Flander Fields" poem. These poppies should be planted in full sun, while they are also known to thrive in warmer climates. They usually have violet, white, pink, orange, or yellow flowers.
Opium Poppies – even though the opium poppies have wonderful flowers, they are not the best choice for gardens because they can be poisonous. In some countries, it is even illegal to grow this type of poppies.
Iceland Poppies – the arctic or Iceland poppy is usually grown in the north. It has vibrant yellow flowers and it is quite short-lived.
Himalayan Poppies – not the typical garden poppy, the Himalayan poppy has blue flowers and required quite a lot of maintenance during its growth.
Plume Poppies – this type of poppy is very different from other poppies. It does not have a cup-shaped flower but many white bloom panicles.
Greater Celandine – very similar to regular weed, the greater celandine is a very common poppy variety. It has yellow flowers that usually bloom in the summer, while the maximum height that it can reach is 2 feet.
Bloodroot – a stemless plant, the gorgeous white flowers of this type of poppy grow directly from the ground. This is one of the few poppy varieties that you can plant in full shade.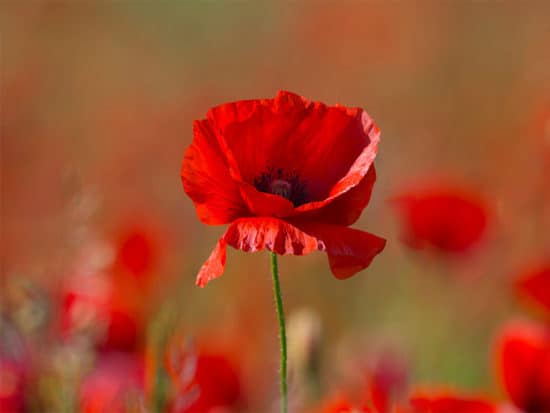 Beautiful Poppy Flower:
How to Grow Poppies from Seeds
Before you purchase the seeds to plant poppies, you need to think about which type of poppies would best fit your garden. Growing a hybrid poppy is also possible, but you will need to give the flowers the right growing conditions in order for them to thrive.
Let's go over some of the basics that you need to know about growing poppies from seeds!
When Should You Plant the Seeds?
There are several things that you should keep in mind when it comes to the actual planting of the poppy seeds. It is best to plant the seeds in late spring or early summer as these flowers like warmer weather. They also need to have enough water at all times.
Usually, the best results come from poppies that can enter the flowering phase in the summer. Those that have been planted in the autumn tend not to show the best growing results.
Soil Type and Structure
When it comes to the soil, poppies should have around 250mm of soil on top of them and available to them at all times. This is because the roots of the flowers usually get moisture and nutrients from the soil in which they are. In some cases, they can also thrive in raised flower beds.
The soil should not be too dry or too moist during the germination process of the poppies. Overwatering them or allowing them to have too much water after a period of rain can do damage to the flower and even cause the roots to start rotting.
Another thing to look out for when it comes to the soil is for it to have good drainage. If the poppy seeds are planted in clay, you should make sure that there is good irrigation.
The way that the water runs through the area where the poppy seeds are planted, as well as the erosion possibilities, should also be considered. When they are planted in colder places, the seeds might need more water in order to reach their full potential.
The structure of the soil is very important because it has a lot of influence on the ability of the plant's roots to grow and develop. The roots also need to be able to get in contact with the particles from the soil in order to be able to transfer the water and the nutrients.
Soil Fertility
The type of soil that poppy seeds thrive in is one that is rich in nutrients. Before planting the seeds, you should do a soil test to check the state of the soil. The soil should be rich in nitrogen, potassium, phosphorus, and some other elements that can help the flowers grow.
As for the soil pH, professional gardeners suggest that it should be around 5.8. If the test shows that the pH levels are lower, you can use lime to get it to rise.
By adding lime and raising the pH levels, you also bring down the levels of manganese that the soil might have. This is a good thing since manganese can be detrimental to some plants.
Soil Preparation
Before planting the seeds, there needs to be some soil preparation. It is very important to remove all dirt, weeds, straws, or vegetable matter if any. The reason why this is a must is that these materials will not allow the seeds to establish good contact with the soil, which might lead to the seeds not being able to get enough water to grow.
Without enough water, there is no way for the seeds to continue growing and become mature flowers.
Do some deep cultivation before adding the seeds to the ground. Using herbicide should help you control weed growth while it will not affect the growth of the poppy seeds. However, ask a professional or experienced gardener about which type of herbicide is best before you commit to one.
Fertilizers
During their growing period, poppies can benefit from some of the macro-nutrients like nitrogen, potassium, and phosphorus, as well as the micro-nutrient called boron. In order to give these nutrients to the seeds, you can use a combination of different fertilizers.
Pay extra attention to the period when you use the fertilizer. If you do not want to cause the plant any problems, you should use the fertilizer only when it is actively growing. Make sure that during this period, you also give it enough water.
Seeding Rate
When planting the seeds, make sure that they are not too close to each other. The poppy seeds require some space to grow and if they are planted too close to each other, they might compete for sunlight, water, and nutrients. To add to that, poppies that are planted too close can contract certain diseases more easily.
Sowing the Seeds
These seeds are very small in size. In order to make sure that they can survive after the initial sow, you must ensure that they have enough sunlight. Put them on a depth of 5 or 10mm in the soil. This should be just enough for them to establish contact with the soil while also get enough water for them to start developing roots.
Keep the seeds closer to the surface in the beginning. Once a few weeks pass, you can push them lower into the soil because this will help them avoid getting dry.
From the moment you plant the seeds, you need to make sure that they have enough water. Daily watering is required only until the seeds are established, as the poppies start to grow, they will not need more than an inch of water each week.
Insect Control
Poppies take a long time to establish. During this period, they can easily fall prey to many types of pests. Instead of assuming that the seeds were of bad quality and to blame for the poppies not growing, consider checking the soil for things like springtails and earth mites.
Some of the ways in which you can control these insects are creating water traps or using snail or slug baits. It is very important to pay attention to these things during the establishment period because you can easily avoid damage from insects. This should be a priority when planting poppy seeds.
Weed Control
If you allow weeds to grow in the same place where you have your poppy seeds, they are very likely to get all the light, nutrients, and moisture as they grow more quickly than the poppies. Be careful when using herbicides to control weed growth as some of them can harm the poppies as well.
The best way to go at it is by using the herbicide on the soil before the actual planting of the seeds. By doing this, you will minimize the chances of harming the poppies while the weeds will still be impacted.
Just like insect control, weed control should be a priority to all those who want to plant poppies. If you want your flowers to succeed, you must control the weeds first.
Disease Control
Insects and weeds are not the only things that can affect the growth of poppies. I should also mention the fungal diseases that can affect them, like downy mildew, poppy fire, leaf smut, and sclerotinia. In order to treat these diseases, you can use a fungicide.
As a gardener, you should always overlook your poppies and all flowers in general. When you see something in the plant changing, you should immediately act if you want to keep your poppies healthy and thriving.
Water
Not having enough water can limit the growth and cause the plant to wilt. According to research, having sufficient water available to the poppies can be very beneficial for them.
The newly planted poppies will need more water than the ones that have already been established. Water them daily and you should see the first sprouts anywhere from ten days to a month.
Once the poppies are established, they do not need that much water. Soaking the water might cause them to rot, so make sure that the soil is completely dry before you water them again. Usually, it is best to give them some water every three or four days.
Another thing worth mentioning is that during the summer, you should only water them in the afternoon after the sun has gone down. Watering them in the early afternoon can cause the leaves to suffer burns.
Post-planting Care
With poppies, the process that requires the most attention is the planting of the seeds. Taking care of the poppy flowers after the planting is very easy.
Once the flowers have reached maturity and released the new seeds, you can remove them and compost them. Since most of the poppies do not live that long, there is no point in saving them up for a longer period.
Once spring comes, you can use the new seeds to initiate the growth of new flowers. Most of the poppy varieties do not need deadheading or staking, but the same cannot be said for the Himalayan poppies.
Possible Side Effects of Poppy Seeds
Everything that I have mentioned so far has been about the varieties and the planting of these poppy seeds. However, before you finally decide to add this plant to your garden, you need to know the side effects that you might face.
First of all, some people can be allergic to these flowers. In case you deal with vomiting, skin redness, eye swelling, or difficulty in breathing it might be possible that you are allergic to the flower.
Pregnant women and those that are breastfeeding should not consume the seeds as they can face some issues.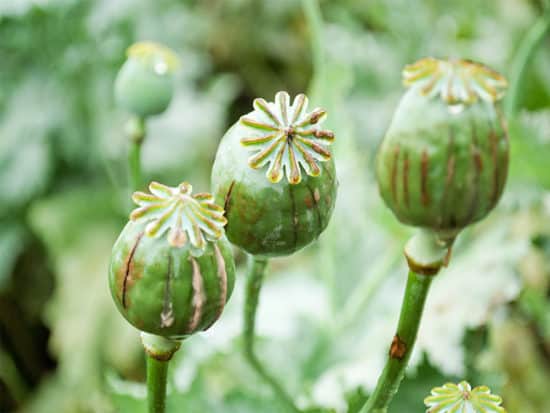 Poppyhead Opium:
Benefits of Poppy Seeds
There are a lot of nutritional benefits to poppy seeds. They are rich in calcium, iron, copper, manganese, potassium, magnesium, and zinc. They also contain a lot of vitamins, which is why you should consider adding them to your diet.
In addition to the nutritional benefits, these seeds have health benefits. They can boost your energy levels as well as help improve the health of the brain. To add to that, they can cure sleeplessness and help with better digestion.
Poppy seeds can make the bones stronger; help regulate blood pressure, help make your immune system stronger, and give you better heart health. Some of the other benefits that I can mention is lowering the risk of cancer and promoting vision health.
Women who deal with infertility can use oils made from poppy seeds in order to give themselves a better chance to get pregnant.
Poppy seeds are used in medicine as well. You can take oil from the poppy seeds and use it to make some pain relievers or treat coughs and skin diseases.
After learning all this, I bet you will want to start growing your own poppies!
Conclusion
Poppies are wonderful flowers. They come in many vibrant colors and are sure to make just about any garden more unique. The hybrid variants are even better and more unique, and you can experiment with them yourself.
These flowers do not require any special maintenance, but they come with so many benefits for people. They are used in diets and medicine, while they also have a ton of health benefits. You will definitely not regret adding them to your garden.
I hope that my detailed guide on how to plant poppies from seeds will help you. Let me know your thoughts in the comments!