Small gardens are charming and just as beautiful as large ones, but they require a bit more planning and smart use of space. It is why you should choose the trees and shrubs for a small garden more carefully, to make sure you are getting the shadow and the effect you want.
Let's see which trees are best for small gardens and how to complete the look.
How to Design a Small Garden?
If you have a small garden, I recommend focusing on vertical space rather than horizontal. That is why trees are an excellent choice because they can add structure and help you compartmentalize the space creating several compact areas.
Also, make good use of containers for added depth and diversity.
Moreover, if the house's outer wall is part of your garden, you can use it. For example, I recommend attaching a wooden shelf or a pallet and filling it with colorful flowers to improve the overall look.
Lastly, pick species that aren't difficult to maintain, as some might require a lot of pruning. That is why you need to ensure easy access to those plants.
Best Trees for Small Gardens
Now, let's take a closer look at the best trees that are both easy to maintain and look beautiful in compact spaces. Keep reading for trees ideas and tips to grow them.
Magnolia
Magnolia is one of the most beautiful trees and an excellent addition to all gardens, no matter what size they are. Luckily, there are several cultivars that you can choose from and find the one that will fit your garden.
Generally, the Magnolia tree requires ten to 30 years to grow to its full size, depending on the cultivar. The provided conditions in terms of soil, light, and water can affect the growing period. Magnolia has numerous types, but not all of them are appropriate for a small garden.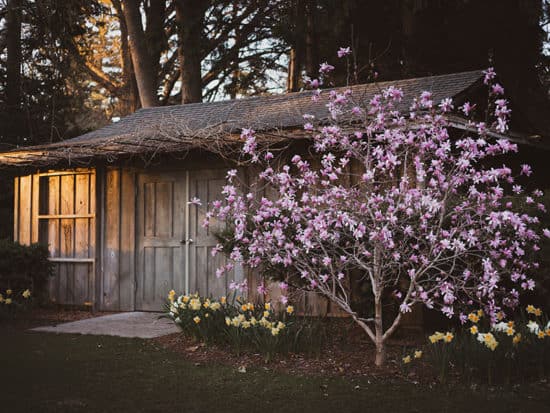 Magnolia trees grow best in full sun to part shade location. The ideal soil is organically rich and slightly acid with excellent drainage. Moreover, you should plant it somewhere sheltered because cold winds can damage the tree as well as the frosts. You can prune it in midsummer, to maintain the look you want.
The ideal time for planting depends on the cultivar. If you want deciduous magnolia, plant it in the late fall or early winter. But, those who live in cold climates should plant the magnolia tree in the early spring.
Lastly, magnolias propagate by softwood cuttings.
Ideal Magnolia Cultivars for Small Garden
| | | | |
| --- | --- | --- | --- |
| Cultivar | Maximum Height | Maximum Width | Flowers |
| Petit Chicon | 13 feet | 13 feet | Yellow flowers |
| Susan | 13 feet | 10 feet | Purple flowers |
| Genie | 13-16 feet | 5 feet | Burgundy red flowers |
| Nigra | 10 feet | 8 feet | Reddish purple flowers |
| Ann | 8-10 feet | 10 feet | Deep purple flowers |
| Jane | 10-15 feet | 8-12 feet | Large reddish purple flowers |
Japanese Maples
Japanese maple cultivars are known for their stunning foliage, in shades of green, orange, purple, and red. Most species are relatively adaptable to the growing conditions and have a slow-growing habit.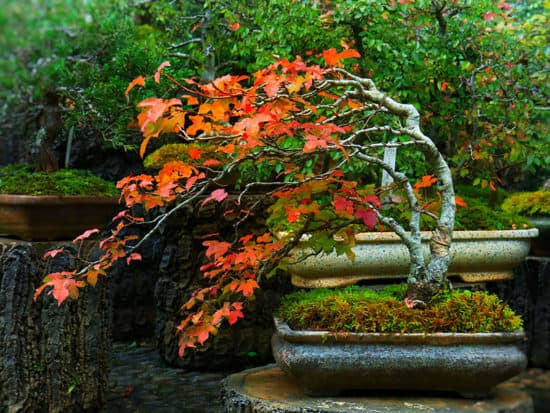 Growing Japanese Maples in Small Garden
Like Magnolia, the tree prefers a sheltered location where wind and frost cannot damage it much. You should plant in during the fall when the tree goes dormant, but roots have enough time to strengthen and develop before winter and spring. During the spring, Japanese maple can benefit from mulching and fertilizer. It will help the three to develop brighter leaves in the fall.
Most cultivars prefer a slightly shady location because too much sun exposure can cause the leaves' colors to fade out.
Next, the maintenance is simple – the tree requires moderate watering (once per week) and occasional pruning to maintain the attractive shape. You can grow it from seeds or buy it as a crafted tree. Keep in mind that if you plant the seeds, they will require several years for growth.
Furthermore, Japanese maples grow well in containers.
Which Japanese Maples to Choose for Your Garden?
There are several hundred types of Japanese maples, so before you hit the nursery, check my table!
| | | |
| --- | --- | --- |
| Cultivar | Size (height x width) | Foliage color |
| Ever Red | 3-4 feet x 4 feet | Burgundy red, bronze |
| Orange Dream | 9 feet x 13 feet | Orange yellow |
| Bloodgood | 16 feet x 13 feet | Deep purple |
| Tamukeyama | 8 feet x 13 feet | Burgundy |
| Winter Flame | 9 feet x 6 feet | Gold, pink tinged |
| Beni-komachi | 5 feet x 3.6 feet | Bright red |
Red Buckeye
Red buckeye, or sometimes called the firecracker plant, is famous for its vivid flowers. It is native in the USA and can be found across the country, but more in the south and east. The tree is small and develops small clusters of attractive red flowers. It makes a focal point in small to medium size gardens.
It is relatively easy to grow Red buckeye. The tree grows in part shade, but when you plant it in a sunny location, it gets a shape of a messy shrub. Next, Red buckeye is adaptable to all soil types, and is pest resistant.
The only thing you need to keep in mind is to keep the soil moist, but well-drained.
Moreover, it can grow to a maximum of 20 feet in height and about the same width. It grows slowly but develops a pleasant shape that doesn't require a lot of pruning.
Also, Red buckeye attracts hummingbirds!
Planting Red Buckeye From Seeds
You can grow your tree from seeds quite easily. Collect the seeds in autumn and sow them immediately. You can sow them in a pot with rich soil and let them germinate at their own pace. To help them a bit, you can apply the scarification process, which is actually nicking the soil coat with the seeds. Scarification will speed the process.
Once you notice the roots poking through the potholes, usually in the spring, you can transplant it to the ground or a bigger pot!
Let's see this video to collect more understandings:
Crepe Myrtles
Crepe myrtle is my top pick for tiny gardens. It looks like a big shrub, but it is actually an attractive tree. The tree usually doesn't grow taller than 25 feet and is an excellent choice for urban gardens. But, if that seems too big for your garden, dwarf cultivars are just as stunning as standard-size ones with their bright flowers and sparkly green foliage. They can grow only to 4 feet in height!
You can grow it from cuttings or seeds. Growing Crepe myrtle from cuttings is the easiest way. You need to transplant the cuttings to a sunny location with well-draining soil. To help it a bit, you can water the tree with eco-seaweed to remove the weeds. Additionally, mulching will help the soil to retain moisture!
Moreover, the Crepe myrtle tree is drought-tolerant, but in the first couple of weeks after planting it, you can water it frequently until the plant develops roots.
Dwarf Crepe Myrtle Cultivars
There are dwarf and semi-dwarf Crepe myrtles created to address the needs of compact and tight spaces. These cultivars are hardy plants that don't require seasonal pruning. Dwarf species reach 4 feet, while semi-dwarf grows up to 8 feet in height.
These require similar growing conditions like regular, tall Crepe myrtles, but the cultivars are not as drought-tolerant as tall trees. However, let the soil dry in between two waterings!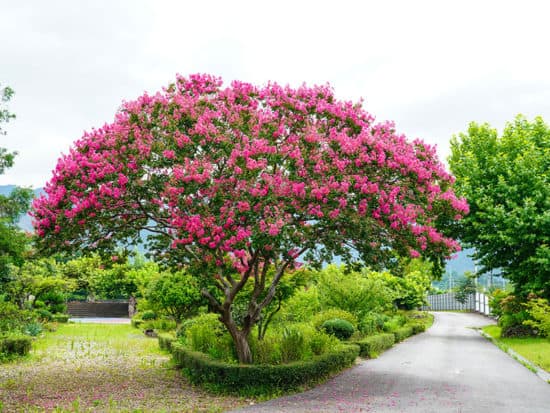 Dogwood
The dogwood tree is an excellent choice for small garden landscaping. Because it provides flowers for an extended time, Dogwood, or Cornus as it is sometimes called, is a common inhabitant of all gardens. There are numerous Dogwood species – small shrubs, small trees, bigger shrubs, and tall trees. Therefore, you can pick the lovely type that will fit into your space and preferences. Some new cultivars are extremely pest resistant and have beautiful flowers with stunning green foliage.
The best Dogwood trees are those planted from young trees, grown in pots. You can plant it anytime from October to March.
To start on the right track, you should dig a hole around two-thirds of root ball depth and plant the tree. However, avoid putting soil on top of the root ball, and leave the ball slightly above the topsoil level.
Dogwood trees grow well with the help of 12-4-8 fertilizer, which will make the foliage greener and healthier. Fertilization has the best effects on dogwood trees when done in March or July.
Furthermore, dogwood trees don't require pruning, only occasional removal of dead branches.
Dogwood Cultivars for Small Garden
Check the table for basic information on Dogwood species for small gardens.
| | | |
| --- | --- | --- |
| Cultivar | Height | Description |
| Red Twig Dogwood | 6-10 feet | White flowers, colorful red bark |
| Yellow Twig Dogwood | 3-8 feet | Multi-steamed, creamy, white flowers, attracts birds |
| Pagoda | 15-25 feet | Horizontal branching, reddish purple leaves |
| Flowering Dogwood | 15-30 feet | Dark green leaves switch to bright red in autumn, horizontal branching |
Amur Maple
Amur maple gets a fascinating fall color and stands up to its common names Flame and Ember. It has a few varieties that are small and easy to grow. Moreover, Amur maple can help with soil erosion and protect your garden from strong winds.
If you want to get the full color of the stunning Amur maple tree in the fall, plant it in the full sun location. Still, the tree will go well in partial shade and neutral or slightly acidic soil. It does tolerate drought to some point, but it grows best in moist, well-draining soil.
Once you plant it and apply 10-10-10 granular fertilizer, the tree doesn't require fertilization as it grows.
I recommend pruning the tree in winter to maintain a single-trunk look and make it a central point in a small garden. It can grow up to 30 feet tall.
For a tiny garden, you should consider a dwarf variety of Amur maple. It is called swamp or scarlet maple and can reach 20 feet in height, but you can prune it to get four or six feet tall max. To maintain a compact look, you should start pruning it early to prevent over branching. Furthermore, it grows well in containers.
Cornelian Cherry
Cornelian cherry provides edible fruits in late summer, and the fruits are known for their cold-prevention properties. Alongside tasty fruits, Cornelian cherry is an excellent choice for small gardens due to its compact size and simple maintenance. The tree reaches 25 feet in height.
Cornelian cherry needs to be cross-pollinated, to provide fruits. Therefore, if you have space for two trees, you can pick two varieties.
First of all, pick the full sun location and well-draining soil. Still, the tree is adaptable and grows on all soil types, including clay.
You can grow it from seeds in the fall, but the process takes a while. You can speed it up with stratification. However, I recommend planting it from softwood cuttings as it is much simpler and quicker.
Cornelian Cherry Cultivars
There are three most common cultivars of Cornelian cherry. They differ in leaves and fruits. Check the table for more information.
| | |
| --- | --- |
| Cultivar | Description |
| Aero Elegantissima | Greyish green leaves, with white margins |
| Flawa | Large fruits with distinct sweetness |
| Golden Glory | Beautiful large flowers, large fruits |
Loquat
The loquat tree is both ornamental and practical. It features glossy foliage, has an unusual shape, and looks almost tropical with beautiful yellow fruits against dark green foliage. Moreover, it is a great choice for home landscaping and small to medium size gardens.
The tree can reach 25 feet, but you can prune it and keep it smaller.
Luckily, some loquat species are self-pollinating, such as Gold Nugget and Mogi cultivars. Still, the tree likes warm temperatures and grows best in Texas and South Carolina. Moreover, temperatures below 27 degrees Fahrenheit will cause irreparable damage to flowers and loquat fruits.
Plant your loquat tree in a sunny location, but keep it at least 30 feet from electrical lines and other trees. Therefore, if you have a small garden, an unusual loquat tree can be the only tree to plant to get a wow effect.
To make the tree grow to its full potential, you should apply lawn fertilizer three times per year. Once you plant it, keep the weeds under control, as the weed can deteriorate the growth of a young loquat tree.
After that, water moderately and a bit more frequently after planting it.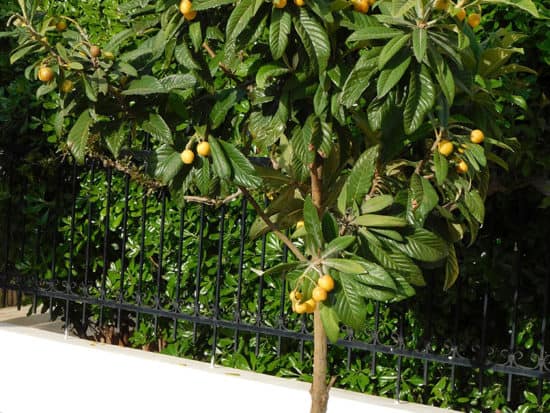 Amelanchier
Amelanchier tree is known by its other names – Juneberry and Serviceberry. The tree features beautiful star-shaped foliage in the spring, which changes color throughout the year. Moreover, it is an excellent choice to fill damp spots in light shade. Also, the tree doesn't get very tall, 10-15 feet max.
You can plant it in spring or fall, and the tree is very resilient and adaptable. It is one of the easiest trees to grow as it does well in all soil types. If you want, you can prune it once the branches get tangled, ideally at the end of the blooming season. However, if you prefer the authentic look, you can let it grow naturally.
The tree blooms quite early in the year, with white, feathery flowers. Moreover, the tree stays attractive year-round because the fruit berries aren't attractive to birds. You can use it for jams or pies.
There are a few cultivars of the Amelanchier tree. You can use it as a hedge or with other flowering trees. Check the chart for more information on cultivars.
| | | |
| --- | --- | --- |
| Cultivar | Size | Description |
| Canadensis Rainbow Pillar | 13 feet x 8 feet | Grows in narrow shape and do well in pots |
| Grandiflora Ballerina | 13 feet tall | The foliage turns bronze in autumn |
| Alnifolia Obelisk | 11 feet tall | Bright green foliage during the year slowly turns reddish in autumn |
Let's see this video to collect more understandings:
Golden Chain Tree
Golden chain tree features clover-like foliage and has long clusters of beautiful yellow flowers. It reaches 25 feet in height and gets most attractive in the late spring.
The tree prefers a slightly sheltered location and needs protection from strong winds because branches can get damaged from the wind.
Growing Golden Chain Tree
Plant the tree in full or partial sun location with well-draining soil. Still, the tree likes a moderate climate with optimal sun exposure. Once it starts to grow, it might need staking as the young tree is floppy and might need additional support.
In the spring, you can fertilize it with compost to boost its growth and ensure full flower development.
It is one of the prettiest trees that you can grow in a small garden, but it is poisonous. All plant parts are toxic, so make sure to keep them away from children and pets.
What to Do Next?
Using the space wisely and mixing trees with other plants will create the most beautiful effect in your small garden. It is why planting small, dwarf, or narrow trees with distinct looks can be an excellent choice. Don't stop at just imagining how your garden should look like. Choose your trees and plant them!
There are so many options on the plant market that are relatively easy to grow and go well with plenty of other plants. Also, most of them can be grown in containers and pots.
My favorites for small gardens are magnolias, dogwoods, and unusual loquat and crepe myrtles.
What are your top choices? If you enjoy the article please consider liking it and sharing it with your friends with smaller gardens!